Error message
Could not retrieve the oEmbed resource.
How to organise a charity bike ride or sportive
Charity bike rides are a great way of raising money for your chosen cause while encouraging people to enjoy some fresh air and exercise – it's a winning combination. 
Cycling is an ideal activity for charity fundraising. It's inclusive, and people simply won't believe how far it's possible to ride as a virtual novice. The 'jubilation level' at the end when your riders find they have successfully ridden 25, 50, 100 or 1,000 miles will be enormous. And they'll all want to come back for more next year!
From planning the route, raising funds, to insurance and legal queries, there's a lot of things to think about if you're running a charity bike ride.
This guidance is for information only and is based on current legislation and best practice. You are advised that legal and insurance requirements can change.
Planning
Planning is the most important thing when organising a charity cycle ride, particularly as novices often take part. The success of the whole day will depend on your organisation and the size and type of event you are planning. If it involves fewer than 20 people and you're just riding round a field, then there is much less to do than if you are organising a 100-mile ride on the public highway for 100 riders.
Plan well ahead, use your common sense, leave nothing to chance and you'll have a successful event.
This information is primarily for organisers of short one-day events. There is some supplementary info for people organising longer events. It provides an overview of some areas you must consider, rather than a comprehensive guide.
A Sunday is probably the best day for a charity ride because traffic levels are usually at their lowest, especially Sunday mornings.
Consider a time of year when the weather is likely to be warm and dry. For example, hosting an event in June will be more enjoyable for participants than an event in November, with much longer daylight hours, but there will be more competing events at that time of year. 
Informing the police and local authorities
There is no legal requirement to notify the authorities of your proposed event, unless you are hoping to have a closed road route or it could be construed as being to:
demonstrate support for or opposition to the views or actions of any person or body of persons
publicise a cause or campaign, or
mark or commemorate an event
Then advance notice must be given, unless it is not reasonably practicable to do so. The notice must specify:
the date when it is intended to hold the procession
the time when it is intended to start
its proposed route; and
the name and address of the person (or one of the persons) proposing to organise it
It must be delivered at least six days before the event.
You may wish to inform local authorities as a courtesy, but be prepared for a less than positive response (although they have no powers to actually ban or stop the event). 
In the first instance, enquiries with regard to the planning of public events should be directed to the Safety Advisory Group (SAG) of your local authority. In Scotland, email the relevant Emergency, Event and Resilience Planning Unit for your area requesting the Form 107-001.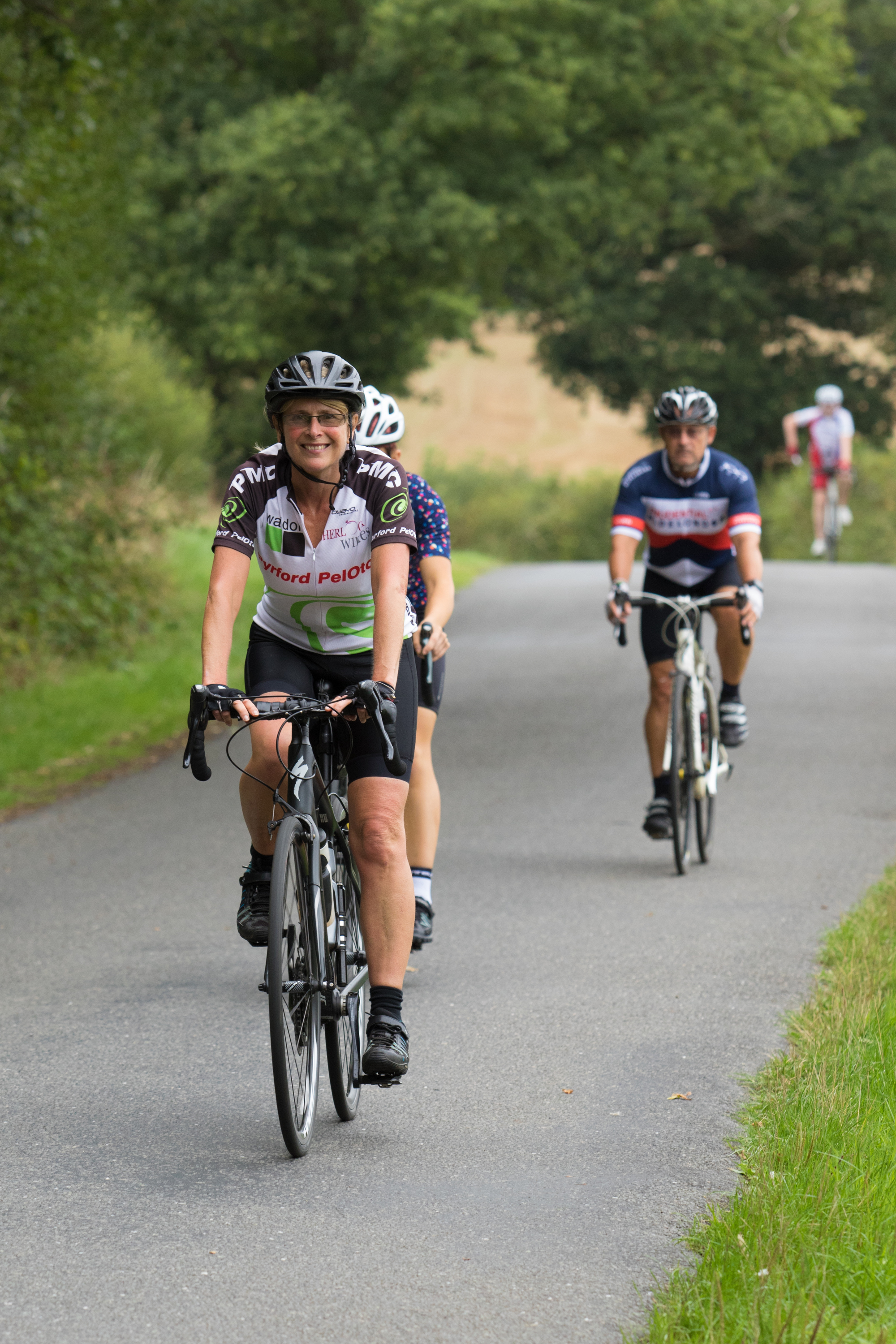 Insurance
Don't consider organising an event without taking out comprehensive insurance to protect not only yourself as the event organiser, but anybody involved in helping run it, and the general public. 
The organiser needs to have third party/liability insurance and, in an ideal world, participants will have it as well. If they don't have it, and they have a collision involving a third party, then the liability could be passed on to the organiser.
In such a case, although unproven in case law, the 'disclaimer' is all the more important. You should aim to have both. You'll need to take out public liability insurance at least to the limit of £1 million, though you may feel a higher limit is appropriate.
Cycling UK's Ride and Event Organiser insurance offers:
Public liability cover up to £10 million to groups that join Cycling UK to affiliate with us 
Affiliation covers club officials, ride leaders and event organisers against any claims made against them as a result of their negligence
Cover includes rides/events which are sportives, touring competitions, reliability events, Audax events, and record breaking but excludes any form of competitive cycling, such as time trials or mass start races
Anyone within your group who is not already an individual Cycling UK member can then join us on a discounted affiliated membership rate to benefit from third-party liability cover
Affiliating to Cycling UK also brings the benefit that you can register your event with us and it will then appear in our list of UK Cycling Events and reach a wider audiences of cyclists and potential riders. 
Alternatively, you might choose to approach a local Cycling UK group to see if they will adopt the event as one of theirs. As a registered event organiser and a member of Cycling UK, you will be covered by Cycling UK's Organisers' Liability insurance for Member Groups, again subject to our Terms and Conditions. However, the local group would clearly need to be identified as the main organiser of the event.
Another option is to hold your event during Bike Week 5-11 June 2023. This year, events that are registered as official Bike Week events are only insured if they are organised via a workplace. Please note this is a change from previous years in which all Bike Week events were insured.
However, as ever with any insurance policy, don't forget to read the small print to check that what you're planning will be included in any cover provided!
If you have any queries about what kind of insurance may be suitable for your event, ring our brokers Butterworth Spengler on 0151 494 4400.
Finance
Organising a charity ride costs money and you might need a registration fee from participants to cover your organising costs, even before any money can be raised for your chosen charity. You might want to seek sponsorship from a local business in exchange for promotional opportunities. The following costs, amongst others, will need to be considered, depending on the size of your event:
Insurance
Marquees if needed
Hire of village halls
Leaflet printing/publicity
Marshals' jackets
First aid
Trestle tables and chairs
PA equipment
Catering
Certificates/medals for the finishers
Goodie bags
Mechanical support
Sag wagon for picking up riders unable to finish
Portable toilets
Timing chips/electronic timing 
Larger charities often have funds available to assist with the organisation of events aimed at increasing their revenue, and they should also be able to provide you with marketing materials for your participants and may even have fundraising packs.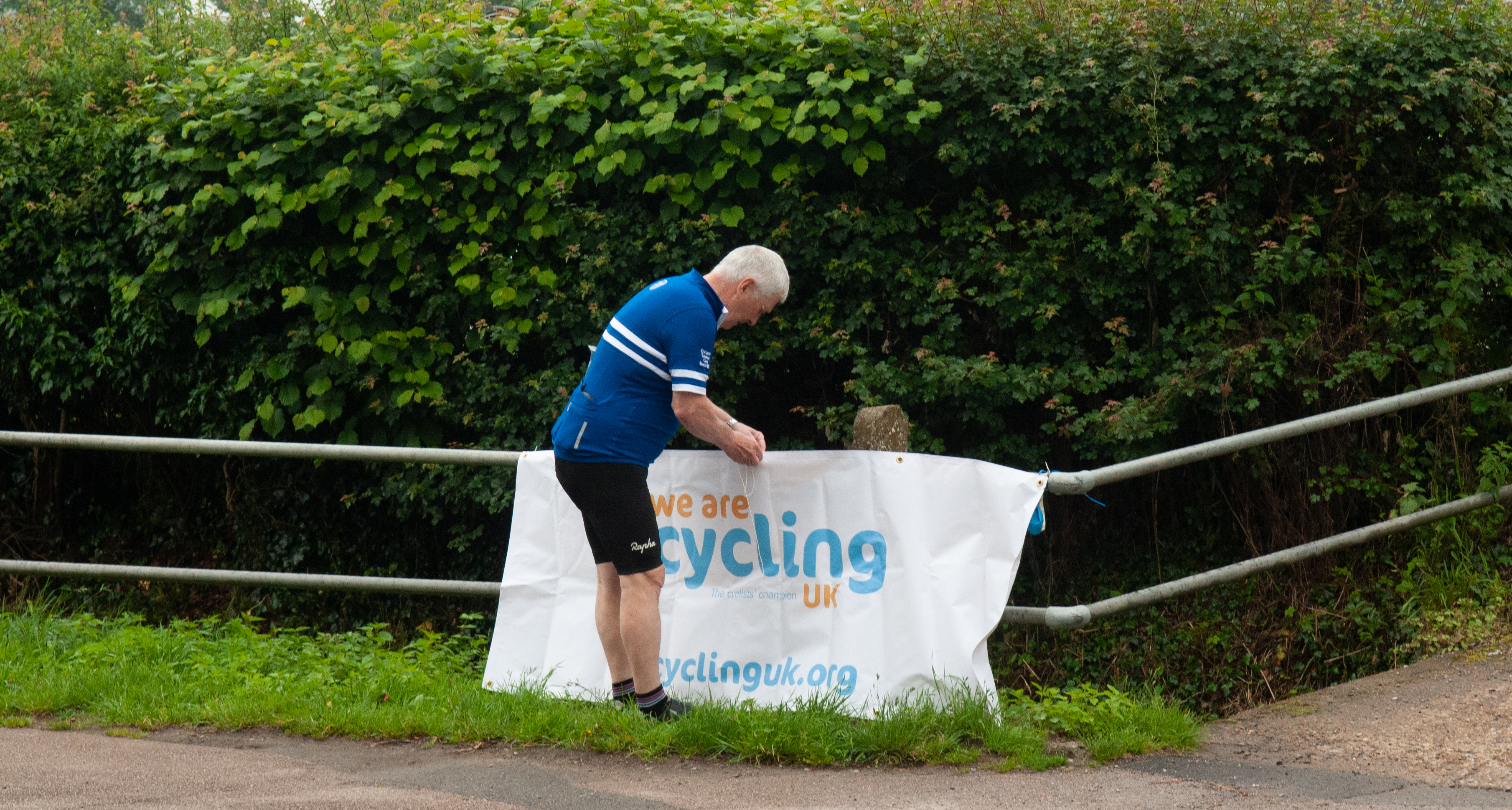 Advertising and publicity
You can spend a lot of money on publicity so spend wisely. Promoting your event can be achieved in many ways, including putting up posters, distributing leaflets, contacting local media, putting information on social media and so on. Don't forget to contact local radio stations, local newspapers, local magazines and cycling magazines. Make sure you plan well ahead and find out when their deadlines are. Costs can sometimes be reduced by including advertising for sponsors such as local bike shops and cafes in the programme or any publicity material.
Unfortunately, as a charity ourselves, Cycling UK cannot advertise charity rides and events for free, unless it is run by a Cycling UK affiliate or member group. Contact our publishers to find out about the cost of advertising in Cycle magazine. Your affiliate or member group event can also be advertised in our weekly e-newsletter, CycleClips which is circulated to over 70,000 member and non-member subscribers.
Public Relations is another important tool in your armoury. If you can find someone with experience, it helps because writing a good press release is harder than it looks. Be relevant, be brief and write all the most important information at the beginning. Try to get a local celebrity or dignitary involved somehow. And when you send out your press releases, include a good photo or two.
Marshals and other officials
The number of people needed to assist on the day can be considerable, so before you even consider organising your event, ensure you have the necessary support.
In your initial planning, it's a good idea to get in touch with regular fundraising groups in your area, e.g Rotary, Lions, etc. It's possible they could help find willing volunteers.
The people you use to help you are an essential component for the success of the event. Make sure you keep them informed of what's going on in all departments. If you're short of people, ask your volunteers to find a friend of theirs who will help. Incentivise them with a free barbecue after the event. Remember - the larger the event, the more people you will need to help at the beginning, at the end and in the middle as well.
Here are just some of the tasks you may want marshals for: car parking, information desk, registration, catering, marshalling at junctions, signing and stamping completion forms at the end.
Marshals on the road should all wear reflective jackets and must not seek to regulate the flow of traffic- they are not allowed to do this. Their primary role is to warn riders of any hazards, for example at junctions or where there is an uneven road surface or a particularly steep descent. 
Route planning
There are many different ways of planning a route, from using Ordnance Survey maps to online route mapping services or websites such as Strava and so on. A list of things to consider when planning the route could include:
Start point - facilities, parking, proximity to public transport
Destination - how to get back from if not start point, facilities, proximity to public transport
Distance and terrain
Necessity to ride via a certain point 
Additional mileage
Time available
Scenic or direct
Traffic OK or as little as possible
Overnights required (where)
Type of accommodation
Number on ride
Purpose of ride
Back-up
Experience of riders
Weather/climate 
Availability of marshals or ride leaders and so on....
If the route is a circular one, an anti-clockwise direction is preferable to minimise right turns. A figure-of-eight loop with your main event headquarters at the centre is a good way to organise a longer ride or offer a choice of distances to encourage those who might not feel up to completing the whole distance. 
There's a lot more to planning a route than just poring over a map, whether it's on screen or on paper. A little thought will lead you to soon appreciate that a route between two places may need to be very different, depending on a whole range of factors, including the ability of the cyclists in the group, the type of accommodation you need if it's a multi-day route, or whether you want to allow time out for sightseeing and so on. 
A personal inspection of the route early on in the planning is highly recommended. Try to ride it, not drive it! This will highlight any issues you need to take account of in your risk assessment.
Once you know roughly what your route will be, submit a draft to the police well in advance of the anticipated day for their comments and advice. They should also know if the anticipated date will coincide with any other major event in the area on that day. The police will also be able to advise about any problems such as roadworks too.
It is preferable that the roads used are minor ones, only passing along major roads if absolutely necessary. The local Cycling UK group could possibly help with the route planning as they usually know their locality well.
Managing risk
Risk assessments are important in limiting your potential liability should anything untoward happen. By carrying out a risk assessment, you are showing that you are a thoughtful organiser, who has considered all the potential risks and dangers, minimised or removed them where practicable, and have a plan of action in place for any likely scenarios. You can find our suggested risk assessment form in our Event Organisers' Toolkit. Marshals and/or signs are essential, particularly when crossing or using main roads. This is especially important at larger events.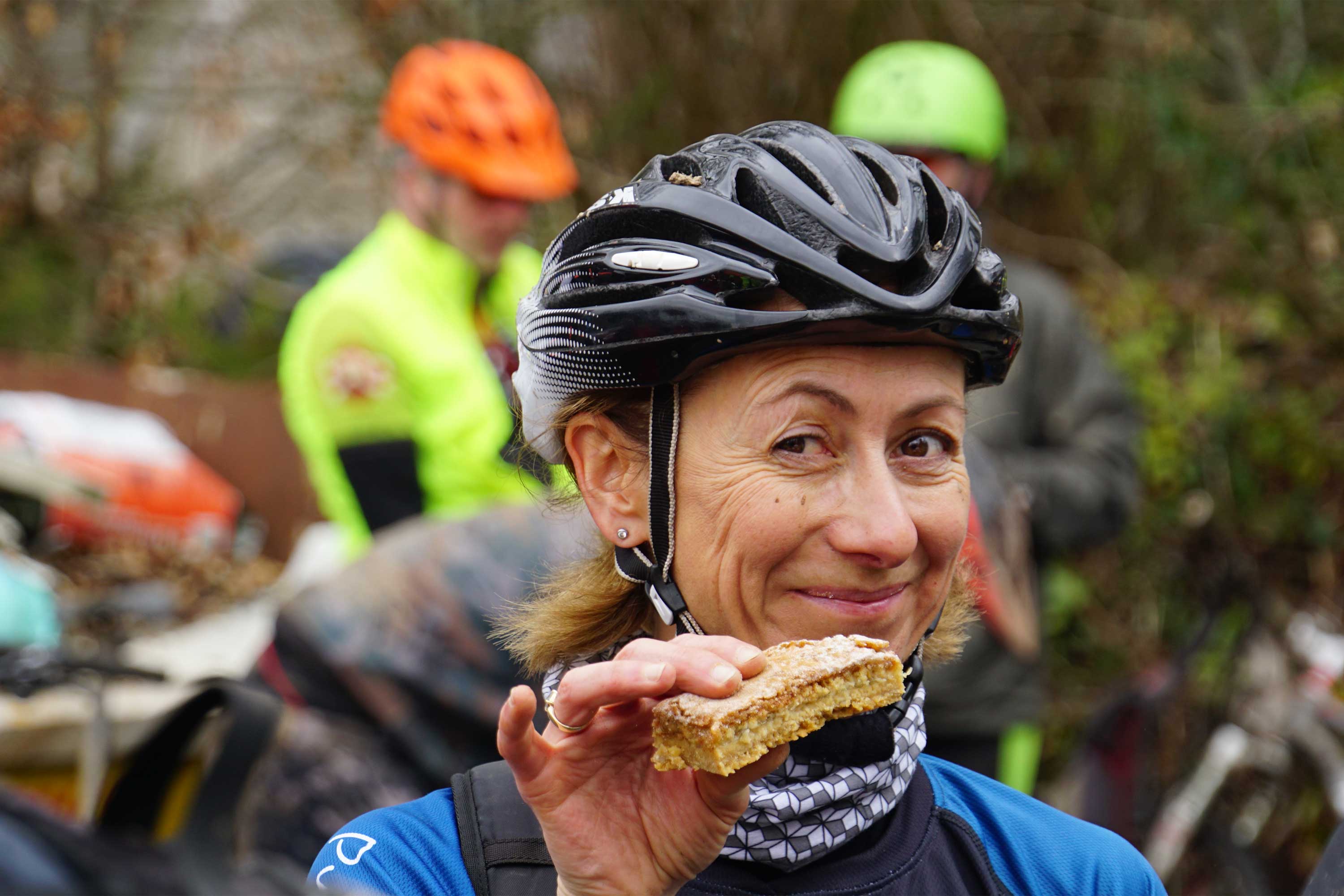 Refreshments
It's important to think about refreshments when planning a route, including the provision of eating and drinking stops, not to mention toilets. Are you 'doing it yourself' or using commercial establishments along the way? Local pubs can be helpful and sometimes village halls can be hired for the day. Assuming there will be novice riders, do not plan the stops too far apart; i.e. on a 50-mile ride stops should be at approximately 10, 25 and 38 miles. Don't forget to pre-warn establishments if you expect more than, say, 10 to 15 riders to turn up at once - nobody likes having to queue in the middle of a ride and waste time or, even worse, find that the food has run out! Obviously it's a good idea to warn riders, especially novices, to bring a small amount of food and drink along for their own consumption - they may underestimate how much they need to sustain themselves on a ride.
Equity, diversity and inclusion
Some people new to cycling or new to cycling events might have concerns about participating. You can put their minds at rest by going out of your way to make them feel included. We have a range of Everyone is Welcome posters to download from the Event Organisers' Toolkit to display. You could also consider appointing an equity, diversion and inclusion officer to oversee this.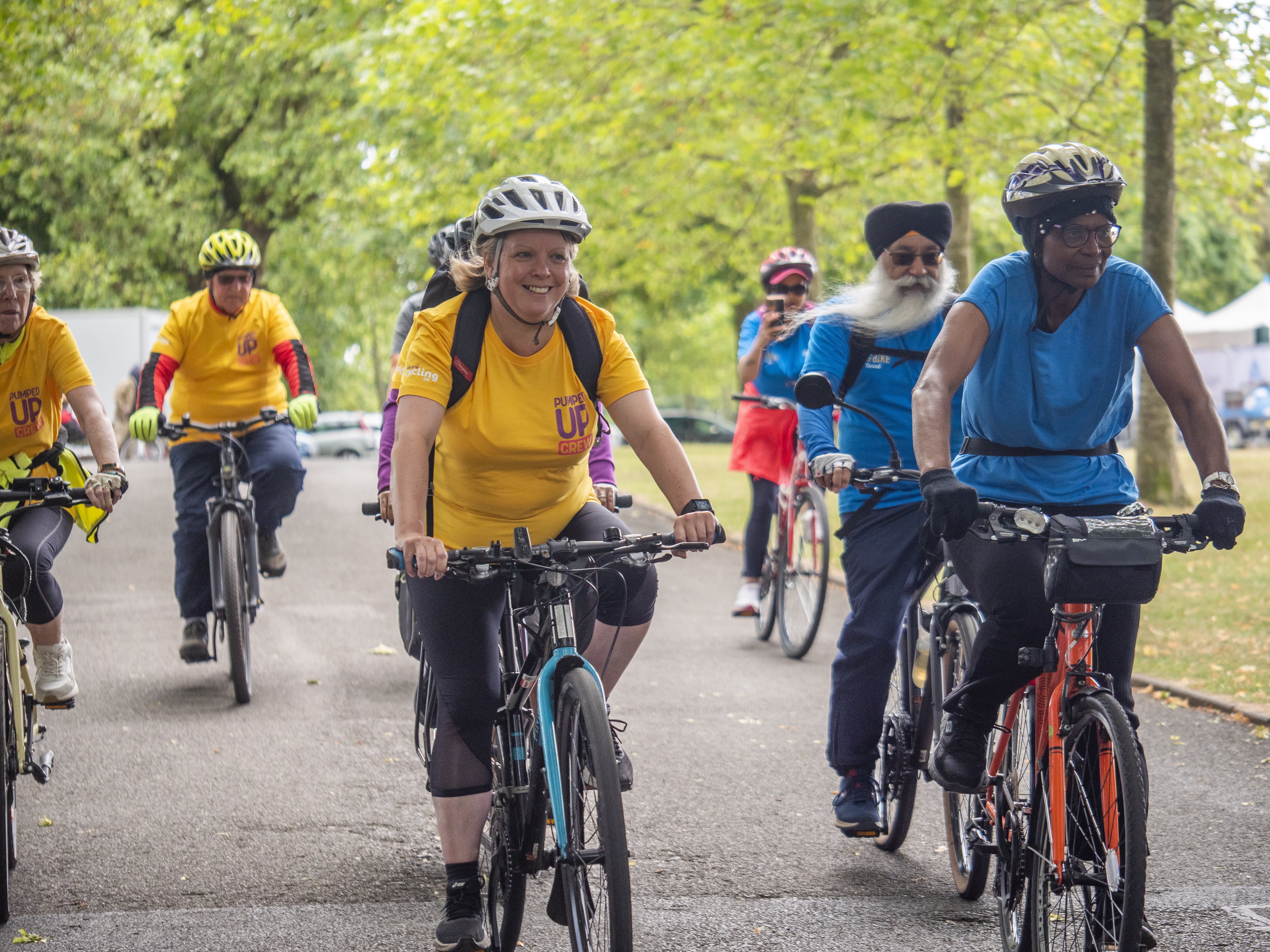 Toilets
Participants, especially older, younger and female riders, will appreciate these at the start, finish and during a ride. During your risk assessment, you can figure out the location of any public facilities and include them on your route where possible. TheToilet Map can help with this!
Other facilities
An experienced and qualified mechanic or two on site are always useful. One at the start can help with any immediate problems. They can then go out on the road and set up at an appropriate place along the route. It's no problem asking participants to pay for any spares used in repairing their machine; just make sure you mention this in the preliminary notes on the ride so they remember to carry some cash with them. But note that our Organisers' Liability policy does not cover repairs or adjustments to machines, so check that any mechanics you use have their own or ask our brokers Butterworth Spengler for a quote by ringing 0151 494 4400.
First aid
Ensure that qualified first aiders are present throughout the day, depending on the size of the ride. The Red Cross or St John Ambulance are used to turning out for these kinds of events but be aware, they do charge a fee. Cycling UK recommends that nobody attempts first aid unless they are qualified. In your Emergency Operating Procedures note down what should happen in an emergency and brief all of your marshals and other volunteers accordingly. It is useful to make a note of any grid references or postcodes to help direct emergency services to the scene (be mindful of Low Traffic Neighbourhoods and other traffic-calming measures). All major incidents should be recorded on an Accident/Incident Report form, which can be found in the Event Organisers' Toolkit.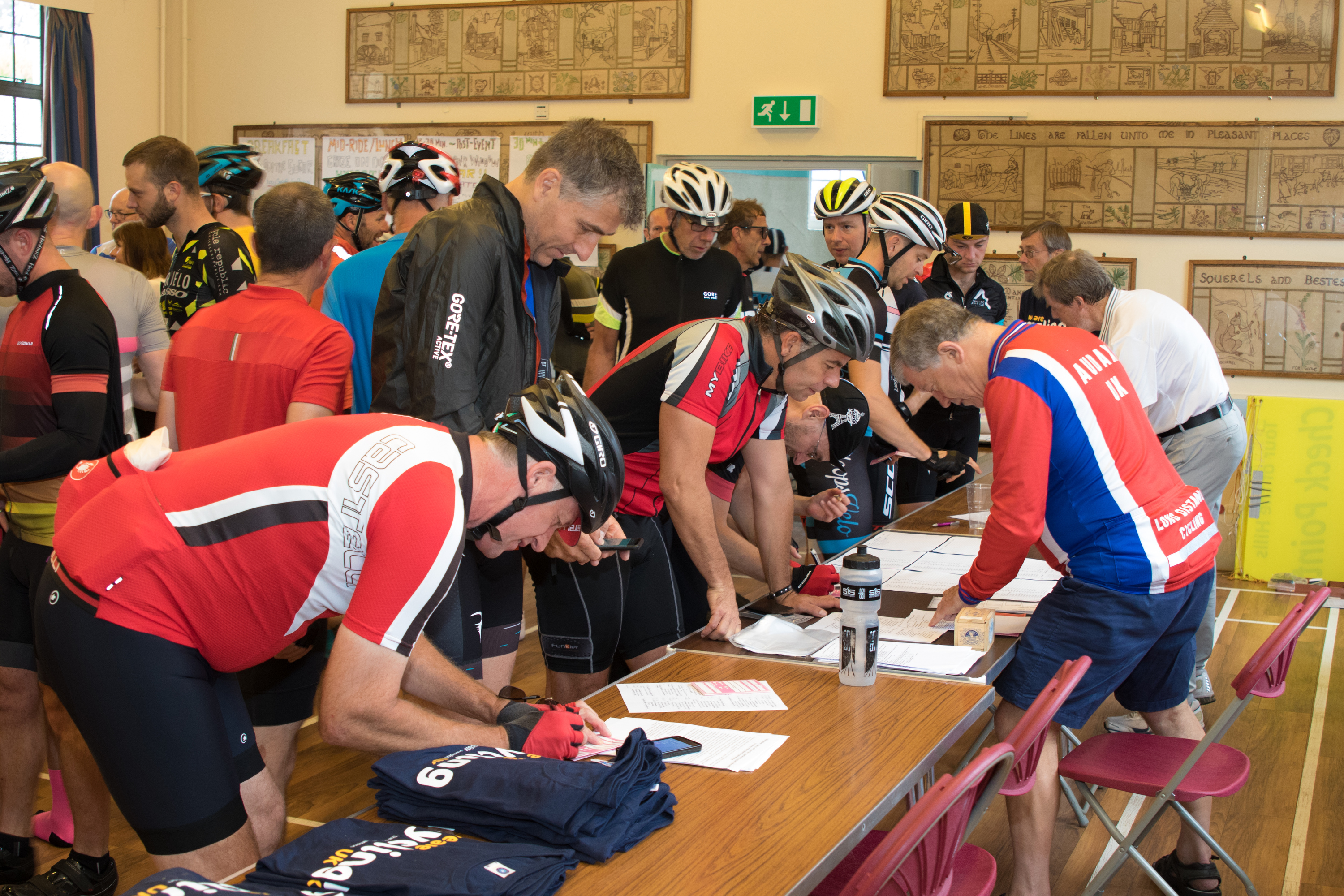 Registering riders
Do get your riders to pre-book if possible.This makes the logistics far easier to plan. Vast numbers of people entering on the day can be awkward and involve handling large sums of money. There are several online payment options, although you may have to pay a fee for each entry. Websites such as Eventbrite might also be useful. 
You will need the participant's name, address, telephone number, details of who to contact in an emergency and how much they have managed to raise or intend to raise. Cycling UK's Sample Signing On Sheet may be adapted for use and includes a disclaimer, which may not hold weight in a court of law but is still worth having.
Cycling UK's Participation Policy for Children and Young People says riders aged 13 and over may take part unaccompanied, but all riders aged under 18 (16 in Scotland), whether accompanied or not, must still have signed parental consent - a section for this is included in the registration sheet and should include information that makes it clear that there is no special provision made for young people and that parents/guardians must be clear about the demands of the ride that they are consenting to. 
Remember that this information is confidential and you have a duty to distribute it only on a 'need-to-know' basis - Cycling UK's Data Protection policy applies to all Cycling UK volunteers and groups.
Remember also that all riders must be registered for insurance purposes, so have some means of processing participants as they arrive, such as giving them a number to stick on their bike or themselves. If you don't check them in, you'll have no way of knowing whether they participated or not (or perhaps just turned up and joined the ride without registering at all). You will also have no way of identifying them in the case of an incident or reaching their emergency contacts. And don't forget to get them to sign back in again so you know who to hand out a certificate to or to keep track of who is still yet to complete the ride.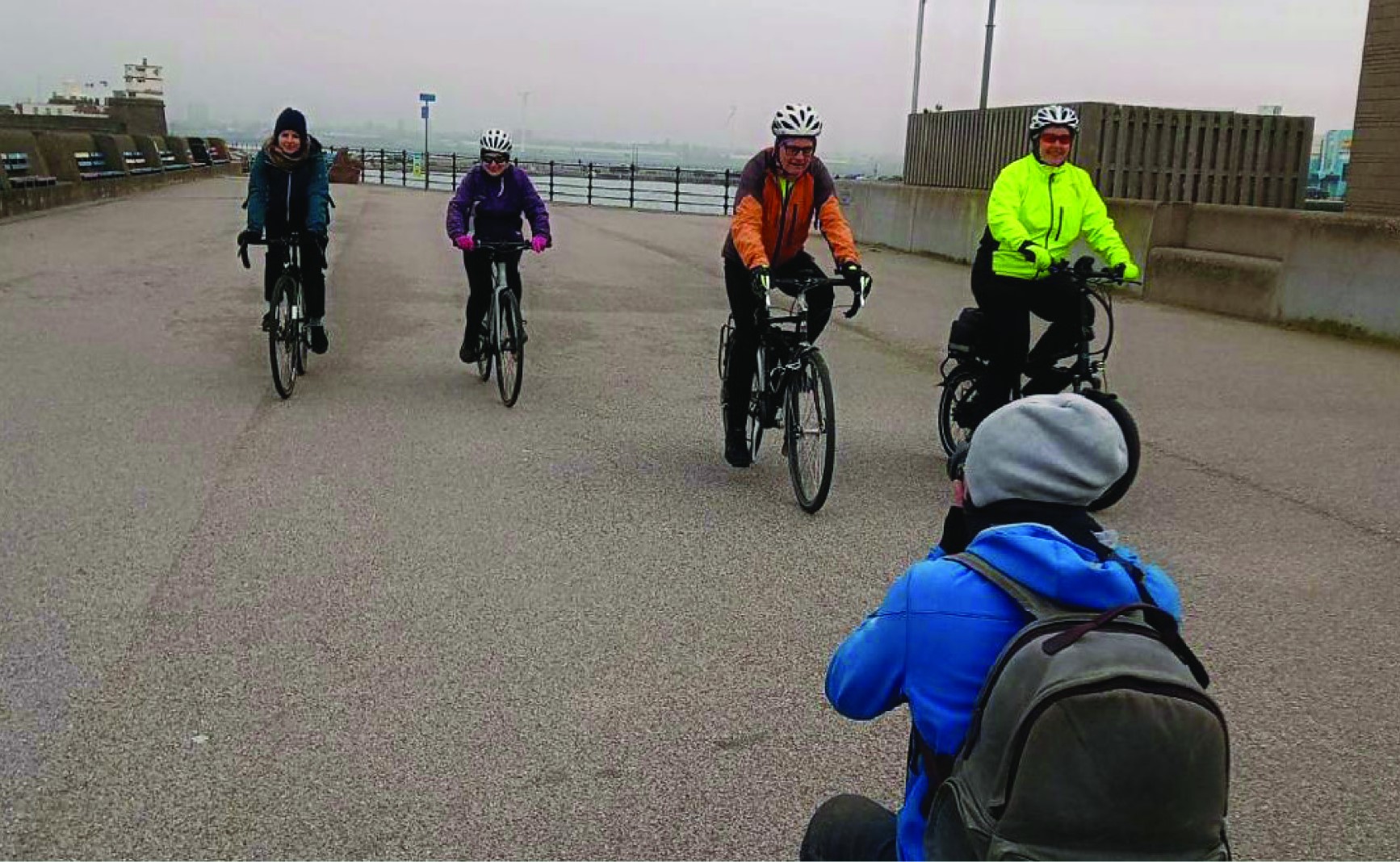 Filming and photography
Of course you will want to generate as much publicity as possible for your event - both before and after it takes place. You may have an official photographer in place for this purpose, capturing all those magic moments enjoyed by the participants. However, it is important to remember that you must have consent from anybody who is easily recognisable in any photos or footage that is publicly accessible, particularly of young people under the age of 18, vulnerable adults. Our safeguarding policies set out how to obtain this and our Event Organisers' Toolkit contains the necessary signage to display and other consent forms that can be used. 
Riders' information pack
It's safer to assume your participants have little or no experience. Therefore it's important to brief them fully as to what they're taking on. 
This should include tips on preparing for the ride:
Cycling UK's Group Rider checklist has more information that you may want to include. 
Sponsorship money
Don't lose sight of this, it's the most important aspect of the day. Participants should be responsible for collecting their own sponsorship money and giving it to the organiser. They will need some kind of proof that they have completed the ride, so a certificate of completion or a rubber stamp on their route sheet will be necessary.
Clearly identify a date by which you would like to receive all monies raised. If you obtained an email address for the riders, then it will be cheaper to send them a reminder via email. However, sending a brief 'newsletter' after the ride, saying what a successful event it was etc will encourage people to chase their friends up for that promised fiver.
Don't forget to get all monies collected as 'Gift Aided'; this allows you to claim back tax paid on it, thereby increasing every donation by about 25%. Speak to your charity about this.
The ride
When setting off, small, well-spaced groups of about 12-15 riders at a time are advisable. Note Cycling UK's insurance does not cover mass-start races but non-competitive sportives are generally covered - see Insurance.
Cycling UK's Ride Leader Toolkit has more information on how to manage a group ride.
It's useful for participants to be given a number or letter to wear or fix to their bike, so that they can be identified as they pass checkpoints. Make sure riders don't obscure their numbers.
Longer rides, say over 20 miles, with fewer than 200 riders tend to lose their cohesion. Consider having stops at regular intervals so that the riders feel that they are part of an event.
If the ride is not a circular ride, are you going to supply transport to get the people and cycles back to the start? If this service is to be provided, it must be made clear, fully-costed, and payable in advance. Don't assume that train operators will accept large numbers of cyclists all trying to get back to a start point! A to B Magazine has a list of all UK train, ferry and bus operators and their bike restrictions. 
Longer events
Whilst much of the above information is aimed primarily at organisers of one-day events, most of it applies equally to multi-day events, e.g a Land's End to John O'Groats sponsored ride. Longer events may attract fewer participants, which should make your life a bit easier. On the other hand, with a longer event, prospective participants are likely to have more questions and also the business of overnight accommodation becomes a significant factor.
Note that if you provide accommodation, ride and transport, this may constitute a 'package' and fall within Government's Package Travel and Linked Travel Arrangements Regulations 2018 and may not be covered by our insurance.
Useful resources
Many of the useful documents mentioned in this article such as the risk assessment, accident/incident report form etc can be found in our Local Groups and Clubs resources. 
Fundraise for Cycling UK
You may have considered organising a charity ride in aid of Cycling UK or the Cyclists' Defence Fund, supporting our invaluable campaigning work. There are several online platforms you can use to do this.
Donate to Cycling UK
Cycling UK is the national cycling charity, supporting and promoting all types of cycling. If you have found these guidelines useful, why not consider affiliating to us or making a donation to support our work?