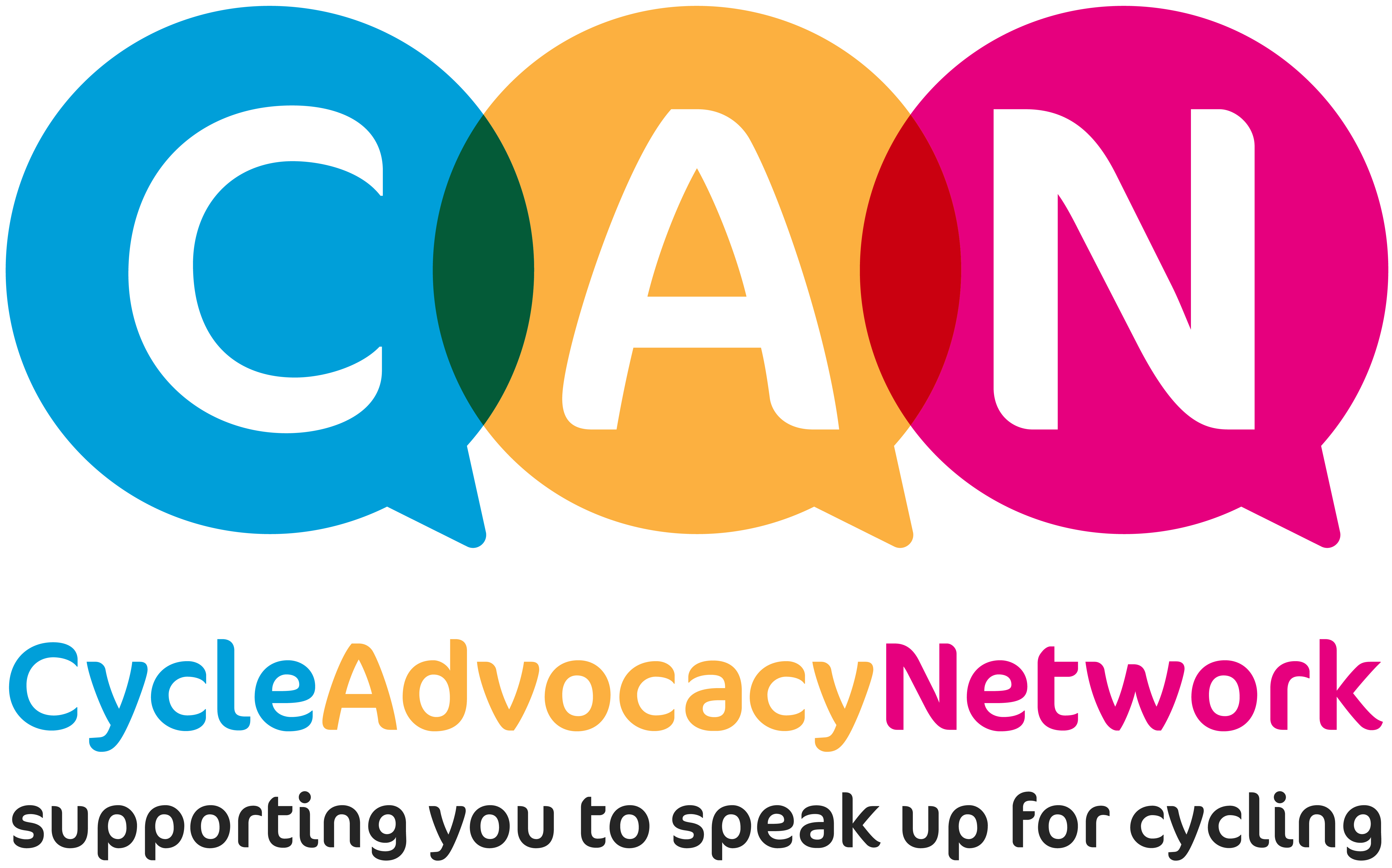 Welcome to the Cycle Advocacy Network
Do you want to help get more people cycling? Do you want to share the joy of riding a bike? Do you want to see real change - with separated cycle lanes, safer roads, and shops, offices and homes accessible by bike? So do we!
The Cycle Advocacy Network (CAN) brings together people with a shared interest in creating the conditions that enable more people to cycle, including better infrastructure for cycling and safer roads.
The CAN resources, events and tools on this page are open to all, and there are specific ways to get involved listed below. If you'd like more detail, please read the Introduction to the Cycle Advocacy Network - and join us on the journey to get more people cycling.
Resources for local campaigners
We have an easy-to-read campaigning handbook, an expanding toolkit of 'how-to' guides, links to Cycling UK's views and briefings as well as suggestions of other people to link up with.
Latest actions
Action
Summary
Where/who
Get involved
Safe Streets Now
Join Safe Streets Now on our National Day of Action on Saturday 30th September. Safe Streets Now is a grassroots coalition of community groups across the UK, backed by national road safety organisations. At 11am on 30th September we will stand together in a series of co-ordinated events throughout the country to reclaim our space, find our peace and demand justice for the victims of road danger.
UK wide
Take part
Eastern Transport Plan 2035 - consultation
Northern Ireland's Department for Infrastructure (DfI) are currently preparing a new transport plan which will set the framework for making transport policy and investment decisions up until 2035. The Eastern Transport Plan (ETP) 2035, previously known as the Belfast Metropolitan Transport Plan (BMTP), covers five council areas and will also support the preparation of the Local Development Plans for these councils. You can provide your views on the draft Vision and Objectives for the ETP between 4 September and 30 October 2023
Northern Ireland
Give your views
Have your say on Northern Ireland's emissions reduction targets
The Department of Agriculture, Environment and Rural Affairs (DAERA) on behalf of the Northern Ireland Executive have published a consultation on Northern Ireland's 2030 & 2040 Emissions Reduction Targets & First Three Carbon Budgets & Seeking views on Climate Change Committee (CCC) Advice Report: The path to a Net Zero Northern Ireland and welcome the views of everyone across Northern Ireland. Your views matter.
Northern Ireland
Have your say
Waiting to happen - action in memory of Emma Burke Newman
If you are in Glasgow or know the city please respond to this new campaign in memory of Emma Burke Newman who was killed whilst cycling in Jan 2023. The campaign seeks to make 3 challenging junctions in Glasgow safer.
Scotland
Make Glasgow safer
Get involved - Cycle to School Week
Could you use pedal power to get to school? Find out more about Cycle to School Week and how you can get involved. This year it runs from 25-29 September.
UK wide
See the resources
Influence your Union to campaign for active travel
Read (and be inspired by) Jill's story and then work out how you can use her proposal to the National Education Union as a starting point in your own union or professional body.
UK wide
KICKSTART YOUR CAMPAIGN
Research and recover lost rights of way
There are thousands of historical rights of way were recorded incorrectly when councils were compiling their official maps in the 1950s. However, the public's right to ride on them still exists. It hasn't just disappeared because they've been marked incorrectly on a map. Discover and recover lost rights of way near you.  
Further information
England and Wales
FIND THE WAYS
Cycling champions
If you've ever spoken up for cycling, tried to influence your local council, or cycled your child to school, you're already a cycling champion.
Add your name to our growing community and receive information about upcoming events in CAN; including webinars and workshops, surgery advice sessions, and campaign action suggestions that will help you build momentum locally.
Supporting campaign groups
You may already be part of a local campaign or group, speaking up for cycling in your community, or perhaps you are in the process of starting one up.  The Cycle Advocacy Network can be a resource for you, too.
We are particularly keen to support smaller groups and new starters. Visit the CAN page for Scotland, Wales, England or Northern Ireland to find out more to find out more about how your group can partner with us.
Cycle Advocacy Network in the nations