Success for Lake District mountain bikers with a new bridleway on Walla Crag
Walla Crag is a small hill overlooking Derwent Water on the outskirts of Keswick. It's a very popular spot for walkers and mountain bikers, with amazing views over to Catbells and superb technical riding down to Ashness Bridge. I live in Keswick, so Walla Crag is a fairly regular route for us and has been for years.
I first heard there problems from one of my riding buddies. He said that the National Trust had put 'No Cycling' signs on Walla Crag.
I was pretty surprised by this, as it's a popular route that makes an excellent start to the Borrowdale Bash event and it would be really disappointing if we could no longer use it. 
Walla Crag is open access land with a public footpath running over it. Most of the route we use is not actually on the public right of way but on an old track that was used to access the Storkers cottage (now a ruin).
I like to think that on open access land, especially owned by an organisation like the National Trust, there is an implied access as long as we ride responsibly. But as soon as a land owner puts a sign up saying they don't want you to cycle, any implied access is gone and we clearly have no right to continue using their land for our activity. It also does not look great for our sport if we're riding past no cycling signs.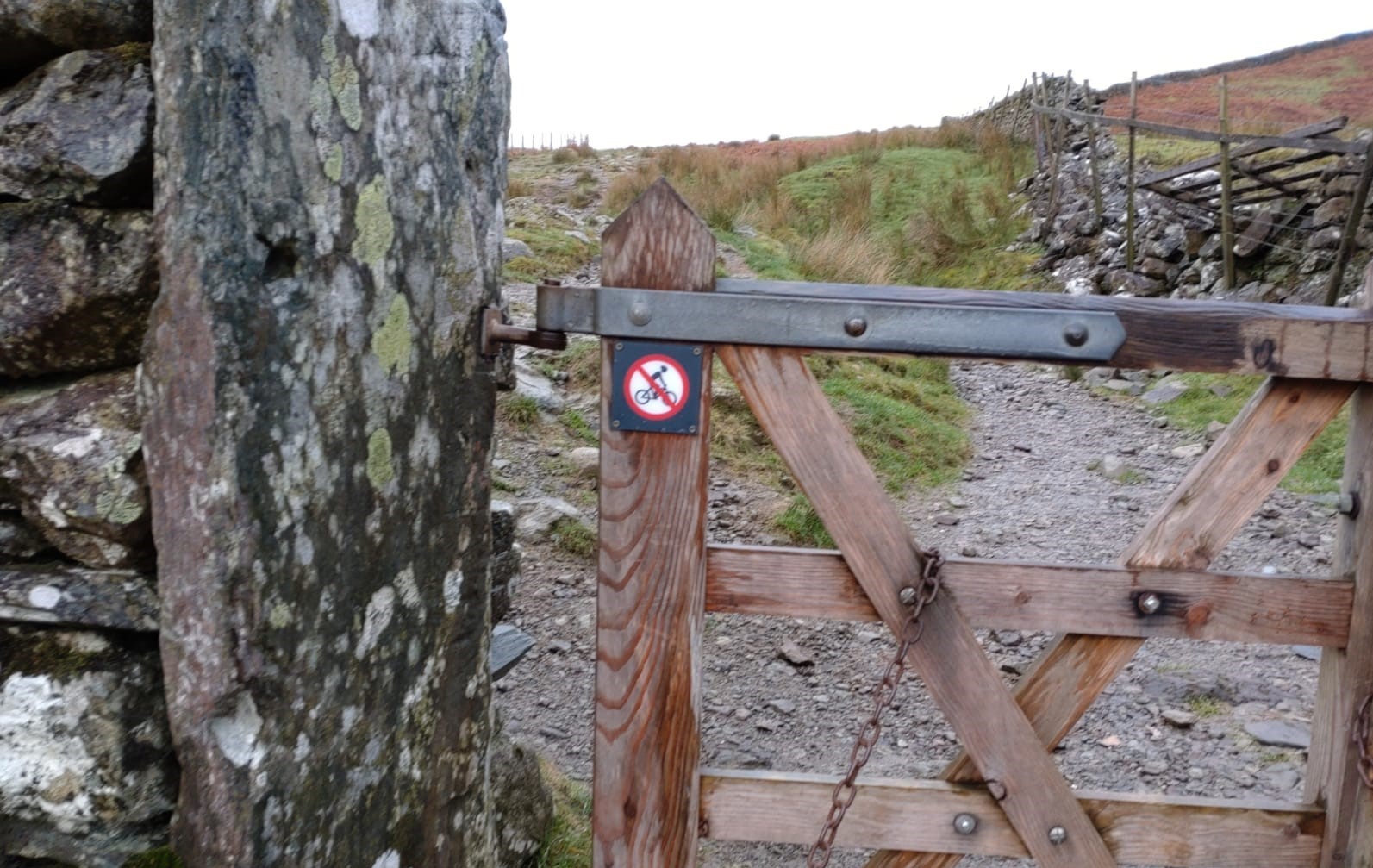 Asking questions, but getting no answers
I initially emailed the Trust asking why they had taken this action. If it had been due to erosion or an incident, I would have accepted it. As cyclists have no legal right to this route, they're quite within their rights to stop us from using it - but I wanted to know there was a good reason behind it.
After a few weeks I got no reply from the Trust, so wrote them a more formal paper letter asking the same question again. A few weeks went by, still no reply.
In the meantime I heard on the grapevine that the signs were due to a serial complainer who was contacting the Trust on a regular basis about cyclists using this route.
Stepping it up
After being ignored I decided to step up my action and did some research on the process of claiming this route. Part of this this process is to issue the landowner a form saying that you are applying to claim a public right of way.
I contacted the Trust again, this time with the threat of issuing them with the application form as they had not replied to my previous efforts to get in touch.
This time, I got a reply that afternoon saying they had passed my email on to the head ranger. He phoned me later that day and confirmed that the signs had been put up due to a local resident's complaints.
I informed him of the use of this route and its importance as part of the Borrowdale Bash and my intention to claim it as a bridleway. Basically he told me to crack on.
Gathering evidence
I suppose this was the gauntlet being thrown down, and I had to pick it up and go with it. From my research I had to prove 20 years' unopposed use of the route. I turned to social media to try and get some support for my proposal, posting it in the Lake District mountain bike group on Facebook.
I immediately got some positive support. Then Guy Kesteven, a well-known bike reviewer and journalist, put me in touch with Kieran Foster from Cycling UK who gave me some valuable information and advice.
I contacted the Lake District National Park Authority (LDNPA) and started the process of collecting evidence forms from people to prove that the trail had been used for 20 years. In fairness it was a hassle for folk, as they had to download, fill in, and send it off. This hurdle I think cost us quite a few submissions, as there were a lot people who said they would complete a form but most of these didn't materialise.
In the end though, I collected a reasonable number of forms and managed to get evidence from Strava, websites and magazine articles. I was ready to issue the forms to the landowners: first to the National Trust and then to Rakefoot Farm who I believed owned the lane that forms the start of the route.
Going round in circles
However, when I went to the farm they informed me that they didn't own it and that it was common land. I then went back to Nick Thorn at the National Park Authority who set me the task of discovering the owner. After talking to some other local farmers, I still couldn't establish who owned it.
This resulted in me having to fill in another form outlining what efforts I had made to contact the landowner. I also had to post notices on the part of the route that had no owner stating that I was going to claim the route.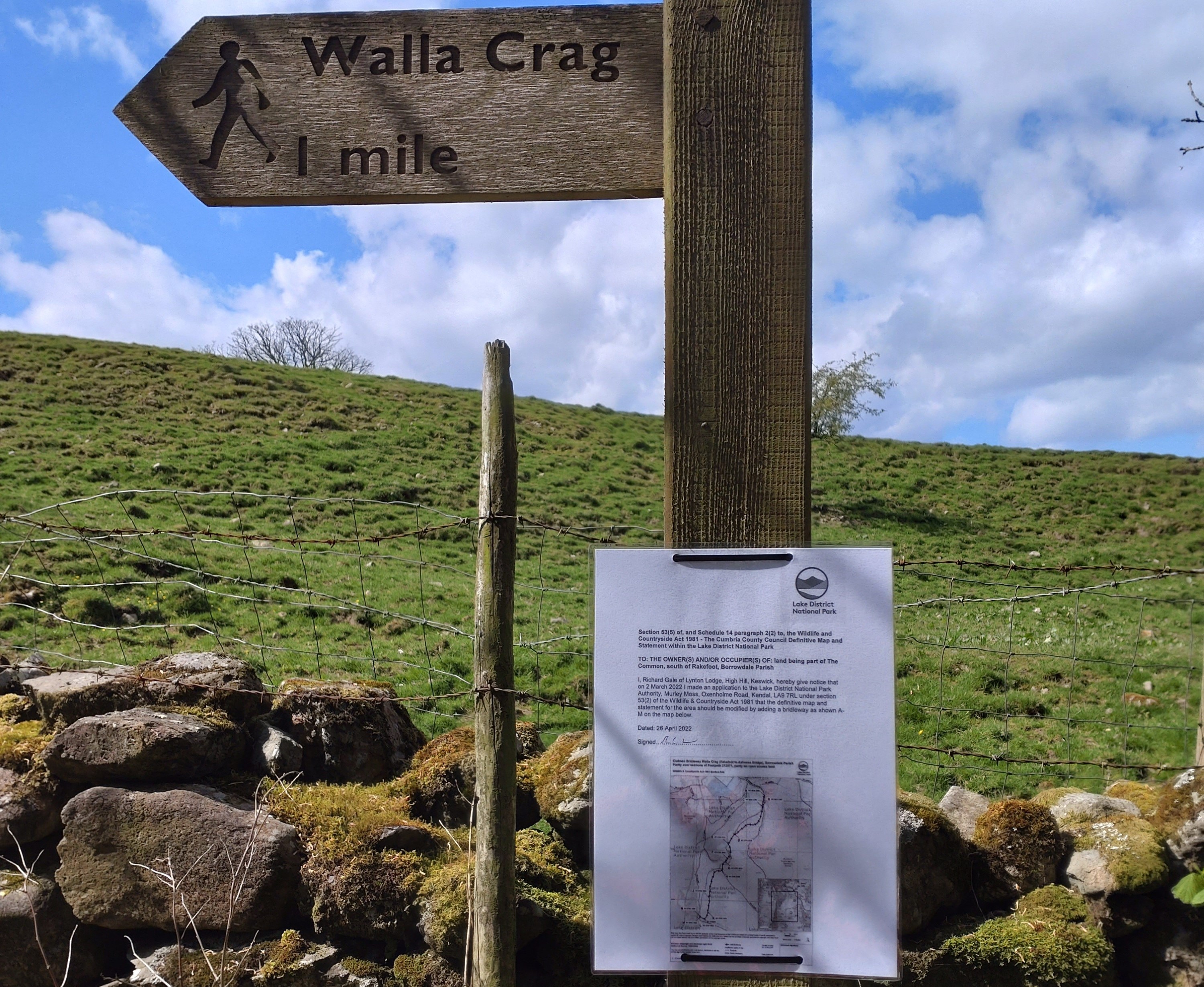 This resulted in LDNPA receiving some letters objecting to the proposal. Fortunately they recognised that the objections didn't contain any valid evidence of real problems on the ground, they were mainly just from folk who don't like cyclists.
After the form was delivered to the Trust I had a phone call from them saying they had talked to their legal team and thought the best way forward would be a permissive cycle way over Walla Crag. I was pretty happy with this, but when I contacted the National Park they said that as the process had been started and people had independently sent evidence forms in, they had to continue with the claim.
It was then a waiting game until the route could go before the rights of way committee, which only meets every three months.
Long-awaited success
The meeting was livestreamed online and made an interesting watch: I was quite surprised that some members appeared not to know the difference between a bridleway and byway, with questions about motorcycles using the route. Luckily the rights of way officer Nick Thorn dealt with any concerns in a very efficient way and the change was agreed.
There is then a period of three months where objections can be raised against the proposal. If they are valid, then the matter has to be referred to the Secretary of State and can take a long time to be resolved. Luckily there was no opposition and the route has now been ratified.
It was a long process, but it was worth it to secure the use of this great route. This was the first right of way claim that the LDNPA have used Strava data to prove usage, and one of the first new bridleways on proper mountain bike terrain.
Is there a route near you which you know has been used as a bridleway for 20 years? Find out how to claim it.