"Stop risking lives" Cycling UK tells Cumberland Council
Thursday, 09 November 2023
Last Sunday, 5 November, more than 1,000 people – many but not all on bikes – descended on a quiet country road in the Lake District.
The peaceful gathering's purpose was simple: to protest at the ongoing closure of the road running to the west of Lake Thirlmere in Cumbria, and the council's threat to make the closure permanent.
The road, maintenance for which is the responsibility of United Utilities, is part of National Cycle Network route 6. It is the only practical route for cycling to the town of Keswick from the south without taking long detours.
It has now seen small sections temporarily closed for more than two years, following unsafe conditions along sections of the cliffside after Storm Arwen.
Despite Cumberland Council's assurances, there is no "suitable alternative", with the only other option for people cycling from the south to Keswick being the A591.
This busy trunk road with significant lorry use has no cycle lanes, margins or footway. In recent years, there have been at least five fatalities and multiple injuries as a result of collisions on this road – compared to none on the now closed road to the west.
It is a road even people with years of experience cycling would avoid, and not a safe route a family might consider.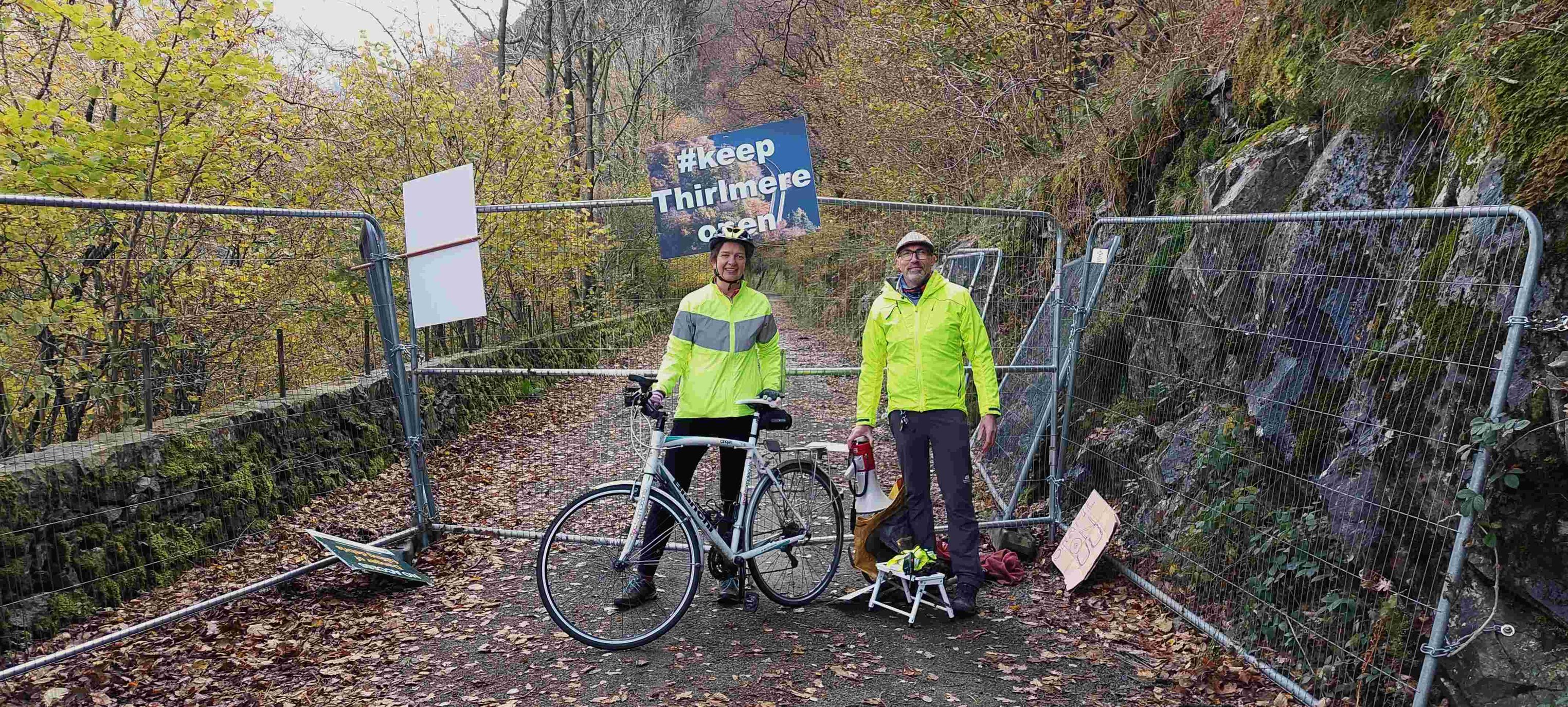 With permanent closure of the Thirlmere 'West' route now set for Friday 10 November, Cycling UK has written to the council, calling on them to reconsider their position based on three clear points:
There is no need to close the road permanently as there is still time for United Utilities to fix the road – which should be liable to a fine if the company fails to do so
There is no need for a permanent road closure, as the temporary road closure is until January and can be extended while repairs are ongoing
Safety: the A591 is not a safe alternative for people cycling
Duncan Dollimore, Cycling UK's head of campaigns, is now calling on council leaders to see how safe the A591 is for themselves by joining him on a ride: "Councillors considering closing this road need to ask some serious questions and stop risking lives.
"They'll know the busy A591 main road, heavily used by lorry drivers, so how can any of them really think this is suitable alternative for people cycling? That's what their officers have claimed – so if councillors are sure about the safety of this road, then I'm sure they'll be up for joining me on a bike ride along it to experience what it's really like."
Councillors considering closing this road need to ask some serious questions and stop risking lives

Duncan Dollimore, Cycling UK head of campaigns
Duncan continued questioning the council's actions asking: "Why isn't the council looking to take enforcement proceedings against United Utilities for not carrying out the repairs which would enable the road to be re-opened, when a legal notice was served on them two weeks ago giving them 28 days to execute the works?
"And why is the council looking to make a permanent road closure order, taking the pressure off United Utilities to do the repairs, when the usual time limits for temporary traffic orders don't apply in this case?
"Or councillors could just condense this to one question, namely why is the council bowing to pressure from United Utilities rather than listening to the thousands of residents who've overwhelmingly opposed this order?"
Cycling UK member Ted Liddle summed up the importance of keeping this road open not just for today's riders but also tomorrow's, when he said: "Legions of people of all ages have enjoyed using the Thirlmere back road for over 100 years. This includes many groups I have led along it for various purposes since 1960.
"It's down to those of us with warm memories of quiet use of this wonderfully scenic country lane to fight to re-open it, firstly because the only alternative is the A591 on the east side of the lake which is dangerous for vulnerable road users, and secondly for the benefit of future generations.
"We have to prevail."
A United Utilities spokesperson said: "We completely understand the frustration at the ongoing road closure and we are committed to doing all we can to reopen the U7003 around Rough Crag to all users including cyclists, walkers and motor traffic.
"We met with key decision-makers on site last week to discuss the work that will be necessary to stabilise Rough Crag, with the aim of getting the necessary permissions for this work to take place over the coming months."