Inspiring cyclists: Stuart discovers the thrill of handcycling
"I've always had motorbikes, always been a cyclist," explains Stuart, 51, from Gorebridge in Midlothian. "Mountain biking was a way of keeping fit and getting my thrills."
"Unfortunately, after 40 years of riding bikes it came to an abrupt end. I broke my spine, which means I've got nothing from the chest down. So, all I have now is my arms."
After his accident in early 2017, Stuart spent seven months recovering at the Spinal Injuries Unit in Glasgow. During a visit from one of his mountain biking pals, Stuart was lamenting the fact he'd never be able to go out cycling again.
By chance, this conversation was overheard by Spinal Injuries Scotland volunteer Mike Thomas, an experienced handcyclist. Mike introduced himself and told Stuart all about handcycling – just because you don't have use of your legs, doesn't mean you can't ride a bike.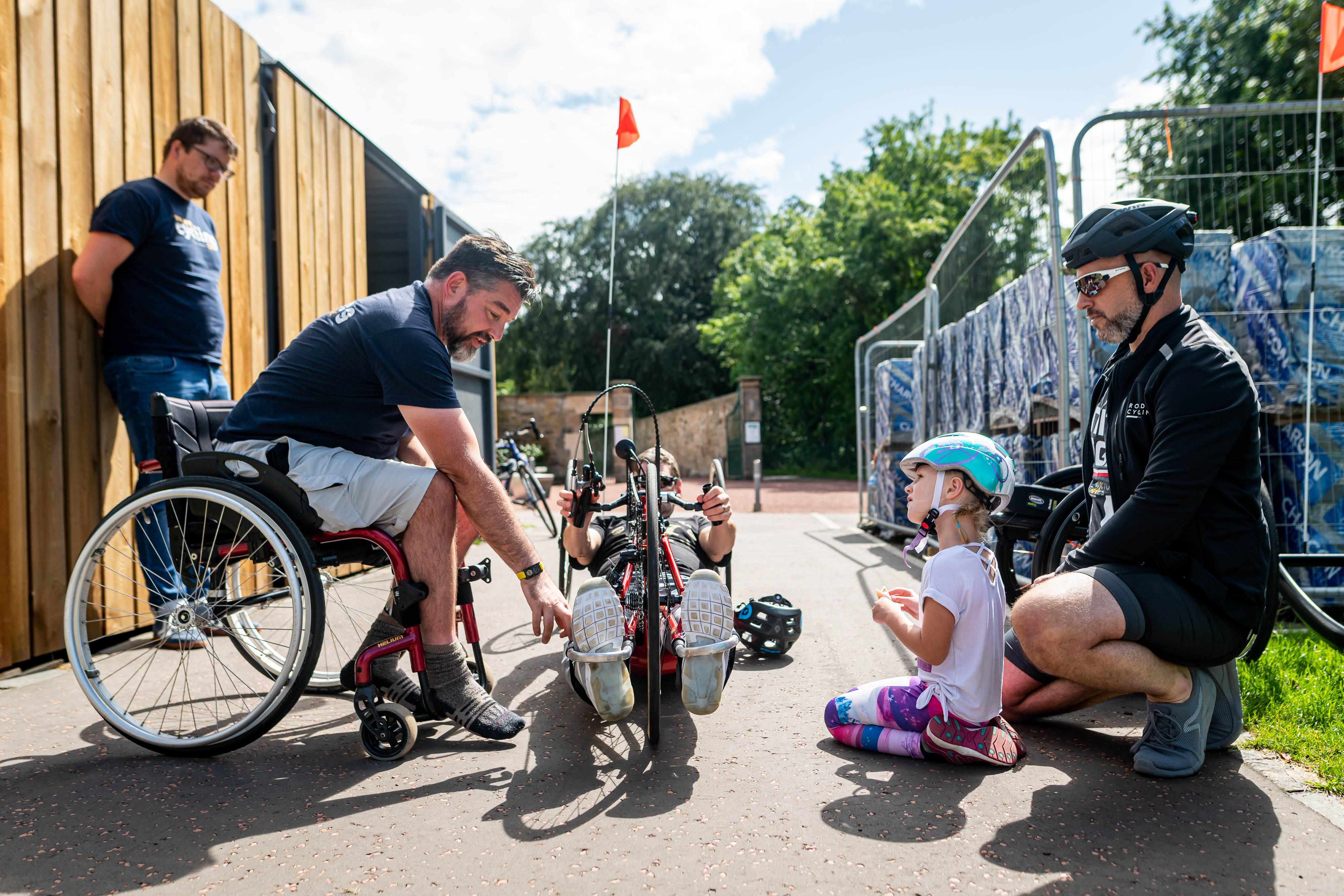 Mike later brought his handbike to the unit and gave Stuart a demonstration – both of riding but also the practicalities of getting from his wheelchair into the bike.
When Stuart and other patients at the unit had the opportunity to try outdoor activities at Castle Semple, an activity centre in Renfrewshire, Stuart was desperate to give cycling a go.
"I tried the handcycling and they couldn't get me off it!" he enthuses. "You're really low on the ground, you feel every bump in the road. You feel as if you're going really fast, and everyone loves speed!"
Stuart was hooked, but there was a major problem.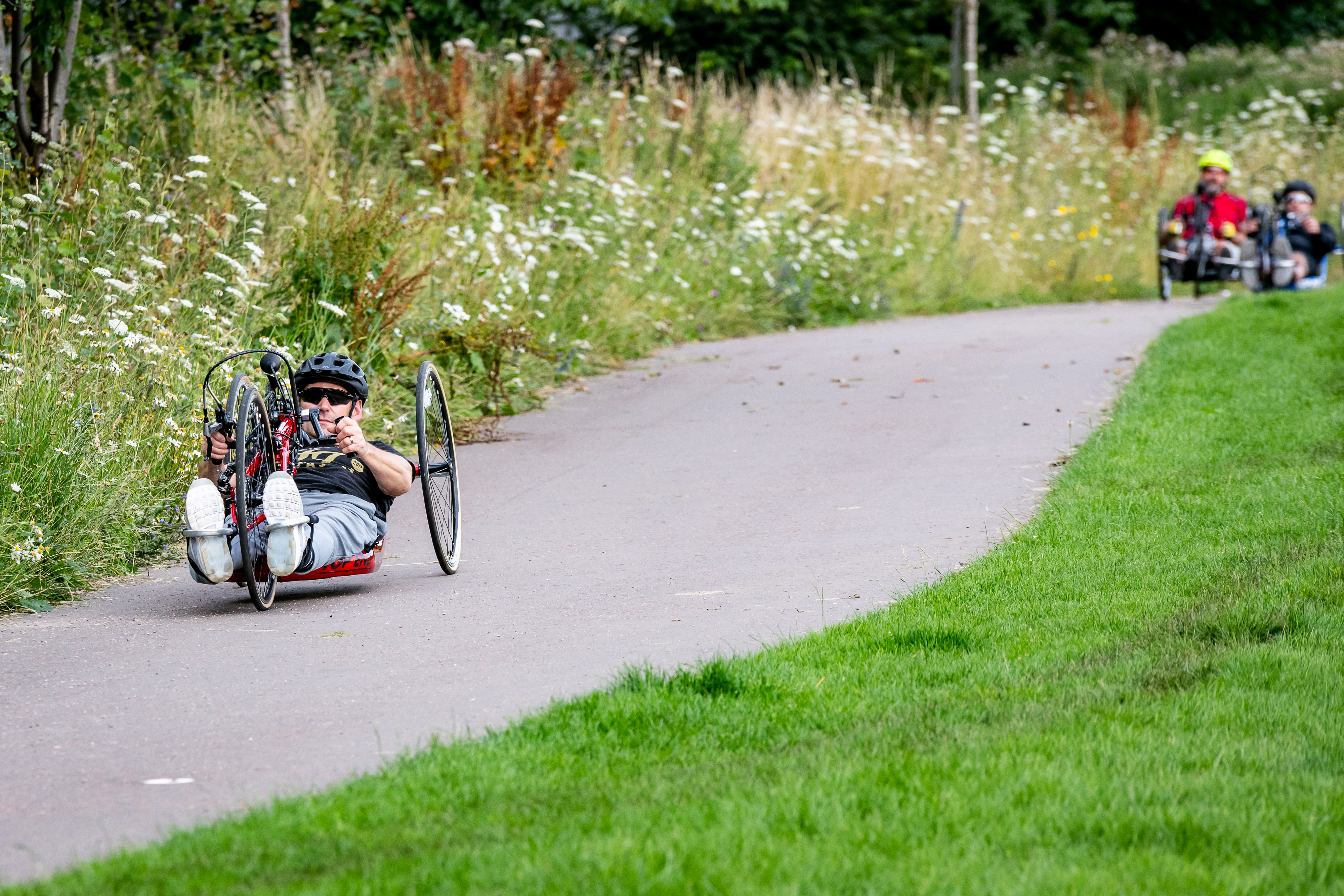 Once he was discharged and he returned to his home in Midlothian – just outside Edinburgh – there were no handcycling facilities nearby. The three-hour round trip to Castle Semple was simply not practical.
This all changed in the summer of 2019 when Cycling UK launched the Edinburgh Handcycling Experience, a brand-new project which forms part of the Edinburgh All-Ability Bike Centre (ABC).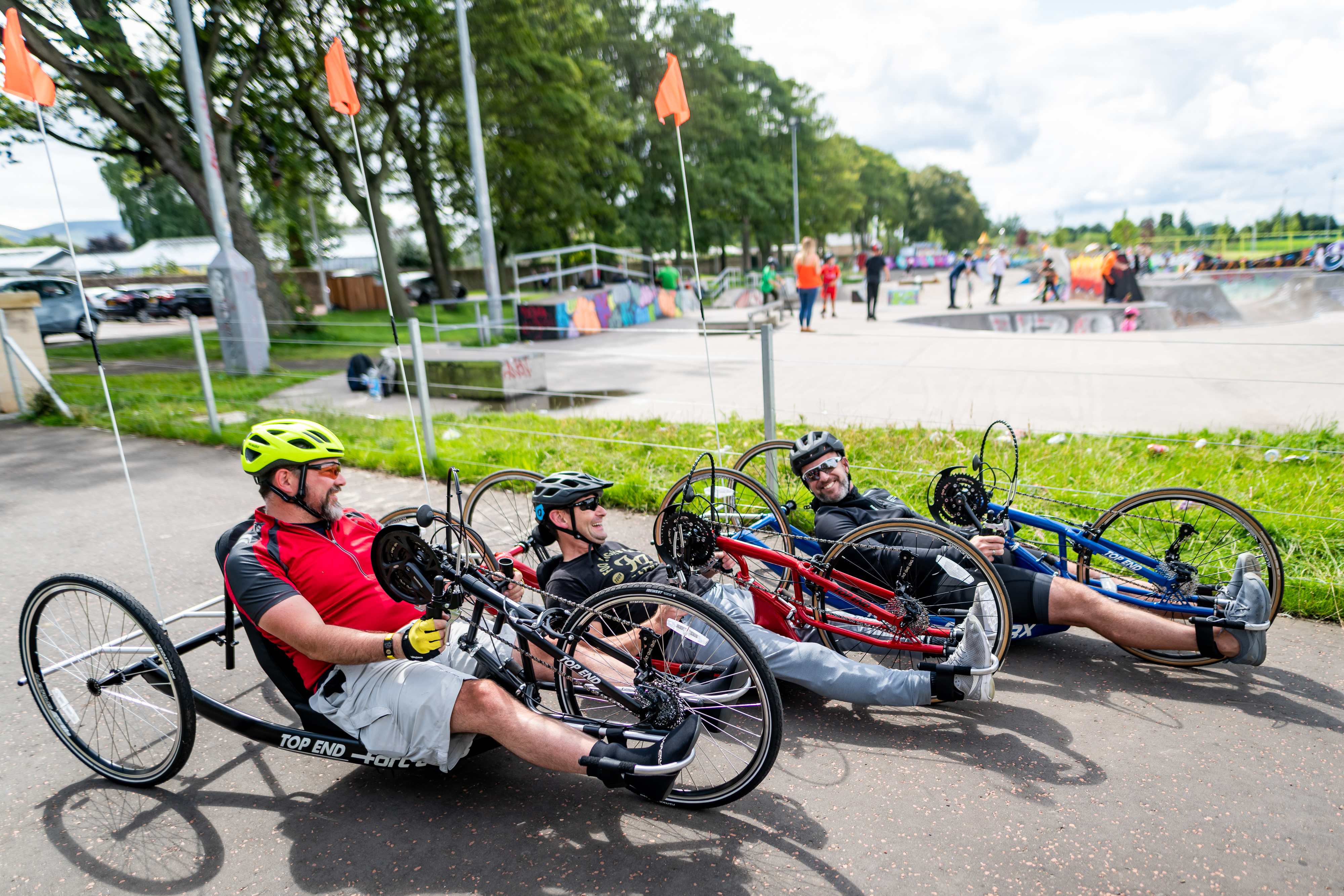 Stuart went along to the launch day at the ABC's Saughton Park base and was raring to get back on a handbike. He says the warm welcome he has received at the project – run by Cycling UK Development Officer Ken Talbot, a world record holding handcyclist – has been a bonus.
It's exhilaration, that buzz you get. Because of your injury, you think it's a feeling you'll never, ever be able to capture again.
"It's very friendly. There's always a camaraderie with folks on bikes, especially if they've got a spinal injury you can share the experience you've got."
Stuart now heads along to the sessions at Saughton Park on every free Saturday he has. As the weeks pass his confidence grows and so does the distance he covers – progressing from riding in the park to longer rides on some of the city's off-road cycle paths.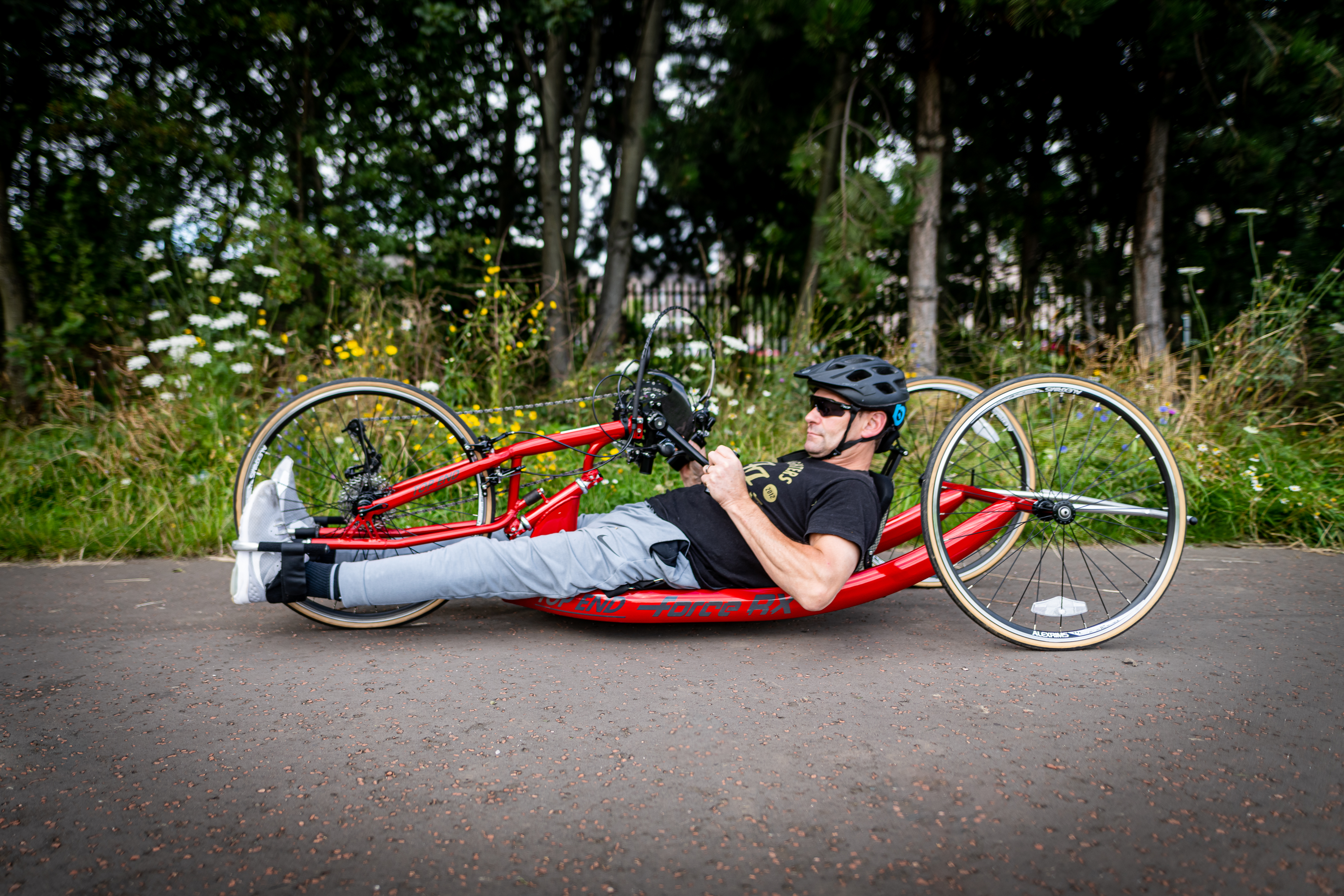 As he becomes more experienced – both as a rider and with the tricky task of getting from wheelchair to bike – he's also been able to lend a hand to new participants.
"You'll always try to help out – that works really well. It's great seeing someone come back with a big cheesy grin on their face having enjoyed their first time out."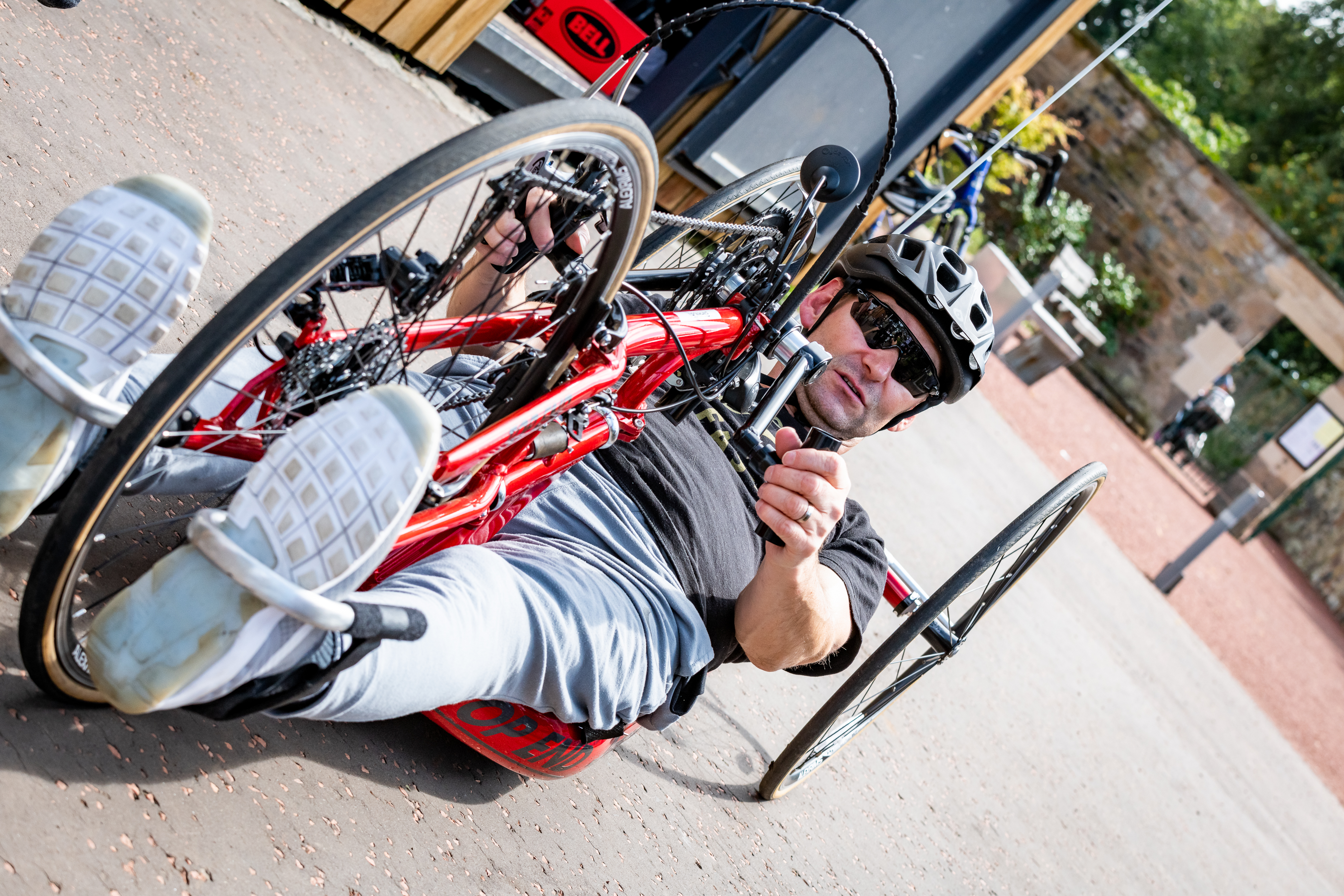 So how does Stuart describe the feeling he gets on a handbike?
"It's exhilaration, that buzz you get. Because of your injury, you think it's a feeling you'll never, ever be able to capture again. And when you get that back, it just brings on a big cheesy smile.
"It's like that step up from the sedate life of wheeling about in a wheelchair, to being back on a bike and bombing down a hill for the very first time!"
Stuart explains that rediscovering cycling has also been a boost for his mental health: "You get into a dark place when you've suffered a spinal injury and everything you do is based around cycling and bikes and going fast.
"It's good for the mind, it takes you away from the dark places that you can find yourself going into. It's just brilliant and I'm so glad that I've found it."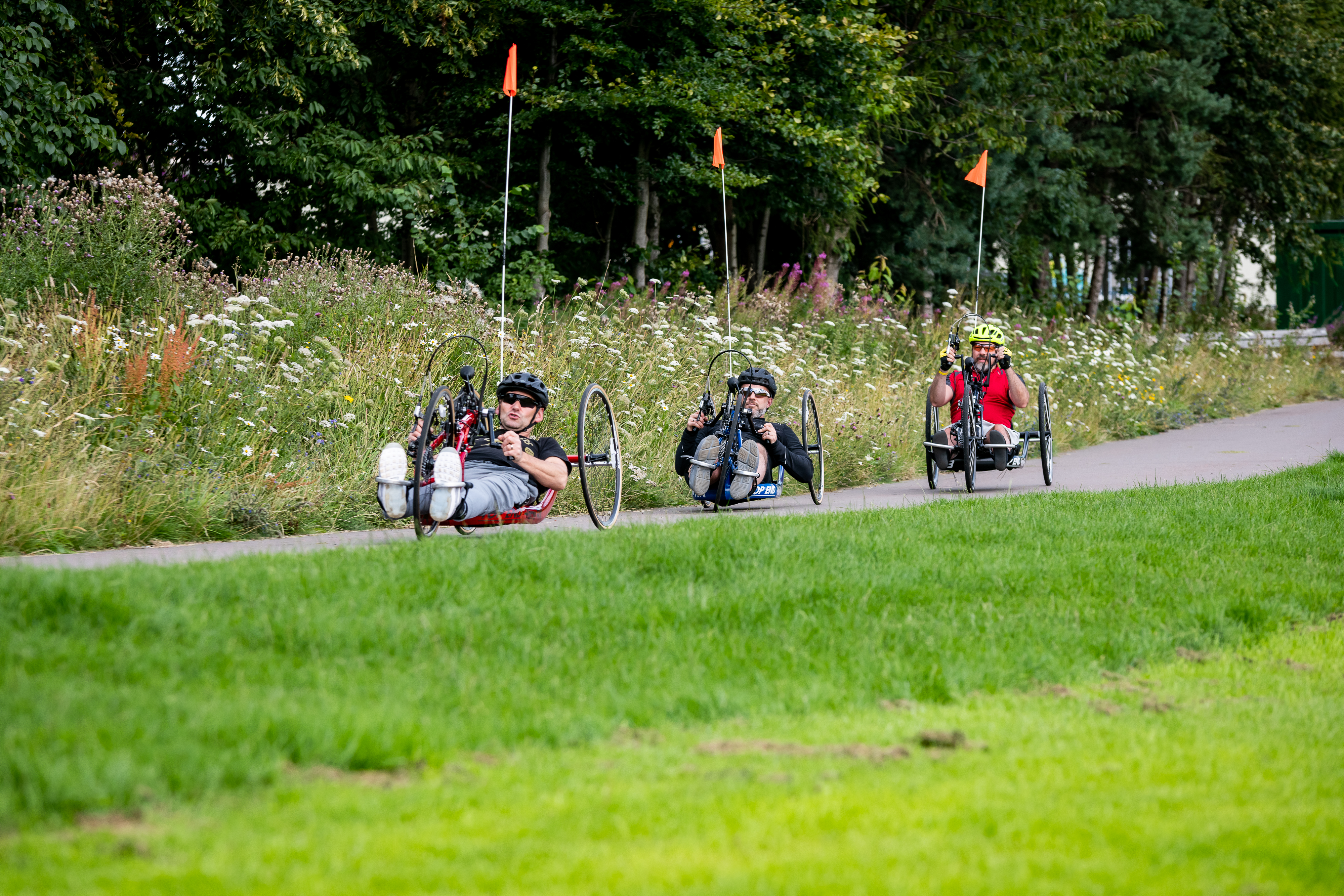 Given his own positive experience, Stuart is also encouraging more people to try handcycling through his work. As an Outreach Support Worker for Spinal Injuries Scotland, he helps people with advice, shared experiences and signposting to services.
"Every time I speak to people about exercise, I always try to talk about handcycling and promote it as much as I can."
Stuart says that cycling gives him something he'll never find in a gym. "You can be in the gym working out and it's a drudgery; you go there to achieve a goal but you don't necessarily enjoy it.
"I'd rather go on a cycle – getting all the workout I need but you're outside, you're seeing things and you're moving, it's just brilliant. That is a tonic in itself. It's good for the mind, and physical exertion for the body."