Inspiring volunteers: How the Edinburgh ABC is good for my soul
"I think of myself as an enabler," explains Clare. "I'm enabling folk to get on bikes, to show them the way and to have fun. I get a huge amount back too. It's really good for my soul."
Clare, 61, from Craiglockhart in Edinburgh, volunteers every Monday at the Edinburgh ABC's open drop-in at Saughton Park. She supports a diverse range of people who need a bit of extra support to get cycling, including those with physical and learning disabilities.
As a Cycling UK member who rides with her local group, Clare always felt fairly confident about the cycling aspect of the role. What has surprised her, she says, is how much she enjoys working with the people.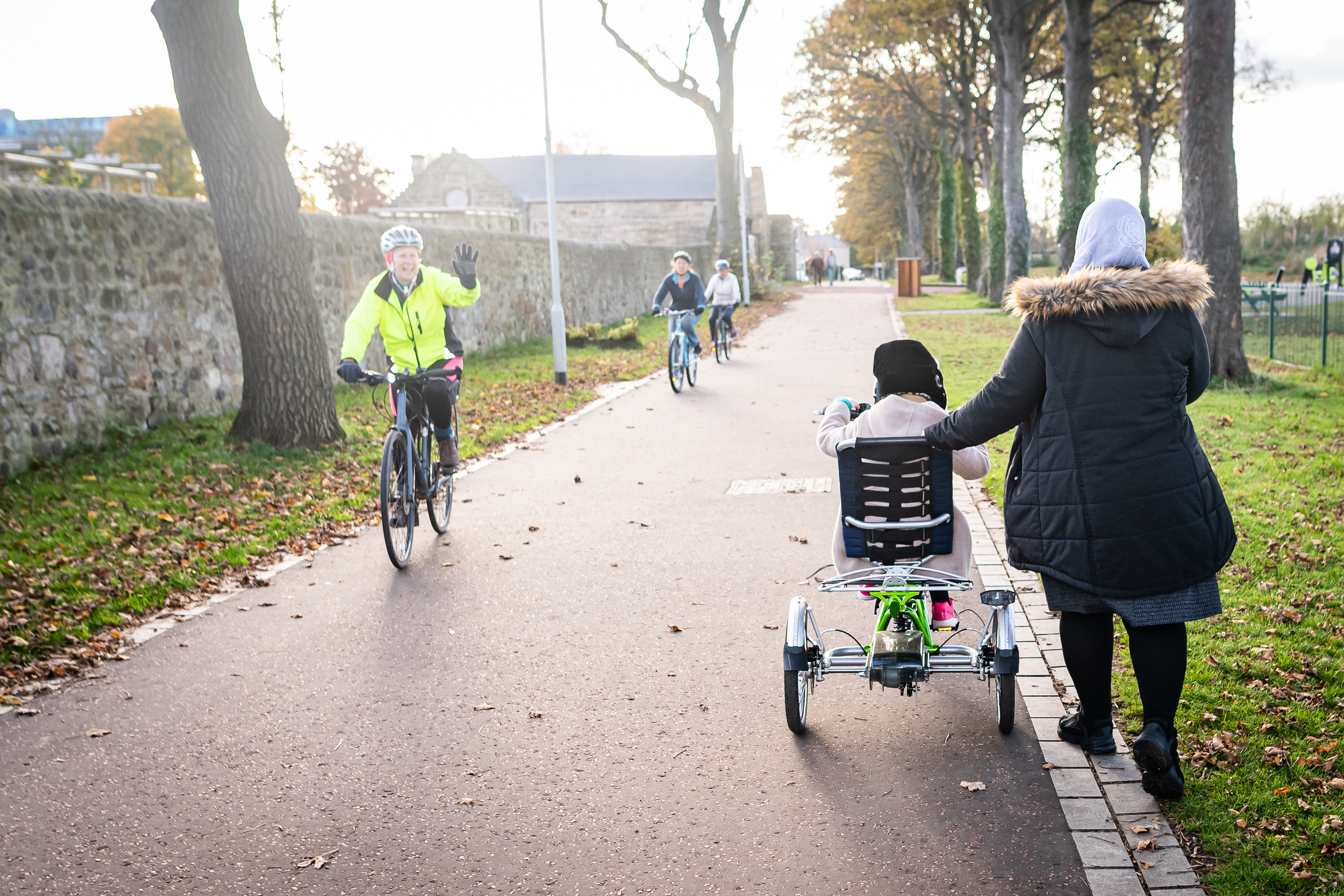 "I love meeting people and them telling me about themselves. There's a core group of the same people who I now know quite well, I know their carers, and that's really nice. Then there are always the new folks who are coming in."
Clare explains that for many participants, it's important to initially give them space and time. She tells the story of one young man she works with, who has challenging behaviour and very little speech.
"One day he had to wait for his taxi with his carer, and he was sitting next to me, and he just took his hand and patted my hand. And now I'm his chum and he knows me. I [gave him space] initially and it took him to come to me, which I thought was a good way of doing it."
They are doing it themselves. They're not being either pushed around in a wheelchair or being helped along. They are out there, on the bike, they've got control, they are doing it

Clare McDonald, Edinburgh ABC volunteer
It's clear that the ABC's ethos of empowerment is important to Clare. She emphasises how crucial it is to promote people's independence.
"You can just stand back and be there for them. They are doing it themselves. They're not being either pushed around in a wheelchair or being helped along. They are out there, on the bike, they've got control, they are doing it."
Clare explains that she gets a real buzz from helping others through her volunteering. She talks about a woman who had lost the ability to cycle following an accident.
"She couldn't cycle on an upright bike. [Before that] she used to cycle all over with her husband. Then she got on one of the trikes, and because it's got so much adaptability in terms of position, she can now ride again.
"We actually haven't seen her for a little time. I think she's now gone and bought one. I think they're now off cycling together. That's the perfect outcome."
Although Clare is now very confident in her role, on her first day as a volunteer in back April 2019, she admits to feeling some trepidation.
"I was nervous. I was the only female with three guys who'd obviously worked together for quite a long time."
Clare joined the existing staff and volunteers at the Monday drop-in session – David, David and Dave.
"I became the fourth Dave, and that broke the ice a little bit!" Clare had been invited to visit the project, shadow the team and see if she'd like to volunteer regularly.
"I thought, let's go and see how it works," Clare says. "It was me probably dipping my toe in and thinking, 'this is kind of well outside my comfort zone.'"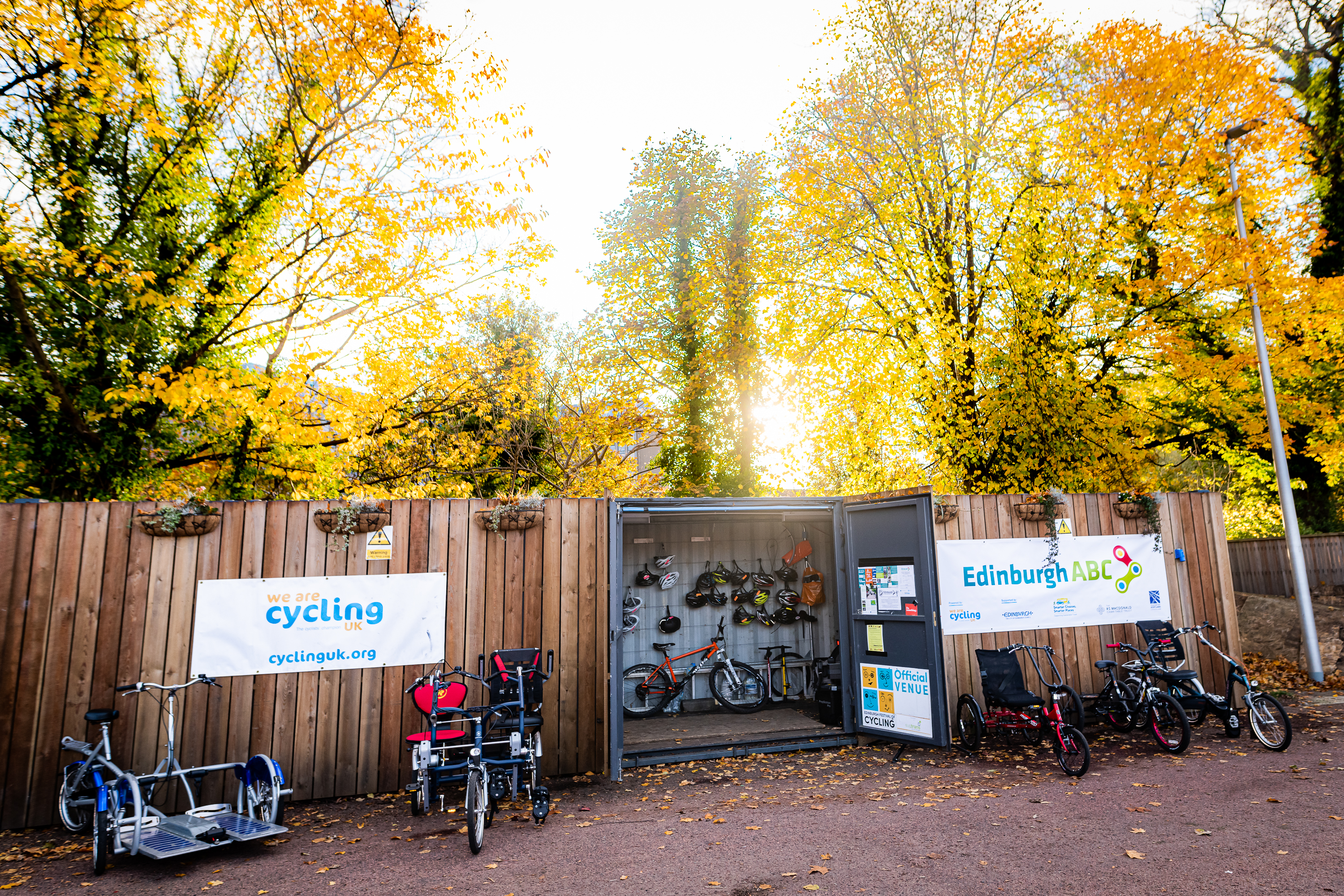 She found a welcoming reception with the ABC team. "They are very supportive," explains Clare. Within the first session, she felt sure that this was the right place for her.
Over time, this sense of belonging has grown: "It's being part of a community. It's a really happy environment, it genuinely is."
As well as shadowing and learning from the Davids, Clare has received training too. "I've done the Outdoor First Aid course," she says. "We had two days of learning about outdoor injuries and situations. I thought that was a big investment in me. That was a huge thing."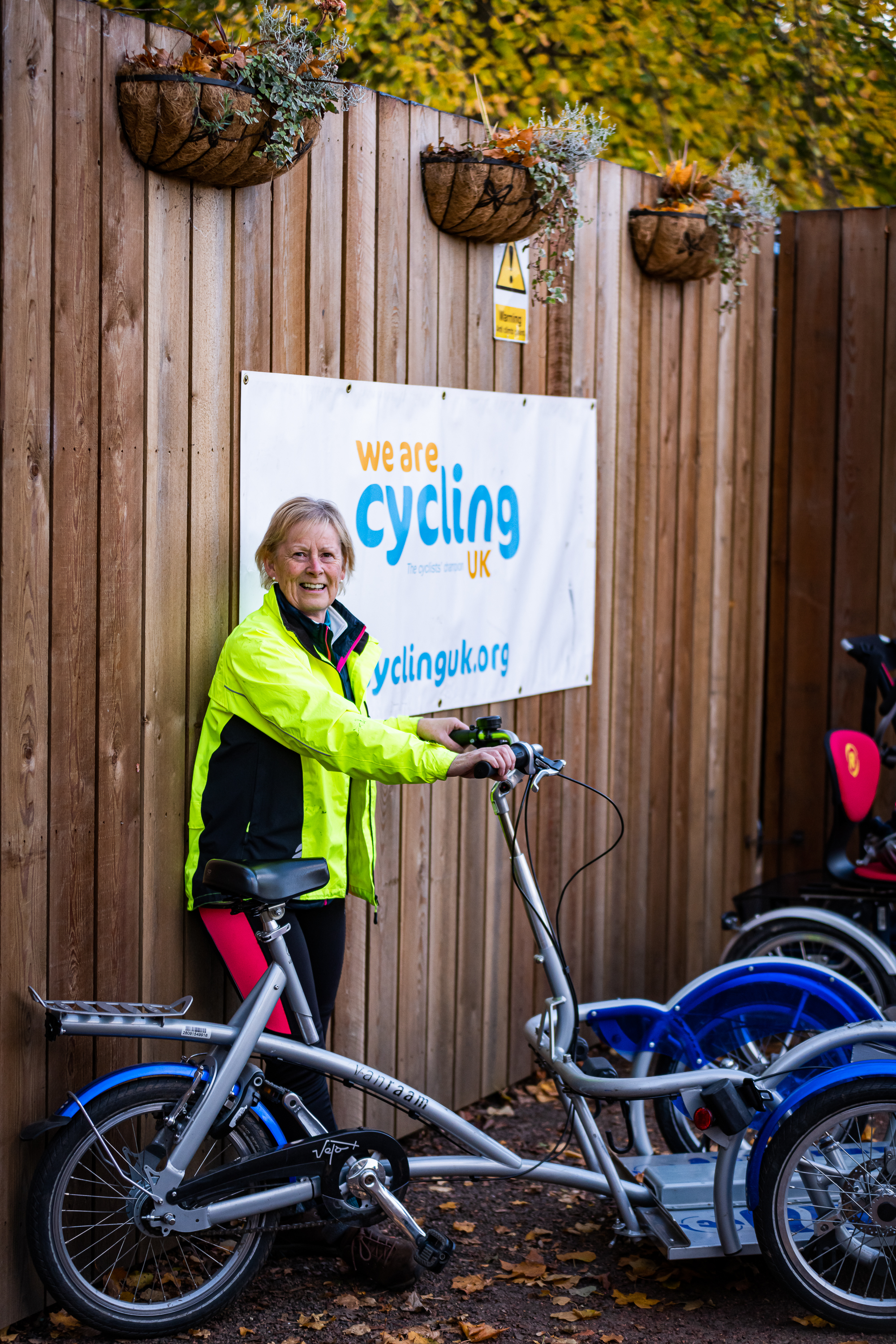 Above all, it's clear that Clare gets great pleasure from seeing positive changes in the people she works with. "It's people being more open, more involved and more engaged," she says. "That's the big thing.
"Clients come and they're quite shy, they hide behind people, then they go off for a ride, and they bounce back over to give you their helmet back! It's a general feel good factor, for both sides."
And what would she say to someone who's not sure about volunteering for the project? "Come down and shadow somebody. Come and have a chat, and get involved!"
The Edinburgh ABC is supported by The RS Macdonald Charitable Trust; Paths for All Smarter Choices, Smarter Places Open Fund; Transport Scotland; and The City of Edinburgh Council.