Karen Darke's World Human Powered Speed Challenge
Tuesday, 27 November 2018
There is brown as far as the eye can see. Desert scrub, lots of salt, and a road as straight as an arrow. Unending straightness. Tensions in the car are tight because we're all wired on coffee and bubbly water. We're hoping we'll at least find some food and fuel soon, because out here, we're not remotely close to anything so luxurious. We are somewhere in the Nevada desert.
We roll into Battle Mountain, the town dark apart from the golden arches of McDonald's, lit like a cathedral spire over the grid of dusty streets. I don't see any tumbleweed, but there are a few small casinos, a Family Dollar store, and the Big Chief and Super 8 motels, our home for the next week…
"Are you ready Karen?"
"What, now? "
"Yes, now."
"Errr. Okay."
"Okay, 1, 2, 3……"
I push hard on the pedals. The cocoon I am in begins to shudder. The sound reverberates around me. I try to focus on the tiny screen, on the camera image of the road ahead. It is seconds since I launched, but the data tells me I am already moving at 40km/hr, and rapidly speeding up. I feel a gust of wind throw me to the right and I crank left to try and hold the road, but there is barely a response. The steering is almost non-existent. The front wheel only moves a few degrees.
The noise is deafening now. I am gripped, and grip the pedals tighter in response. My senses are overloaded. My concentration narrows to the screen. I am totally focused on the black line of tar ahead of me, on keeping my line, pedaling as hard as I can. This is alien. This is surreal. I am immersed in mechanical thunder. Every gram of my wits is focused on holding the road. 
I think I've passed the timing gates, but I'm not sure. I am disoriented. Confused. I thought there were mile markers, but I saw nothing. No signs. No flags. Nothing but the road. Where am I? I think I'm done. I brake but it seems to take forever to stop. I saw 78km/hr on the screen. It felt fast. Noisy. Scary. I am shaking.
"Are you okay Karen?"
"I think so."
"You're a bit early that's all…"
"Ah, s***t " I react, and start pedaling again as hard as I can. I have no clue where I am. No sense of space or distance. 
"Welcome to the 19th Annual World Human Powered Speed Challenge" Alice announces from the stage of Battle Mountain community hall. It is an eclectic mix of volunteers, engineers and athletes that gather in the desert for a week every September. We are sat amongst the student and staff team from the University of Liverpool.
I am the female pilot of the incredible 'egg' handbike they have spent two years designing. Ken Talbot is also piloting, and we will be attempting to break the female and male landspeed records for armpower. The mix of student engineering teams and 60's reminiscent characters with impressive ponytails, beards and moustaches, have one thing in common. Velocipedes.
Velocipedes are human-powered vehicles, essentially bikes covered in an aerodynamic shell so they look more like pointy eggs. Highway 305 is the attraction, a unique piece of road about twenty miles south of town that has barely any gradient and is arrow-straight. Early in the morning, and late in the evening, if we're lucky, the wind will be still enough to make world record speed attempts legally valid.
After winning gold in the Paralympic Games in Rio 2016, I was looking for something different, and a new challenge. The women's armpower record was set by Britain's Sarah Piercy in 2016, riding an arm-powered bike designed by the University of Plymouth, at 24.85mph. I thought it was possible to beat that. The question in my mind though, was whether it was possible to beat the existing all-time armpower record, set by Mike Sova at 45.68mph. Handbikes whizz faster than that when going downhill, but it was daunting to imagine achieving that on a flat road. 
The students had put two years of design and engineering work into creating the arm-powered velocipede, and their commitment, work-ethic and teamwork impressed us. I liked Ken's positivity about his chance of cracking the record, and I hoped for him and the team that he would, and that I could too.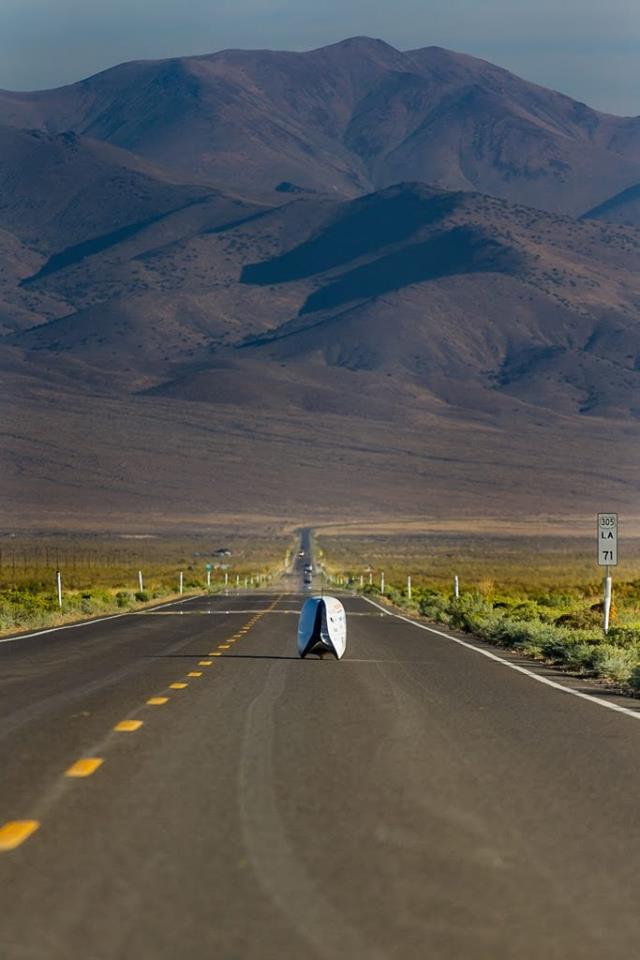 Each morning, we left town in darkness. We passed the tall sign asking 'Battle Mountain: Are you tough enough?', as if the slogan has been designed especially for this event. Were we? After that first scary run, I wasn't so sure!
In our daily ritual, we drove out to 305, snacking on a quickly grabbed breakfast, staring out at the dusty landscape, rubbing sleep from eyes. As hints of a sun rose behind distant mountains, riders would climb onto regular bikes, and warm up on rollers, preparing bodies for the blast to come. I wondered if I could sustain the daily ritual without getting tired and losing power throughout the week. Being paralysed from the chest down, it is the same tiny shoulder muscles that I rely on for everything.
By day three, my optimism about breaking the record began to waiver. Whilst even on that first scary run I had hit record-high speeds, the wind hadn't been legal, and on day two, it had been illegal again. Ken and I had also lost speed before the timing gates, a 200m section of road at the end of either a 2.5 or 5 mile run up. We could pedal ourselves to exhaustion all week, and never get a legal wind. Or we could get a record far slower than we were capable of pedaling, if we didn't apply our power at the right times to reach maximum speed in the gates. This wasn't just a game of doing, but of luck and strategy too. 
As the week unfolded, the initial shock of piloting a velocipede became somehow normal. We discovered that the speed challenge in Nevada isn't just a game of breaking records. It's something far more.
Battle Mountain may on the surface seem a dusty tumbleweed-town, but it has heart and soul in abundance. We became part of a special community, part of a group with a heart for fusing engineering with athletic performance, for encouraging and supporting one another, for exploring and pushing limits.
Thanks to that fusion, five World Records were broken that week. Ken Talbot rode Liverpool University's Arion 4 bike at 51.58 mph in the men's armpower category. I posted successive records of 41.86 mph, 46.05 mph and 46.54 mph, for the women's armpower category. Junior rider, Ishtey Amminger rode the CO2 bike at 60.94 mph in the men's multitrack category. 
A huge thank you to the incredible engineering and teamwork of the Liverpool University engineering students. It was a privilege to join the team…and as it turns out, we were tough enough.