Great Rides: Karen Darke's journey of a lifetime along Australia's Murray River
'The Mighty Murray' River didn't seem so mighty. It is hardly a torrent of powerful turquoise rushing from the Snowy Mountains to the Southern Ocean. It begins as little more than a trickle and becomes a slow-moving narrow ribbon, a murky algal green, it's flow blocked by dams and weirs. In a battle to maintain flow, dredgers clear its mouth of sand and its man-made lakes of sludge.
As man tampers and attempts to balance demands on the water, the river's floodplains are starved and the basin it nourishes is becoming more saline, less able to sustain life … let alone cycle tourists!
In my vivid imagination, I had things in common with the Murray River. Since winning a Paralympic gold medal in Rio de Janeiro 2016, the world seemed to hold me in a different way, as if I were somehow more 'Mighty' than before. It seems that the journey to a gold medal somehow embodies the meat of a cultural narrative: man or woman fights in the face of adversity, never gives up, and eventually achieves their wildest dream. But it has felt more of a journey of being slain than one to glory.
All the hard training, the sense of pressure and the focus took its toll on me. For a year or more I had been feeling like the Murray River: empty, a little stagnant, blocked, my energy like water struggling to flow.
The Murray River had first captured my attention when I heard of one woman's incredible feat, swimming its 2,820km meandering length. Her story led me to learn more about the river, and through that I felt a metaphorical kinship with it. Somehow, the river was calling me.
I imagined the Murray River Trail as a marked cycle trail along the riverbank, through eucalyptus forest and wetlands, vineyards and orchards, circumnavigating lakes and pretty villages. I wanted to cycle it, but I didn't want just another long ride.
Eight years of being a Paralympic cyclist and a lifetime of riding a bike, I felt ridden out for riding's sake. Don't get me wrong, my bike is an extension of my body and brings a recipe of life-sustaining ingredients, but this time I needed something different.
The opportunity dropped into my inbox, the subject heading 'Journey of a Lifetime'. It was an invitation for applications to make a radio travel documentary. Offered by BBC Radio 4 and The Royal Geographical Society, the combination of travel, storytelling, exploration and radio was irresistible. With one day to the closing date, I had a busy creative task on my hands, but I knew this was an opportunity to be seized. My expectations were fuzzy, but I knew I needed fresh perspective.
The Murray River offered a spark that I wanted to light.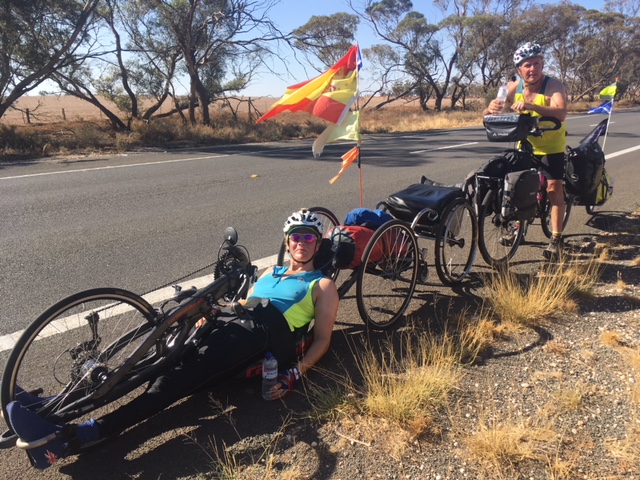 At last I found myself and my friend and co-adventurer Doug beneath Mt Kosciuszko, Australia's highest mountain (2,228m) and the watershed of the Murray River. I had been fortunate enough to win the Journey of a Lifetime opportunity, and had my companion Doug crouched in the middle of the river, feet wet, with a fluffy microphone plunged towards the bubbling sounds of the upper Murray. We were reminded that the only thing to travel rapidly downhill from the spring of a river is the water.
In contrast, the road climbed and contorted through eucalyptus giants, their sharp aroma unfortunately not infusing our muscles. Alpine climbs is not what we had anticipated, and I saw the anxiety on Doug's face as he strained to pedal his heavily laden bike. He was finding it almost impossible to pedal uphill and balance with full panniers and a trailer with my wheelchair perched on top.
I have a way of sketching the shapes of a cycle journey, but rather than getting the lines and details accurate, I wash the pencil over with watercolour ideas. I would discover that riding in Australia would be a little different to the sketch in my mind!
I thrive in mountains. The peaks and troughs inspire the life in me. But the Australian Alps quickly fell away, and from day three onwards, the river falls only 200m in 2,000km. Our journey led us to lines of tar, as straight as straight can be, hundreds of kilometres of nothing but crops and bush.
The journey became different to any I had undertaken before. We would discover that the Murray River Trail was no riverbank cycle path. It was a highway of RVs and crop-laden juggernauts. Ghostly tree stumps were drowned in reservoirs. Vineyards and orchards were vast and fenced, statements of uniformity and globalisation, their water-sprinkled green an unhealthy paradox in a desert.
The villages were not pretty, but functional strings of outback services, abandoned hotels and derelict brick buildings, relicts of a bustling agricultural region that has upscaled to mega-farms run by multinationals.
I had never cycled hundreds of kilometres of desert highway before. I hadn't towed my wheelchair for years. It was precariously tied to the back of my handbike, luggage and food piled where I would normally sit

Karen Darke
As each day began, I anticipated boredom and hardship. I had never cycled hundreds of kilometres of desert highway before. I hadn't towed my wheelchair for years. It was precariously tied to the back of my handbike, a bag of luggage and carriers of food piled where I would normally sit.
"What towing system are you using?" a handcyclist messaged me, wondering if I was using a fancy system he had come across. "Errr, it's very hi-tech" I replied. "A pedal toe clip!"
I felt slightly smug that such a simple solution was working so well, but a few weeks in, my wheelchair overtook me, rolling its load quickly towards a steep roadside bank. I watched it topple into the desert plains and was happy Doug could retrieve it and rig up mark 2 of the towing system – a bungee.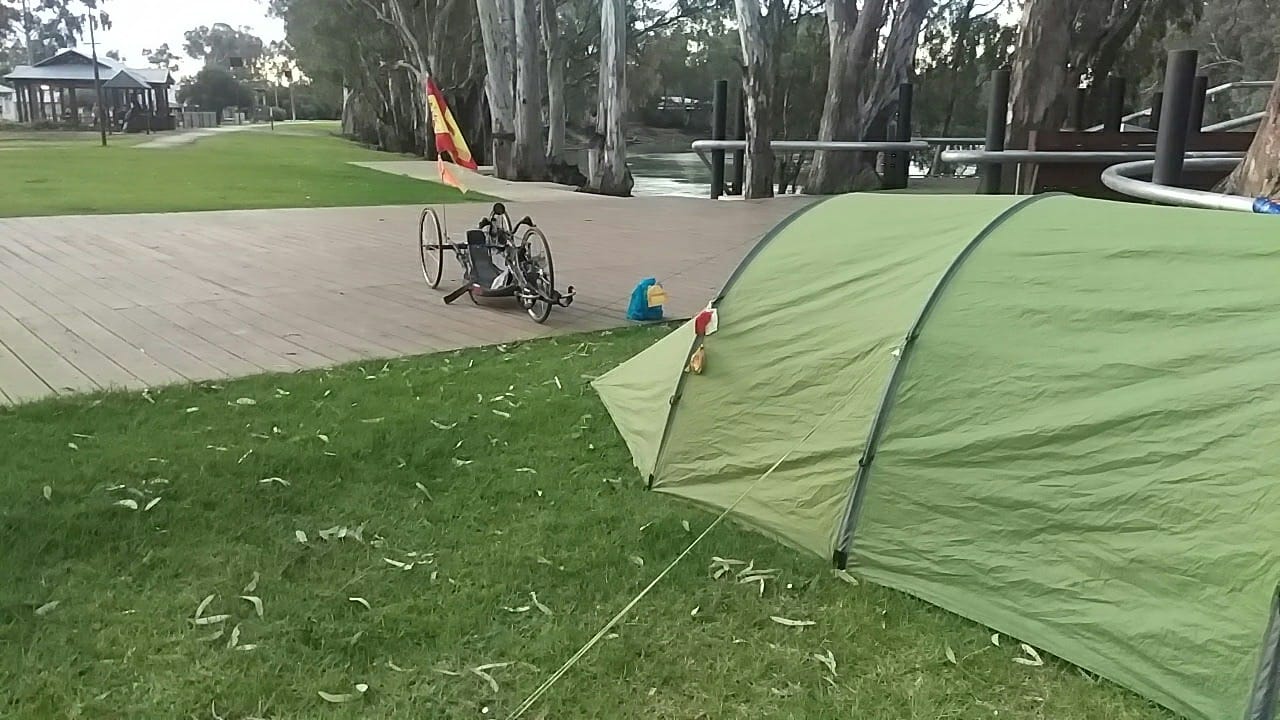 It was arid country, lines of bitumen stretching to infinity, traversing land where droughts, floods and bush fires are constant threats. It is not cycle-touring country, but strangely, boredom never arrived.
We traded sticky daytime riding for star-and-moonlit adventures, and the challenge of dodging lumps of road-kill in the dark. The stench of rotting kangaroo and wombat permeated the night air, but we could ride the skin-smooth surface of the main carriageway instead of the rubbly shoulder, dodging in when we saw juggernaut lights bearing down. It was unexpectedly magical, a rare cycle-touring experience.
The vast empty landscape could have left us feeling similarly vacuous. Indeed my mind was emptied with the days of pedalling. Trauma of the past and anxiety of the future got left behind in the drama of the Alps, displaced by an unfamiliar calmness.
Contemplations about medals, about if or when to end my athletic career, became insignificant in a land where staying alive is raw and real. Any thoughts I had were about water, the vital ingredient that would keep us alive cycling through the desert, the crucial topic for all that live in the Murray basin, the liquid gold that sustains us all.
In the lands of the Murray, a litre of water costs more than a litre of wine, water tanks are empty, and plastic bottled water from intermittent garages became our staple for survival. Every drop was precious.
In the contradiction of desert and river, I found an oasis. The people and landscape had heart and resilience in abundance. The river brought connection to the region in a way that makes 4G seem primitive. The Aboriginal roots of the country may seem lost, but their strength of spirit and survival is not. The intimate combination of bike and sound brought deep reminders of what matters. Riding the Murray River was a journey of a lifetime.