Celebrating Cycling UK's volunteers on International Volunteer Day
International Volunteer Day was started by the United Nations to recognise "the millions of people around the world who take action on issues that matter to them, volunteering within communities, organisations, companies, and by themselves", to help the world achieve its 17 Sustainable Development Goals (SDGs), which include Sustainable Cities and Communities and Good Health and Well-being.
The #IVD2022 campaign also "highlights the power of our collective humanity to drive positive change through volunteerism." It recognises that: "volunteers, drawn together by solidarity, develop solutions to urgent development challenges for the common good."
This is certainly true of volunteers in cycling, especially those outstanding Cycling UK volunteers who are role models in their communities by working together in solidarity and personifying inspiration in action.
They also embody Cycling UK's core values, which include Cycling for All and Collaborating as One Team. 
Marina Friend, Coventry CTC ride leader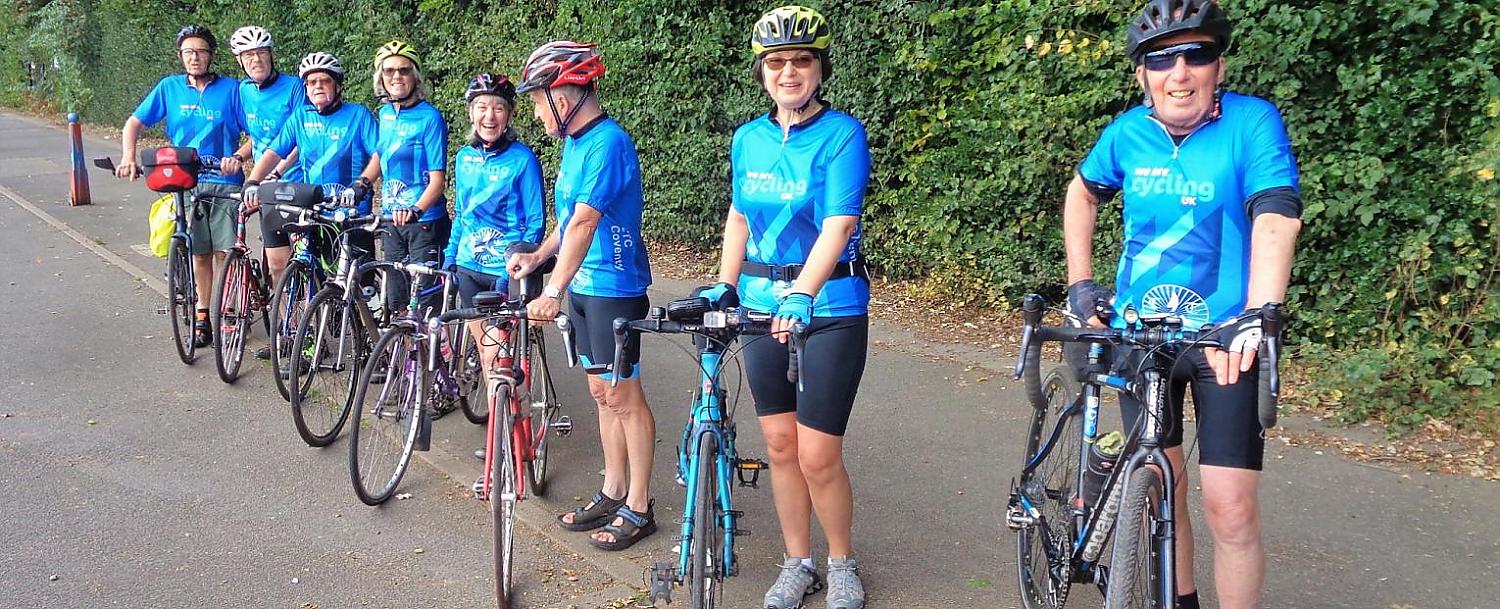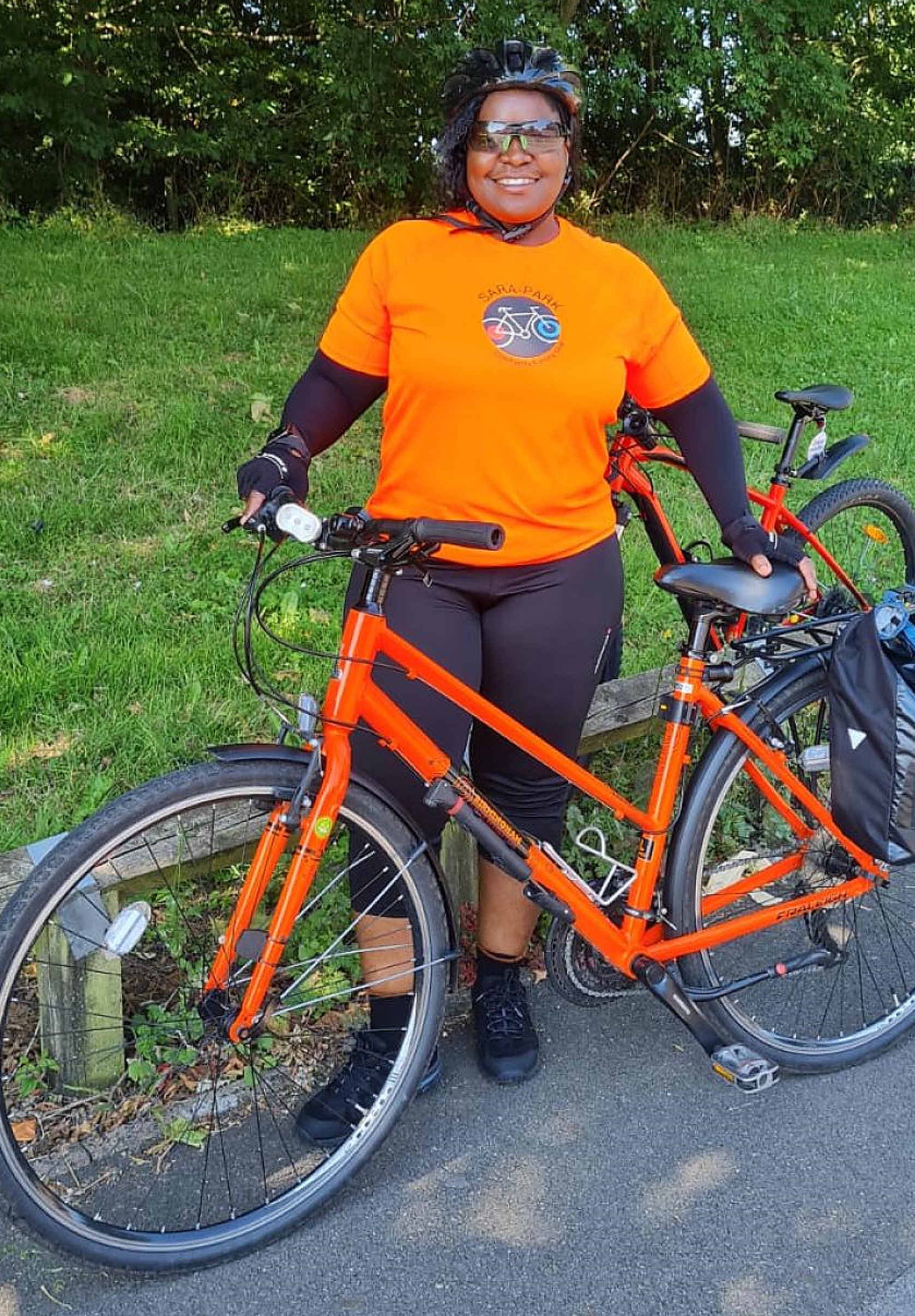 Joscelyne Daniel is also a ride leader in the West Midlands. She says: "Supporting the children and adults' learn to ride sessions and developing their cycling skills is very rewarding, as you see the joy in the faces of both as they achieve confidence while developing new skills."
Jill Borcherds, local Cycle Advocacy Network representative, Hertfordshire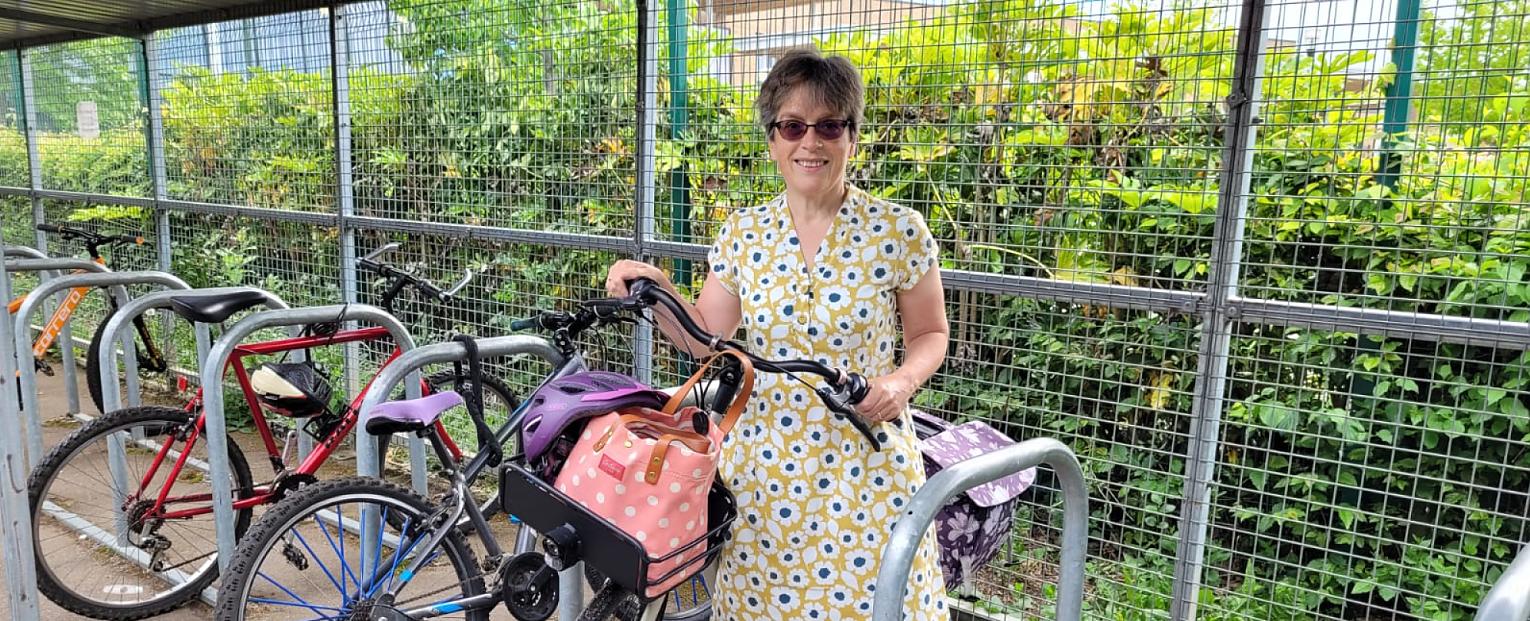 Meanwhile, Jill Borcherds of Stevenage Cycling is a volunteer with her local group too and she is also a member of our Cycle Advocacy Network (CAN), campaigning for better cycling facilities in her area. Not only that, Jill is also one of our Pumped Up Crew of micro volunteers who perform small, online tasks.
Lyn Brayshaw, chair of Southampton Cycling Campaign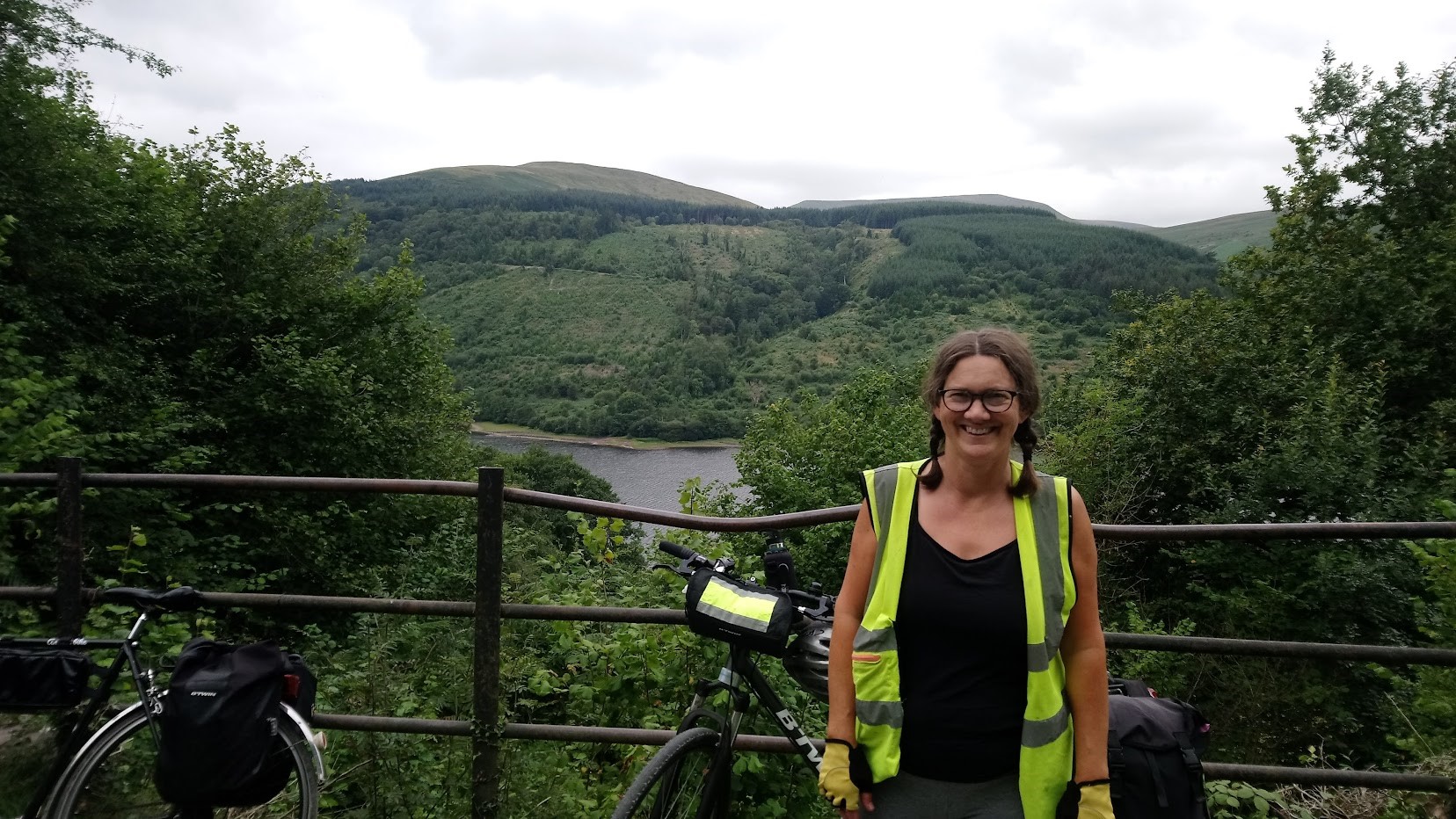 Lyn is also one of our Pumped Up crew and has long campaigned on behalf of cyclists in Southampton. She is currently chair of Southampton Cycling Campaign and was a major factor in the provision of safe cycle routes in the city. She says "I've always campaigned a lot! I try to set a good example with life-style choices – and not preach."
All four women have been recognised for their achievements with a nomination on Cycling UK's annual 100 Women in Cycling list. Other outstanding volunteers who have also been nominated in 2022 include:
The benefits of volunteering to all of us
Not only does volunteering in cycling benefit local groups and communities, it has huge physical and mental health benefits for the volunteers themselves - according to a National Council for Voluntary Organisations (NCVO) survey, 77% of people said their mental health improved by volunteering and 53% of respondents also said their physical health had improved.
Volunteers also help Cycling UK in its mission to enable millions more people to cycle:
The total amount of activities put on by our 100+ member groups in 2021-22 was over 13,000, while our 800+ affiliate groups organised just under 30,000.
The nearly 600 volunteers who are managed directly by Cycling UK, as opposed to our groups, have completed over 9,000 hours of volunteering between them.
Our 270-strong Cycle Advocacy Network (CAN) of local campaigners have taken part in 983 campaigning actions and activities, while 34 CAN members took their local councilors on bike rides, while one of them organised a demonstration around the city of Wells in Somerset during Sustainability Week.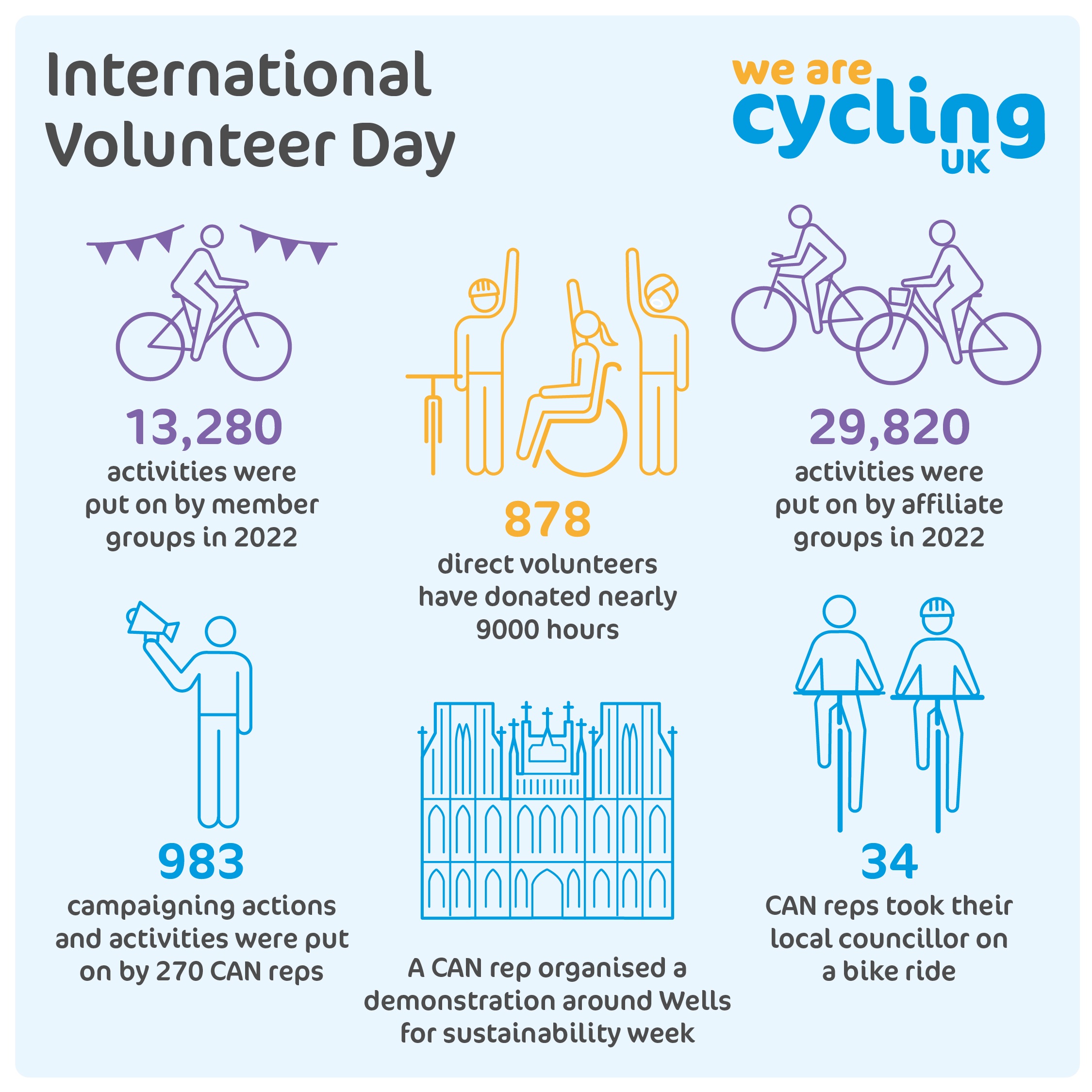 Get involved
With the current cold weather, and the cost of living crisis beginning to bite, becoming a volunteer with Cycling UK is a great way to stay mentally and physically active and get together with friendly, like-minded people - it may even help you stay warm!
If you would like to become a Cycling UK volunteer yourself, take a look at our current opportunities. We have roles for volunteer photographers, ride and walk leaders, trail maintenance people, event helpers and many more, including online micro volunteering role such as Pumped Up Crew, Cycling UK forum and Facebook moderators.
Don't forget to thank any volunteers you know this International Volunteer Day with a Going the Extra Mile award - sometimes they really do appreciate a bit of recognition for their efforts.