What could the Police Bill do for cycling and road safety?
The Police, Crime, Sentencing and Courts (PCSC) Bill is a huge piece of legislation, with far-reaching impacts. The Goverment published its 307 pages last Tuesday (9 March), then announced on Thursday (11 March) that the Commons would debate and vote on it this Monday and Tuesday (15 and 16 March). They seemingly wanted to push it through with minimal scrutiny, but it hit the headlines after police broke up the vigil for murder victim Sarah Everard on Clapham Common over the weekend.
Yet even now, very little attention has been paid to clauses 64 and 65 of the Bill. Clause 64 proposes to increase the maximum sentences for the offences of causing death by dangerous driving, or for causing death by careless driving while under the influence of drink or drugs, from 14 years to life imprisonment. Clause 65 then introduces a new offence of causing serious injury by careless driving.
You might expect that a charity which campaigns on cycle safety would be wholeheartedly in favour of these proposals. Unfortunately, it's not that simple!
'Careless' and 'dangerous' driving
It all comes down to the legal definitions of 'careless' and 'dangerous'. Cycling UK has long been concerned about the need to overhaul these definitions and the associated maximum penalties, including for offences which involve causing death or serious injury.
The confusion arises from the fact that, in common parlance, 'carelessness' is a state of mind. However, in 1991, the Road Traffic Act offences were amended in order to eliminate the driver's state of mind from the legal definitions. Before 1991, the more serious offence was called 'reckless' (not 'dangerous') driving. But prosecutors regularly struggled to prove to a court 'beyond reasonable doubt' that the driver's state of mind had been 'reckless'. Drivers routinely got off with lenient sentences by denying that their driving had been 'reckless', while pleading guilty to being 'careless'. In case after case, families were left bitterly aggrieved by the resulting sentences.
In an attempt to remedy this, Parliament replaced 'reckless' with 'dangerous' driving in 1991, creating what were meant to be 'objective' definitions for 'careless' and 'dangerous' driving. The idea was that these definitions related solely to the standard of the driving itself, and not to the driver's state of mind. 'Careless' driving was defined as that which fell 'below' the standard of a competent and careful driver, whereas 'dangerous' driving fell 'far below' that standard.
The problem is obvious: how far is 'far below'? And what is the 'standard of a competent and careful driver'? Most jurors also drive, and must often realise that they too could easily have made the fatal mistakes made by the person in front of them in the dock. They must often think: "There but for the grace of God go I". That must surely make them reluctant to reach a verdict which could result in the driver being imprisoned for up to 14 years. Especially if they are given the option of deciding that the driving was merely 'careless'.
That, of course, makes CPS prosecutors wary of attempting a 'dangerous' prosecution in the first place, even when they themselves think the driving fell 'far below' the expected standard, and had caused 'danger' that should have been "obvious to a careful and competent driver" (this is also part of the definition of 'dangerous' driving, but seems to be widely overlooked). It's unsurprising that overworked and under-resourced prosecutors often prefer to accept a guilty plea for a 'careless' offence, rather than expend a lot of time and effort on trying (often forlornly) to secure a 'dangerous' driving conviction.
Unfortunately, the Government's proposals could greatly increase this risk, for several reasons.
Firstly, they would vastly increase the gap between sentencing for causing death by 'dangerous' driving (increasing it from 14 years to a life sentence) and for causing death by 'careless' driving (which will remain at 5 years).
Secondly, they would similarly increase the gap between sentencing for causing death by dangerous driving and causing serious injury by dangerous (i.e. equally bad) driving - this too will remain at 5 years. With a few extreme exceptions, this is likely to make the courts even more reluctant than at present to hand down anything even close to the maximum sentence in fatal cases, knowing how much shorter that maximum sentence would have been if the victim had 'merely' been maimed rather than killed.
Thirdly, the new offence of causing serious injury by careless driving will mean drivers who have caused 'serious injury' will be really determined to plead guilty for a 'careless' offence (rather than risk conviction for the 'dangerous' offence) - and prosecutors will be under pressure to accept those pleas. We therefore risk a repeat of what happened with fatal cases after 2008, when causing death by 'careless' driving was introduced. That led to a wholesale switch from 'dangerous' prosecutions and convictions to 'careless' ones, even though the definitions of 'dangerous' and 'careless' driving remained unchanged.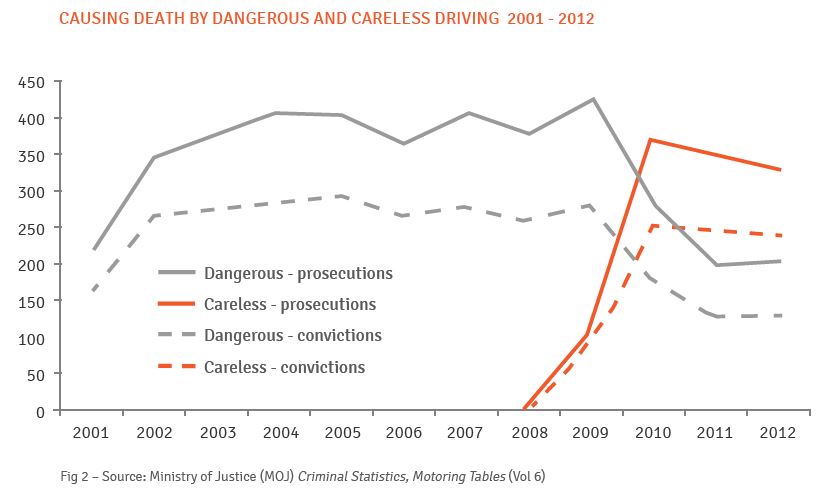 A few case histories
Here are some recent examples of cyclists killed by driving that was deemed to be merely 'careless':
Let me remark in passing that, once the legal system had decided these were 'careless' driving offences, the maximum penalty was 5 years - i.e. half the Bill's proposed maximum for defacing a statue or protesting in a way that causes "serious annoyance".
But the key point is the examples above are not at all exceptional, they are depressingly normal. Once you add in all the cases where the victims are pedestrians, motorcyclists or other car occupants, there are huge numbers of cases where seriously irresponsible driving is dismissed as mere 'carelessness'. Week in, week out, victims are being let down by the justice system. The fault mostly lies with the law itself, rather than the judges who have to try and make sense of it. And the Bill's changes are doing nothing to address this.
The case of Abdul Sujac highlights the consequences of such leniency. In February 2017, Sujac seriously injured a pedestrian in Stratford, East London, but pleaded guilty to 'careless' driving and received just 9 points on his licence. He then sent friends a WhatsApp video saying "Nine points ain't stopping me from driving". Nine months later he killed pedestrian Laura Keyes, who was crossing the road as he drove at 68mph on a 30mph street, swerving in and out of traffic. Police found videos on his phone of his dangerous and illegal driving, including one captioned "ABDUL ripping the road 146mph". Keyes' death could have been prevented if his earlier offence had attracted the driving ban it deserved.
It also shows that the courts never come close to using the current maximum 14-year sentence. Although Sujac was a serious repeat offender, his guilty plea to the charge of causing death by dangerous driving earned him a sentence of just 6 years.
Similarly, Reuben Richardson received just an 8 years for killing cyclist Antonio Marchesini by dangerous driving in 2018. Richardson had no licence or insurance and was on licence from prison, when he drove the wrong way up a one-way street while using a mobile phone, and kept on driving after crushing Marchesini. When the police tracked him down, he gave a false name and refused to be interviewed. He had 13 previous convictions for 21 offences. If any case deserved a maximum sentence, this was it.
Cycling UK's proposals
The first step towards a more consistent and rational framework is to stop asking jurors to decide whether someone's driving fell 'below' or 'far below' the (equally vague) standard of a 'competent and careful driver', There are two ways that this could be done:
Option 1: 'Dangerous' driving could be defined as driving which is so sub-standard that it would result in an immediate failure if committed during a driving test. 'Careless' driving would be driving that was only substandard enough to warrant a points deduction. This would provide clarity over the definitions of these supposedly 'objective' offences.
Option 2: Alternatively, Parliament could reintroduce 'reckless driving' as the more serious offence (as it was before 'dangerous' driving was introduced in 1991). To avoid the difficulties of having to prove 'beyond reasonable doubt' that the driver's state of mind was 'reckless', it could create a 'reverse burden of proof', whereby a court could assume that driving which appeared to be 'reckless' was in fact 'reckless', unless the driver provided a credible alternative explanation. This option is legally more complex, however it would create a better alignment between offences and penalties: 'reckless' driving would generally attract custodial sentences, whereas 'careless' offences would mainly attract driving bans.
And that brings me to a crucial point: driving bans!
The importance of driving bans, and making them stick
Whatever option is chosen, there is a need to formalise the role of driving bans as a sentencing option. Driving bans should be the norm for offences which may have caused danger but where there is no indication that the driver is a 'dangerous' person who needs to be locked up for public protection. Custody should be the assumed sentence for those displaying a more reckless attitude, including those who breach driving bans.
Meanwhile, the rules on driving bans need to be tightened, including for drivers who have 'totted up' 12 points on their licence. Drivers facing bans routinely gain exemptions by claiming that this would cause 'exceptional hardship'. Recent figures show that around 8,800 people are still being allowed to drive despite having accrued 12 penalty points.
The risks of such leniency are highlighted by the case of Christopher Gard. In August 2015, Gard was texting a friend as he drove down the A31 in Hampshire, and failed to notice any of the cyclists participating in a time trial, as he drove past them. He then drove straight into the back of cyclist Lee Martin, killing him. This was the ninth time since 2009 that Gard had been caught using a mobile phone while driving. Twice previously he had been sent on a driver retraining course, and he had been convicted and fined on 6 other occasions. Yet the magistrates had repeatedly accepted his pleas that banning him from driving would cause 'exceptional hardship'. This wholly 'unexceptional' leniency created far greater 'hardship' for Lee's bereaved family.
Serious and fatal 'car dooring' offences
Another legal loophole which needs closing is the leniency of the penalties for opening car doors dangerously. Cycling UK has called for the forthcoming revision of the Highway Code to say that drivers and passengers should open a car door with the hand on the opposite side to the door (e.g. using their left hand to open a door on their right). This technique, known as the 'Dutch Reach' (because it is normal in the Netherlands) makes them turn their head to see whether it is safe before opening the door.
However the maximum penalty for this offence – a £1000 fine - does not remotely reflect its potentially lethal consequences. A Freedom of Information request by Cycling UK showed that, between 2011 and 215, there were 3,108 people injured, eight fatally, where the police recorded 'vehicle door opened or closed negligently' as a contributory factor to the injury. 2,009 of those injured were cyclists, of whom 5 were killed, including Sam Harding, Sam Boulton and Robert Hamilton.
Serious and fatal 'hit-and-run' offences
If a driver is involved in a collision which results in injury or property damage, they are required to stop and exchange details or, failing that, to report the incident to the police as soon as practicable and within a maximum of 24 hours. However, the maximum penalties for failing to do so – a 6-month prison sentence plus a fine, a minimum of 5 points on the driver's licence and possible disqualification – are only sufficient to deter leaving the scene following relatively minor vehicle damage. They do not reflect the gravity of leaving the scene where the driver knew (or ought reasonably to have known) that a victim had suffered serious or potentially fatal injuries.
Cyclists killed in hit-and-run collisions in recent months include Andell Goulbourne, Jay Kristiansen and Agnieszka Pocztowska. The car which hit Pocztowska also injured another cyclist shortly afterwards, before the driver fled.
Where the driver is identified but the victim does not die, they can receive absurdly lenient sentences. Brandon Tate was driving without a licence or insurance when he collided with an unnamed cyclist, causing life-changing injuries, and left the scene. He escaped jail, receiving only an 18-month community order, 250 hours of unpaid work and an 18 month driving ban.
A recent parliamentary petition calling for substantially increased penalties for hit-and-run offences has attracted over 104,000 signatures. The Government's proposals have yet to address this issue.
Parliamentary support
All of the above concerns have been echoed by MPs in the past. Our position was backed by the Commons Transport Select Committee's report on its Traffic Law Enforcement inquiry (to which I gave evidence in 2015), and by the parliamentary inquiry on Cycling and the Justice System, held by what is now the All Party Parliamentary Group on Cycling and Walking (APPGCW). A similar cross-party consensus was voiced during a subsequent Westminster Hall debate on Road Justice in 2018.
Yet in the rush to prepare for this week's hastily-called debate on the PCSB Bill, only Lilian Greenwood MP (a member of both APPGCW and the Transport Select Committee, and a former chair of the latter) picked up on our points. We clearly need to mobilise a lot more parliamentary support before the next stages of the Bill's progress.
Protest rights: 'Critical mass' and vigils for deceased cyclists
Cycling UK's parliamentary briefing also voices concern about the Bill's proposals to restrict protest rights. Clauses 54 and 55 allow the police to impose unspecified conditions on public processions or public assemblies to prevent them causing other people "serious unease, alarm or distress"; while clause 57 introduces a new statutory offence of "causing a public nuisance", a term whose definition is worryingly broad, but which carries a maximum sentence of 10 years. These could affect events such as 'Critical Mass' cycle rides or vigils to mark cyclists' deaths, such as those held by Stop Killing Cyclists.These were an important catalyst for persuading Transport for London to adopt higher-quality cycle provision and to improve lorry safety. Cycling UK does not directly support these events but does recognise people's rights to take part in them.
Criminalising 'intentional trespass': the threat to wild camping
Finally, we are concerned that the Bill's proposals (in Part 4) to criminalise unlawful encampments could also catch cyclists who go wild camping. If a police officer, the occupier of land or a representative of the occupier believes someone is 'residing' or intending to reside on land (including temporarily) with a 'vehicle' (which does not have to be with them), and their presence or activities have caused or are likely to cause 'significant' damage or disruption, or 'significant distress' due to the person's 'offensive conduct', an officer can require that person to leave with all their property, and can arrest them and/or confiscate any vehicle or other property they have with them. The definition of a vehicle is very broad: it does not have to be suitable for use on the road and does not even have to have wheels.
We will therefore be seeking clarification or amendments to the definitions of 'reside' and 'vehicle', and other terms in this clause, while also question whether these provisions are necessary.