Guide to shopping by cycle
We've all seen it: the cyclist returning from the supermarket with two carrier bags precariously balanced on each handlebar. They cycle slowly, going carefully round corners to prevent the bag from swinging and crashing into the wheels. But please don't do this, it is not safe and you should avoid it.
Shopping by bike need not be a balancing act. If you have the right kit, shopping by bike can be quicker, healthier and more fun.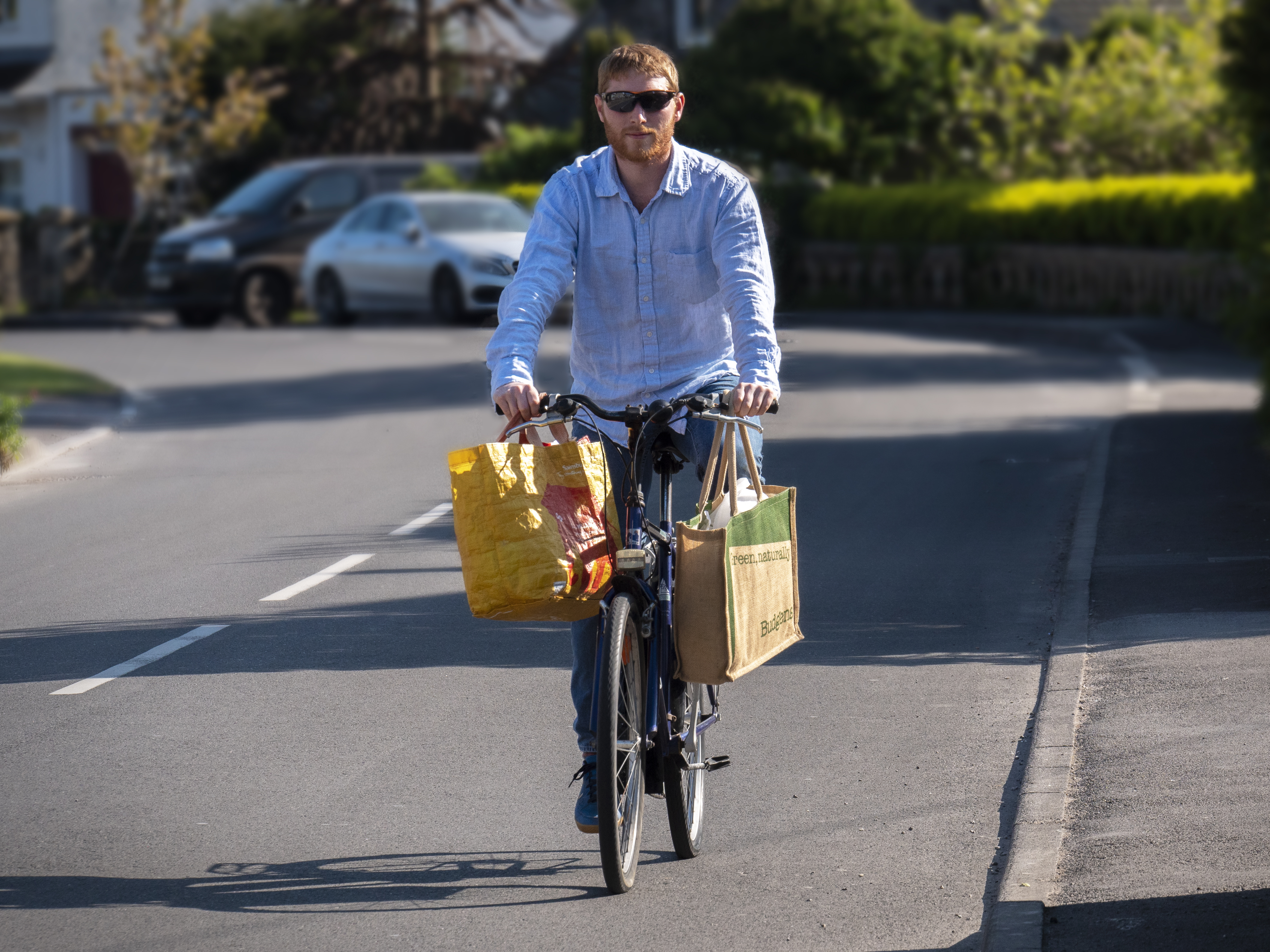 Be prepared
Think about what you need to buy before heading off to the shops. Making a list is a good way of avoiding those impulse purchases at the checkout and you may find you save money and reduce waste.
Decide where you're going to do your shopping before setting off, and if you need to visit two locations plan to go to the furthest away store first.
Shopping by bike means never having to think about parking spaces so you can park right outside your high street bakers and support your local business community.
Think about your kit
You shouldn't attempt to carry shopping bags on your handlebars. The bags can get tangled in the wheels, and as they swing around they can affect your steering.
Cycling UK's training manager Matt Woodcock said that carrying loaded shopping bags on your handlebars "limits the control and the ability to move out of the way of obstacles.
"It may obstruct cabling which controls gears and brakes. If the bags come into contact with the wheels or spokes it can bring the bike to a sudden halt, launching the rider over the handlebars."
Baskets
Baskets are a quick and easy way to increase your bike storage capacity and are cheap and easy to attach. They are widely available from most bike shops and can be fitted to the front, rear or both, giving you lots of options.
Pros: Cheap and easy to attach to your bike.
Cons: Limited storage space so you'll have to think carefully about what you're buying.
You'll also need: A cover for your basket or some bungees to ensure your shopping doesn't bounce around or fall out.
Panniers
Pannier bags are a great accessory for your shopping trip and there is an enormous amount of choice at various prices, so it's easy to find the right bags for you.
You can use a single bag or a pair of bags depending on how much shopping you're doing. If you have a front rack on your bike you could even take two sets of bags for extra storage capacity.
You can take your bag(s) into the shop with you. This means you won't accidentally buy more than you are able to carry.
Pros: Lots of room for your shopping, and no hot sweaty backs or aching shoulders from a heavy rucksack.
Cons: Even the rack will add weight to your bike, so you shouldn't expect to be setting any Strava records up those hills on your way home.
You'll also need: A bike rack on your bike to attach the bags.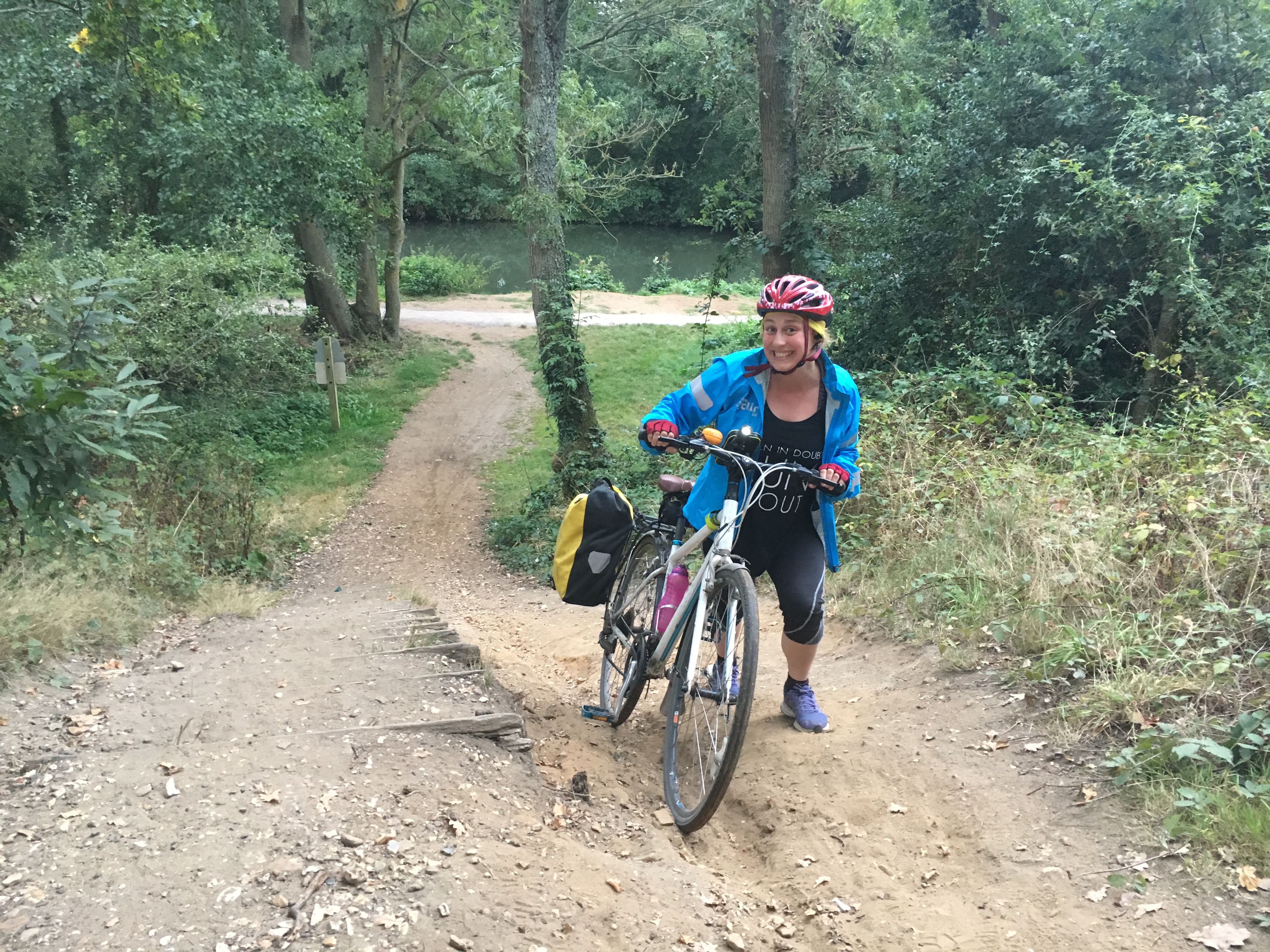 We asked Cycling UK's resident bikepacking expert, Sam Jones, how he likes to shop: "While I have a driving licence, I'll be honest I far prefer to cycle for the weekly shop. It's only four miles away – admittedly with a large hill in between which is always far easier on the way up.
"Shopping by bike helps keep me disciplined when shopping too. I make a list and have to keep to it, as if it doesn't fit in the panniers, or strap onto the rack, then it's not going to make it home – parking is always easier too of course!
"For smaller shops, like a visit to the greengrocer or fishmonger, it's also far more practical. There's no reason to drive five miles for little errands like that, but by bike it turns a chore into a pleasure."
Sam uses his front and rear racks holding about 60 litres to fit in his weekly shop for two people and has a trailer for the occasional 'big' shop.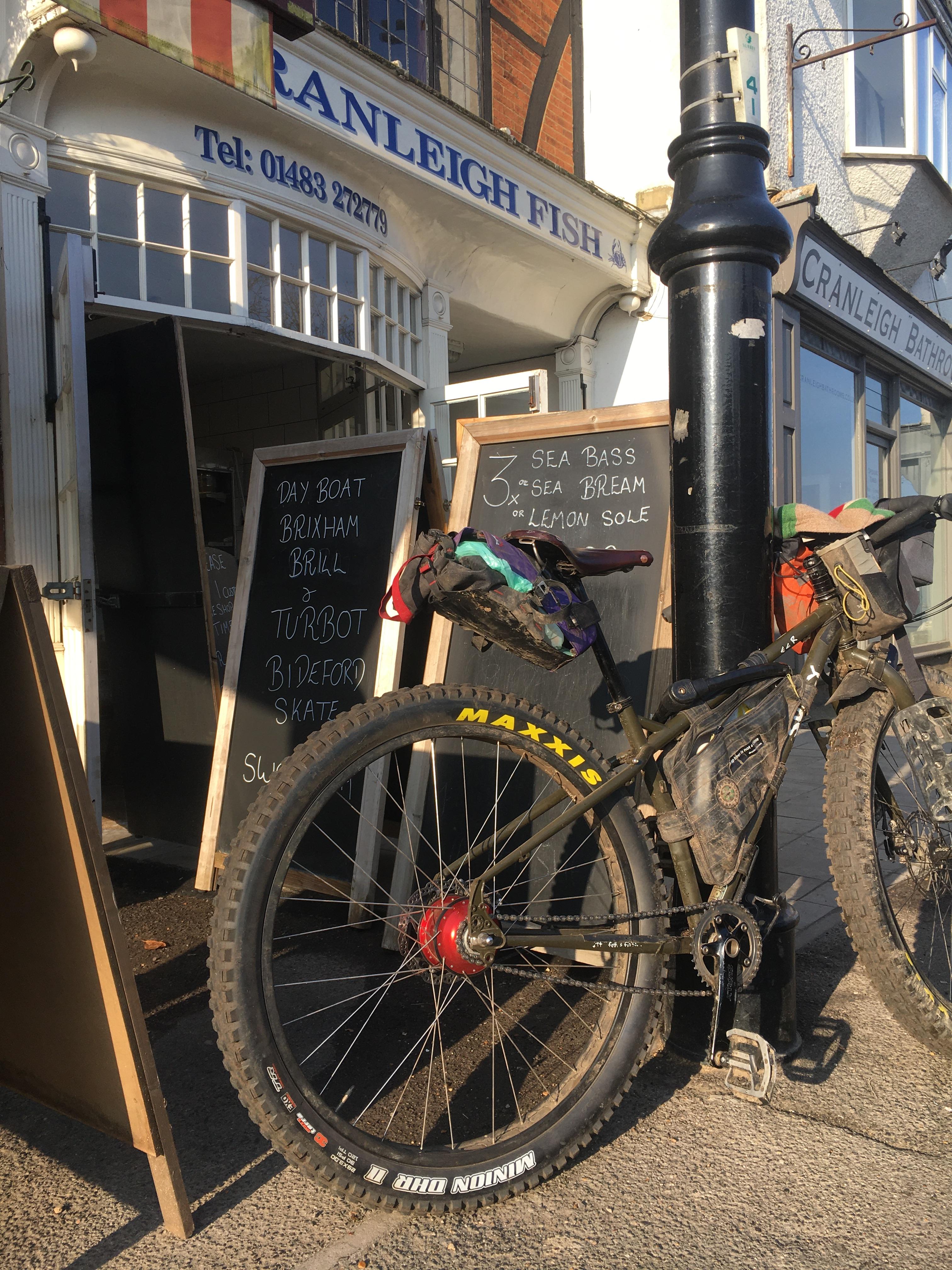 Trailers or cargo bikes
If you're not prepared to change your weekly big shop habits, you can still carry a similar amount as you would in a car by using a cargo bike or cycle trailer.
There are several different types of cargo bike: box-bikes, longtails, pedicabs, other types of trike, and 'mini cargo bikes'. Prices are just as varied, from the cost of the average regular cycle to several thousands. Electric cargo bikes are becoming increasingly popular and can really save the day, and your legs, when your bike is laden down with tins and vegetables.
Trailers are widely available and attach to your existing bike by bolting to the seat post or rear triangle. They come as single or two-wheel trailers and prices start at around £60, making them an affordable option. Trailers are a great alternative to splashing out on a cargo bike and some even easily detach so you can pull it round the shops – your very own shopping trolley!
Pros: Even more room for your shopping. The load sits on the wheels of the trailer making it feel lighter than if it were on the bike.
Cons: Because the storage capacity is that much greater it will be a heavier ride, but on the plus side, you'll be building up those muscles.
You'll also need: To do your research before investing in a cargo bike or trailer, make sure the trailer is compatible with your bike and that you can comfortably ride with it fully loaded You may need to try a few different options before making a final decision.

Rucksacks
If your bike doesn't have a pannier rack and you're not sure about investing in a trailer or cargo bike, it doesn't mean shopping by bike is out of reach for you.
Take an empty rucksack with you to the shops and load it up. Just make sure the bag is not so heavy that it restricts movement, balance or view.
Pros: Environmentally friendly (no plastic) and convenient to carry around the shops.
Cons: Smaller capacity so more frequent trips are necessary.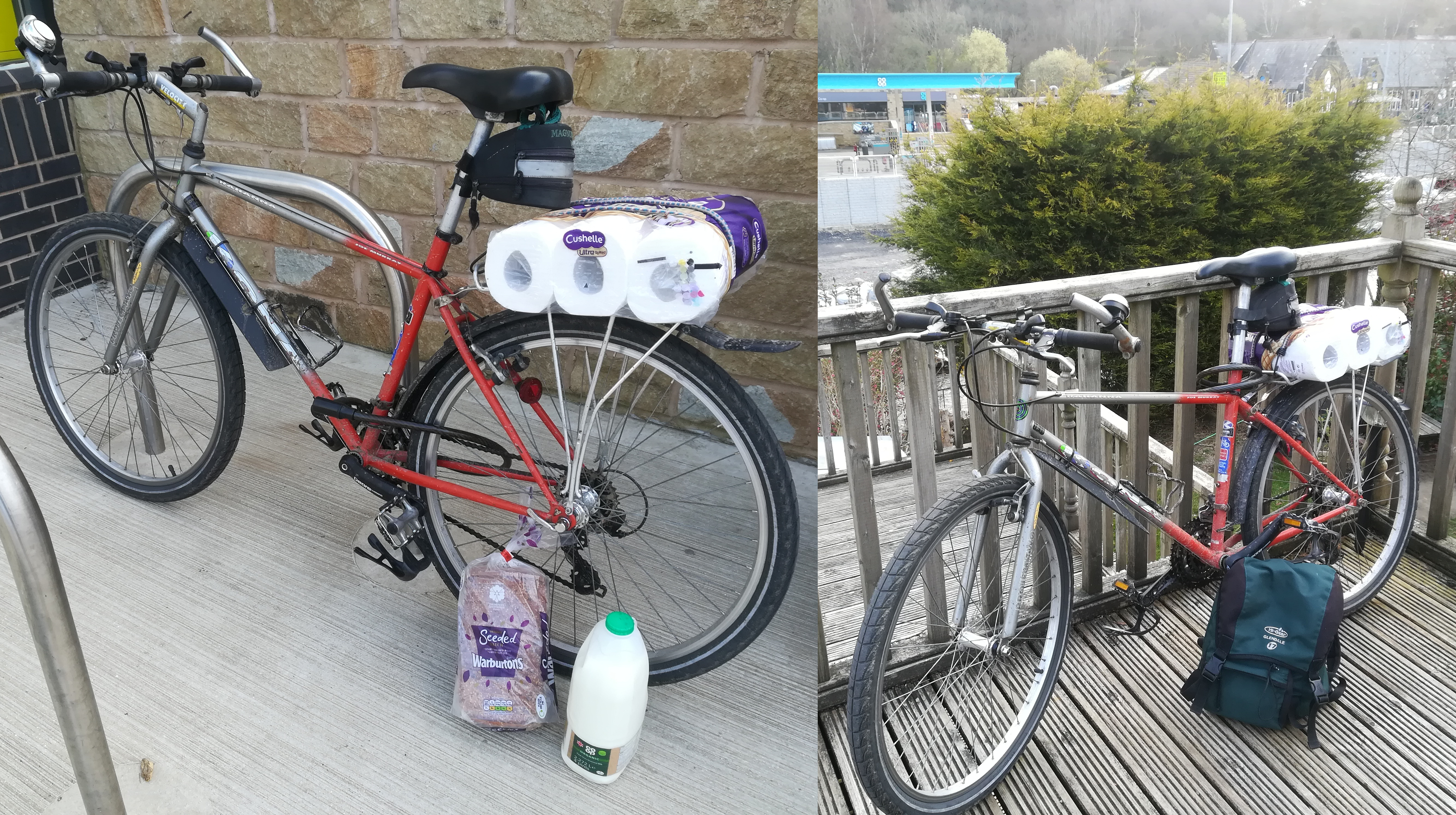 Senior project officer for the Big Bike Revival Lynnette Evans uses her Kona Hahanna bike, bought in 1992, for local journeys and sometimes cycle-rail commuting.
Living in a West Yorkshire village in the South Pennines, the coronavirus lockdown has meant that there is much less traffic on local roads and cycling is one of the best ways to get around.
Lynnette said: "I'm not hoarding supplies! We were getting short of toilet roll, we had only two rolls left and I had been looking for some in my local shops for a week and every time I called in, the shelves had been cleared.
"Timing is everything it seems because last Monday, success. I finally found some, it was one of just two packs on the shelves."
Combine your shopping trip with your daily exercise
The extension of lockdown for another three weeks means group rides remain off the agenda for the time being and all of us must be careful to avoid non-essential travel. But Government regulations still allow for daily exercise outside and going to the shops to purchase essential items.
If you're looking to limit your trips outside, why not combine shopping with your exercise?
Take a detour to the shops and explore your local area. You can use our helpful journey planner to plan your route.