Test: Specialized pizza rack
Why "pizza rack"? It's sold in a pizza-style flat box; the top section screws to the side-plates so it can be disassembled to lie flat. And the rack's platform, at 33.5×27cm, is about the right size for strapping pizza boxes to. It's not just for trips to Domino's, however. Specialized say this aluminium porteur rack "was designed to be a stout companion piece to any around-town commuter or touring rig".
It weighs 900g and is rated for a 15kg load, which can be split between the top platform and panniers on the sides. Those panniers need top hooks that fit 13mm rails; some will only fit 12mm and narrower. If the pannier's lower fixing is a horizontal plastic cleat, you'll probably find that this sits below the bottom of the rack as there's only 19cm from the mid rail to the lower rail. Having bags unattached lower down didn't bother me when shopping but would on tour. The solution?
Some DIY to reposition the lower hooks, or the use of bags with a upward pointing lower hook or a hook-and-strap fixing.
To carry anything on the top platform, you'll need luggage straps or a suitable box or crate. Specialized have recently launched a top-bag for this rack called the Pizza Bag (£90). I initially used a cardboard box (free!) with holes bored in it, secured to the rack with  cable ties. Later I fitted a plastic 25-litre Basil Bicycle Crate (hipsters may prefer a wooden apple crate). I've left this permanently attached, for a container that you can simply chuck stuff into turns out to be really useful on an urban bike. Bear in mind that if you load the rack heavily, the handlebar has a tendency to swing round when pushing or parking. So you might want a steering damper. 
To fit the Pizza Rack, your bike needs mid-fork eyelets and a hole in the fork crown. I  fitted it to three different bikes: my wife's Specialized Roll, my Genesis Vagabond, and my Genesis Longitude. It ended up tilted back slightly on the Longitude but that's not a problem. Lots of Dutch bikes with front platform racks have them set up just like that. There's a threaded eyelet at the front of the rack for attaching a front light where it won't be obscured by the rack's load. 
Pros & cons
+ Everyday practicality
+ Study construction
– Pannier fitting issues
Verdict
A porteur rack that works really well on an urban runaround, once you've attached a basket or crate. It'll also go touring – with some caveats re. pannier attachment.
Other options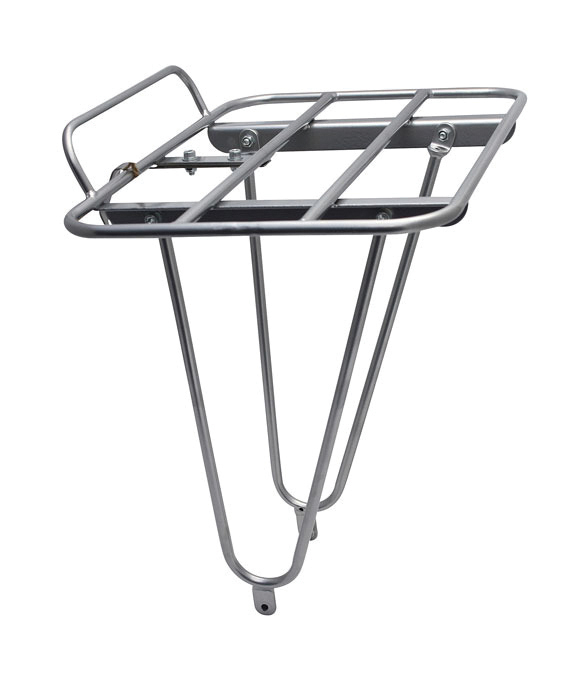 Minoura Gamoh Porteur front rack £59.99
This platform rack (29×43cm) attaches to the fork crown and dropout eyelets, so should fit more bikes. Maximum load is 18kg.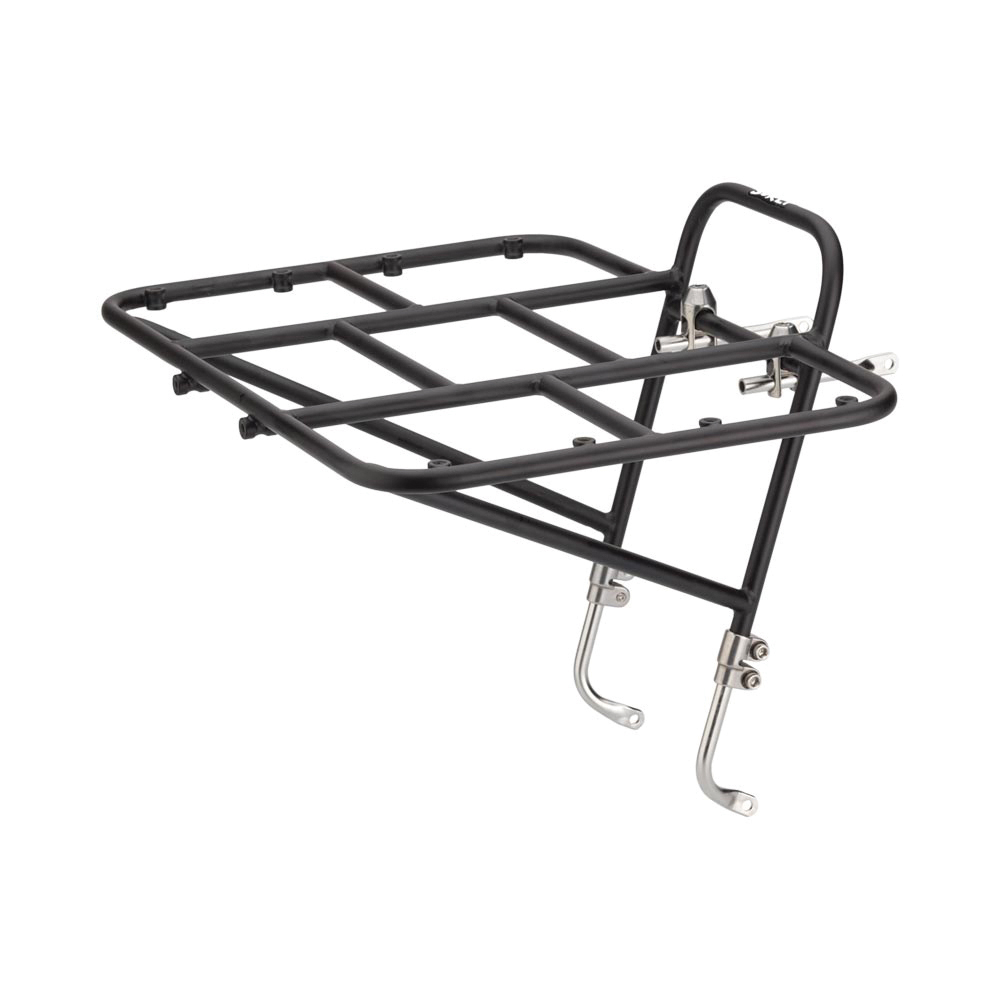 Surly 23 pack rack £149.99
Expensive but well made chrome-moly rack. Fitting requires fork crown and mid-fork mounts. It's rated to carry 13.6kg, and has a 27×40cm deck.