10 things I wish I'd known about: cycling in the rain
If there's one thing we can guarantee for a British winter it's rain – and a British summer for that matter. Many people are put off by riding in the wet, but there's no reason not to cycle in the rain.
This is especially the case for anyone who cycles to work, school or shops. Cycling is a useful, fun and important way of getting around, and you don't want to give that up just because of a bit of weather. Here's our best advice to keep you cycling even in the rain.
1 Clean your bike regularly
Rain washes muck and debris to the sides of the roads – where you're most likely to be riding. Filthy water will spray all over your bike. After just a couple of wet rides it will be covered in dirt which will eat into the paint and metal frame underneath.
This is especially so if there's a chance office and snow and the gritters have been out. Salt is corrosive and you don't want to leave it covering your bike.
Most people will tell you to clean your bike after every wet ride, and that really is the best advice. But realistically most of us don't have the time or inclination to do this. Instead, make sure you properly clean your bike regularly to keep it in tip top condition. When you're done, lubricate your chain with a wet lube which is designed for wintry conditions (dry lube is best for dry and dusty conditions).
2 Learn how to fix a puncture
All that debris that's being washed into your path is likely to include screws, nails and even glass – lots of things that can puncture a tyre. Learning to fix a puncture roadside will save you a lot of time and money.
At the very least, make sure you always have a spare inner tube so you can swap out the punctured one and repair it at home - just make sure your tyre is sharp object free before putting it in.
If you're so inclined, you could swap your tyres for more puncture-resistant ones. Schwalbe's Marathon Plus tyres feature a unique puncture-resistant belt that really does make a difference.
Another alternative is to consider going tubeless.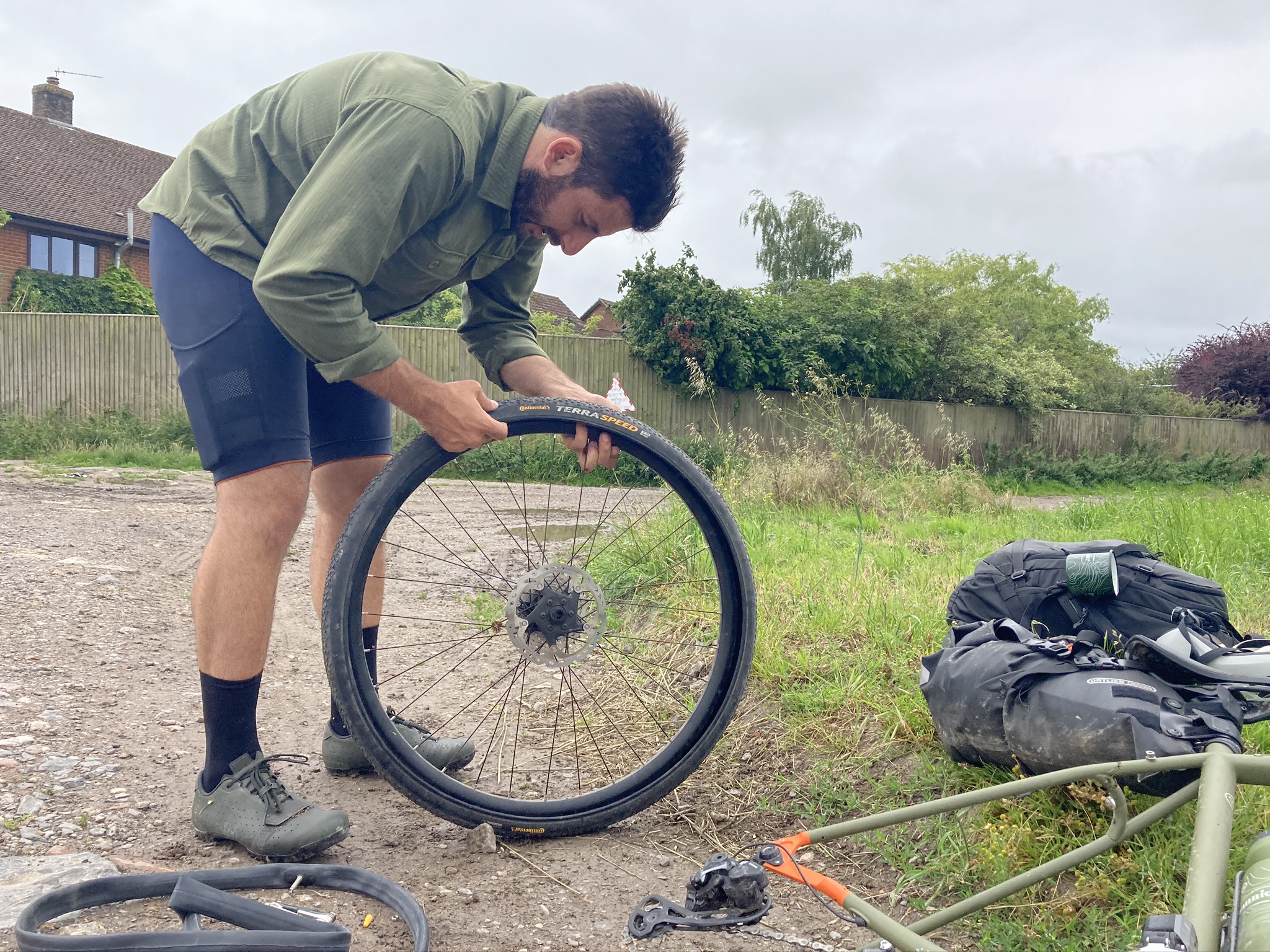 3 Fit mudguards
If your bike doesn't already have them, mudguards are an essential bit of wet-weather kit. Fit them front and back, and ideally something a bit more substantial than the 'ass savers' that have started popping up everywhere.
If your bike doesn't have the fixings to mount mudguards, there are several options that can be fitted to the seat tube, with adhesive strips or even at the brake callipers.
This is more than just good manners. As your wheels turn they'll flick up dirty water and all kinds muck all over cyclists in front and behind you. Mudguards stop that happening.
They'll also prevent filth from the road spraying all up your back and over your bike. So you're doing yourself a favour, too.
4 Invest in a rain cape
A lightweight waterproof that can be easily taken off and rolled up in a jersey pocket is great for club rides. For regular riding to the shops, work or school, though, you'll want something more substantial.
A poncho or rain cape will fit the bill nicely. They might not be the most streamlined or aerodynamic of clothing, but they will keep you dry, and when you're heading to the shops that's really all you need.
A cape covers most of you and your bike, protecting you from the rain and spray, while leaving your arms and legs free to operate your bike. You can also choose one with bright colours and reflective elements to make you more visible. Just make sure your cape doesn't obscure your bike lights when you use them.
An extra bonus is that you can pretend you're a superhero!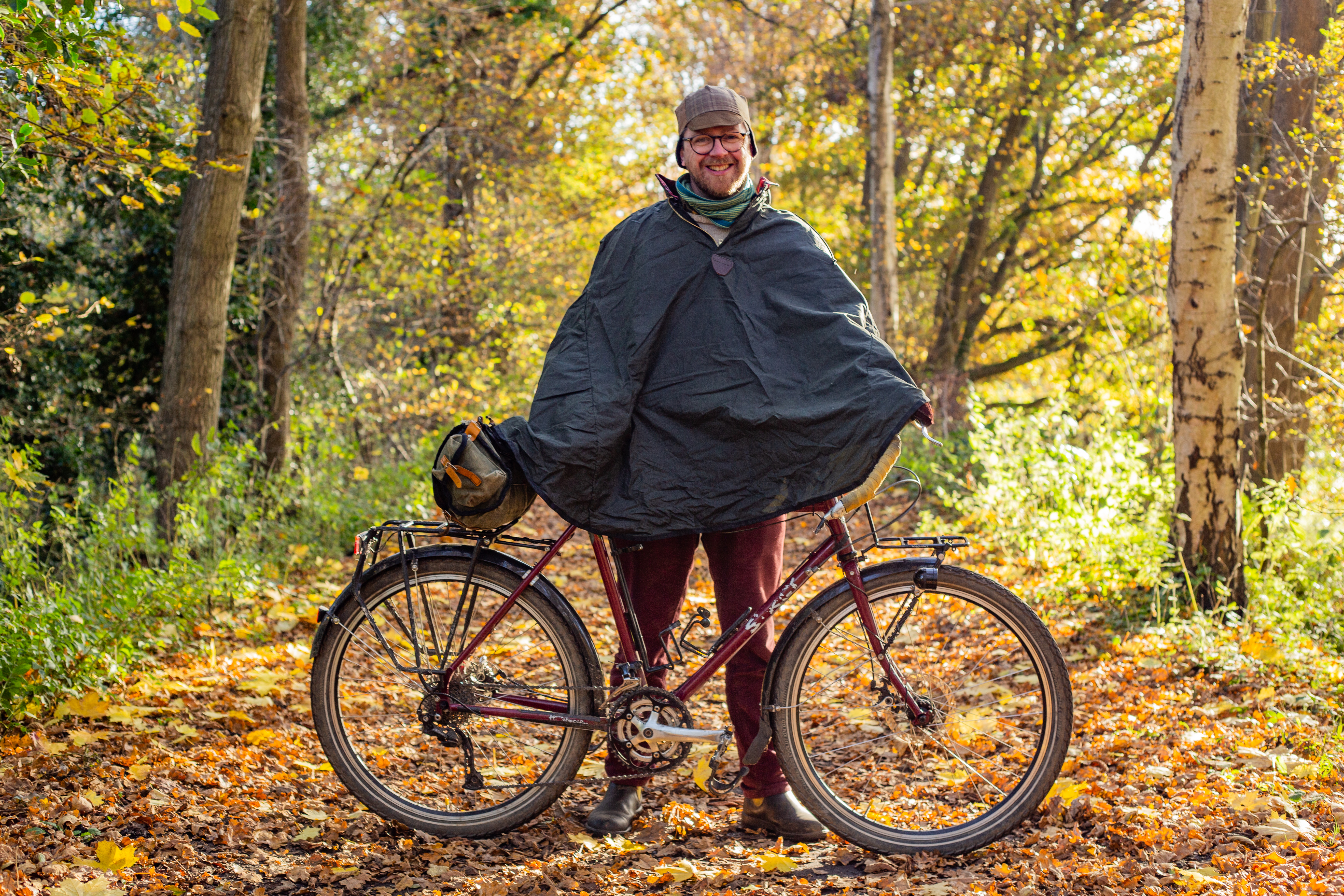 5 Keep your hands and feet dry
No one likes having cold and wet hands and feet. Especially if you're going to have to sit at a desk all day with soaking socks. And if you're the parent of wet-socked child sat at a school desk all day, you'll be really unpopular.
There's a huge choice of waterproof cycling shoes, overshoes and even socks. These can get pricy, though, so a DIY option is to use plastic carrier bags. Wrap them around each foot before putting on your shoes and then another around each shoe to keep feet and shoes dry.
Waterproof cycling gloves will keep your hands warm and dry while also being flexible enough for you to easily use your brakes. Again, they can be costly. Jack Thurston suggests neoprene or even ski gloves as cheaper options, although these might hamper movement, so test them out first.
Cycling UK members get a 15% discount with Stolen Goat, which does a good range of overshoes, socks and gloves.
6 Protect your head and eyes
A peaked hat will help keep your head dry while also sheltering your face from rain. It should easily fit under your helmet should you choose to wear one.
A pair of sunglasses with interchangeable lenses is very handy here. Clip in clear lenses to protect your eyes from water and debris driven into your face by a combination of rain and wind. A buff can help stop water running down your neck, keeping you dry and warm.
7 Change of clothes
This is essential if you're cycle commuting. You do not want to have to sit at your desk in wet clothes. If you're lucky enough to have a locker or drawer, then bringing in a week's worth of clothes to keep at work is good idea. If not, you'll have carry them with you each day.
You'll appreciate a warm shower when you arrive at the office, too. If your employer doesn't provide showers and storage space then you might want to let them know all the benefits of supporting staff to cycle to work, like a happier, healthier and more productive workforce and less absenteeism.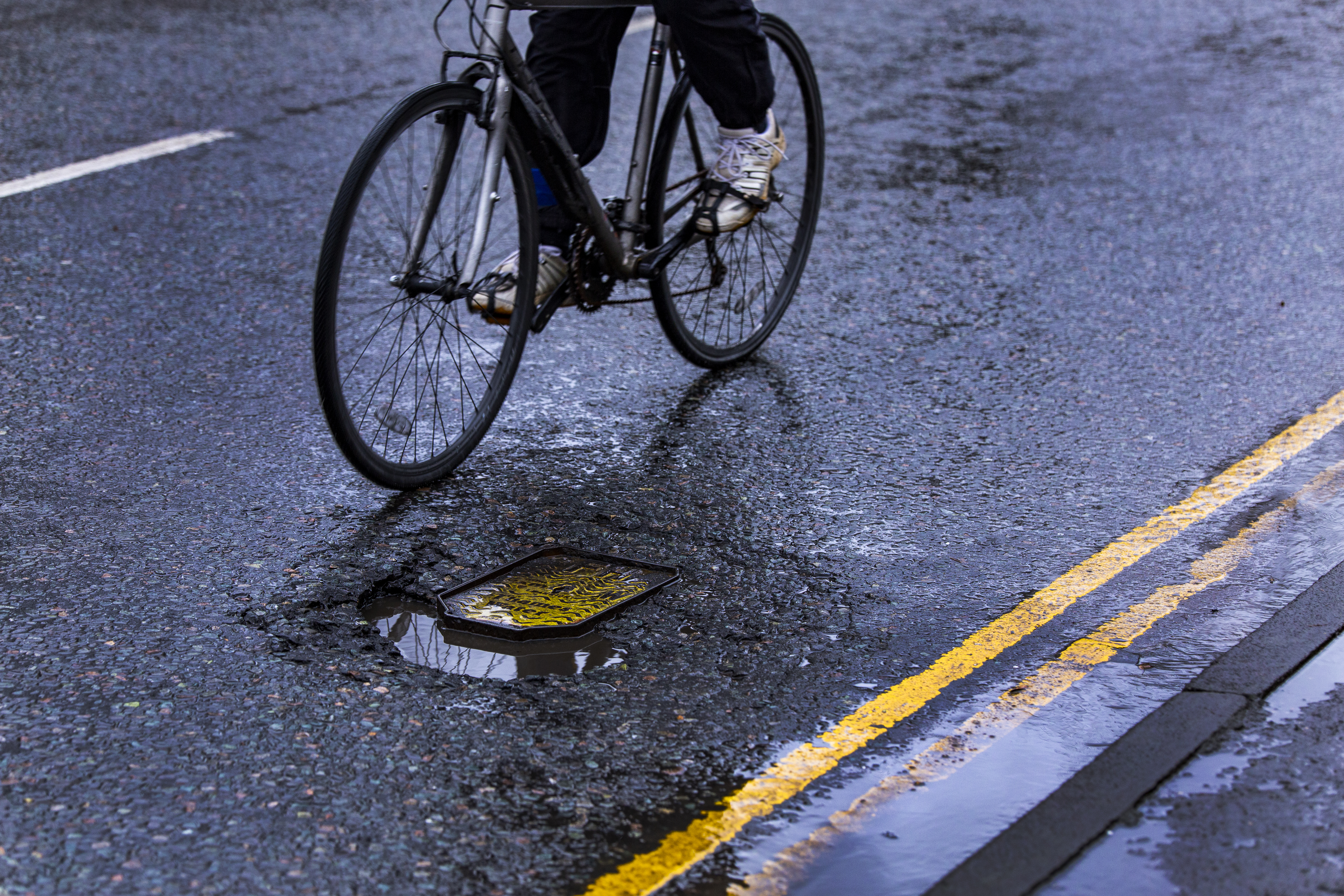 8 Waterproof bags
There's no point bringing spare clothes with you if the bags you put them in leak, so make sure they're properly waterproof. Panniers are best of you're regularly carrying a lot, such as a change of clothing or shopping. Rucksacks are nice and roomy (you can even get special ones designed to carry a suit) but they can get uncomfortable and in the way of your waterproofs.
If you don't want to splash out on new panniers, wrapping your clothing in plastic bags will help keep it dry. Finally – a use for all those 'bags for life' you've got in the cupboard under the sink.
9 Avoid puddles
However tempting it is to unleash your inner child and splash through those puddles, don't. You don't know how deep they are or what's lurking under the surface. You risk hitting something unseen under the water and potentially damaging your bike, or worse, falling off and injuring yourself.
You should also adapt your riding style. Take things more slowly, especially round corners, and brake more carefully and smoothly. Give yourself a bit of extra time to arrive at your destination.
10 Be seen
The law states that cyclists should have front and rear lights between sunset and sunrise. If you're cycling to work then you'll almost have lights with you already. But even if you only cycle during daylight hours it's a good idea to have a pair to hand just in case the skies start to darken.
Reflective accessories on your clothing – the kind you get on cycling gloves, shoes, socks and so on – will help you be seen in low light levels too.
If you're not already a member, you can join Cycling UK today and claim a free set of Cateye lights worth £39.99.