Great Rides: Bikepacking Iceland's Kjölur Route
As I lie in my sleeping bag, the tent creaks under a gale force wind – the same wind we've battled for the past nine hours and will battle again the next day – and I'm honestly very happy. So what if spikes of volcanic rock are poking through my sleeping mat and I need ear plugs to block out the constant rat-a-tat flap of the tent? This is what I've been dreaming of for close to 10 months: a cycle tour through Iceland's Highlands along the F35, better known as the Kjölur Route.
The F35 (F standing for fjall in Icelandic, meaning 'mountain') begins in the north, not far from the coastal town of Blönduós, and runs down to Iceland's iconic falls of Gullfoss. It's essentially a gravel-lined scar, rising into an undulating plateau that cuts between Iceland's two largest glaciers, the Langjökull to the west and the Hofsjökull to the east. Pockmarked with pot holes that would sink a car, it is usually home to Super-Jeeps, Iceland's off-road buses, and, of course, cyclists.
For your true adventure cyclist, the F35 is known as one of Iceland's easier and more accessible F-roads. The 'easier and accessible' description lulled my girlfriend, Daria, and two friends, Kay and Fred, into doing it with me. We'd settled on Iceland as a destination after our first week-long cycle tour last summer in sunny Normandy. Basking in the warm glow and satisfaction of a trip that had gone smoothly and well, we decided we wanted a manageable challenge.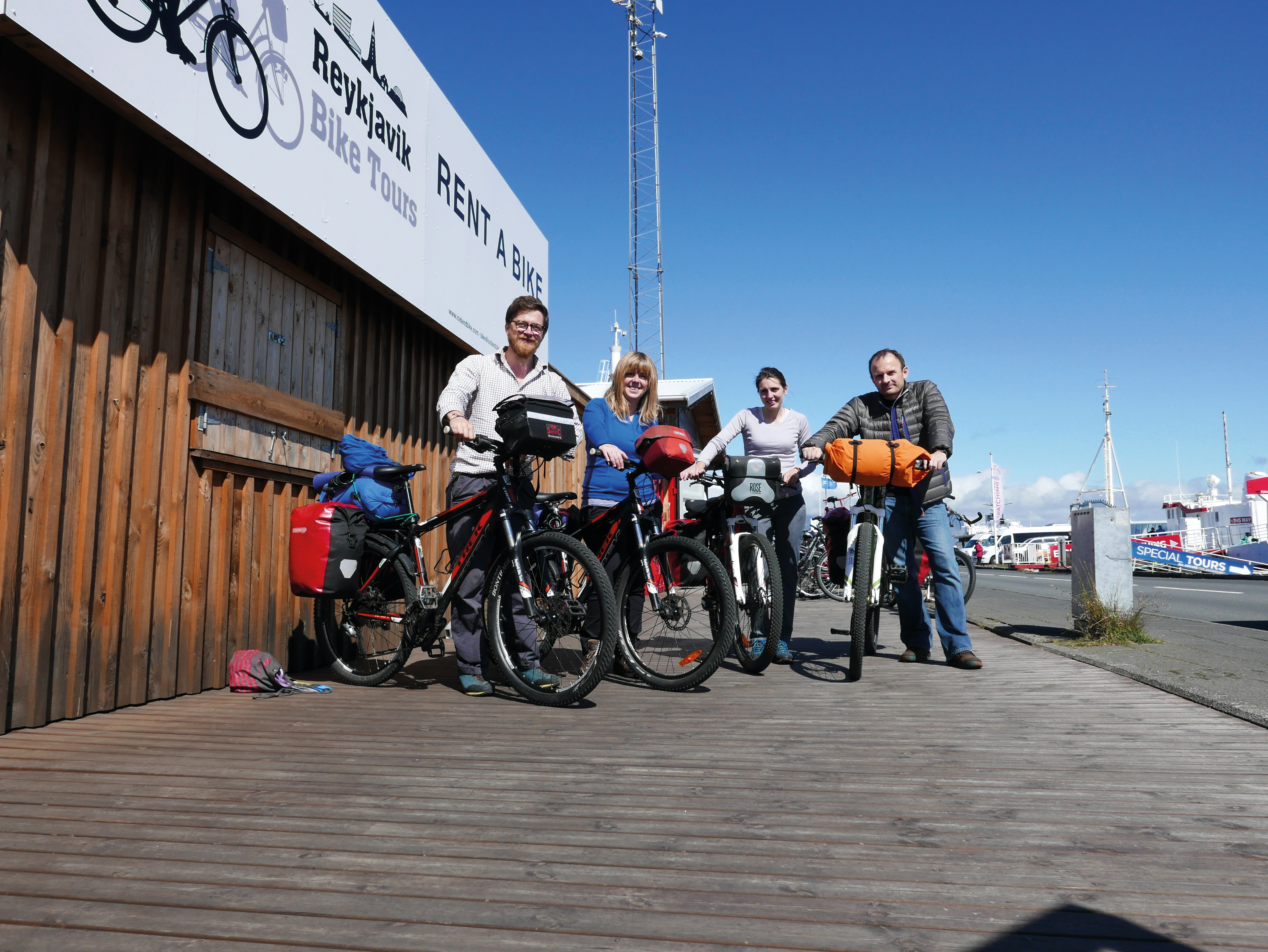 To put our experiences into perspective: Daria and I mostly commute, with the odd jaunt out on weekends; Kay had only re-learned how to cycle three years previously with help from Cycling UK's Julie Rand; and Fred's cycle touring had begun when we did a few rides before our trip to France the previous summer.
In Iceland, if you're enjoying the sunshine, don't worry, the rain will come… and if it's raining, don't worry, the sun might come!

George, Reykjavik Bike Tours
We'd landed in Iceland three days earlier on 14 July and picked our hire bikes up from Reykjavik Bike Tours, a family-run business since 2009, based out of what looked like two old shipping containers on one of the quays of the capital's old harbour. There, kindly George had equipped four elderly and temperamental Trek mountain bikes for us, providing some quick-links and a pair of Ortlieb panniers each. As we packed our bags in the sunshine, George told us: "In Iceland, if you're enjoying the sunshine, don't worry, the rain will come… and if it's raining, don't worry, the sun might come!"
The following morning, we boarded a small, full minibus with our four bikes (two inside in the gangway), and headed north up Iceland's ring road to Blönduós, which was where we started our ride. I'm full of praise for Iceland's bike-friendly bus carriage policy (even if it does cost close to £30 to carry a bike), but sadly my rear brake lever was snapped in transit. It was still usable, just a little jagged and short, so I wrapped it with Gorilla Tape. We were getting used to mechanicals. We'd suffered the first broken spoke a mile after leaving the bike shop, and Daria's chain later fell apart.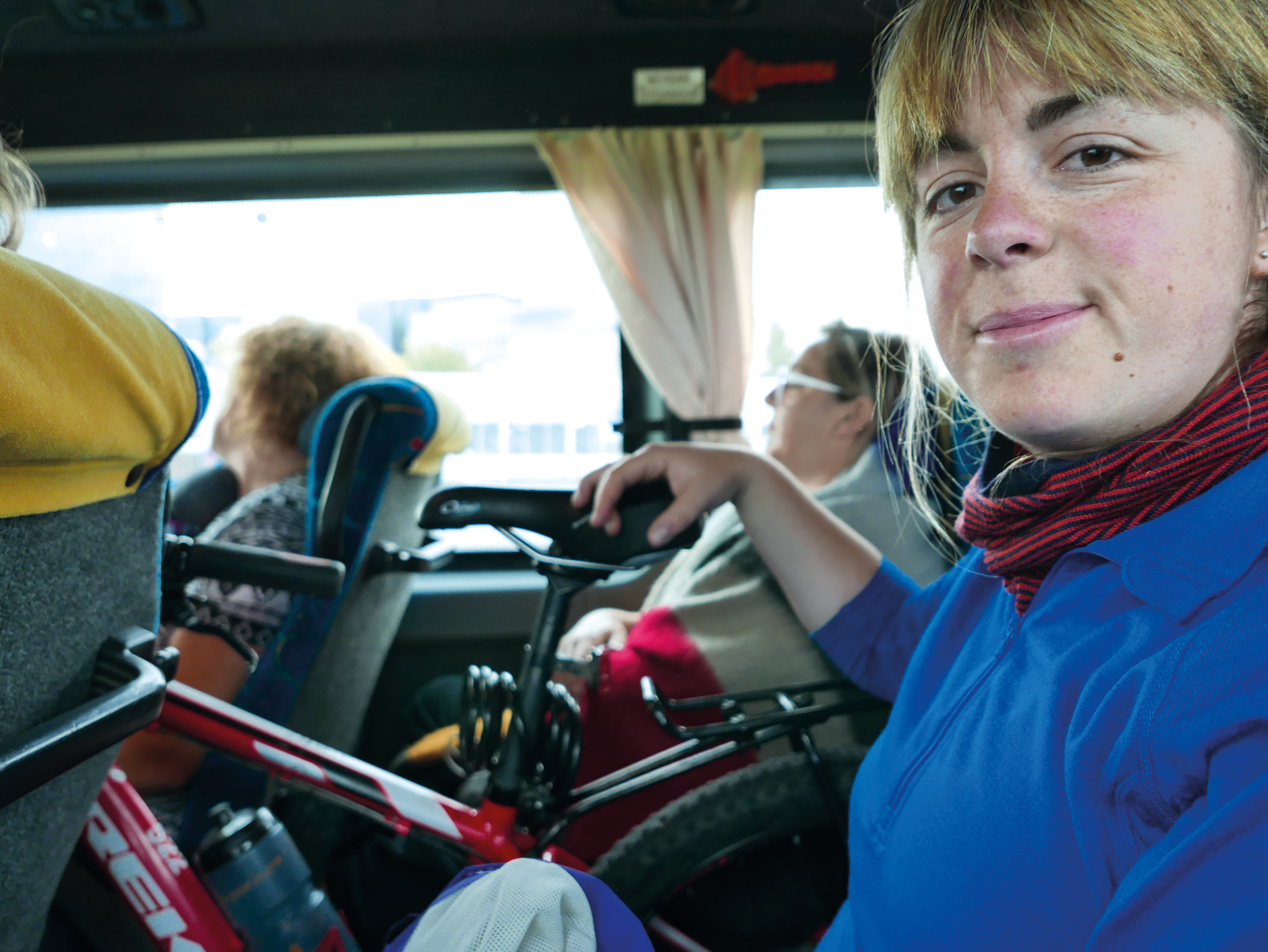 William Morris, English textile designer, poet and novelist, wrote of Iceland as a "most strange and awful country". Heading towards the F35's beginning, 146 years after Morris wrote that, its strangeness delighted rather than appalled us. The road we took was ours, our only onlookers Icelandic horses (descendants of those brought over by Viking settlers in the 10th century), the odd sheep (always in threes), and a strange bird that had the call of a kazoo.
Traffic was so light, and the landscape so quiet, you could hear vehicles approaching from miles behind. Our route didn't have quite the scenery of the Landmannalugar trek, but as we passed the smallholdings on the way to the F35's beginning, following a shallow valley carved by ice millennia ago, it was hard not to appreciate the setting.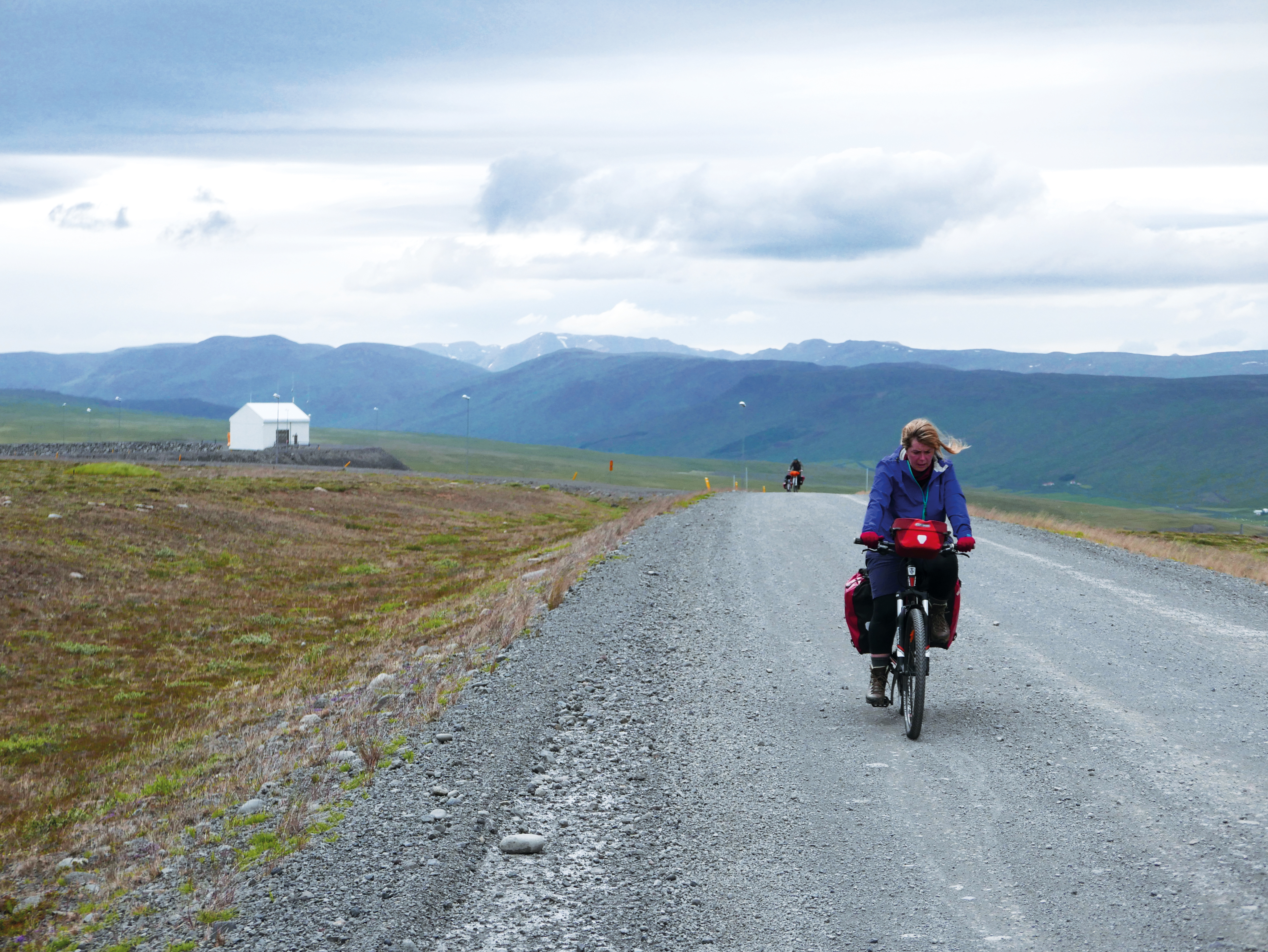 It would have been nicer if the weather was with us. Sadly, for much of our trip, it was not. As you would expect for an island close to the Arctic Circle, the weather can be fierce and changeable. For two days, we faced a merciless headwind and a steady downpour, which saw us inching along the road, making 20 miles a day. Oh, to be like those cunning cyclists grinning as they flew the other way!
Though we had scaled the plateau upon which the F35 largely sits, we were not treated to sweeping vistas of the glaciers we rode between. A combination of concentration on the road and generally poor visibility hid the beauty we knew must be lurking beyond the barren wasteland we were riding in.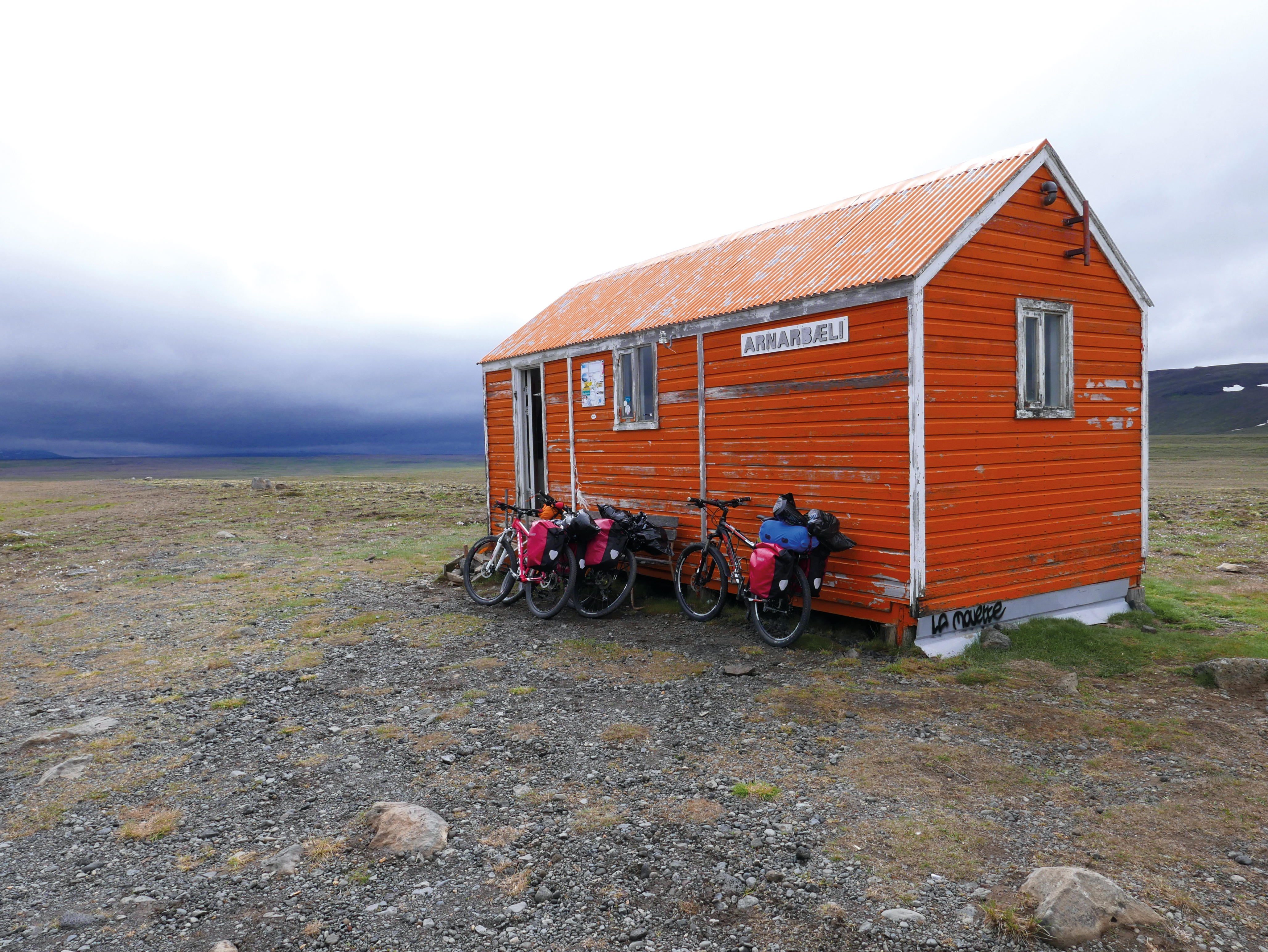 True to George's word, however, as we rolled into the oasis of Hveravellir 70 miles and three days into our ride, the sun returned, granting a glimpse of Langjökull. There we eagerly joined a small party of Icelandic revellers in the hot pool and soaked our weary bones with a soothing (but expensive) beer!
From Hveravellir...a ridge of jagged, mountainous teeth rises to the east, while glacial tongues lap at the waters of Lake Hvitarvatn to the west.

Sam Jones
From Hveravellir to the waterfall of Gullfoss, the scenery grows from interesting to breathtaking. A ridge of jagged, mountainous teeth rises to the east, while glacial tongues lap at the waters of Lake Hvitarvatn to the west. Our view was tinged with sadness, however, as it was gained from the bus we'd taken to where asphalt began again at Gullfoss to make up lost time.
It wasn't just the road surface that changed at Gullfoss but the amount of traffic. Dual carriageways and space for cycling are largely unheard of in Iceland, so for the remainder of our trip we were stretched out in single file, occasionally buffeted by vehicles speeding back from Iceland's 'golden circle'.
After the peace of the Highlands, it was an unpleasant shock, but one tempered by the ever changing countryside along the way. The desert made way for lush green fields, rising round hills that surround the original Geysir and the aforementioned Gullfoss. The national park housing the old Viking parliament of Þingvellir on the vast lake of Þingvallavatn was beautiful. Here the Eurasian and North American continental plates meet, and while the Vikings left no ruins to look upon, preferring to the conduct their politics in the open, the multitude of pools sheltered beneath the ridge of a rising North American plate is impressive. It was a fitting spot for our final camp of the trip, ahead of the slog back to Reykjavik.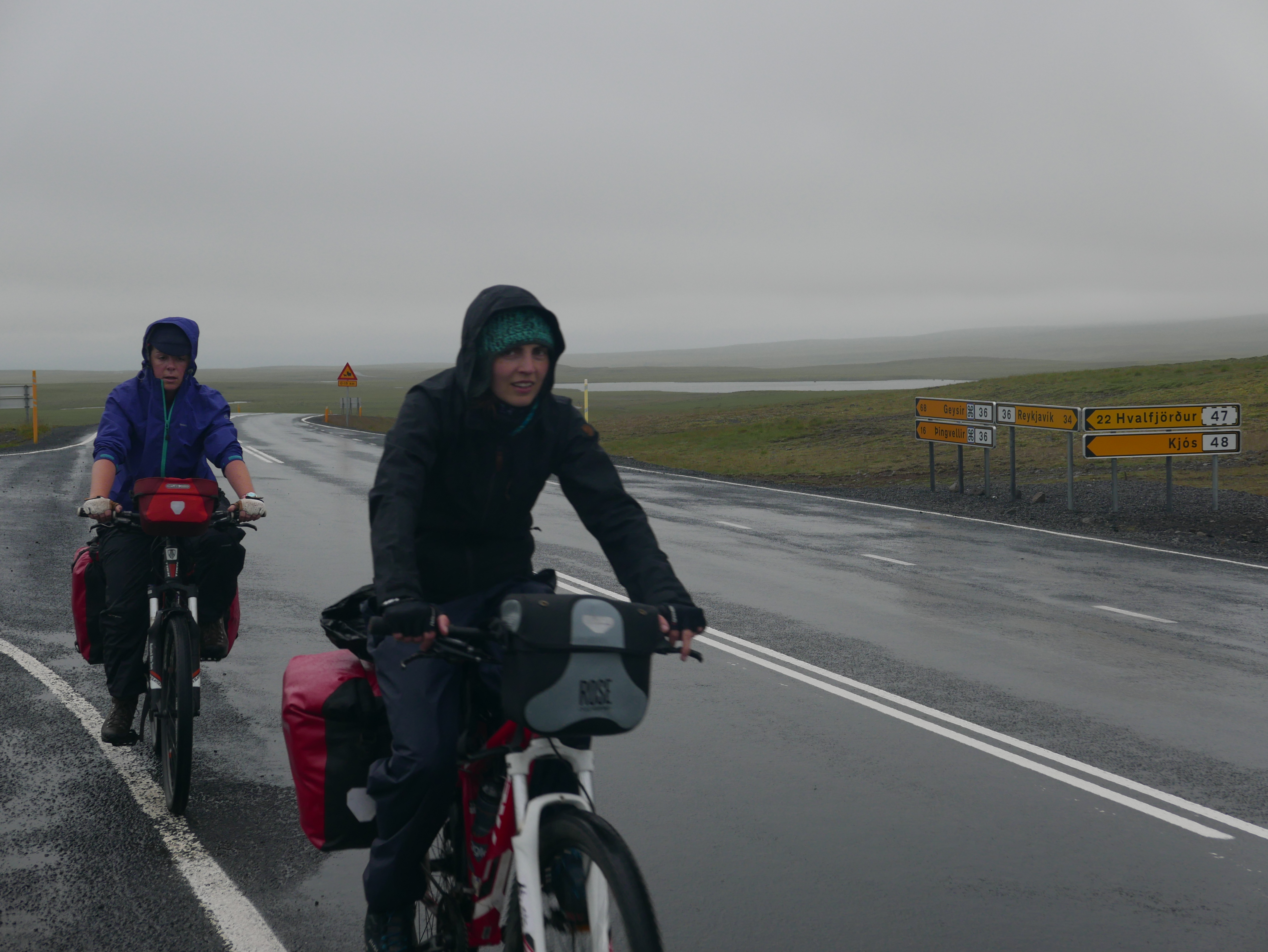 Spectacular scenery is what makes cycling in Iceland so worthwhile. You'll not go for the food, nor the price, and definitely not for the courteous drivers, but each and every time you find you're fed up, this island provides a sight to stir your soul. Perhaps next year we'll be back to complete what we failed to finish.