Great Rides: Real gravel riding in Iceland
'Iceland? For the weekend? Seriously?' That's the standard response when I answer what I am doing with my long weekend. When I add that I want to cycle across Iceland, I get a wry, contemplative smile that says: 'Is he actually serious?' Yet I have a full 72 hours before I have to be back at my desk and I intend to make the most of the time.
Straight after work on Thursday, my wife and I catch a flight from Edinburgh. Two hours later, we're touching down in Reykjavik. After a short drive together in the hire car, I unpack my bike and set off into the dark alone. I'm literally heading into the unknown, because as I ride uphill I am engulfed by a dark, dense mist – so much for the Northern Lights!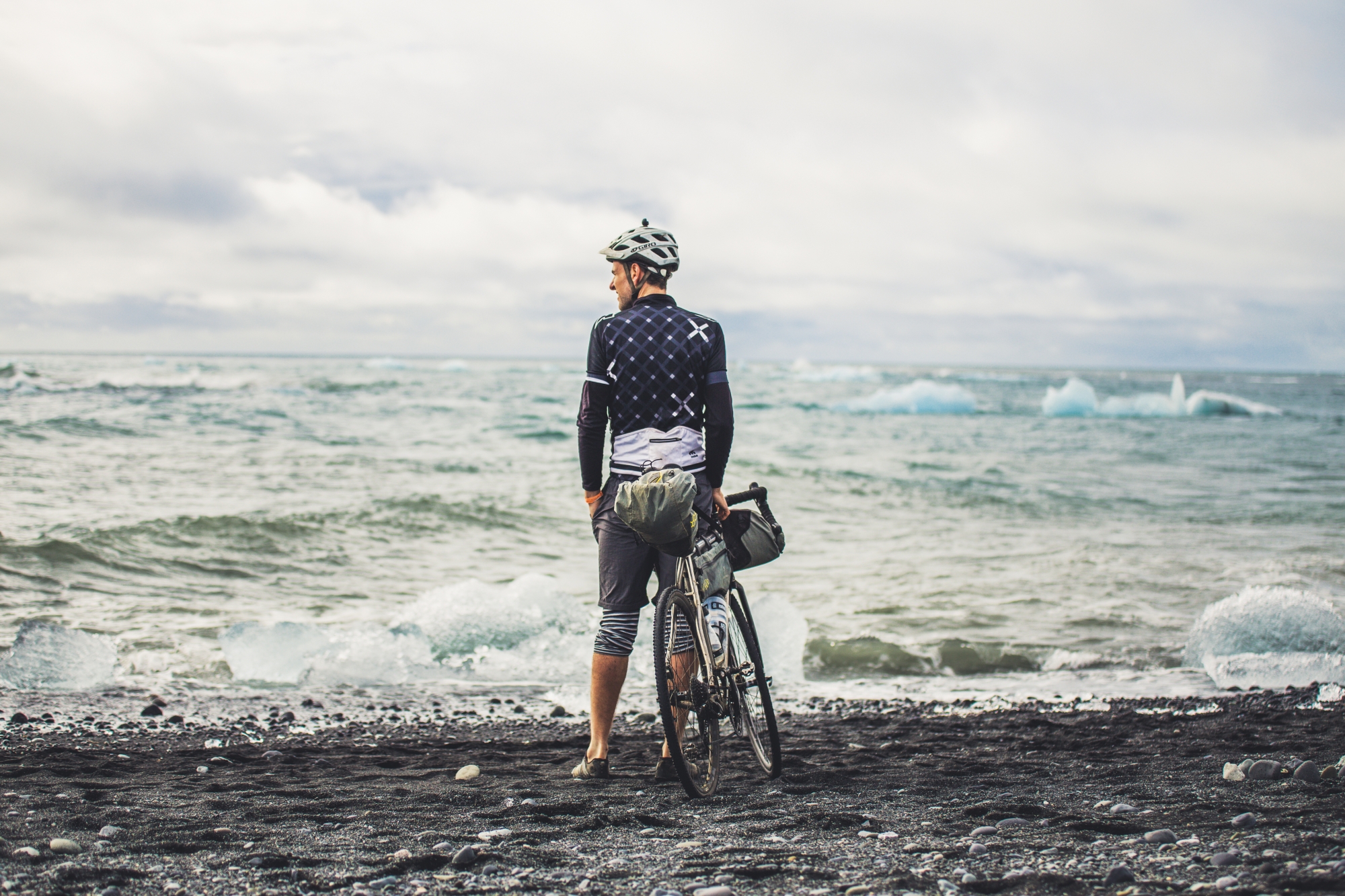 Above: Ed at Jökulsárlón Glacier Lagoon
Riding into the night allows you to make the most of every hour, and while you miss a few sights, it brings its own unique experience. But this is getting silly. I set out my bivvy bag on some lush moss between black volcanic rocks and plan to make an early start. 
A hot bath before bed
It's a bizarre feeling waking up in a completely alien environment. Last night, I was oblivious to my surroundings; I was camping a bit too close for comfort to a 
sign warning of steam vents in the area. I ride due east on the famous outer ring road of Iceland. The mountains are encircled in morning mist, and steam vents and geysers add to the theatre. Daylight riding here definitely offers more!
I ride past Selfoss, stocking up on a few last-minute and incredibly expensive provisions. It's time to leave the tarmac behind and ride the gravel tracks through the desolate interior of Iceland. This is also where you leave the other tourists behind and get a true feel for the place. Travelling by bike lets you do that surprisingly quickly; I pass signs banning hire cars from driving on the gravel and immediately it's peaceful. While cars can't travel here, my fast and light bikepacking set-up is perfect. The main hold-up on my route is not the freezing river crossings but stopping to take photos; each corner reveals the new best view so far!
As evening approaches, it's grey and starting to drizzle but I see a wooden sign for hot springs that I can't ignore. I happily roll into a designated campsite, park my bike, strip off, and soak my legs in a blissful hot spring river. After 200km of riding, it's the perfect way to relax. I feel light years away from my work desk, yet just 24 hours ago I was setting my email to 'out of office'. 
It's time to leave the tarmac behind and ride the gravel tracks through the desolate interior of Iceland.
The rain gets heavier and I don't want to leave the hot spring, but I've been soaking in it for three hours. My skin is shrivelled like a prune served at a 2-star hotel breakfast. It's time to drag myself out, dry off, and zip myself into my Gore-Tex bivvy bag. With such a short trip, I have minimal kit: just one change of dry clothes, a sleeping bag, stove and bivvy bag, all stowed in a large Apidura seatpack and bar bag. 
Iceberg Lagoon
Saturday arrives and I reckon I have to make it another 200km to feel like I've had a decent attempt to cross the island. The tops of the hills and volcanoes are lost in the cloud but the bright green moss shrouding the black volcanic soil makes for incredible scenery. While the track is loose, it's remarkably fast and smooth for riding. I've only seen a couple of Jeeps and a handful of sheep so far. It's certainly a good spot to get away from it all. 
Iceland is renowned for its river crossings and there are 15 on this stretch of the F208 road. The weather is dry today so I lose the feeling only in my wet feet!
I climb one final hill and the green and black mountainous landscape subsides. I can now see the sea in the distance. I ride alongside a river that's so crystal clear I'm happy to scoop a bottle full of water and drink it straight.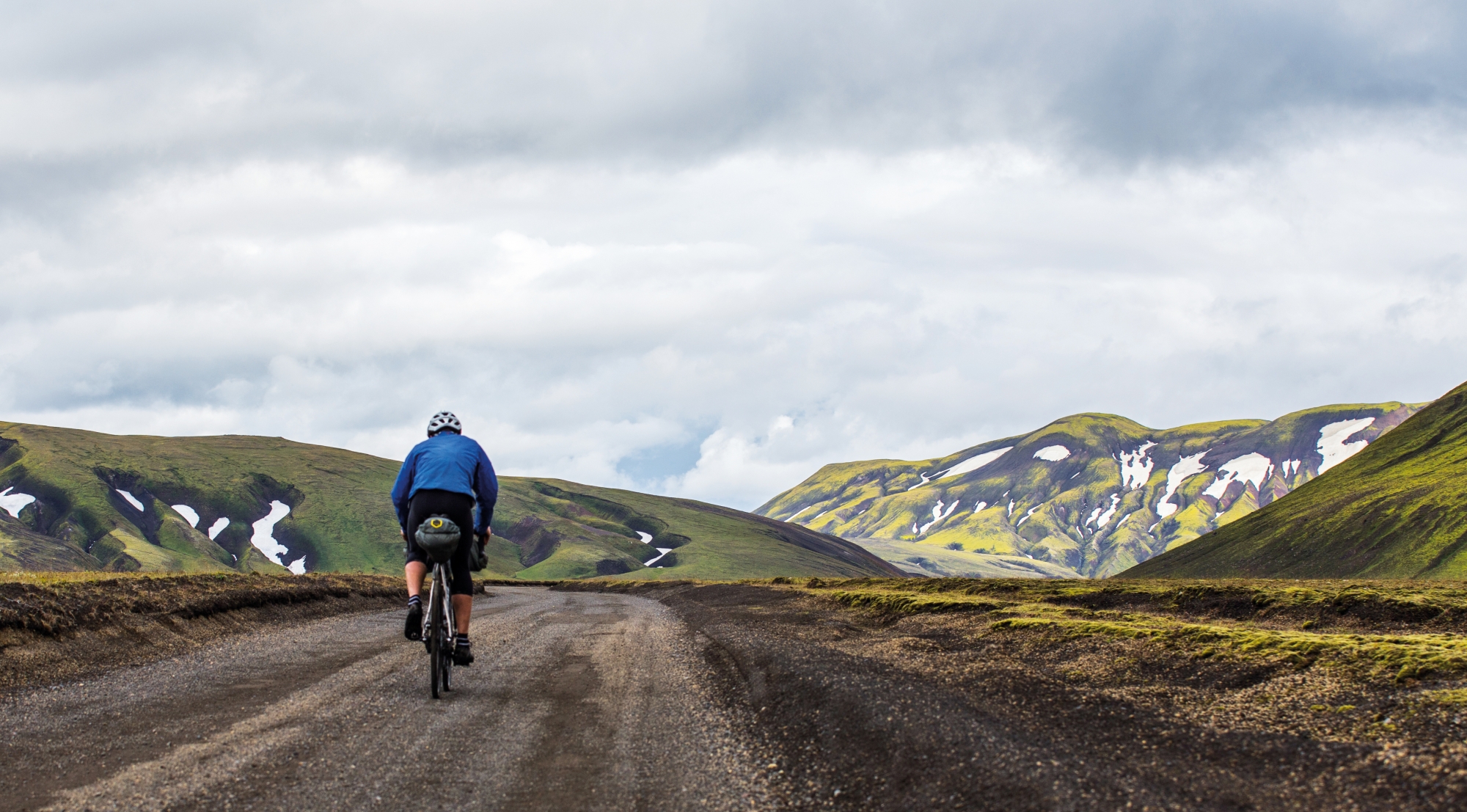 Finally, at about 2pm, my detour into the interior is over: I am back on Route 1 and heading east for the 'Iceberg Lagoon'. I also now have to catch up with my wife, Marion, in order to get a lift back in time for the flight home tomorrow. The wind is calm, a rare thing here by all accounts; normally this section would be a prevailing headwind. The locals say that if you face a headwind here, you might as well turn around! 
After an hour or so, I see the first of the glaciers tumbling down to sea level – such a stark contrast from the volcanic interior where I woke up this morning. 
A tiny silver Hyundai rental car honks and flashes me as it overtakes. It's my lift home! Granted, this isn't the most sociable of romantic weekends away together, but we agree to meet up by the glacier lagoon later that afternoon.
After a pleasant but long day, the light starts to fade along with my legs. The icebergs are closer. I have made it and I have seen so much, it's hard to believe it's still only Saturday night.
Cutting it fine
On Sunday, we take it easy before driving back towards the airport for an evening flight. Along the way we see some of the guidebook tourist attractions: vast waterfalls, black sandy beaches, and dramatic lava fields.
I see the first of the glaciers tumbling down to sea level – a stark contrast from the volcanic interior.
At the last waterfall, I suddenly realise I've misread our flight's departure time. We drive as fast as we dare, conscious that speeding fines can bankrupt you in Iceland. 
The airport appears at last. I'm convinced we're too late but we unload the car, box up the bike, and run to check-in, arriving with literally a minute to spare. Sweat dripping from my forehead, we run to the gate. 
There's nothing quite like a manic pursuit of a flight to get the feeling you have squeezed out every minute of a trip. We'd certainly accomplished that.