Guide to what to wear when winter bikepacking
British winters are tough when heading off road, and not just because of the riding conditions. In the following, we're going to look at the difficulty in making sure you're adequately equipped.
The biggest problem at this time of year is the inconsistency of the temperature, where you can go from sub-zero temperatures to the low tens in just a couple of days.
Consequently, the trails take a battering, meaning often even if it's not raining, you will have to deal with spray from below. Getting warm when wet and cold is much more difficult than getting warm when merely cold.
Sub-zero temperatures and snow can often be easier to dress for than when the mercury hovers around zero, as your outer layers are at least more likely to be dry.
Either way, wet and cold or just cold, at the heart of the solution is layering, says Cycling UK training manager Matt Woodcock: "The bottom line for bikepacking in the winter months is to stay warm and dry on the ride.
"The trick to this is layering, but how many layers you need is personal. Use your local rides to try out different combinations until you find out what works for you before heading off on those expedition rides."
Try to avoid sweating in the cold if you can, as you'll get colder much quicker when you stop

Matt Woodcock, Cycling UK training manager
It's not about bundling yourself head to toe so you're like a pedalling Michelin man – in this case too many layers can be too much, and even potentially dangerous.
"You want to have enough layers so you're not riding too hot," says Matt. "Try to avoid sweating in the cold if you can, as you'll get colder much quicker when you stop.
"Take layers off as you heat up on the ride, just don't forget to put them back on when you stop."
Avoid cotton (it cools you down when wet and doesn't dry quickly or wick sweat well), but do stick to natural fibres like merino wool, when you can afford it, advises Matt. Naturally wicking, pong-resistant, good at temperature regulation and also able to retain warmth even when wet, merino wool beats most technical fabrics hands down.
Another good tactic for keeping warm is to plan in time on your ride for a hot drink. Whether that's a café along the way, a thermos tucked into your bag or even stopping to prepare a quick brew – warming yourself from within will help you feel much warmer.
But if you're wondering what clothes you need for where, read on for Matt's suggestions on how to stay safe and warm.
Head
It's estimated you lose about seven to 10 percent of your body heat through your head, so it's important to keep your noggin warm. Whether you wear a helmet or not, a woolly hat or thin comforter can make a real difference. Natural woollen fibres are best in this case, as you will sweat but wool will still keep on working.
Hands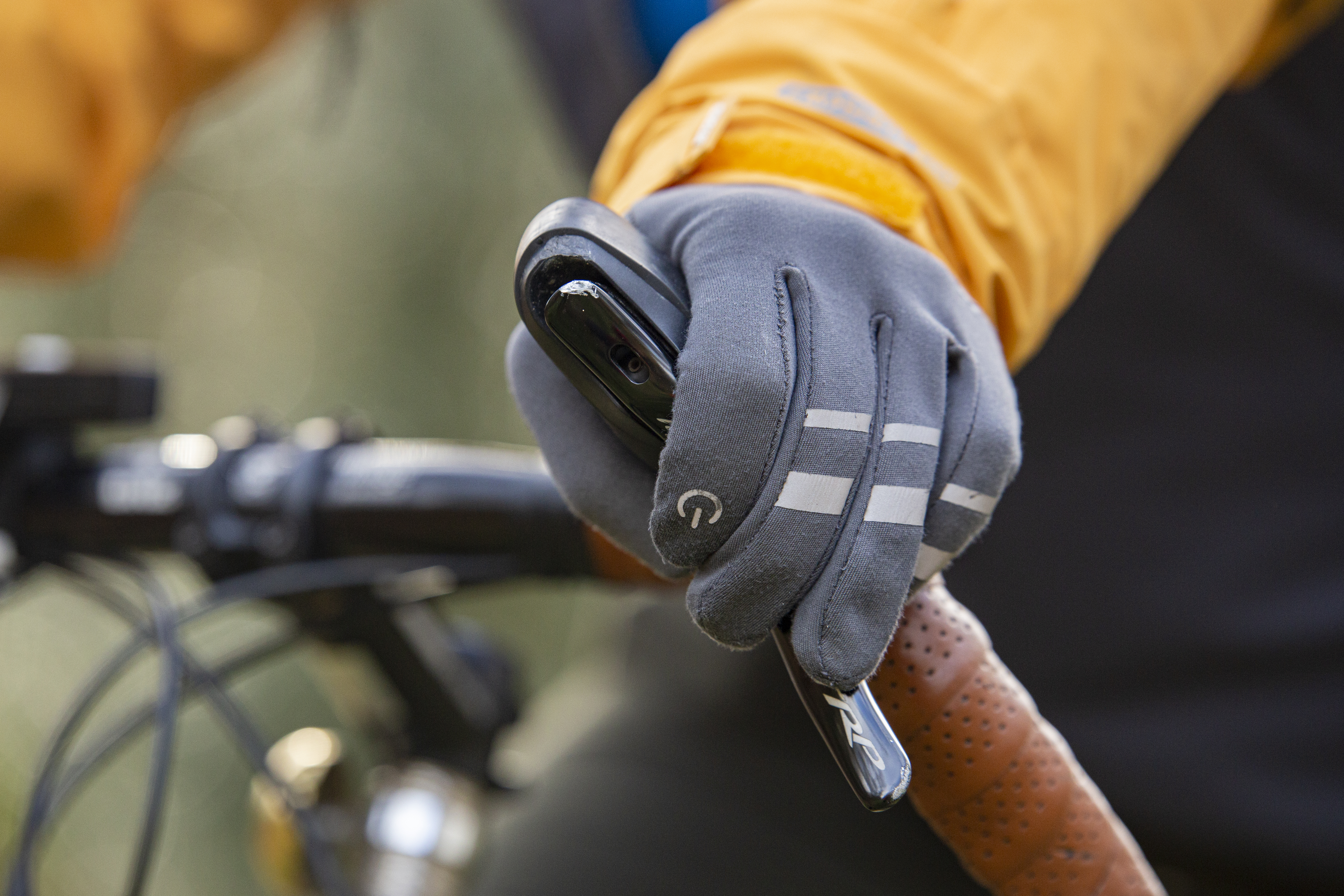 Given the importance your hands have when controlling your brakes and gears, Matt suggests investing in some decent cycle-specific waterproof gloves (like Sealskinz) which have padding. While in some cases there can be crossover between cycling and hiking gear, this is one area it's worth investing in specific cycling kit.
It's important to try before you buy, as you want to avoid gloves which are too tight. These can cut off your circulation, which will make your hands more susceptible to the cold.
If you really feel the cold in your hands, consider buying a larger size of gloves, and combining with some thin inners. EDZ sells a range of reasonably priced inner gloves from £11.99 made from natural fibres like merino and silk. Again – make sure that the combo is not too tight.
Neck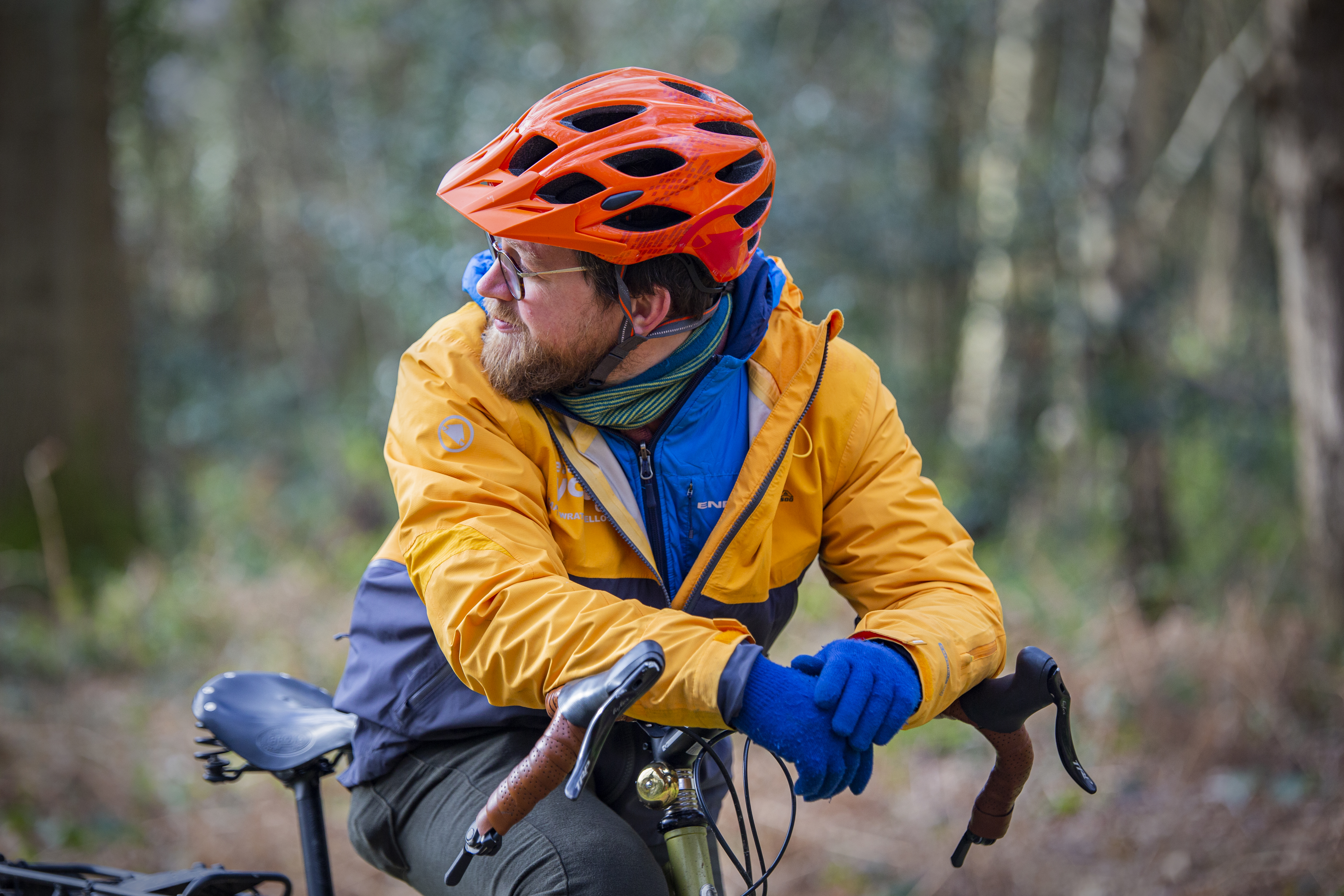 "A lot of cycling kit is actually fairly low cut, which makes it easier for all that warm air generated around your core to be lost," says Matt. "To avoid the draft, buffs and neckwarmers are a great solution."
They can double up as an emergency headcover in case you lose your hat, and be pulled up to cover your lower face and ears when it's truly grim, preventing wind or snow burn.
Avoid using a scarf unless you absolutely have to, as the tube-like design of a buff is far less likely to be caught in your wheels or chain. A good sustainable option are the merino wool buffs produced by Scottish company, FINDRA.
Torso
This is where layering is really important. It's fairly obvious but, as your core is your engine, when that gets too cold you stop.
Matt breaks down what you need into four layers: base layer, mid layer, hardshell/waterproof and a stopping layer.
For the base layer, a thermal top should be on the cards – short or long sleeved is a matter of personal preference. Whether merino or synthetic, you should be on the look out for something that will wick the sweat away from your skin.
A good waterproof should keep the warmth in, cold out and prevent the filth from the trail from getting you wet

Matt Woodcock
Your next layer should be long sleeved, and again should be something that wicks well.
Top this with a hardshell or waterproof, and one with a hood suggests Matt. If it does have a hood, make sure it can fit over a helmet (and stay there) and will move with your head without restricting your vision.
"A good waterproof should keep the warmth in, cold out and prevent the filth from the trail from getting you wet," says Matt.
Finally, not so much for using on the trail, you want a 'stopping layer' for when you stop. A jacket with a down (lighter and often better warmth to weight ratio than synthetics, but less effective when wet) or Primaloft (synthetic, often bulkier and a bit heavier but will still work when wet) filling is what you should be on the look out for.
Make sure you keep the jacket accessible and away from the wet (pop it in a dry bag) and it'll keep you warm en route and at camp.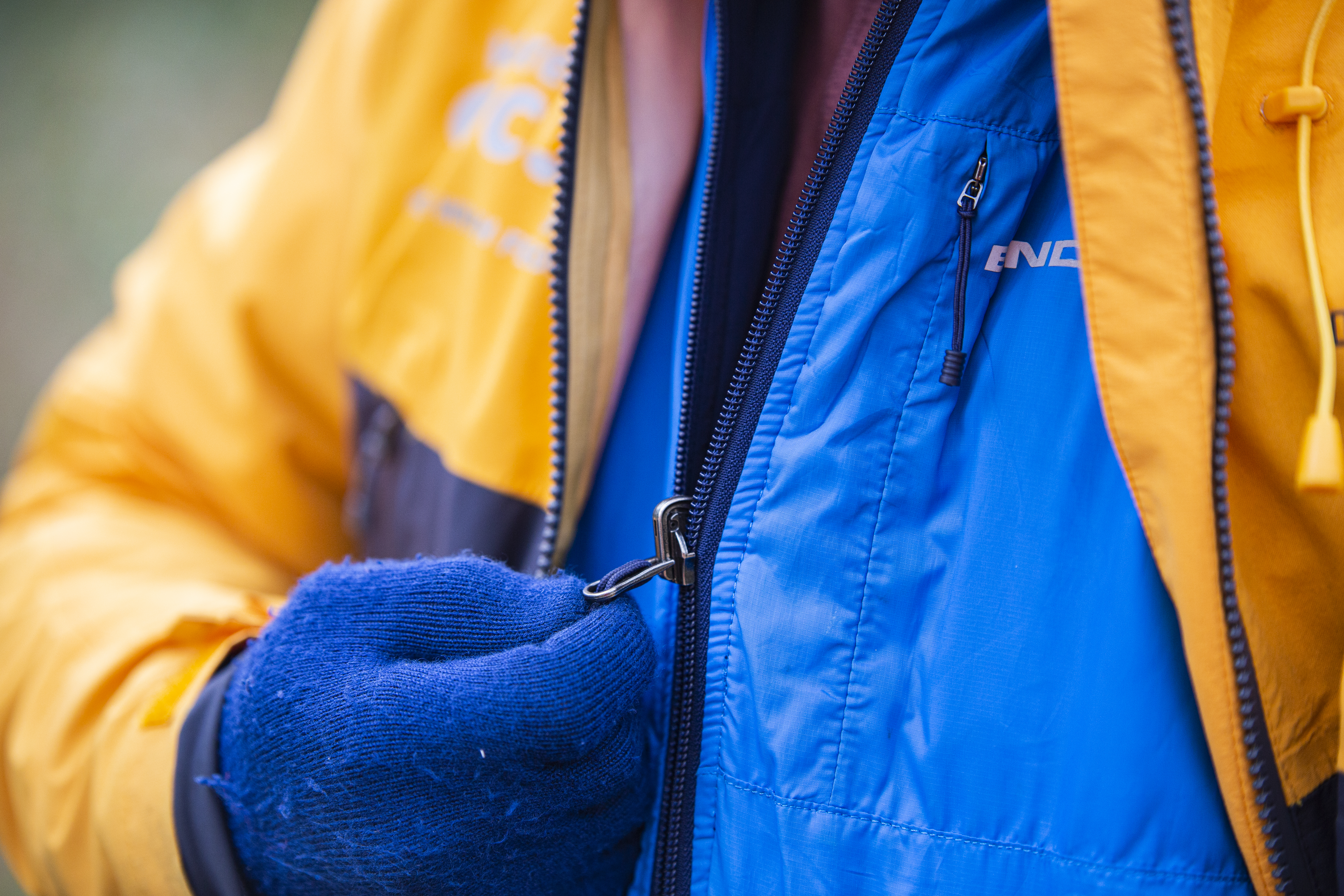 "Be disciplined when wearing your stopping layer," urges Matt. "Don't put it on over your mucky wet hardshell especially if it's raining – take the hardshell off, put your down jacket on and layer up again.
"Bear in mind if your hardshell is too tight then it will compress the down or Primaloft – that means it won't work so well."
Legs
Cycling shorts (or tights) will keep your posterior more comfortable on the longer rides – just don't combine them with underwear unless you want to create future discomfort.
"Whether you choose bibs or cycle shorts is a matter of preference that might be determined by the length of your ride," comments Matt. "While bibs are better at preventing drafts they can be more awkward depending on when nature calls."
While bibs are better at preventing drafts they can be more awkward depending on when nature calls

Matt Woodcock
Matt recommends looking into riding trousers which have a waterproof seat and softshell top, and advocates Endura's MT500 Spray Trousers: "They'll keep your bum dry and the wind-resistant top will help ensure your upper legs remain warm."
When it's awful weather, though, unpack your waterproof trousers. You want to be able to get these on in a hurry, so ideally you want a full or at least ¾ length zip.
Shoes
Your feet are going to bear the worst of the trail, and will easily get cold when riding. What style you choose is personal – flats, SPDs or boots – but at least go for something waterproof and consider a waterproof neoprene overshoe.
A waterproof sock is a good insurance option, with Matt advising checking out some of the trekking options available rather than looking solely at cycle-specific brands.
For truly extreme conditions, check out 45NRTH which produces footwear that will be able to tackle the worst winter can throw at you in the UK.
At camp
You've made it through the day's ride and are about to start setting up camp – get your down jacket and those waterproof trousers on, says Matt.
The down jacket will keep the post-ride glow roaring, while the trousers will allow you kneel down when setting up camp or cooking, and mean there's less risk of soaking your leg wear.
Pack spare gloves and hats (just in case you lose yours on the way or they get wet) and a dry set of camp clothes to change into once you've set up your shelter.
With a bit of careful thought and preparation about you wear and where you ride, there's no need to stop riding at any time of year

Matt Woodcock
Above all, make sure everything is kept dry in waterproof dry bags. Don't rely on your luggage to do the job, especially when you're delving in with wet mucky paws from a day's worth of riding.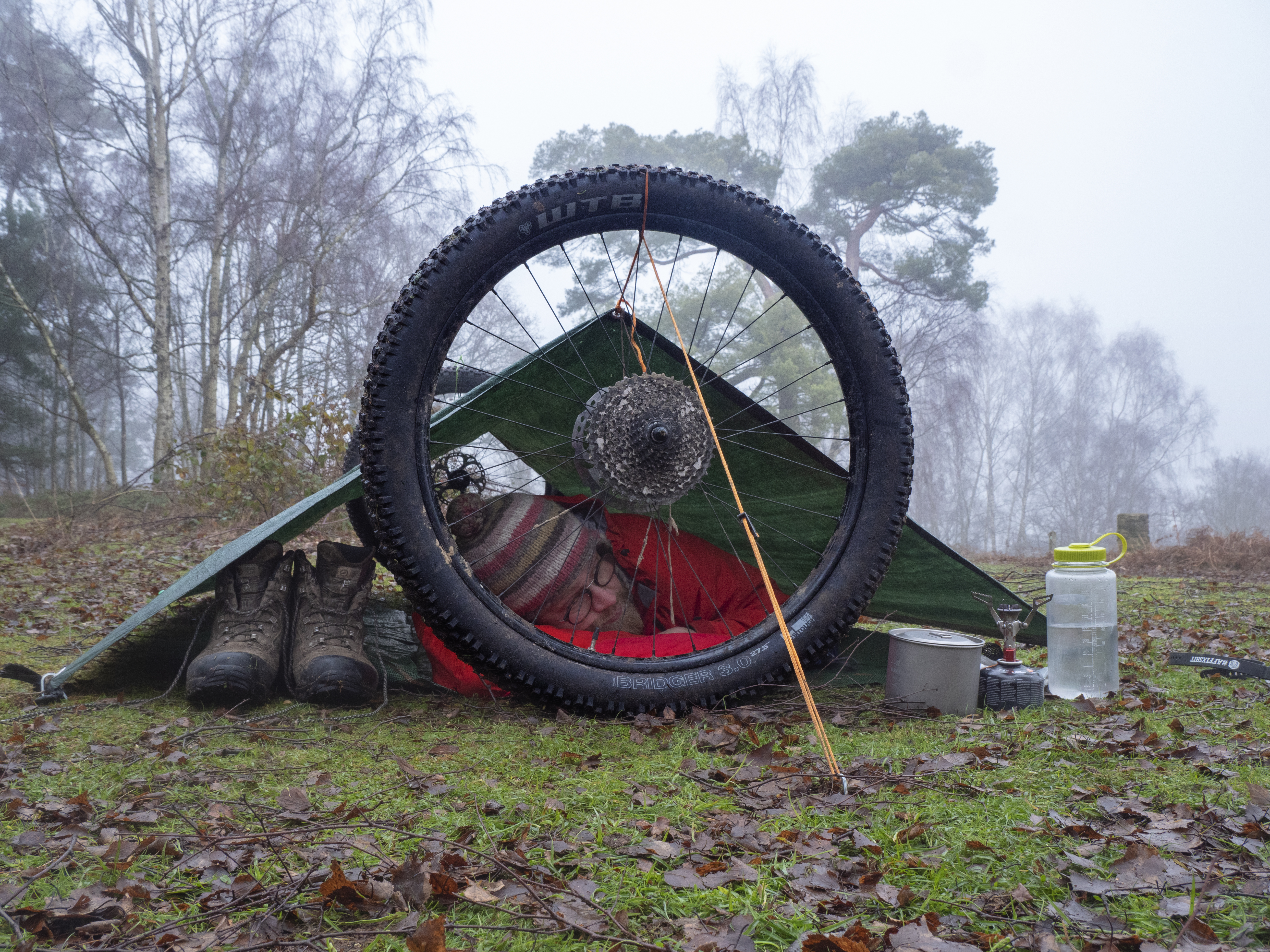 "Don't be daunted by winter riding and bikepacking," says Matt. "Winter landscapes can be some of the most thrilling, beautiful and peaceful you'll ever ride through – even changing the familiar beyond recognition.
"With a bit of careful thought and preparation about you wear and where you ride, there's no need to stop riding at any time of year."