Where did the idea for Be Nice, Say Hi come from?
I was on the return leg of a ride recently, coasting down through my local woods, with an inane grin on my face thanks to the fact I'd had one of those rides. It was unfeasibly warm for February and I was wearing a T-shirt and baring my lily-white legs for all to see. The trails had been snuff dry and I'd completed a few technical challenges that had eluded me in the past. It had been memorable.
Ahead, I saw a group of senior folk on a guided walk and stopped to let them past. We exchanged pleasantries and a lady in her 80s stopped and quizzed me forensically about my bike. How many gears? What was it like having suspension? How heavy was it? It transpired she'd been a keen cyclist and was genuinely interested in how things had moved on over the past few years.
Which was just lovely. I've long felt that conversations with strangers are often the highlight of any ride in the Peak District. You never know what you're going to hear, and over the last few years, the instinctive suspicion that walkers once harboured about an approaching mountain biker seems to have dissipated.
But there's always more we can do. Which is where Be Nice, Say Hi comes in. Every user group has its troublesome minority and mountain biking is no exception. Every mountain biker has seen fellow riders acting in a way that is not conducive to a good image for the community.
Influencing those riders who are less familiar with trail etiquette is difficult, and Ride Sheffield felt that the only way to do it was to promote good behaviour with a positive message in the countryside.
Every mountain biker has seen fellow riders acting in a way that is not conducive to a good image for the community

John Horscroft, Ride Sheffield mountain biker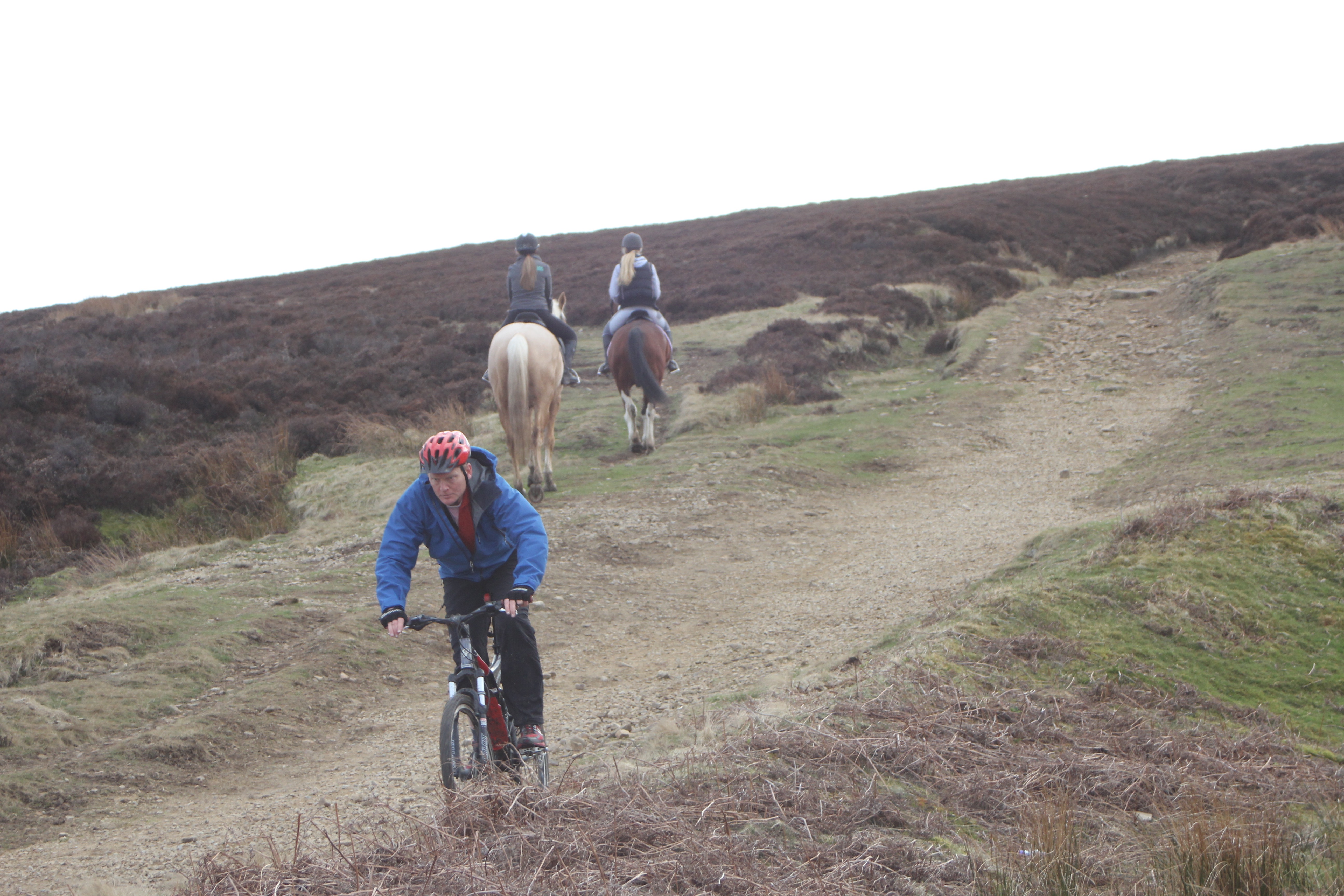 Making it happen
They say there's no copyright on a good idea and, as much as we'd love to claim credit, Be Nice, Say Hi originated in America. However, we were determined it should become ubiquitous in the UK too.
We asked Mark Etherington of graphic design studio No More Dull to come up with a new poster, something that would stand out from the other signs that dot the countryside and he fulfilled the brief in style.
Next, we ran the idea past one of our great allies, Danny Udall of the RSPB/National Trust partnership that manages the Eastern Moors on the fringes of Sheffield. Enthused, he offered to pay for the first print run.
We decided to use the posters sparingly and only on rights of way that were particularly busy. The first signs were used on Curbar and Froggatt Edges, recently upgraded from footpaths to bridleways and potentially a scene of conflict. Now open as a bridleway for four years, there has only ever been one recorded incident between a walker and a mountain biker.
Ride Sheffield began to spread the word through social media and it received support from all quarters. OpenMTB, the national group aiming to become the voice of UK mountain biking got on board. Neighbouring MTB groups began to throw their weight behind it, such as Peak District MTB, DistrictMTB and RideKirklees.
Cycling UK and the British Horse Society were the next to pick up the baton, producing an excellent video which explained how to pass horses safely and referenced Be Nice, Say Hi.
Ride Sheffield is also represented on the Sheffield Local Access Forum which gives a voice to all user groups. Chair Terry Howard, Ramblers' stalwart of many decades and a great supporter of Ride Sheffield, was quick to embrace the initiative.
Seeing the impact
Seeing something that started with Ride Sheffield became a fixture in places as diverse as the Surrey Hills and the Trans-Pennine Trail clearly shows that the vast majority of riders want to do the right thing. Have there been problems? Yes, but very few.
A small number of signs have been defaced and occasionally there are calls for the number of signs in the great outdoors to be reduced, an excellent reason to only place Be Nice, Say Hi signs where they are needed.
I've been riding in the Peak District for 15 years. During that time I have noticed a fundamental change in the way different user groups interact. There is a growing realisation that we're all there for similar reasons – to enjoy a singular landscape, to immerse ourselves in a fragile and internationally significant habitat and to enjoy interaction with other kindred spirits.
Be Nice, Say Hi isn't just a slogan – it should be a way of life for anyone who immerses themselves in the great outdoors. We all have a right to enjoy the countryside, but with that right comes responsibilities, and one of the biggest is to treat others as you would like to be treated yourself.
Go on, it'll put a smile on your face.