How to get into mountain biking and off-road cycling
Maybe you're an experienced roadie who wants to try something else, or perhaps you took up cycling during lockdown and want to extend your skills. If you're thinking about trying mountain biking, but don't know where to start, the following advice will give you all the information you need.
What is mountain biking?
First things first: it doesn't require a mountain. It means riding on off-road trails, often over mixed, rough terrain, which can involve plenty of climbing and descending. For this reason, it's often referred to as off-road cycling or off roading.
There are five broad disciplines: cross country, trail riding, all mountain (sometimes called enduro), downhill and freeride.
Very briefly, cross country (or XC) involves riding on a mix of rough forest paths, singletrack, doubletrack, fire roads and even paved paths connecting other trails.
Trail riding uses mountain trails, fire roads, logging roads and other unpaved trails.
Enduro is type of mountain bike racing where the downhills are timed, while the uphills are mandatory but not timed. Downhill (DH) happens on steep, rough terrain that often features jumps, drops, rock gardens and other obstacles. The closely related freeride focuses on tricks, style and technical trail features.
These last three are more for the keen or expert mountain biker, as they require a lot of technical ability. As a beginner, you'll want to concentrate on cross country and trail riding. They're a lot more accessible – any off-road track counts. If you've taken a shortcut to work via a forest trail, then you're already done it!
Shane Giddings of Swinley Bike Hub, in Swinley Forest, Berkshire, thinks all cyclists should give off road cycling a go. He got his first mountain bike when he was 10 years old and has loved it ever since.
"Every waking minute was spent out on bikes with friends, finding trails, building trails and then tearing down them as fast as we could," he says. "As I got older, I was introduced to cross-country (XC) mountain biking which I fell in love with as it still included all the fast-flowing downhill trails but was combined with the challenge to build fitness and endurance and take on the big climbs.
"Nowadays I do a mixture of all sorts of off-roading disciplines but spend most of my time on the trails in Swinley Forest."
Access for all?
Having said that all off-road trails count, it's worth getting to know what's legal. Scotland has the best access laws in the UK. The Land Reform (Scotland) Act 2003 granted universal access rights for all trail users, subject to those rights being exercised responsibly. The act specifically establishes a right to be on land for recreational, educational and certain other purposes and a right to cross land.
Access in England and Wales is controlled by the Countryside and Rights of Way Act 2000. It restricts cycling (and horse riding) to bridleways and byways; cyclists aren't allowed on footpaths. This effectively limits cycling to just 22% of the Rights of Way network in England and 21% in Wales. Cycling UK has a comprehensive guide to where you can cycle in England and Wales.
In response to this, Cycling UK launched its Trails for Wales campaign, in conjunction with OpenMTB, asking the Welsh Government to increase access in the country. In 2019, the government agreed to reform these laws, but nothing has happened yet – clearly more work is to be done.
Northern Ireland has some of the most restrictive access laws. Cyclists can only use carriageway, which they must share with walkers, horse riders, horse-drawn vehicles and motor vehicles.
We want to improve access to the countryside for everyone. We have plenty of advice on how you can get involved, too.
Cycling UK is aiming to create a network of long-distance off-road routes which can be ridden in sections on a mountain bike. Four are already 'live': King Alfred's Way in Wessex, the Great North Trail, linking the Pennine Bridleway with the northern tip of mainland Scotland, the Cantii Way in Kent, and the West Kernow Way in Cornwall. A fifth, Norfolk's Rebellion Way, is set to be launched later in 2022.
You can also find a selection of off-road rides by searching our 200 cycling routes. Click on 'Advanced options' and set 'Type of bike' to 'Mountain bike'.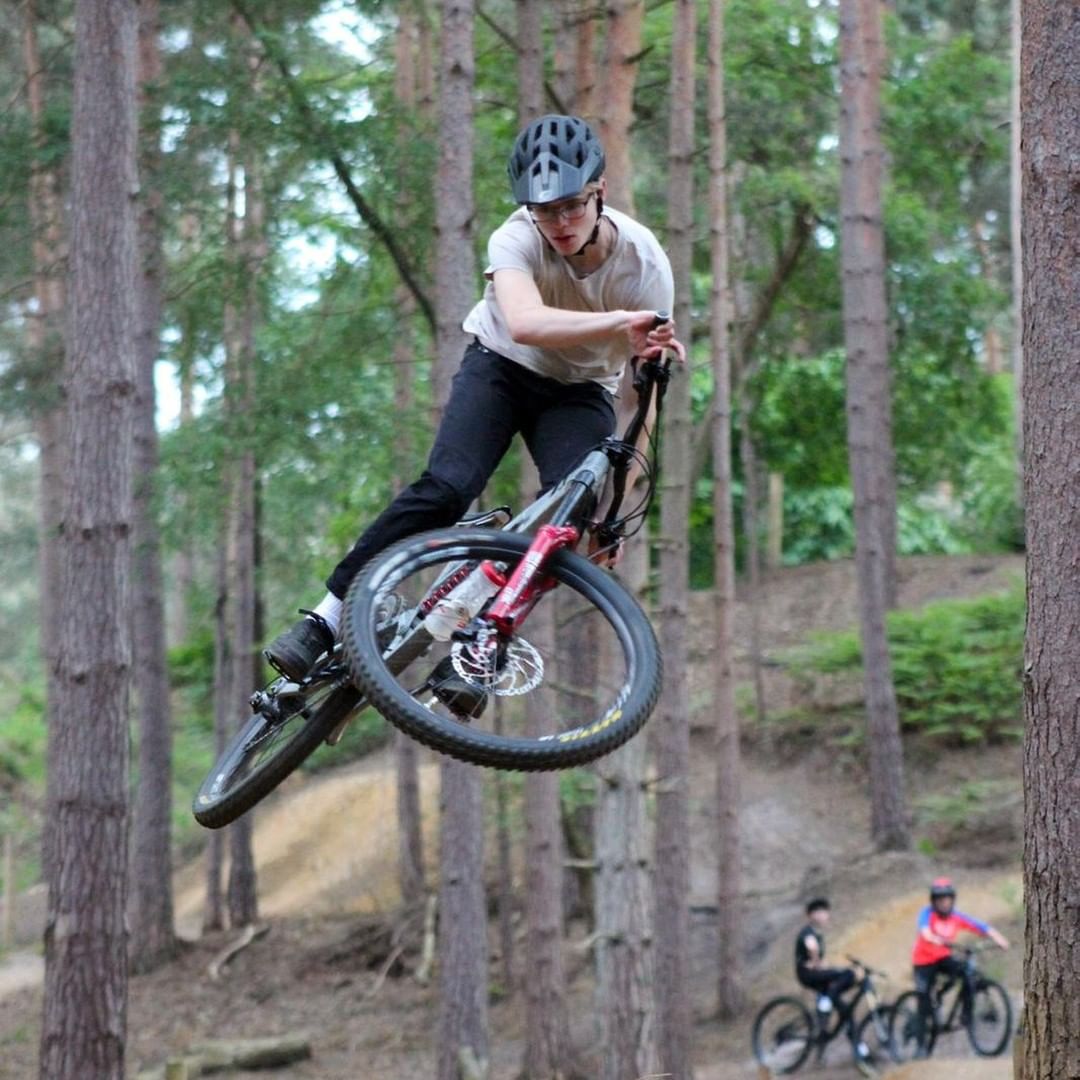 Trail centres
One way to avoid any access issues is to head to a dedicated mountain bike centre, where you can cycle on any of the trails on offer. These can be found all over the UK, and have the added advantages of offering cycle hire and knowledgeable staff on hand to ask any questions, as well as the chance to meet other mountain bikers. A good centre will also have toilets, changing facilities and maybe even a café.
Coed y Brenin in North Wales was Britain's first purpose-built mountain bike centre, and remains one of the sport's top destinations. Toby Bragg, who works at the centre, says: "Our best piece of advice would be to find a great trail centre. We'd suggest Coed y Brenin, but we may be a little biased!"
Mountain bike centres will offer a variety of trails that have been graded according to a colour-coded system. This means you can find routes suitable for your level of experience. The routes range from green for easy to black for severe.
"A trail centre is a great place to start as they offer routes of varying length that are graded by their technical difficulty and physical challenge. This means riders who are new to the sport can find a trail that is suitable for their confidence and ability level, something that will offer them a good experience without taking them out of their depth.
"The way-posted routes of a trail centre mean you can enjoy the riding without the worry of getting lost. There will be downloadable route maps, with difficulty and distance information. These will often also highlight any major trail features that it might be helpful to know about in advance like any particularly challenging hills or rocky sections. All this helps new riders prepare for their visit and feel more confident on the trail."
If you want to find a centre close to you, Cycling UK-affiliated group Rough Ride Guide has this fantastic map, showing locations across the UK.
Don't go it alone
Joining a group or riding with more experienced friends is an excellent way of improving your own skills. Everyone I talked to agreed that beginners would benefit from riding with others. Cycling UK has around 1,000 Member and Affiliated groups, which you can search. Again, click on 'Advanced options' and under 'Group activities', select 'MTB/Off-road rides'.
"Where possible, and especially when getting into off-road cycling, ensure you go riding with a friend and stick to way-marked trails or ride in an area you are familiar with," Shane advises.
Toby adds: "It's always a good idea to ride off road with a companion, this way you have someone to look out for you in case you have a tumble or a mechanical problem. This goes for trails centres as it does for all riding."
He also recommends that anyone lacking in experience should invest in an introductory course or taster session as these provide a solid grounding in the essential riding and safety skills, allowing you to more confidently enjoy your time on the bike.
The MTB community is extremely friendly and visiting a trail centre is a great way to meet and share trails with some of warm and wonderful characters

Toby Bragg, marketing and events, Coed y Brenin
Vicky Balfour is an experienced bike mechanic who runs Vicky Bikes. She's also a keen mountain biker. She says: "I can't emphasise this enough," she says. "Coaching has been fundamental in developing my love of the sport, good habits, confidence and skills.
"I have had a mix of group coaching and 1:1 and still do. Coaches I've used and recommend include Katy Curd, Firecrest MTB, Duet Coaching (Francie Arthur) and I'm about to spend a day with Rachael Wight at ProRide MTB."
Although Shane warns: "Ensure that you don't over watch YouTube videos and fill your brain with too much! At the end of the day, it is an instinctive sport, and you don't have time to think of several things when going down a trail."
Once you feel more confident, you can start riding alone, after all, as Lydia a member of the community at School of Rocks, a female-led association offering a toolkit to empower everyone to find joy in off-road cycling, says: "I love trails for giving me my own space, whatever speed I want to go."
What bike do I need?
Well, the clue's in the name. But it's not quite that simple. There are broadly two options: hardtail, and full suspension (also known as full-suss). The latter is probably the most common. It will provide a hardy frame suitable for XC and trail riding and will often come with a front suspension fork.
Full-suss comes with both front and back suspension. This type of cycle has traditionally been used by more serious mountain bikers, but can be a very pleasant way of hitting the more forgiving trails, too. You can find out more in our guide to buying the right mountain bike.
"The traditional advice is always to start with a hardtail," Vicky says. "But as an older rider (I started in my early 40s), I was happy to move to a full-suspension bike to soften impacts on my joints and to increase my confidence.
"My first proper MTB was a second-hand Boardman full-suss with about 130mm travel. This is a great place to start in the UK as you don't need masses of suspension but it's enough to be comfortable and playful."
There's also the question of tyre size. There are three options: 26-inch wheels, 27.5", and what are known as '29ers' (29"). Which you go for is down to personal preference – which one you feel most comfortable on. For this reason, it's important to try before you buy.
Vicky again: If you can, try hiring a few different bikes at local trail centres or bike parks so that you can get a feel for different styles and sizes."
Toby agrees: "Some easier trails at trail centres are often not too far from the demands of a dirt cycle path; for these a hybrid may be fine to use, although a set of tyres with a little more tread might be a good addition.
"For anything more, though, a proper mountain bike will be needed and buying a specialist bike can be a significant investment for someone who is not sure if they want to get into the sport. We would always recommend trying before you make a purchase.
"It might be possible to borrow a bike from a friend if you know someone who is a mountain biker and the same size as you, but we'd suggest renting. Most larger trail centres will have bike rental and many will offer a choice of bikes, hardtail or full suspension.
"At Coed y Brenin we have a large fleet of Trek and Specialized bikes that are thoroughly serviced after each use to make sure they stay in tip-top condition. This means that anyone new to the sport will get a great experience without the worry of mechanical issues.
"Renting means you can properly try the sport on a good-quality bike to discover if you enjoy it before shelling out hundreds of pounds on a new cycle. Off-road riding isn't for everyone, so it's wise to dip your toe in first before making a big purchase."
Swinley's Shane also recommends renting a bike and talking to professionals before committing to buying a bike. He thinks it's essential to invest in the right equipment, rather than just buying the most basic bike. "Your skillset will soon outgrow this, and you will feel a huge difference in the better bikes – the bike definitely makes a big difference."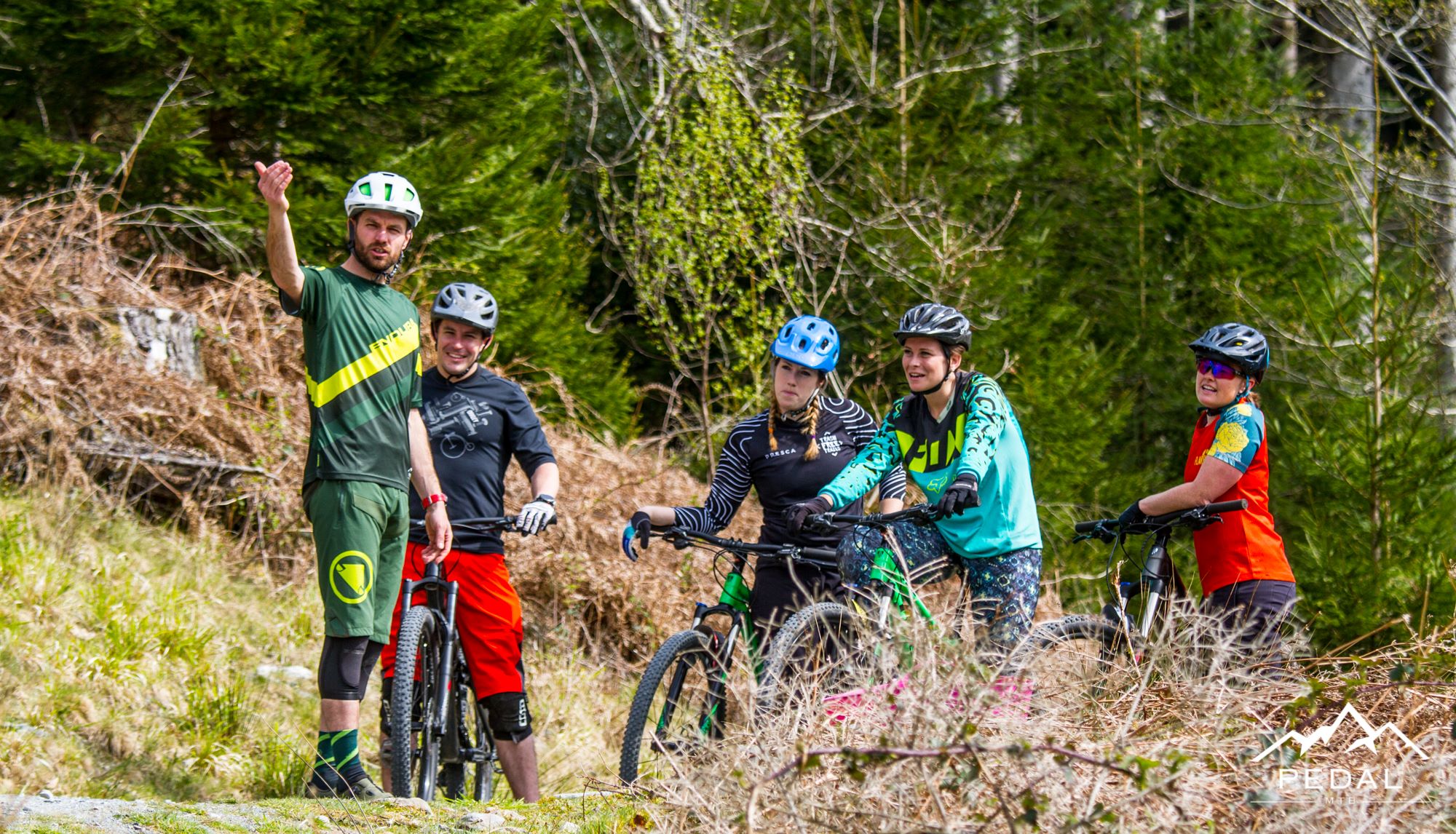 What kit do I need?
You don't need to shell out on a whole load of expensive new kit – unless you want to. In fact, you probably already have most if not all the basics. There's more information in the guide What to wear mountain biking.
Andrew at School of Rocks advises: "Don't worry about having all the gear. Start small and enjoy the wonderful places your bike takes you."
Clothing
Wear something comfortable, that you can move around in easily and you don't mind getting dirty! A moisture-wicking T-shirt, a pair of shorts and an old pair of trainers are really all you need to get started. A warmer layer or two will keep you cosy on colder days.
You'll want looser-fitting shorts than traditionally worn for road cycling. But a pair of padded Lycra shorts or pants under looser shorts will keep you comfortable in the saddle.
Shane recommends wearing sports gear as casual clothing can become heavy and uncomfortable when wet – something that's inevitable in Britain!
Accessories
Mountain biking is a challenging sport, so you want to make sure you're properly protected. Knee pads and helmets might reduce the likelihood of injury. However, Cycling UK policy is very much that wearing a helmet is personal choice. Whether you need one depends on your own needs and the type of off-road cycling you're doing.
The following advice is the personal opinion of the people we spoke to.
Shane advises: "A helmet is vital! Don't even think about riding off road without a helmet. Even the smallest of crashes can cause significant head injuries, so before anything, get yourself a decent helmet."
Gel-padded gloves help stop your palms getting sweaty and your hands slipping off the handlebars. But you don't need mountain bike-specific ones – the ones you wear on your commute will do just fine. Same with sunglasses. These will protect your eyes from dirt and debris, but you don't need special mountain-biking ones.
Water, snacks and everything you need for essential repairs are a must.
Toby adds: "Mountain bikers need to be self sufficient, carrying everything they will need including food, hydration and essential tools and spares like an inner tube, bike pump, tyre levers and a small multi-tool. Punctures are a fact of life in cycling, more so when riding off road, so it's always a good idea to be well prepared, it can save you a long walk home."
While Vicky says: "The essentials for me include a helmet, knee pads, gloves and cycling shoes such as 5Tens. The shoes are important as they help you grip on the pedals which increases your confidence. Make sure the helmet and knee pads fit you properly and are comfortable so you almost forget you're wearing them."
Grass routes Enduro racing at series like Southern Enduro and Pedalhounds is a good way to build your confidence

Vicky Balfour, owner of Vicky Bikes and keen mountain biker
Essential skills
The best way to build your mountain bike-handling skills is to get out and ride, but as Swinley Bike Hub's Shane says, it's important to ride within your limits at the beginning, before moving onto more challenging terrain and trails as your confidence grows.
He identifies three fundamental skills: "Braking – knowing when to use your brakes and learning what is known as 'covering your brakes'. So not slamming on the front brake and going over the handlebars and not locking up the back brake so you are sliding around. A nice gentle, balanced mixture using both brakes.
"Body position – learning to have your feet level on the pedals when not pedalling to avoid catching them on any obstacles, arms and legs bent to absorb impact.
"Focusing your sight as far ahead on the trail as you can – this is a vital skill to remember and will help you brake at the right time and make you aware of obstacles coming up but mainly it will allow you to better read the trails you are riding and know what is ahead."
Lydia at School of Rocks agrees: "Look where you want to go and not at the scary obstacle you want to avoid! When descending keep your feet and pedals level for stability." Toni advises: "If you spy a bit of trail that you're not sure of, walk it first to get an idea of the terrain."
Learning basic repairs and maintenance will improve your confidence when riding the trails alone, as well as save you money in the long run. Vicky says: "Learning about mechanics was a great way for me to keep the costs down and develop my understanding of the bikes as well. It's one of the things that led me to develop Mindful Mechanics and my YouTube channel."
Cycling UK has lots of advice on essential cycle maintenance, as well as lots more information about mountain biking.
If you need more encouragement to try off roading, here are some final words from Shane: "Off roading is a great adventure. There are different trails and routes suited to everyone – don't be put off by fear of big obstacles and trying trails.
"If you love road riding and have a passion for cycling you need to give off-roading a go. The peace and quiet in the forest and on the less busy fire access roads is absolute bliss and a nice escape from the hustle and bustle that comes with road cycling."