Great rides: Strathpuffer
This is the last lap I'm doing. Definitely. No question. My stomach, head and legs can't take another. There's a never-ending climb at the start. Technical sections where I've slowed to a walk. A final descent where I just grip tight and hope I don't end up face down in the mud. I'm done.
The transponder beeps as I pass through the start/finish area. My legs are taking me up that climb again. Maybe one more?
The far north
Strathpuffer is an event I have dreamed about ever since I read an article about it, in which a rider went through four sets of brake pads in 24 hours. I've pored over photos and stories of endurance in snowy Scotland in the depths of winter. I don't know why I was drawn to it. Not to win. Like most participants in 24-hour events, I'd only really be competing against myself and the course.
Strathpeffer is north-west of Inverness in the Scottish Highlands. It took my dad and me six hours to drive there. The course's fire-road climb in Contin Forest was already lined with campervans and vans. It was like Alpe d'Huez the day before a Tour de France stage.
We found a quiet spot where we could put up our gazebo and get ready for the 10am start next morning. Then we cycled a few miles into Strathpeffer to our hotel. A warm night's sleep before 24 hours of cold!
Back in the forest on Saturday morning, we had a couple of hours faffing with the bike and base setup before I made my way down to the start line for the briefing. 'The Puffer' is famed for its Le Mans start. Competitors start on foot, following a piper through the trees. When the piping stopped at 10am, we ran to our bikes, hopped on, and headed up the climb.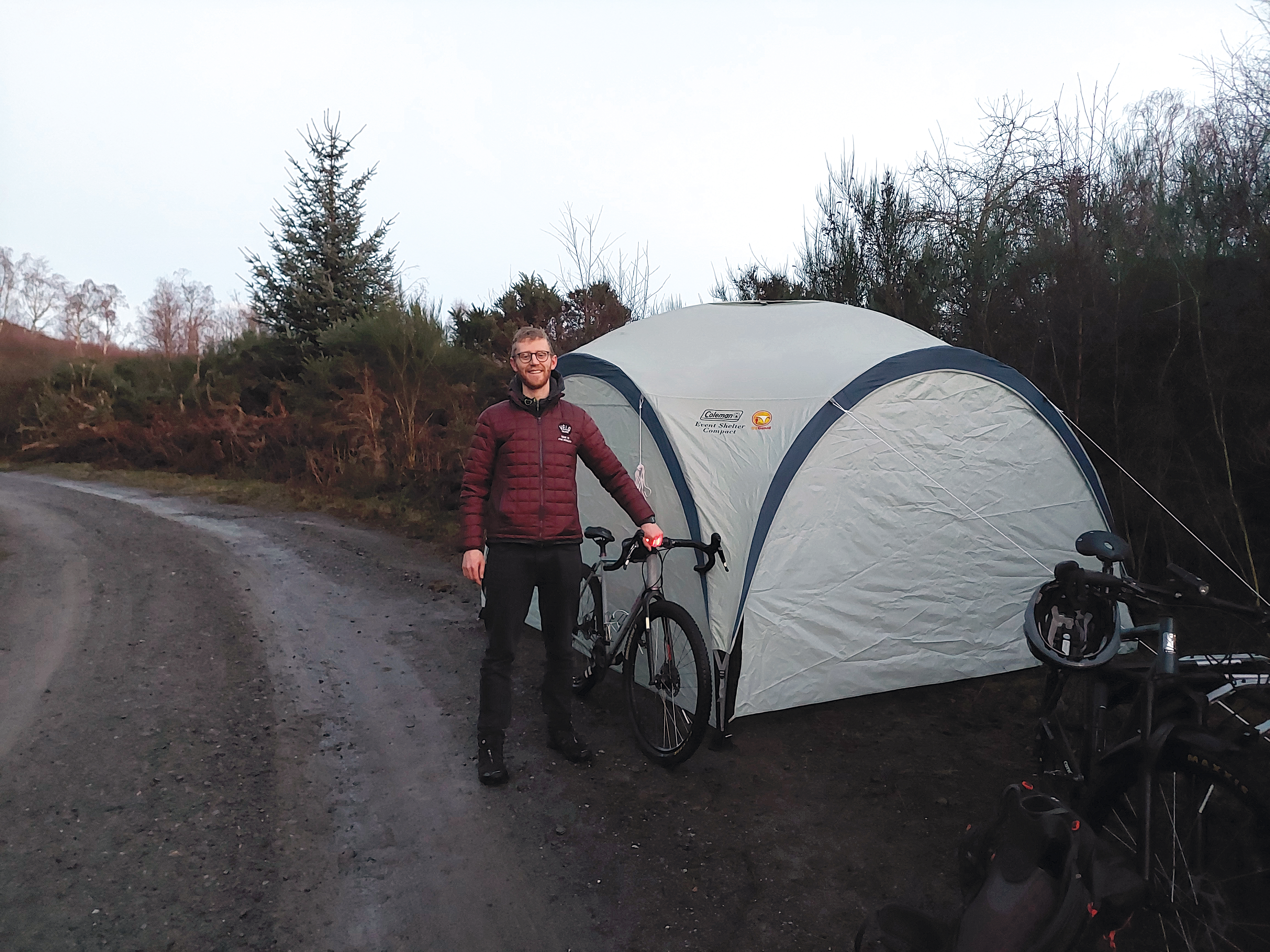 Lapping it up
The first lap was a case of learning the course, trying not to fall off or get involved in any crashes, and constantly reminding myself not to push too hard. There were still 24 hours to go. In hindsight, I set off too fast.
The first few laps passed without incident. I got to know the course, discovering where I could make up time on other riders, where I would lose time, and where I just had to hope for the best. Fortunately – as I'm not a particularly skilled rider – the course wasn't as technical as I'd feared.
While I wasn't riding to win, I did have a list of things I wanted to achieve at Strathpuffer: enjoy it; see the sunset; see the sunrise; give it all I had; finish rather than quit.
I planned to ride for six laps before stopping to sit down, change clothes and eat hot food. Those first laps went really well. My dad provided invaluable support, offering up bottles, snacks and the all-important cups of coffee on the long, slow climb.
At around 4pm the sun dipped behind the hills. I ticked one item off my list. The sun was setting as I crested the climb, so I paused to savour the moment and grab a photo. Then I started the descent. Ahead lay 17 hours of darkness.
Brakes squeaked. Mud splattered. I sang snatches of songs to help keep sleep at bay

Jordan Matthews
The longest night
I switched on my handlebar light, on low power at first, then on medium brightness for the more technical sections, where I also turned on my helmet light. Riding like this, I hoped the batteries would last the night without needing a recharge.
Mountain biking in the dark takes some readjustment. Although I'd already ridden six laps in daylight and knew the route quite well, it still took a while to settle into a new rhythm. By 7pm, which felt more like 2am, I was yawning and starting to tire. Apart from a slight niggle in my right knee, I felt OK. But it was going to be a long night.
What kept me going was the music. Let me take you on a musical lap. First up was the white van at the top of the forest drive: techno and dance tunes accompanied by strobe and disco lights. A couple of miles later it was '80s classics – one lap it would be Michael Jackson, the next The Human League.
Then there was a small van playing BBC Radio 6 Music. Finally, at the summit of the climb and the start of some technical sections, a group of marshals gathered around a fire were playing Bob Marley.
Heading deeper into the forest, the music faded. Brakes squeaked. Mud splattered. I sang snatches of songs to help keep sleep at bay. Eventually, back at the start/finish area, music rang out again, a real mix. I think it was Abba at one point.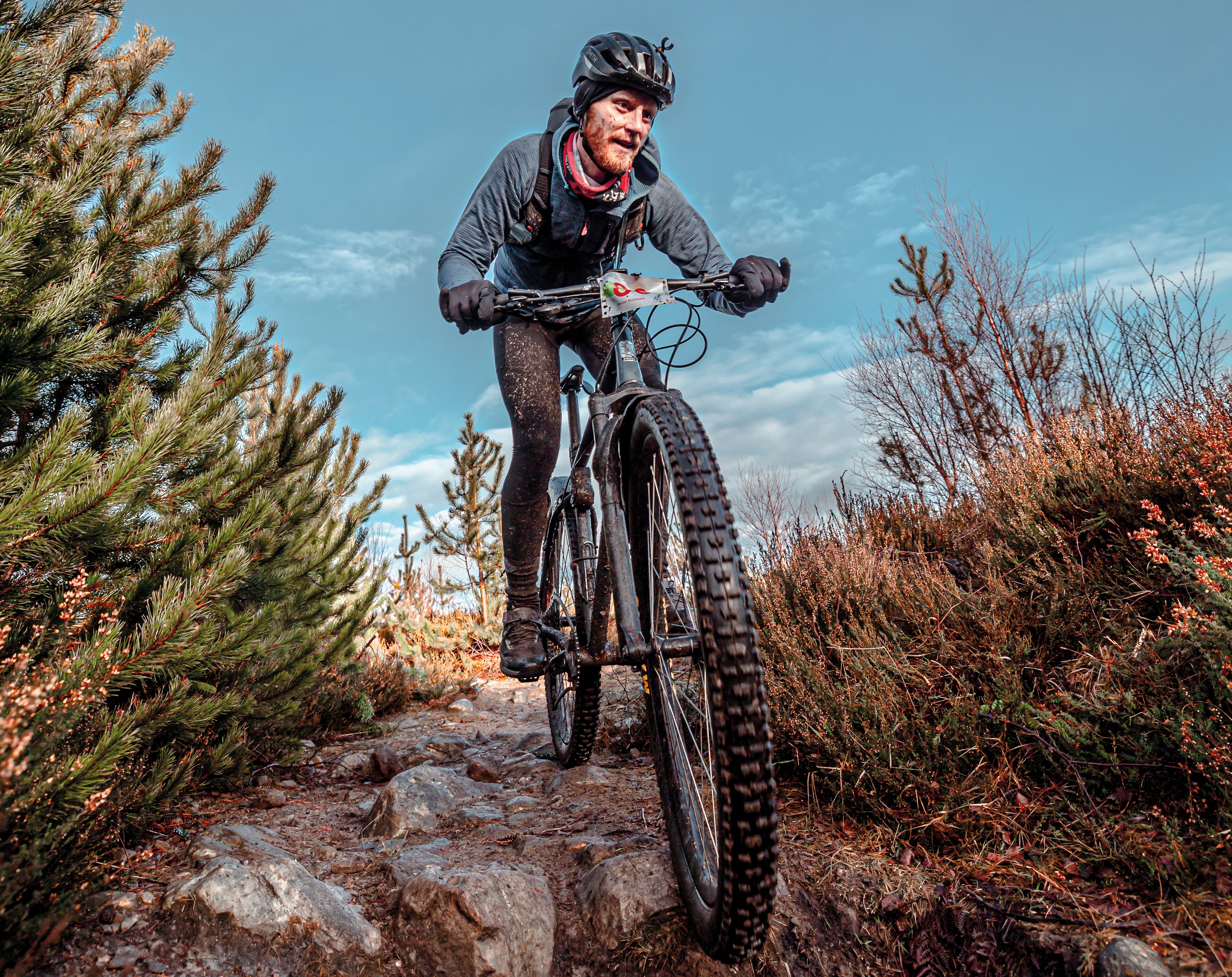 Here comes the sun
It was around 1am when I finished my second set of six laps, taking me to 12. I took a half hour break – eating, changing clothes, cleaning the bike, and sitting on a comfy seat. Getting back on the bike after stops like this, heading out into the darkness and the sleet, were the hardest parts of the event. It was, of course, what I was there for. So out I went.
The next few laps went by very slowly. My speed had fallen. I didn't mind. I was warm enough. There were other riders out on the course to pass snippets of chat with. And every lap, whatever the time, there would be a few people out to clap you on.
It began to get light between 7.30am and 8am. Dawn: another achievement ticked off. At the end of that lap, my 15th, I told myself I was done. I'd struggled to eat for the past five hours. I was soaked from head to toe. I was coming up with excuses not to continue. I climbed off the bike and sat down for five minutes. Then I got up again. One more lap.
I had plenty of time to finish before the cutoff so I took it steady. Other riders were out battling the course, trying to squeeze in one or two more laps. Riders muttered words of encouragement to each other. Spectators clapped. I pedalled.
At the finish I dismounted for the last time. Sixteen laps done. I'd achieved everything I wanted to in the event. An awards ceremony took place in the marquee on the site. There were big smiles on tired faces, including mine. That, ultimately, is what Strathpuffer is about.