Trails for Wales: Access reform recommendations "disappointing"
Thursday, 18 November 2021
Natural Resources Wales has just published its report outlining options for improving access in Wales, which the Welsh Government committed to do in 2019 following Cycling UK and OpenMTB's long-running Trails for Wales campaign.
At the time, Hannah Blythyn (then deputy minister for housing & local government) stated: "I will progress significant changes to access rights and facilitate an assumption of non-motorised multi-use on access land and the public rights of way network. This will provide users such as cyclists and horse riders with many more opportunities to access the outdoors near to where they live."
Unfortunately, this bold vision risks being watered down. Instead of making clear recommendations on the best way to progress with access reform, the report from Natural Resources Wales merely outlines the options and kicks the decision back to government.
For those who have spent two years taking part in expert advisory groups with the goal of shaping these recommendations, this is frustrating.
Given the Government's unequivocal commitment to access reform, it's now imperative that clear timescales are set out to move this forward

Duncan Dollimore, Cycling UK's head of campaigns and advocacy
Cycling UK's head of campaigns and advocacy, Duncan Dollimore was part of the group looking at how to implement changes to rights of way to make more of them multi-use. He commented:
"In April 2019, the Welsh Government promised significant changes to public access rights. They'd consulted twice and committed to legislate to allow cyclists and horse riders increased access to both the rights of way network and to open access land.
"The discussions over the last two years were supposed to inform how and when, not whether the changes would be implemented, so it's hugely disappointing that the final advice report focusses on options rather than recommendations for implementation.
"Given the government's unequivocal commitment to access reform, it's now imperative that clear timescales are set out to move this forward, confirming when final decisions will be made and how quickly they can be delivered. The Welsh public were promised bold access reforms. They now need to hear a date."
If you want to help us put pressure on decision makers to implement these reforms, sign up for our off-road updates to hear more about the next stage of the Trails for Wales campaign.
What has been proposed?
There were two aspects of the proposals which would have most significance for cycling and mountain biking:
Making more rights of way multi-use
The expansion of access rights on Countryside and Rights of Way ( CROW) access land for different uses in addition to walking
Changes to rights of way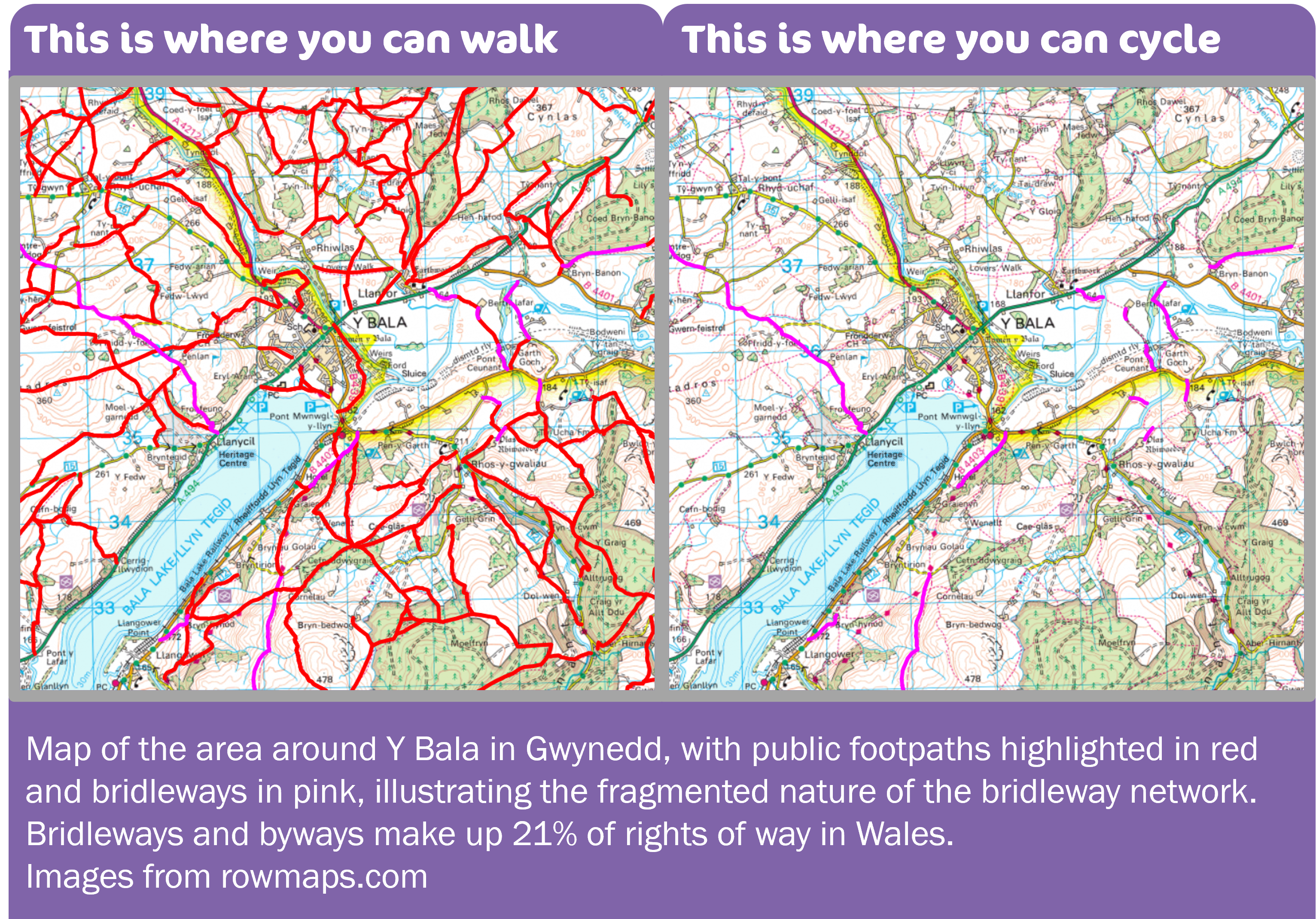 Three mechanisms were put forward for increasing rights for cycling and horse riding on existing public footpaths:
Rights for cycling and horse riding on all public footpaths (with emphasis on responsible use)
Rights for cycling and horse riding being the default option on most public footpaths, with some excluded if they met certain 'unsuitability' criteria
Cycling and horse riding rights applied to public footpaths on a case-by-case basis, where deemed to be suitable for multi-use
With 26,000 miles of public footpaths across Wales, the first option would potentially represent a 480% increase in the availability of rights of way for cycling and horse riding.
Cycling UK and the British Horse Society expressed support for the second option as the most practical way to significantly increase access while recognising that not all footpaths are suitable for multi-use.
However, other members of the working groups favoured the third option, saying that it would allow local highway authorities to consider the suitability of footpaths for higher rights path-by-path, put in place improvements to facilitate use, and identify measures to mitigate impacts where they occur.
Cycling UK is concerned that case-by-case upgrades are essentially the same as the current system, which has not succeeded in delivering significant improvements in access. As Natural Resources Wales notes, local authorities are currently only upgrading rights of way at an average rate of less than 2.5 per authority per year. Without more radical proposals and a clear legal duty to assess the network, a lack of resources at local government level risks walking substantial change into the long grass.
We recognise that local authority rights of way departments have been under-resourced for years and it's understandable that they are wary of taking on additional administration and maintenance.
Given that, in our view, the option of default upgrades of most rights of way (option two) makes the most sense, as it would deliver on the intention of significantly increasing access while being less costly and resource-intensive than case-by-case upgrades.
There will be legitimate issues that will affect the usability of paths for cycling and horse riding, such as stiles and footbridges – but as the report points out, these "shouldn't necessarily be considered reasons for higher rights not to be applied" as they can be flagged up to users and resolved over time.
The recommendations highlight that there is a need to streamline and simplify the bureaucracy for upgrading rights of way whichever option is chosen, which we very much agree with.
Increasing rights on CROW access land
Open access land designated under the CROW Act already has a 'right to roam' on foot. Three options were discussed for adding higher rights for additional activities including cycling, horse riding, hang gliding, and swimming in lakes and rivers:
Rights for additional activities on all access land
Rights for additional activities on specific areas of access land
Rights for additional activities on linear corridors across access land
Cycling UK's view is that the first option would be the most effective here. Allowing open access only in specific areas which already experience high volumes of use could exacerbate existing visitor pressures, whereas increasing rights on all existing CROW land would spread people out and reduce the impact of high visitor demand in honeypot locations.
It's worth bearing in mind the link between CROW land and rights of way – that adding cycling rights on CROW land would also (by default) enable cycling on the public footpaths within those areas.
Other recommendations
Of course, increasing access goes hand in hand with ensuring that people enjoy the outdoors responsibly. This was also discussed in the working groups and there are several other recommendations relating to how to communicate access changes to the public and promote responsible use.
Taking it forward
As Duncan mentioned, the Welsh Government has already committed to increasing access to the outdoors – the question is, how?
The two key drivers from the Government's perspective are that increasing public access to the countryside would have benefits both for the rural economy and for public health.
For the UK as a whole, the total tourism spend from cyclists and mountain bikers brings in £520m a year.
One third of Welsh adults are classed as inactive and 59% are overweight or obese. With cycling being the second most popular outdoor activity after walking, making it easier to access green spaces by bike would help more people to meet recommended activity levels.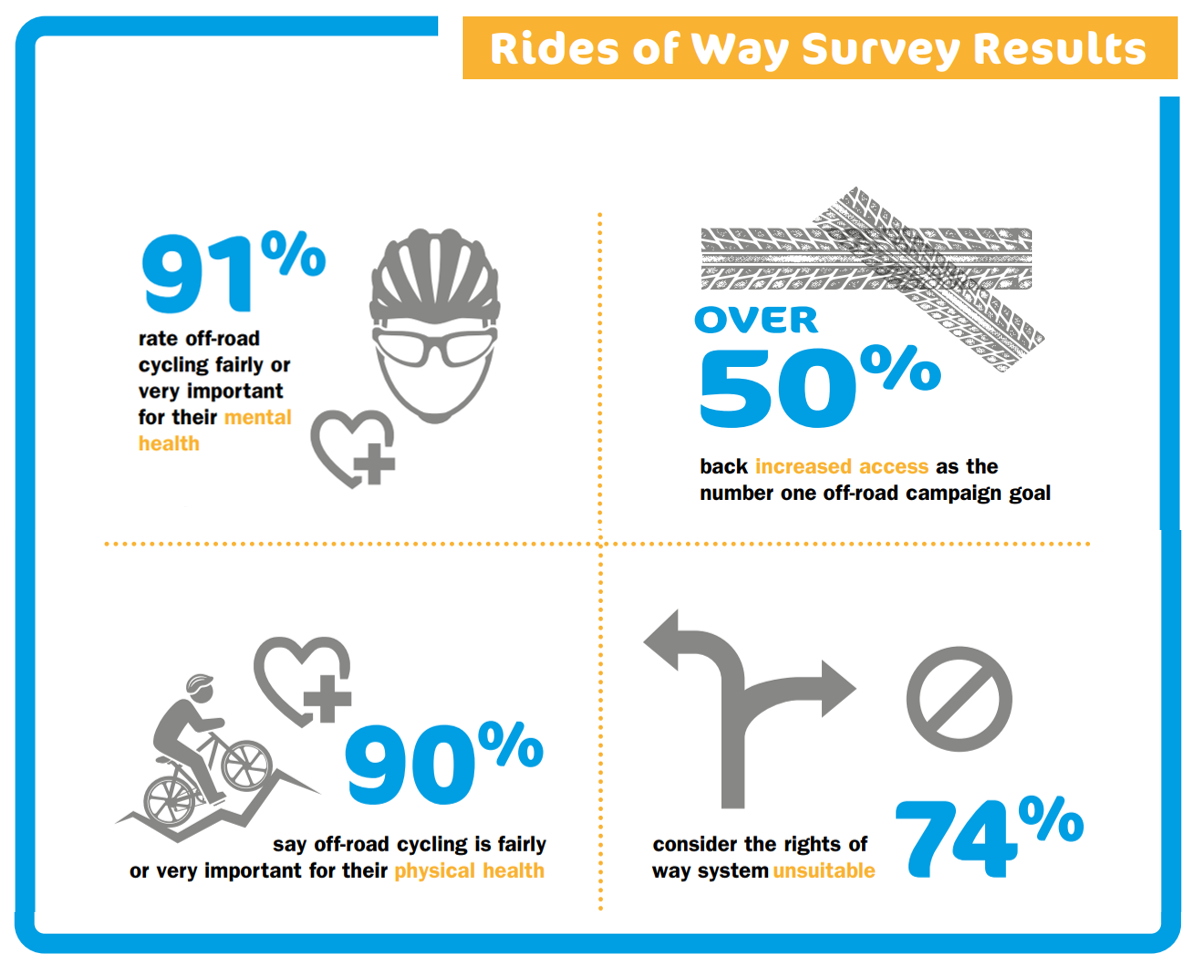 The challenge is how to make sure that these benefits are realised, by implementing meaningful changes to access rather than sticking to the status quo.
Get involved
We need your personal stories to explain why people should care about increasing off-road access for cycling.
We'll use these examples to illustrate to decision-makers the impact that increasing off-road access for cycling could make to people's lives.
We're currently working on plans for the next stage of the Trails for Wales campaign. Subscribe to our off-road updates to be the first to hear about next steps.