Top 10 Christmas Gifts for Cyclists 2023
1 For the cyclist who has everything
They've researched their gear, got a garage full of bike maintenance tools, and every gadget going is on charge; so what on earth do you get for them for Christmas? A Cycling UK membership is the perfect gift for someone who doesn't need yet another novelty cycling present. They'll receive timely articles and inspiration, complimentary insurance, as well as copies of Cycle magazine.
And it doesn't just benefit them – buying a Cycling UK membership helps us do the work we're passionate about to make a better world by bike. If you need any further encouragement, it's also worth mentioning we're offering 20% off gift memberships right now!
2 For families
We're firm believers that cycling is for everyone, but getting out and about on two wheels with kids in tow isn't easy, and it doesn't take much for the essentials to go out the window.
So why not take some of the stress away by gifting your favourite cycling-obsessed family with the Restrap Fork Bag (£49.99)? Its five-litre capacity and handy bike location will keep all the essentials safely packed for those unexpected stops.
3 For the always-on-the-goer
You know who we mean. One weekend they're posting from BikePark Wales, the next they're scoping out the Kirroughtree singletrack. Their Instagram is a what's what of the UK's best biking spots and you've got no hope of nailing them down for a pint at the weekend.
So why not treat them to something they'll appreciate every time they peel off their gear at the end of a long day's riding? A YHA membership will give them access to more than 150 locations across the UK, opening up even more exploration opportunities – there's got to be somewhere they haven't visited yet!
4 For the one who's just getting started
No matter the sport or hobby, we all have to start somewhere. If you're shopping for someone who's just embarking on their cycling journey (and there's no better journey to be on), Halfords does some fantastic essentials kits to help set them up for success. 
The puncture repair kit (£20) might just get them out of trouble, or this cycling essentials bundle (£24) could get them on the road to adventure (or just the train station, but who's checking?).
5 For the bikepacker
Bikepacking is all the rage and it's not hard to see why. Whether they're just starting out, or a seasoned pro, a hard-wearing bag like the Tiger Drover Saddle Harness from Wildcat will accompany them on all their adventures.
From day tours to multi-day expeditions, it provides ultimate drybag protection without interrupting riding style. A clear winner for those bikepacking wanderers!
6 For the mountain biker and all-weather cyclist
Fair-weather cycling is a forbidden term in this person's household. Mud splattered is a badge of honour, not a problem.
So whether they're mastering the downhill trails or just heading out on a sodden road ride, Muc-Off's Bottle For Life Bundle (£45) is the perfect gift for that person who's forever cleaning their bike.
Containing a sturdy aluminium spray bottle with refill sachets of their incredible Punk Powder, this gift will ensure they get to spend more time on the trails and less time dealing with the aftermath, plus, reducing single-use plastic.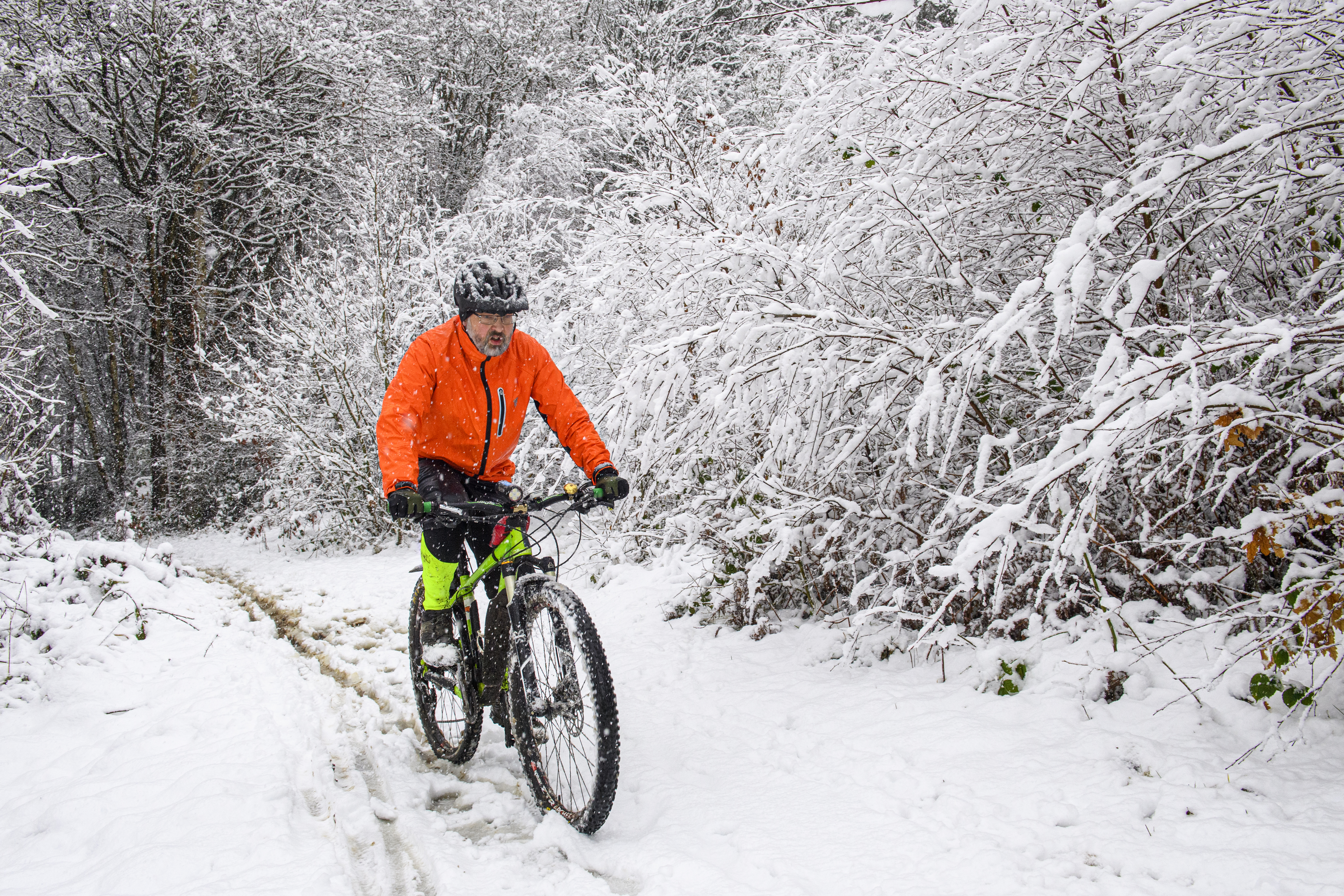 7 For the cycling wardrobe
Never mind a work wardrobe – how about a gift for the person with a different outfit for every ride? Looking good while taking part in your favourite sport doesn't have to come at a cost.
Stolen Goat offers a striking range of designs for anyone who loves a bit of colour or patterns while out on the road, gravel or trails. We're in love with the colours on the women's Ibex jersey, and for the men, we'd go for this all-weather friendly water-resistant jersey in a stand-out dot pattern.
But with an incredible range, you'll be sure to find something to suit the pattern-loving cyclist!
8 For the all-rounder
We love the range of activities that avid cyclists turn to: from just dipping their toes into a different type of cycling, to hiking, or even combining hobbies to have a go at the always-popular triathlon. If you're looking for a present for the outdoorsy person in your life who's always trying something new, what about a lightweight fleece (£65) to keep them warm on, or after, their adventures?
9 For the cycling Secret Santa gift
Love it or hate it, if you've drawn the name of the cycling-obsessed colleague, don't worry! There are plenty of affordable options out there depending on your designated budget.
Our pick is this versatile buff (£16.95). Useful to protect against the wind while cycling, or even just on the chilly morning dog walk. And if they already have one, what's the harm in having two? With every winter bringing unpredictable weather conditions, it's always worth having a spare for when one is inevitably in the washing machine.
10 For the gadget addicted
Look, we all know one. No matter their hobby, they've got to have the latest and smartest gadgets. Sometimes they make life easier, sometimes you wonder if it's just complicating the whole thing.
One tool for those who like to put numbers to everything they do in cycling – whether that's miles ridden, metres climbed or even the average temperature when they're riding – is the Wahoo ELEMNT ROAM V2. We reviewed the original version user-friendly GPS unit with great on-the-fly navigation.