Pedal-powered Planning: Frequently asked questions
1. We're a cycling organisation, why are we talking about planning?
Planning policy has a vital role in tackling the environmental, health and other impacts of transport. The UK is experiencing a house-building boom, and we have an unmissable opportunity to fix the planning system and stop designing for car dependency and planning for poor health.
2. In a nutshell, what do we want ?
We want a planning system which is fit for people, nature and the climate. We're calling for Pedal-powered Planning, placing people at the heart of the planning system to enable walking and cycling for everyday journeys.
3. What is the legislation we're trying to influence?
The Levelling Up & Regeneration Bill (the Bill), which focuses on setting levelling-up targets and reporting on progress in delivering them, in such areas as local democracy, infrastructure, and town and country planning, among others.
4. Where does the Levelling Up & Regeneration Bill apply?
Planning is a devolved matter in the UK, and any changes introduced through the Bill will only apply in England.
5. Surely the present system isn't that bad?
Current legislation fails to support cycling and other sustainable transport, and instead promotes car-dependent development, contrary to the Government's aim to decarbonise transport and its wider legal commitments to progressively decarbonise the economy.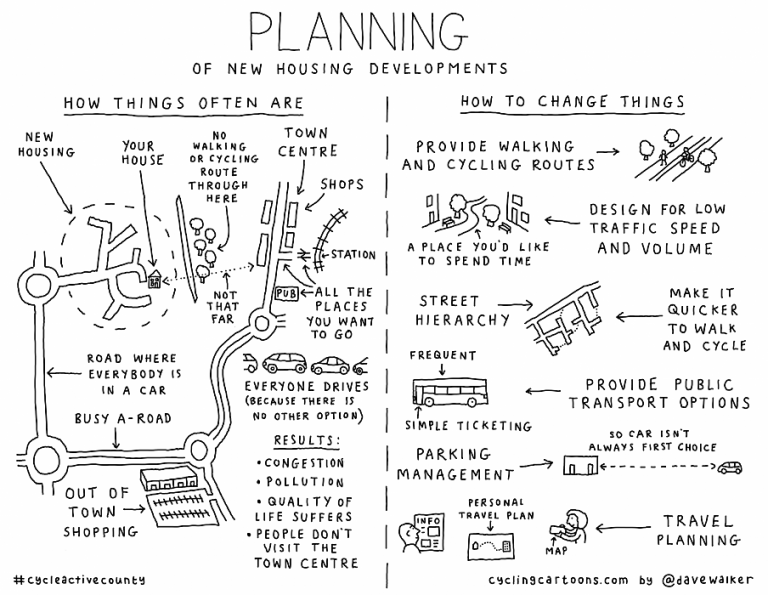 6. What's happening with the Bill?
MPs started to debate the Bill and amendments to it on 23 November, in what is known as the report stage and third reading. They didn't get to the parts of the Bill which deal with planning, however. We are waiting for confirmation of when they will debate the planning reforms, which is likely to be before Christmas or early in the new year.
7. How can I support the campaign?
Cycling UK ran a campaign e-action, which invited our supporters to write to their MP using our editable email template.
Over 1500 of you let your MP know why planning, and the amendments to the legislation we're supporting, really matter, because currently, we're building is as many car parks as we are homes, embedding lifestyles where people have few options other than to drive. To enable more people to walk and cycle instead, we need a planning system designed to give people transport choices.
We'll provide updates with this campaign in the new year.
8. Who are we working with to influence planning legislation?
In 2020, the Government proposed reforms to England's planning system, which attracted criticism from a wide range of interest groups, some of which coalesced to form the Better Planning Coalition (BPC), coordinated by CPRE, the countryside charity.
Cycling UK is part of the BPC, which represents 29 organisations across the environment, housing, planning, heritage and transport sectors. The coalition's members are united by a common goal: a planning system fit for people, nature and the climate. It has adopted six tests for reforms to the planning system.
9. What are we trying to achieve through the amendments to the Bill?
Cycling UK is asking MPs to support three BPC-backed amendments which reflect two of the tests, namely the need for developments to be planned and for planning policies and decisions:
To address the climate crisis – from an active-travel perspective, this means ensuring that the location of new development supports active travel and public transport, as well as ensuring that the design of road and path networks support cycling and walking, including high-quality facilities specifically for active travel (including cycle parking) within and around the development.
To benefit people's health and wellbeing – this includes provision of good walking and cycling networks, and access to nature, both within and around the new developments.
10. What are the amendments we want MPs to support?
We want MPs to support three amendments which would make decision making more joined up, and ensure that planning policy and decisions would reflect wider government goals by:
Requiring planning authorities to incorporate Local Walking and Cycling Infrastructure Plans (LCWIPs) and Rights of Way Improvement Plans (RoWIPs) in their local development plans.
Requiring public authorities to publish a plan to achieve a 'general health and wellbeing objective', which planning authorities have to take into account when making planning decisions.
Ensuring planning policies set by the Government and decisions taken by planning authorities are consistent with the Net Zero target and carbon budgets set under the Climate Change Act.
11. Where can I find out more about these amendments?
We've drafted a guide with more detail about these amendments, and why they're so essential.
12. What will the cycling and walking amendment do?
This amendment would require development plans to incorporate policies and proposals for Local Cycling and Walking Infrastructure Plans (LCWIPs) and Rights of Way Improvement Plans (RoWIPs). Local planning authorities would be required to consider any such policies and proposals where they have not been incorporated in a development plan.
Local highway authorities are currently responsible for drawing up one or more LCWIPs for their area (or parts of their area), while local highway authorities outside London are each required to draw up a RoWIP for their area.
Local planning authorities are responsible for preparing a Local Plan for their area. Local Plans determine what kinds of development can (or cannot) take place in which locations. They can also safeguard land to prevent development and can help secure funding contributions from developers towards the costs of providing or improving transport and other infrastructure.
The clause aims to address a problem which particularly affects two-tier authorities, where highways and planning authority are split, and the local planning authority (unwittingly or even intentionally) frustrates the higher-tier authorities' aspiration for walking and cycling networks.
13. What will the health and wellbeing amendment do?
Although the Government's Levelling Up White Paper defined Levelling Up Missions for health (Mission 7) and wellbeing (Mission 8), the Bill lacks any targeted measures to address these issues. This amendment seeks to address that gap.
It requires public authorities in England to prepare, publish and regularly review a plan to achieve a 'general health and wellbeing objective' – namely to reduce health inequalities and improve wellbeing. It additionally requires planning authorities to take into account that objective when making planning decisions, particularly by creating walkable '20-minute neighbourhoods' and walking and cycling routes.
This will place these powerful levelling-up tools in the hands of authorities, to the benefit of the communities they represent – more active travel and access to nature opportunities mean more people living happier, healthier, longer lives.
14. What will the climate amendment do?
This amendment seeks to ensure that planning policies set by national Government and planning decisions taken by planning authorities are consistent with the 'net zero' target and carbon budgets set under the Climate Change Act.
This would lead to planning policies and development decisions being more closely aligned with the existing legislative framework for tackling climate change, including the net zero duty.
These duties apply to the national policy that governs plan making and to development management, to secure consistency in the move from national policy to local delivery.
The drafting of this amendment reflects concerns to avoid disrupting the delivery of new development, including the new homes needed in communities. However, without it, there is a real risk we will continue to see plans, policies and decisions paying no more than lip-service to tackling climate change, and local policies and decisions that do seek to tackle climate change continuing to be challenged.