Adaptive bike loan from Edinburgh ABC keeps Rachel smiling during lockdown
At the start of the coronavirus lockdown, Rachel left the supported accommodation where she had lived happily for seven years, to move back in with her parents. This was a difficult adjustment for Rachel. 
Rachel's dad Keith said: "Rachel wasn't sleeping well, so we weren't sleeping well. She didn't understand lockdown, thinking she had done something wrong and she was being punished. It was difficult for all of us. I don't think we would have got through the first seven weeks of lockdown without the bike".
Rachel had been attending sessions at the Edinburgh All-ability Bike Centre for a number of years, enjoying the experience of riding a trike as part of a group. The ABC is run by Cycling UK with funding from The RS MacDonald Charitable Trust.
This encouraged her parents to consider how to ride together as a family. Keith said: "We were thinking about buying an adaptive bike but they are prohibitively expensive and we didn't know if Rachel would even like it and want to use it."
Cycling gave her, and us, something to look forward to each day. It was amazing.

Keith Wilson, Rachel's father.
During the lockdown period, Cycling UK has loaned out around 80 of the bikes belonging to its projects in Scotland  which have been unable to operate under the social distancing regulations. When Keith learned that the Edinburgh ABC was offering its fleet of adaptive bikes and trikes for loan to regular riders, he jumped at the chance.
The Wilsons loaned a side-by-side tandem - a three-wheeled cycle on which the two riders sit next to each other. Happily, Rachel took to it immediately. 
Keith said: "Rachel's face when she saw it was pure delight and she said: 'My bike'. We went out on the tandem the next day and she was so happy to be out, doing remarkably well pedalling away."
Keith and Rachel, sometimes joined by mum Rosie on her own bike, went on to ride a 5km circuit most days near their home in Merchiston, Edinburgh. The route took in scenic areas including the Meadows park and a canal path, with a little on road riding while traffic levels were low.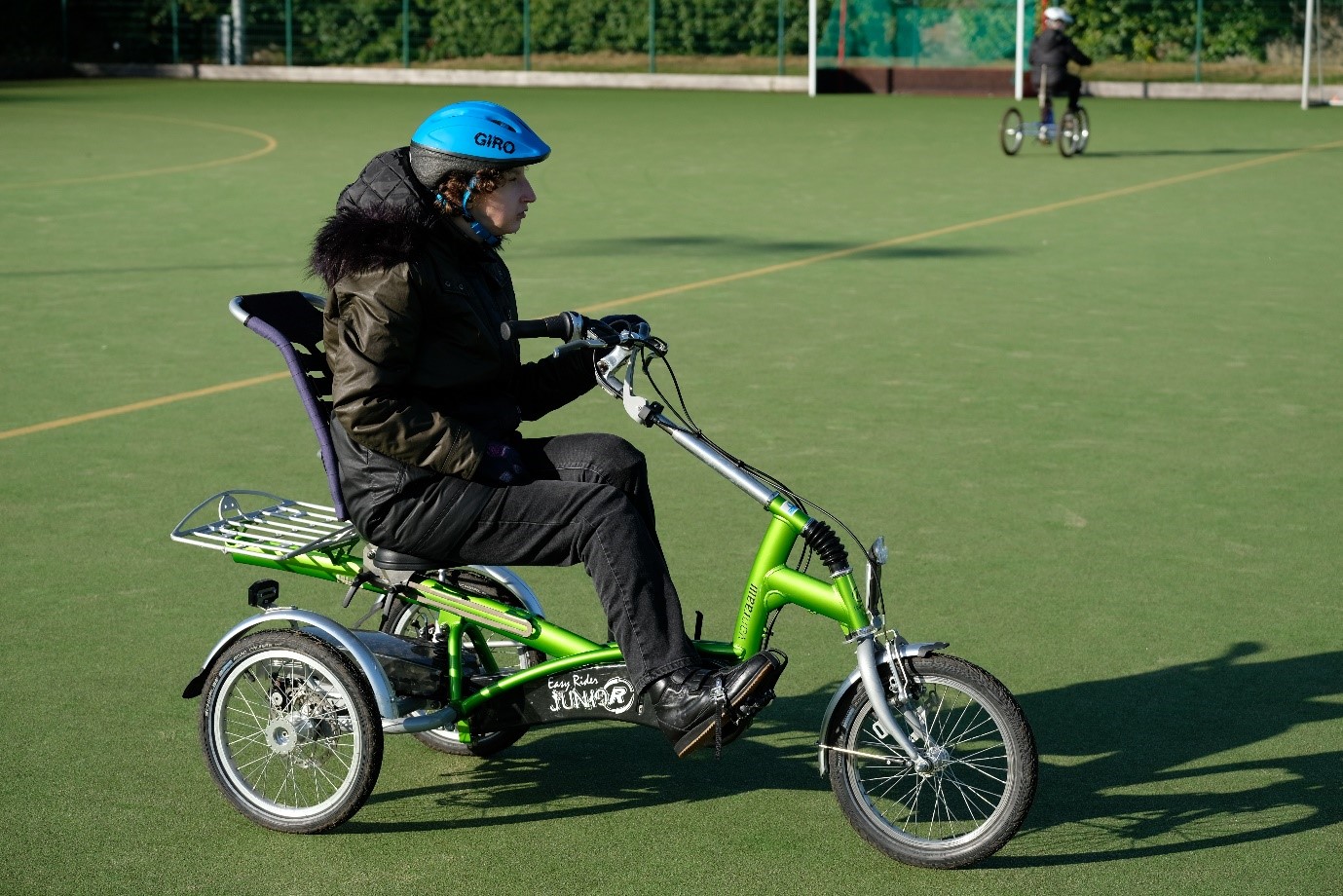 The highlight for Rachel was the sense of freedom and being part of the community. Keith said: "Rachel is very sociable and loves people. She enjoyed saying hello and waving to everyone. We got a lot of attention and people were smiling at us as we passed."
The benefits of getting regular exercise soon became clear for Rachel, who is a wheelchair user. Keith said: "The cycling had a remarkable effect on Rachel. It helped her sleep, calmed her moods and provided a focus while she was unable to take part in her usual day to day activities." 
Going out for a cycle soon became the highlight of Rachel's day. Keith said: "The first thing Rachel said in the mornings was 'go on bike?' It gave her, and us, something to look forward to each day. It was amazing. We sent photos to our family and friends and they were so impressed that we were all smiling! Smiling hasn't been that easy in the last few weeks."
Sadly, rising traffic levels once lockdown restrictions began to be ease meant that the family's cycling adventures had to come to an end.
Keith said: "We had to return the bike when traffic levels became too high for comfort, but it got us through the seven weeks of lockdown. We couldn't have foreseen Rachel enjoying it so much. We know that she has happy memories of using the tandem as she still talks about it, asking 'where's my bike?'."