Edinburgh ABC helps families with additional needs to pedal during lockdown
The Martin family - who live in Blackhall, Edinburgh, and regularly attend Edinburgh ABC drop-in sessions - have hugely benefited from having a tandem and are cycling to raise money for NHS Charities Together.
The family hope to have cycled 273 miles (the equivalent of Edinburgh to John o' Groats) by the summer and have set up a fundraising page.
Nine-year-old James "absolutely loves" cycling. He is on the autism spectrum, is non-verbal, with severe learning difficulties, and has very low muscle tone, which can make pedalling a challenge.
The Edinburgh All-Ability Bike Centre, an inclusive space for cycling for those who have extra support needs, lent several families adapted bikes to help them get out and about during lockdown.
James goes on tandem rides with his dad, Neil, while his twin brother, Andrew, and mum, Elspeth, ride alongside on their own bikes.
"Because all the cars have been off the road, we have been along roads that we wouldn't otherwise go on – dual carriageways, up and down cycle tracks. We have been everywhere," says Elspeth Martin, who works for Scotland's Rural College. "It's just been amazing; he's just so enjoyed the different routes we're doing and enjoying the scenery."
The fact we can go from the house, he doesn't have to go anywhere from the car, it's there, it's accessible; he is just absolutely in heaven.

Elspeth Martin
The family have been going out on rides together around four times a week, which creates a routine that James finds calming.
"James really likes the simplicity of it all," explains Elspeth. "He's in a good mood all the time because life is so simple at the moment.
"He stands in front of the garage door waiting for you to open it and get the bike out. He's just so excited.
"The fact we can go from the house, he doesn't have to go anywhere from the car, it's there, it's accessible; he is just absolutely in heaven."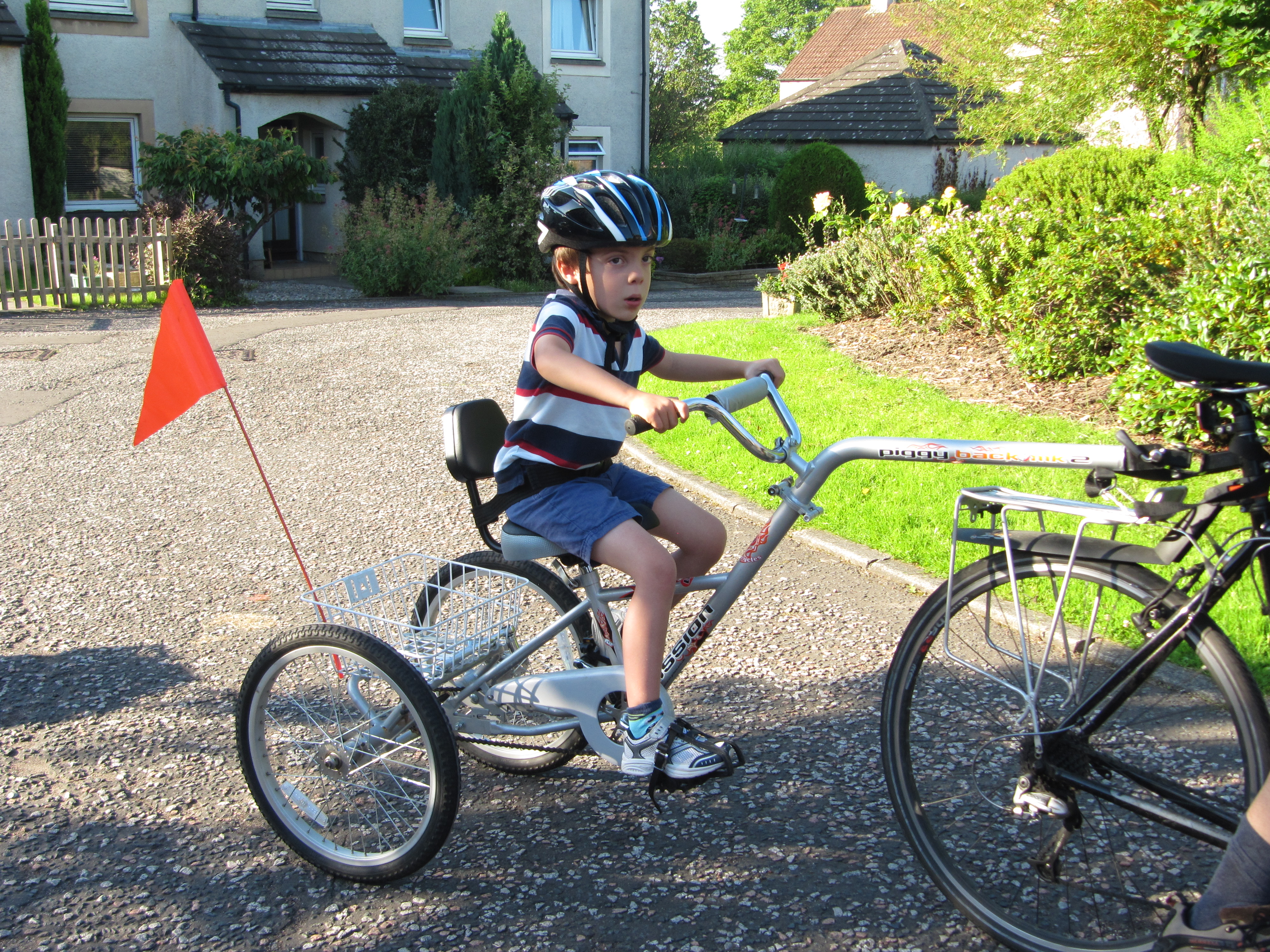 Being able to go on rides also helps the Martins spend quality time together.
"It keeps us together as a family and strengthens the bond between the boys," Elspeth adds. "We don't all have to be good at cycling, but it's something we can all do together.
"The ABC cycling is a fantastic resource; I could not support that project more."
Effie Fenton, 47, a teacher from Chesser, Edinburgh, and her 16-year-old daughter Sadie also have an adapted bike loan from the Edinburgh ABC.
Having the side-by-side makes sure Sadie, who is non-verbal and has a severe learning disability, gets exercise during lockdown.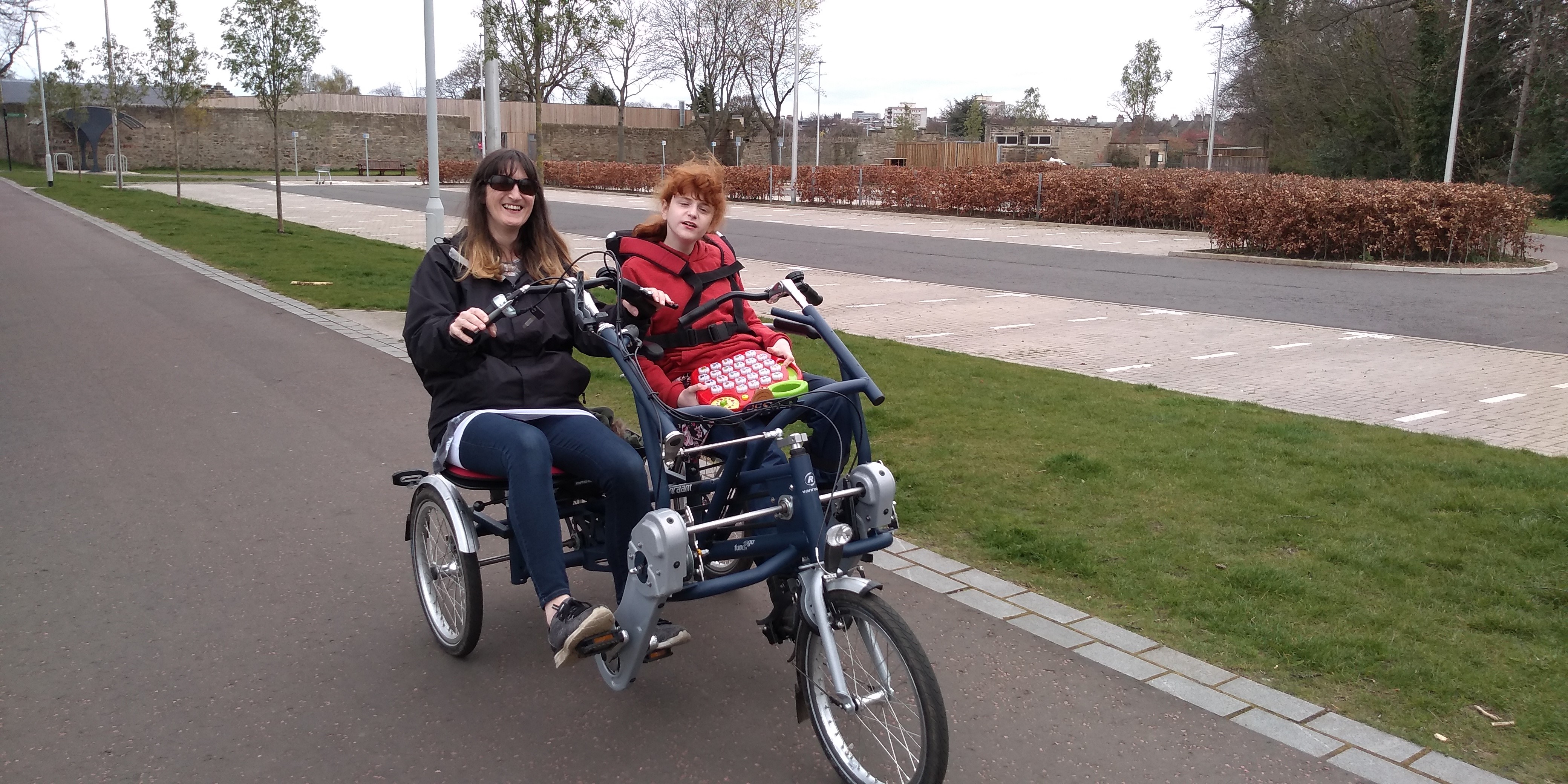 Sadie can't always walk, and her physical exercise is very limited, meaning that when she can get on the bike, it gives her 'some extra release'.
She wouldn't be able to use a standard bike on her own, so having access to the adapted bike from the Edinburgh ABC enables Sadie to pedal, with the support of her mum.
"One of the reasons I wanted to get a bike really early on was because I knew that she would be having lot of problems with her leg," Effie explains. "Her left leg has been having some big problems."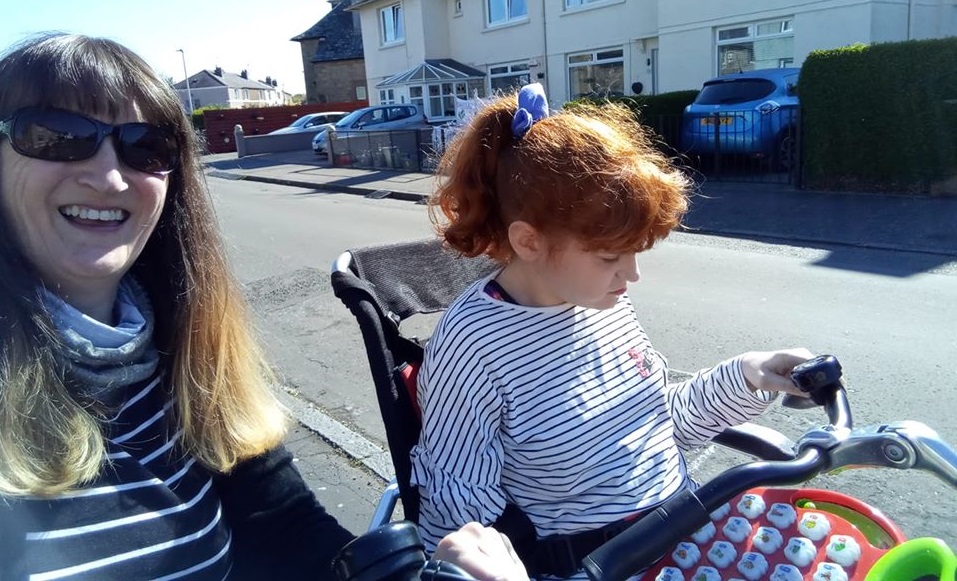 "I said to the physio that we had a bike and she said that was ideal because just that movement of the leg going around will be helping whatever it is […] It's something that needs strengthened."
Going on regular rides has even led to Effie and Sadie becoming familiar faces in the Chesser area.
"There's quite a few people in the community now that recognise us being on the bike and wave and stuff," Effie says. "I just took her for a walk this afternoon in the wheelchair and a woman in the park […] she was walking her dog and shouted over "oh you're not on your bike today?""
"Things like exercise and sensory stuff are really important to her; If we could just get a swimming pool," Effie laughs.
"Sadie loved [cycling on the road]. She likes the bell, that's her favourite thing. "Ding ding ding", all the way."
"She likes going "weeee" down hills and feeling the wind in her face," she adds. "She can take her toy on it as well, she loves it. It cheers us both up."
She likes going "weeee" down hills and feeling the wind in her face.

Effie Fenton
Despite the challenges that lockdown has brought the family, getting on the bike has helped boost both Effie and Sadie's spirits.