As one leaves childhood behind, the prospect of socks for Christmas doesn't seem the dreadful prospect it once was.
The right sock can say so much about the recipient and giver, and will always have a place in anyone's wardrobe

Jon Snow, Cycling UK president and former Channel 4 newscaster
If you still need convincing then maybe the wise words of Cycling UK's president Jon Snow might convince you: "As a vibrant sock wearer of some renown, I would urge cyclists never to dismiss this item of footwear as a Christmas present.
"The right sock can say so much about the recipient and giver, and will always have a place in anyone's wardrobe – even if it is wildly fluorescent and hidden at the back of the drawer!"
For Cycling UK's gallant team of sock reviewers we drew on experiences of folk from England, Scotland and Wales, and have taken our president's words to heart.
We took the opportunity to get some more winter miles in, all to ensure that we gave the latest offerings from a range of brands to suit most budgets: Alpkit, Decathlon, Findra, Rapha, Sealskinz and Stolen Goat a good run through the mud, wet and cold.
It's important to bear in mind, though, that a single pair of socks, no matter how thick, will always struggle with the coldest of days. Always consider the benefits of layering – just as you would with most other items of clothing – and also keep in mind that too-tight shoes can restrict blood flow and make your feet colder.
In the case of your feet, don't forget overshoes if your shoes will take them. If they don't, then you might like to try the Global Cycle Network's top tip in the video at the bottom of the article!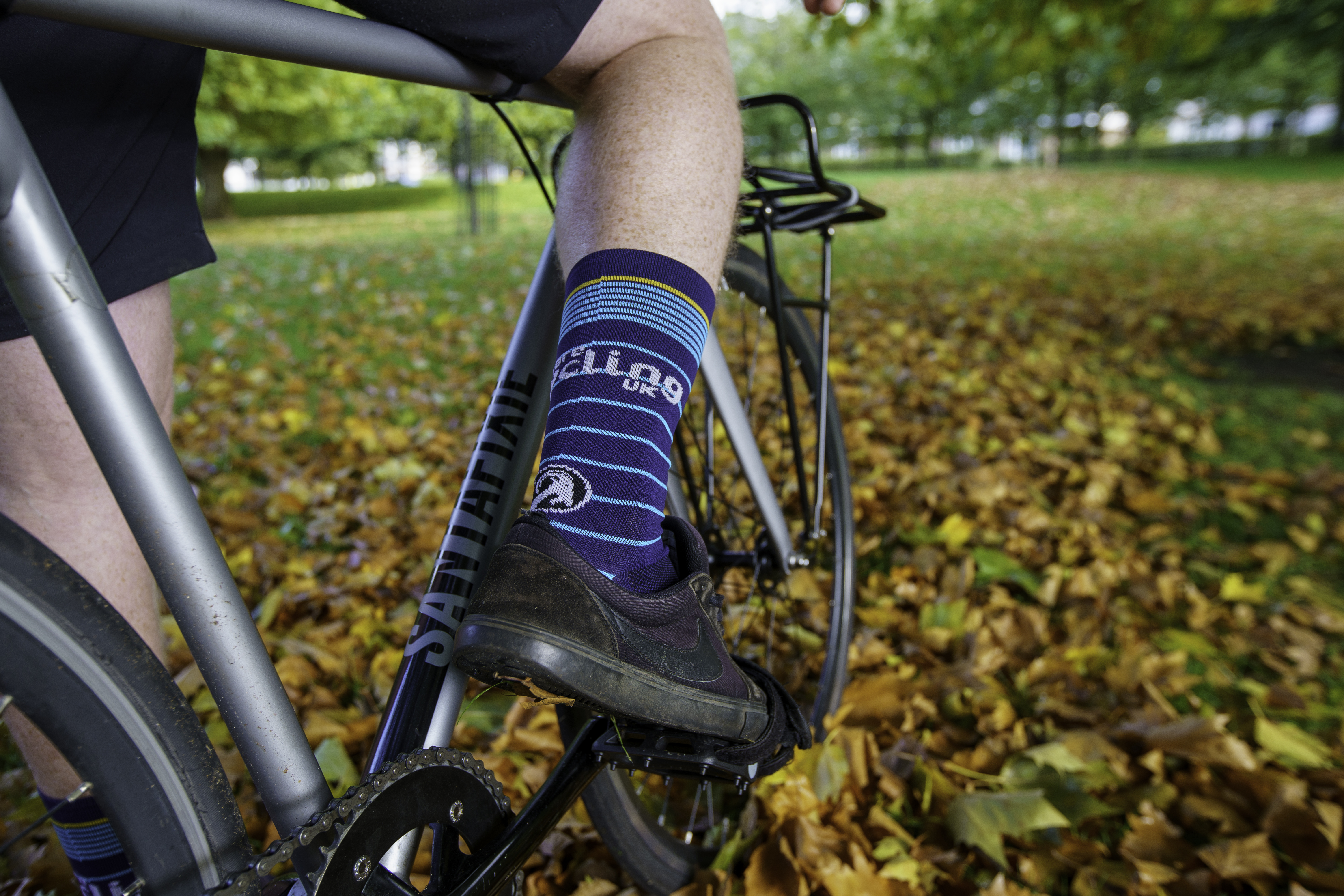 Cycling UK's latest iteration of these very popular socks are in my opinion the best yet. Made in partnership with Stolen Goat means that the company's expertise has gone in to creating a high-quality product.
Following my four weeks of using these they tick most of the boxes: lightweight, comfortable, breathable and they look great also.
As always a few points to consider: they are not going to help you stay warm when the temperature is particularly low and these not being water- or windproof means I haven't worn these on all rides recently given the temperature has struggled to creep over 0 degree Celsius.
A sock that can be used almost everyday whether using the bike or not, although everyday is a bike day!
These socks are limited edition and only available with one of our Christmas gift memberships so why not give the gift of cycling to a loved one today!
Sam Reedman (SE England)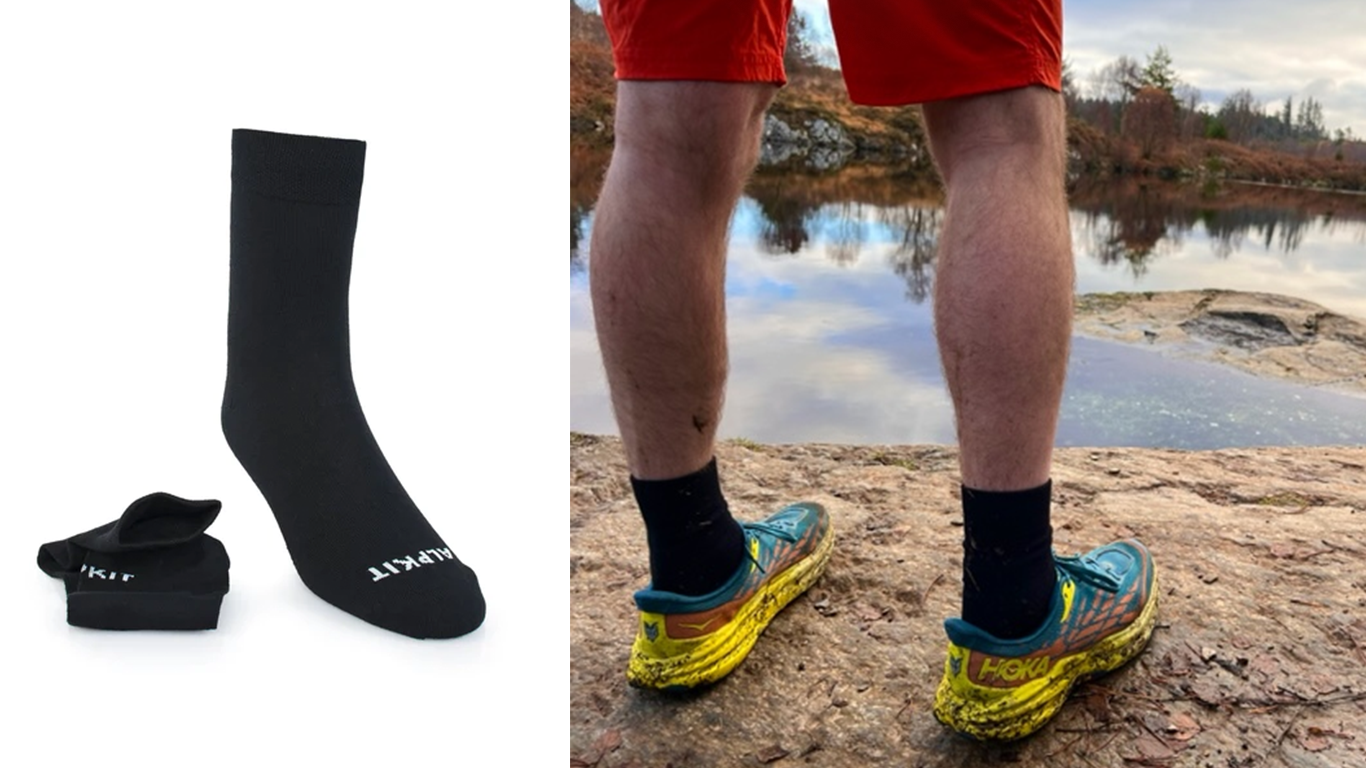 Expectations were high when these Alpkit socks arrived; a trusted and oft-turned-to brand was to be entrusted with keeping my feet comfortable and warm in the beautiful but harsh Snowdonia playground that is home.
On opening, the material felt thin, smooth and with a somewhat silky texture; first impressions were good but unsure if the silky feel would translate into sliding feet within any chosen footwear.
The Alpkit blurb boasted that the socks were suited to a variety of activities, including trail running and cycling, so challenge accepted, I headed for the hills.
The thin gauge of the material felt good on the foot for the lack of material present and my feet felt warm in testing conditions, moisture was effectively wicked away and the suspicion that the silky texture would result in unwanted movement of the feet in footwear didn't materialise while running or riding.
Another plus and a real first world annoyance of mine is sock slippage, and I'm happy to say that there was little to no migration down the calf of these socks. Perhaps the best way to sum these up: I forgot I had them on, and that's how a good sock should be.
Ross Adams (N Wales)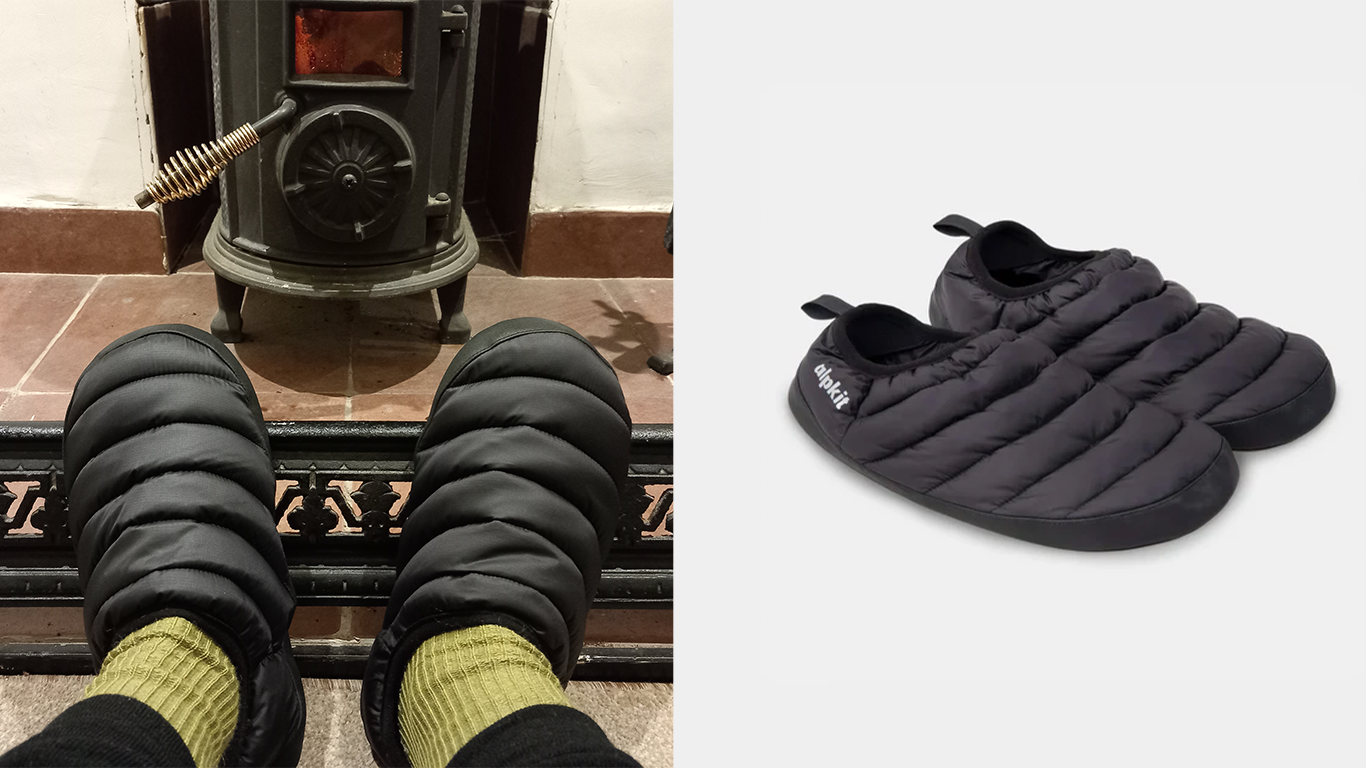 I was delighted when I was asked to test these 'socks' and I have not been disappointed. I live in a very cold, old house and my hands and feet get chilly easily. These are really cosy slippers; they have a decent sole, and the 100% recycled Thinsulate filling keeps my toes toasty.
I've only worn them around the house, but they'd be great for camping because they are very lightweight and packable, and the sole means you could comfortably wear them around a bothy or campsite. They feel durable, and the recycled materials used to make them give them some eco-friendly points too.
I have size 7 feet and the medium fits me comfortably, with room for my thick wool socks, which are a constant at this time of year. Overall, these are terrific slippers and I'll keep wearing them all year round.
Emily Ryder (Lothian, Scotland)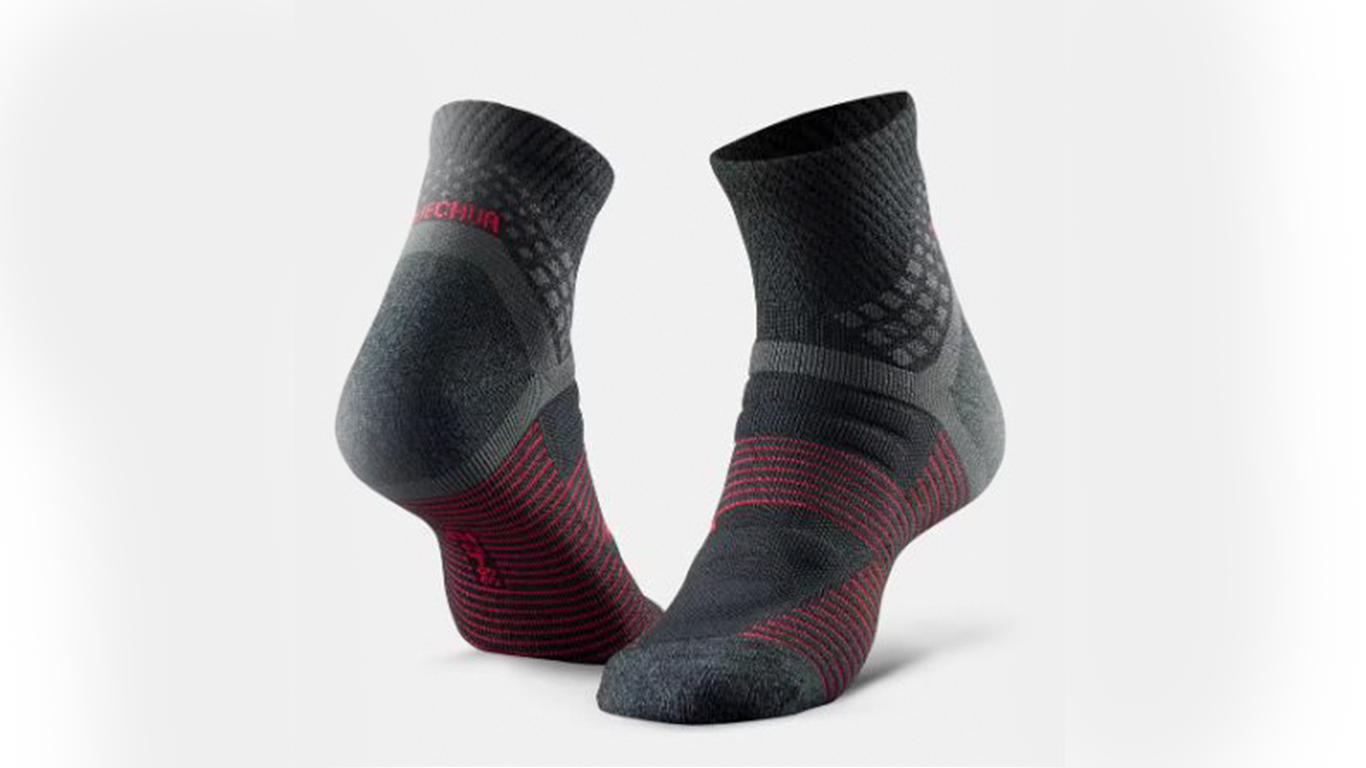 The Decathlon Hike 900 socks in the Quechua range are comfy and suitable for cycling. They come in a two pack at £19.99 which I consider good value. They reach to mid height – a bit above the ankle – and are sided (marked left and right) with thicker padding on areas of likely friction, like the heel and toes.
Made from merino wool they feel quite luxurious and have a nice medium thickness and are soft and stretchy. They are described as breathable and having odour-reducing properties. I tried them on a cold MTB ride over boggy moorland and my feet stayed warm and dry inside my cycling shoes.
They are made in three sizes and I tried the UK 5.5 to 8 for my size 6 'plates of meat'; sizing was spot on. You can get them in black with red detail; or blue, though the photo on the website shows them as white. I found them more comfortable than the thinner road cycling socks I have, and they'll definitely have another trip out this weekend for off-road cycling in the Yorkshire Dales.
Lynnette Evans (Yorkshire, England)
On first inspection these have plenty of socks appeal (sorry), in an attractive muted grey and green herringbone design. To find out if they are as good as they look, I wore them over a weekend.
As the owner of many merino socks and a sufferer of unnaturally cold feet, I know all too well how hard it is to find the perfect pair, but these socks seem to have struck the perfect balance: tight enough on the leg to stay up without leaving sock-shaped indentations and thin enough to fit inside regular or cycling-specific shoes while still providing enough padding and warmth for toasty winter toes.
They are beautifully soft with no hint of the itchiness of cheaper or lower-grade merino. Durability has been considered too: the socks are 100% merino, but the toes and heels are made of a blend to ensure they stay the course on winter walking and cycling trips. Would I recommend them? I already have, to relatives asking what I would like for Christmas – at £16 a pair the only negative is the cost!
Jennifer Young (South Ayrshire, Scotland)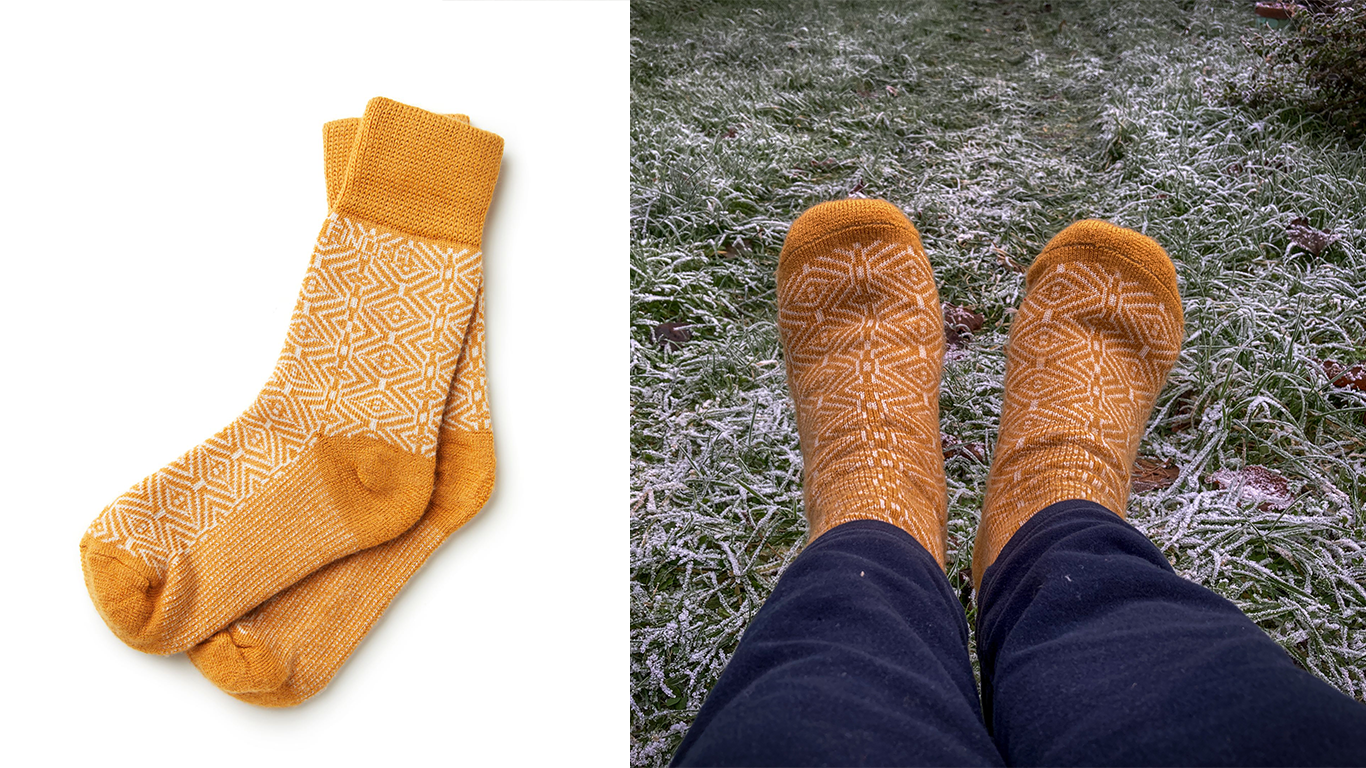 I once had a pair of these socks about five years ago, but while gorgeous to behold, soft on the toes and very warm, they had a terrible habit of slipping off my feet – especially when wearing wellies.
They were 100% merino, unlike the new versions which have a 50:50 blend of non-mulesed Australian merino wool and non-piling acrylic wool. The looks and warmth factor feel very much the same, but I'm pleased to say there's been no slippage which I put down into a judicious use of man-made fibres.
For winter walks and rides they're my go-to sock, but you'll need a little wriggle room in your chosen footwear. They are very thick and could make it a squeeze, consequently negating any warming benefits as they restrict blood flow.
I tried the 6-8.5; as someone who usually wears 7.5/8 I found they bagged a wee bit around the heel, so would suggest if you're at the smaller end of that spectrum you look to the next size down.
Highly recommended if you feel like a treat for your feet.
Sam Jones (SE England)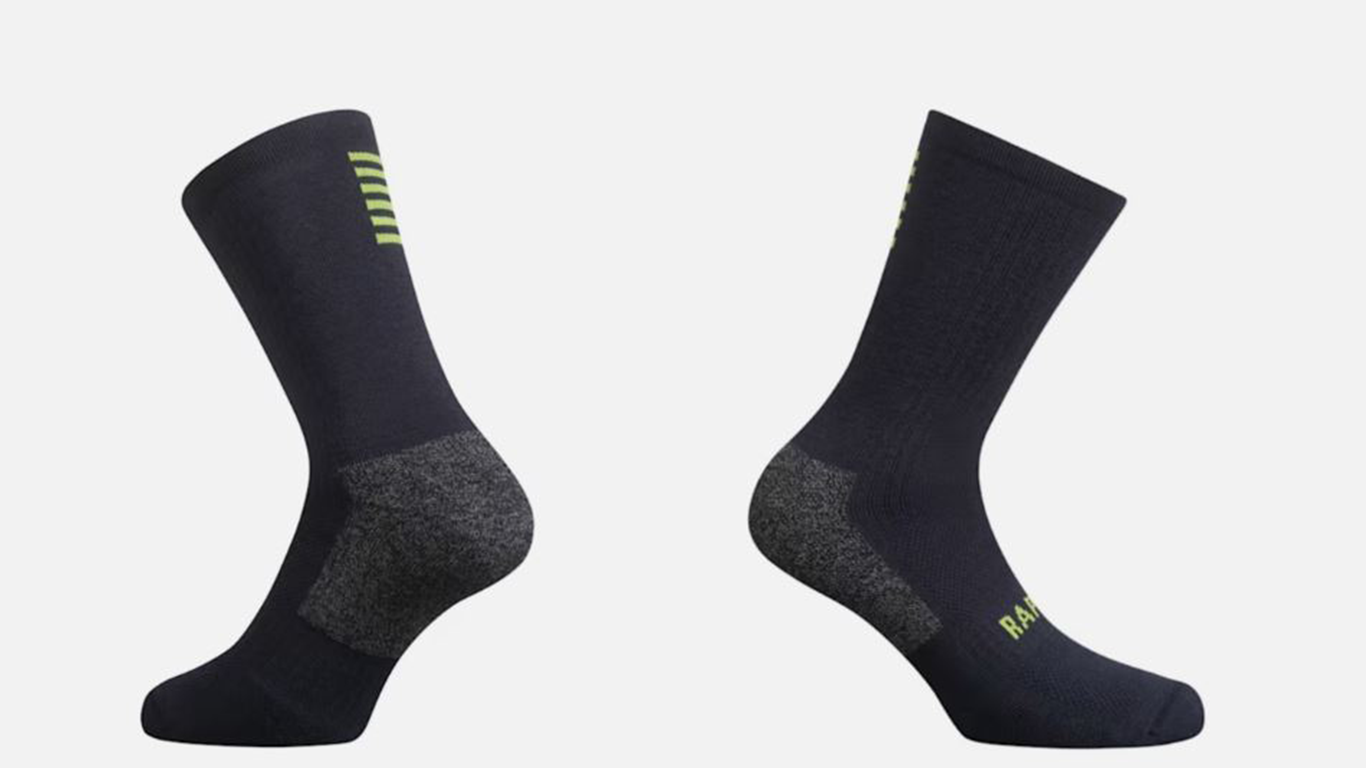 Rapha's wool-based Pro Team winter socks will help keep your feet warm through the colder months. Exceptional softy and stretchy, the technical construction of these socks will merit Rapha's premium price for many.
While not as thick as many other winter socks, they kept my feet mostly protected from the December cold snap. Their lighter-weight nature makes them more suitable for shorter, high-tempo rides, with back-up from overshoes or a second pair of socks needed for those long winter rides.
The classic design and colour pallet will fit almost any winter riding wardrobe and suit those firmly in the socks over tights camp. Merino wool's ability to keep you warm even when wet is well known, so these socks will keep you riding through the worst the British winter can throw at you.
Neither the packaging nor Rapha's website mentions the provenance of the merino, so the welfare of the sheep providing the wool is of some concern.
Tom Page (SE England)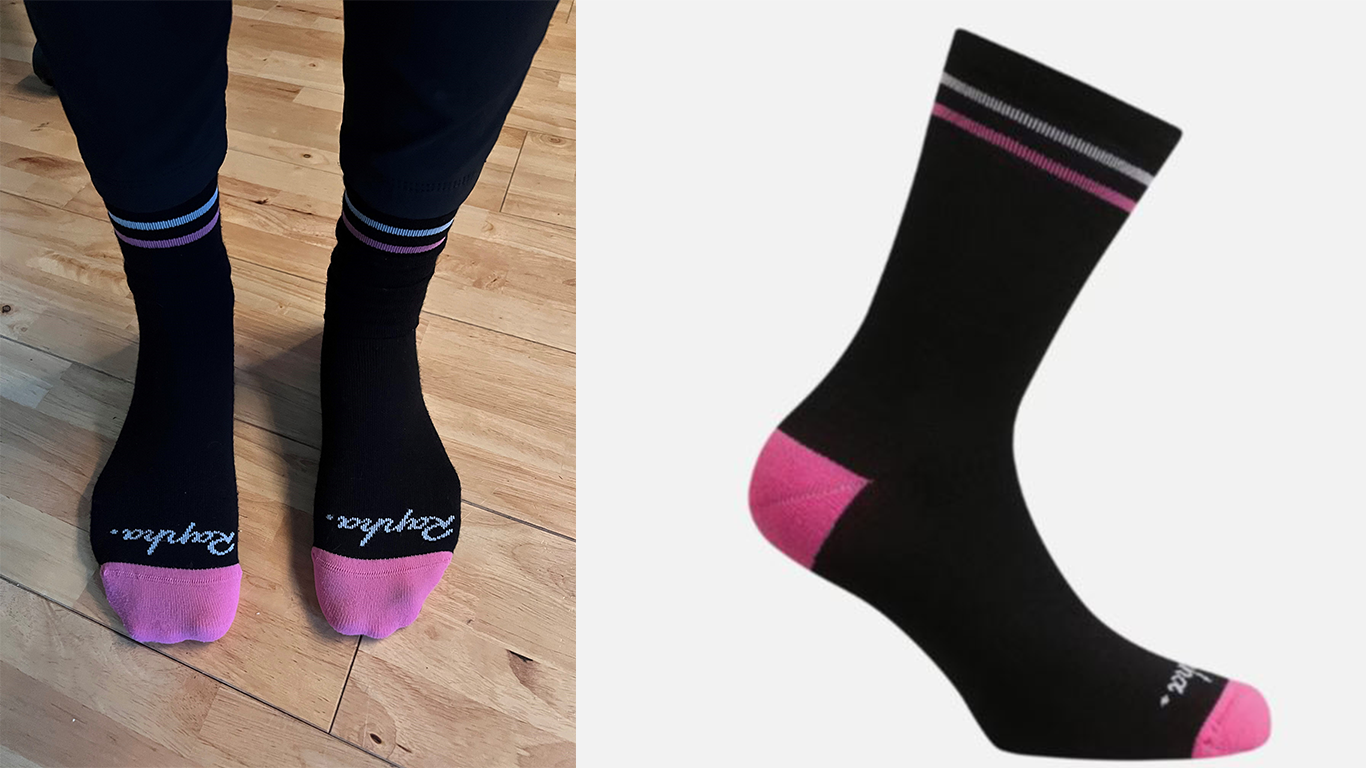 As someone who suffers from Raynaud's syndrome, I always struggle to keep my feet warm when cycling, especially during the winter months. Despite these socks being thinner than I expected, I was pleasantly surprised to find that my feet were warmer than usual when I wore them on a muddy bike ride in temperatures of -1° on the west coast of Scotland.
These socks are 60% merino wool which explains why they're cosy and dry quickly when they get wet, but it also means that they're lightweight and breathable so they're likely to be great for summer cycling adventures too. Merino wool is biodegradable and more sustainable than many man-made fabrics, which is great for many of us who are trying to do our bit for the environment.
Coming in six colours, these would be a great stocking filler for someone looking pair of socks to wear cycling all year round – if they don't mind getting socks for Christmas.
Jo Clark (West Coast, Scotland)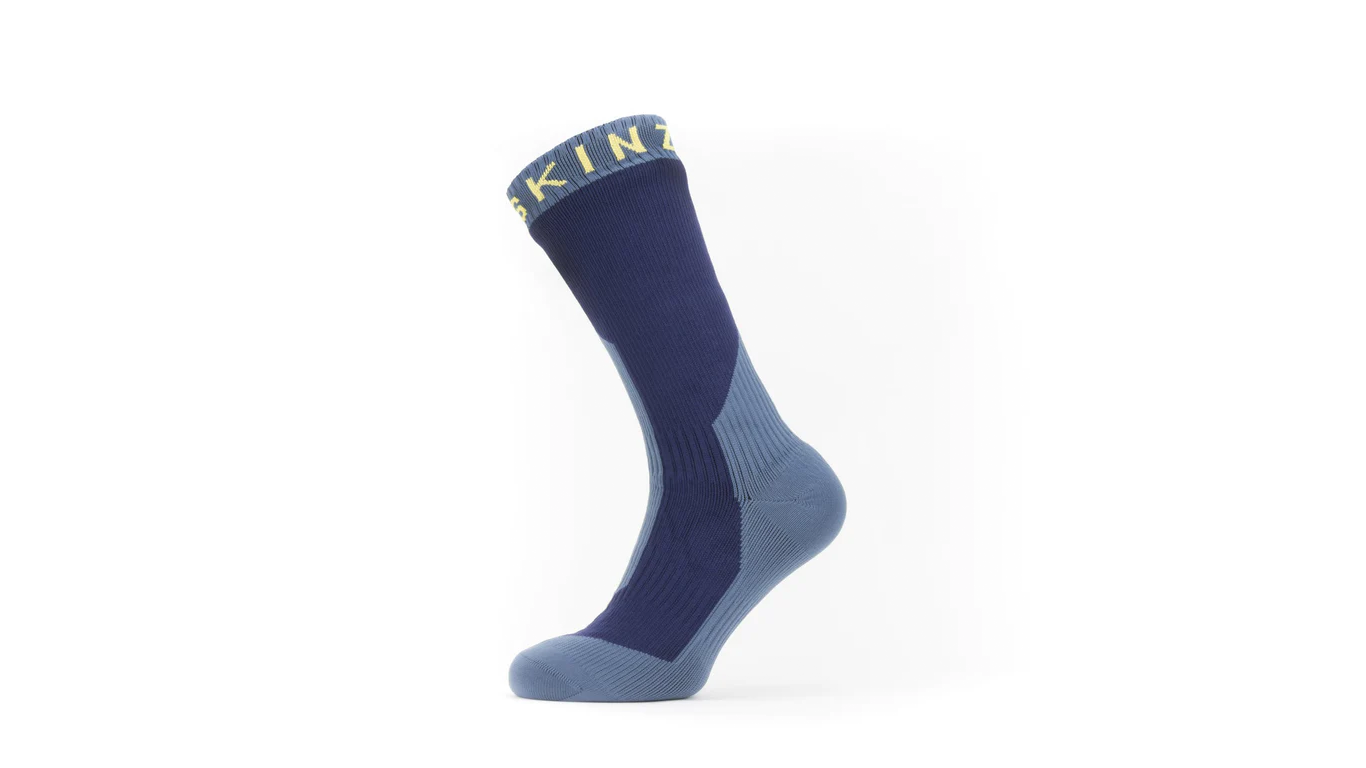 These Waterproof Extreme Cold Weather Mid Length Socks from Sealskinz were tested during two separate (mostly) off-road commutes lasting 45 minutes on mild dry days in late November, temperature around 9C both days.
For the first commute, I wore them underneath my winter bib tights, tucked into my Winter Shimano cycling boots. They're quite thick and kept my feet very warm, dry and toastie. In my tighter-fitting trainers on another ride, though, my feet froze – so chose shoes which have a little give due to their thickness.
The socks are true to size and quite long (mid-calf length) and leave a ridge when worn under tight Lycra – this doesn't bother me personally and would be unnoticeable under baggier off-road trousers.
Colour-wise, they come in black or navy (I tested the navy to go with the Cycling UK colours), but for this type of sock which will no doubt be hidden away under winter trousers, tights or boots, the colour choice isn't necessarily a deciding factor.
I tested the waterproof quality by hosing my legs and feet down in the shower, and when I took them off, my legs and feet were still dry, so I am confident I could cycle through puddles and bogs with no worries about my feet getting wet.
Gravel rider, and constantly cold person, Lauren Brooks (SE England)
A helpful tip from the GCN