Second thoughts: Land's End to John o' Groats
To say I've been having second thoughts on riding Land's End to John o' Groats (LEJOG) would be an understatement of colossal proportions.
This weekend shall henceforth be known as the crying weekend. Sure, I'd had weekends where a superhuman effort was required to get up at stupid o'clock and get out of the house to ride a bike around for hours in all weathers, but this was a whole other level of regret.
When the alarm clock went off at 6am I cried for an hour. I cried in bed, a pathetic wail of 'why me, and what the actual hell is this', then I got up and cried over my breakfast. I cried when I realised my race blade mudguards wouldn't fit on my road bike. I probably cried in the shower.
It wasn't that I was unprepared; my bike was ready, I had made flapjack the evening before, bought a new water bottle and saddle bag, fitted them to the bike and planned my route to meet the cycling club in Brixton. I'd even had a proper bike fit, and bought myself new, narrower, better-fitting handlebars, on the advice of the Boardman Performance Centre.
When it came to Sunday morning, though, nothing short of a gas explosion was going to get me out of the house.
On Sunday morning nothing short of a gas explosion was going to get me out of the house
The long and short of it was I hadn't gone riding the weekend before, due to catatonic tiredness, and I didn't go riding that weekend, either, because I hated cycling and I couldn't stop crying about it.
Frankly, I was beginning to panic about my chances of ever getting back on the bike, let alone cycling 980 miles in nine days come September.
The problem seemed to be I couldn't find a weekend ride format I found enjoyable, apart from mountain biking through Epping Forest – two hours of blissfully traffic-free riding, albeit with a cripplingly uncomfortable saddle. But this was nothing at all like riding for 100 miles a day on a road bike.
Things weren't much better in the mid-week rides department. The week preceding crying weekend I'd managed just one, extremely half-hearted, spin class, not the two I should have been doing, but wasn't in reality.
It was one of those irritating dance-cycle classes, because that's the one I could get to, which I hate, even when I'm determined to enjoy them. The enthusiasm I'd mustered evaporated by minute 15, my power output maxed out at my usual 45-minute average, and I quietly left the class after 30 minutes.
My road experiences, meanwhile, have been mixed. I'd ridden a 54-mile sportive with a couple on their first sportive. They were very kind, but the man didn't seem to get the point of taking turns at the front. Every time I suggested he have a go, he'd simply race off into the distance, leaving me and his girlfriend behind. So he enjoyed some rest time on my wheel, but I was left rather tired.
On the train home that day, some girls had cruelly laughed at me, which was surprisingly hurtful. In their defence, at that point I was half coated in exploded energy gels, which had dried to suspicious-looking white streaks on my shorts and arms; attempting to remove them only made it worse.
Then there was the club ride which, albeit with a lovely group of women, was marred by terrifying driving by aggressive motorists yelling, honking and intimidating us with their vehicles practically the whole ride.
The London to Brighton sportive was fun, despite getting soaked to the bone. But it was a 15-hour day out, end to end, my gorgeous, pristine bike got scratched in the return lorry (I actually thought the fork was broken) and I lost my favourite cap and gloves.
Exhausted, I became subsumed with a feeling I was single handedly taking on something that really one person needed some form of support to do – and I broke down, spectacularly
Until then, I'd sucked it up and carried on. Work got busy and I carried on. There were deadlines and constant jobs to do at home, as well as all the extra riding, but I carried on. Until, 12 weeks into my training, I couldn't carry on anymore. Exhausted, I became consumed with a feeling I was single handedly taking on something that really one person needed some form of support to do – and I broke down, spectacularly.
I realised at that point I had barely mentioned this ridiculous challenge to the people I'm closest to. Generally, having to be very independent from a young age, means most of the time it doesn't even occur to me that I might need help, let alone actually ask for it, even when I very much need it.
I'd taken Monday off work, gone shopping for things I'd needed for weeks but hadn't had time to get. I sat and watched an outdoor chess game. The crying continued into Monday night.
Thankfully, though, a friend asked me how I was outside Pilates class, and I started crying again. She invited me back to hers with her partner and friend afterwards for pizza and wine, where I cried a bit more – and heard what I needed to hear.
"If it's making you this unhappy, you don't have to do it," they said. "There's no shame in stopping if it's just not for you."
It felt like a 10-tonne weight had been lifted from my shoulders.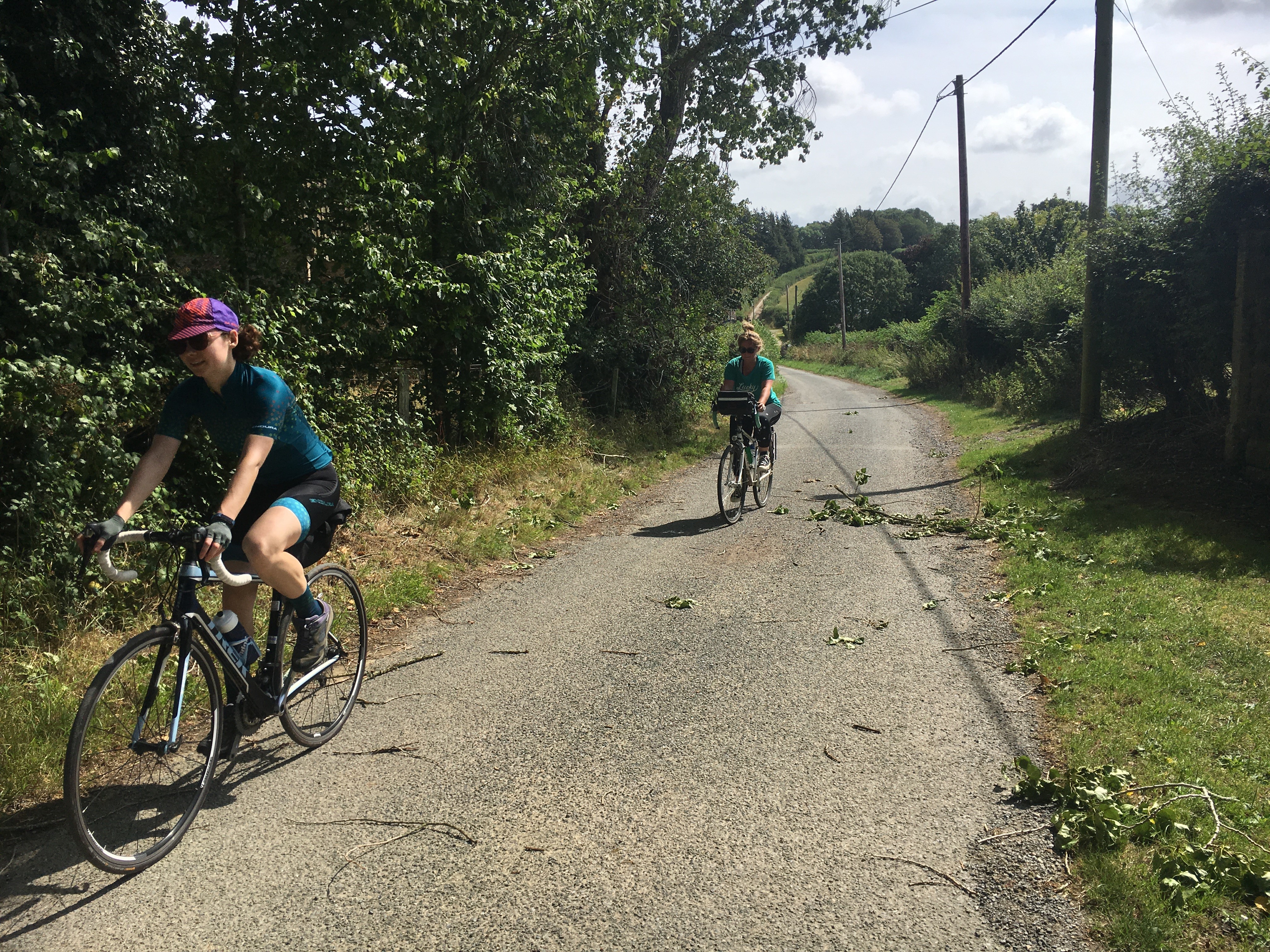 On Tuesday morning I went into work for a bit, cried again at a colleague, got my jobs done and went for a walk in the sun. I felt relaxed and happy for the first time in days.
That evening I went spinning, and despite my heavy legs, achieved my highest wattage ever. I went to a comedy show afterwards and laughed my head off, and awoke on Wednesday feeling like a new person. I danced on Wednesday night, saw old friends I hadn't seen in ages, and remembered I was not a cycling machine.
I did what any committed cyclist does in a crisis: I looked at getting a new bike
I decided I was going to do the bloody ride, decided I could do it. I may not be riding 200km audaxes at the weekend, but I'm doing my best. I decided my weekend rides would need to feel like adventures, then I would be able to do them.
I would need to go places, possibly with some luggage, to feel I was seeing new places, not just riding round in a big circle for the sake of it. I did what any committed cyclist does in a crisis: I looked at getting a new bike, one that I could put luggage on.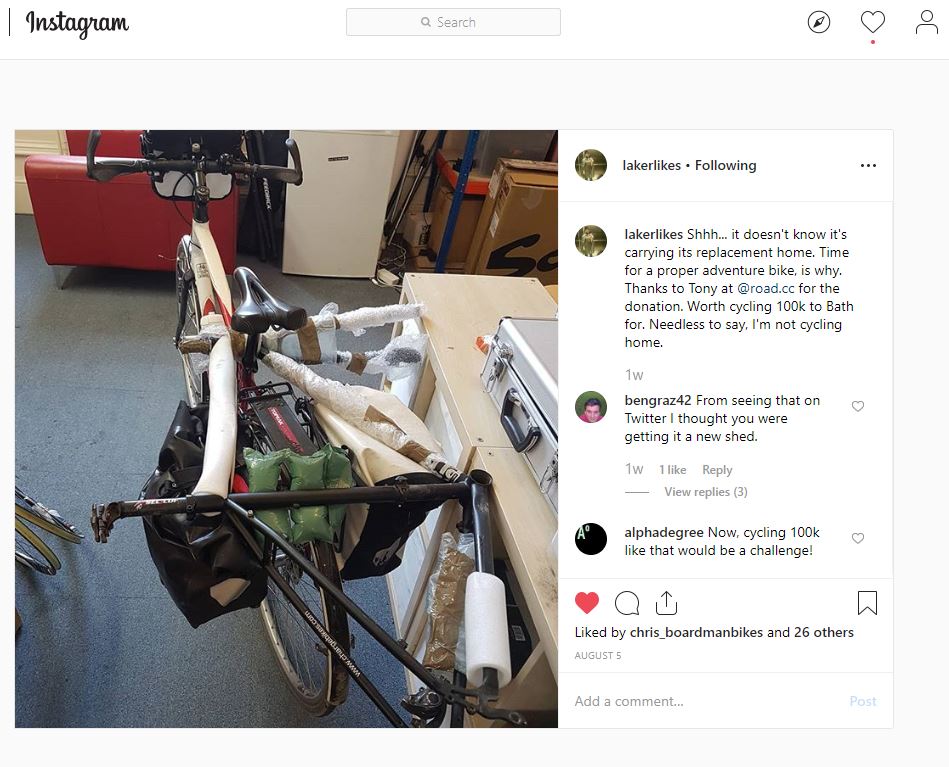 I admitted I was struggling and people seemed concerned. The cloud passed. I remembered tomorrow is a new day, and after all, it's just a bike ride. If it works out it works out, if it doesn't it doesn't. I don't need to give myself a hard time – all we can ever do in this world is our best, and if we're doing that, we're probably doing OK.
In Laura's next instalment, she reveals her cunning plan to make the miles go by more smoothly…