Tackling Land's End to John o' Groats off-road on electric mountain bikes
Dorking, Surrey based technology consultant, Matthew, and driving instructor Harry from Liss, Hampshire contacted Cycling UK at the beginning of the year to ask if we had any advice for completing the LEJOG off-road. 
We were both looking for a real challenge which wouldn't break the bank

Matthew Perrin
"We were both looking for a real challenge which wouldn't break the bank," explained Matthew. "Attempting the off-road LEJOG captured both our imaginations and allowed us to try bikepacking. Plus, it gave us more access to the countryside and is still a relatively uncommon challenge to take on."
Back September 2018, Cycling UK announced its intention to create an off-road LEJOG making use of existing rights of way that all lovers of the countryside can enjoy. Matthew and Harry's journey was a perfect opportunity to let them test out the northern section of that route.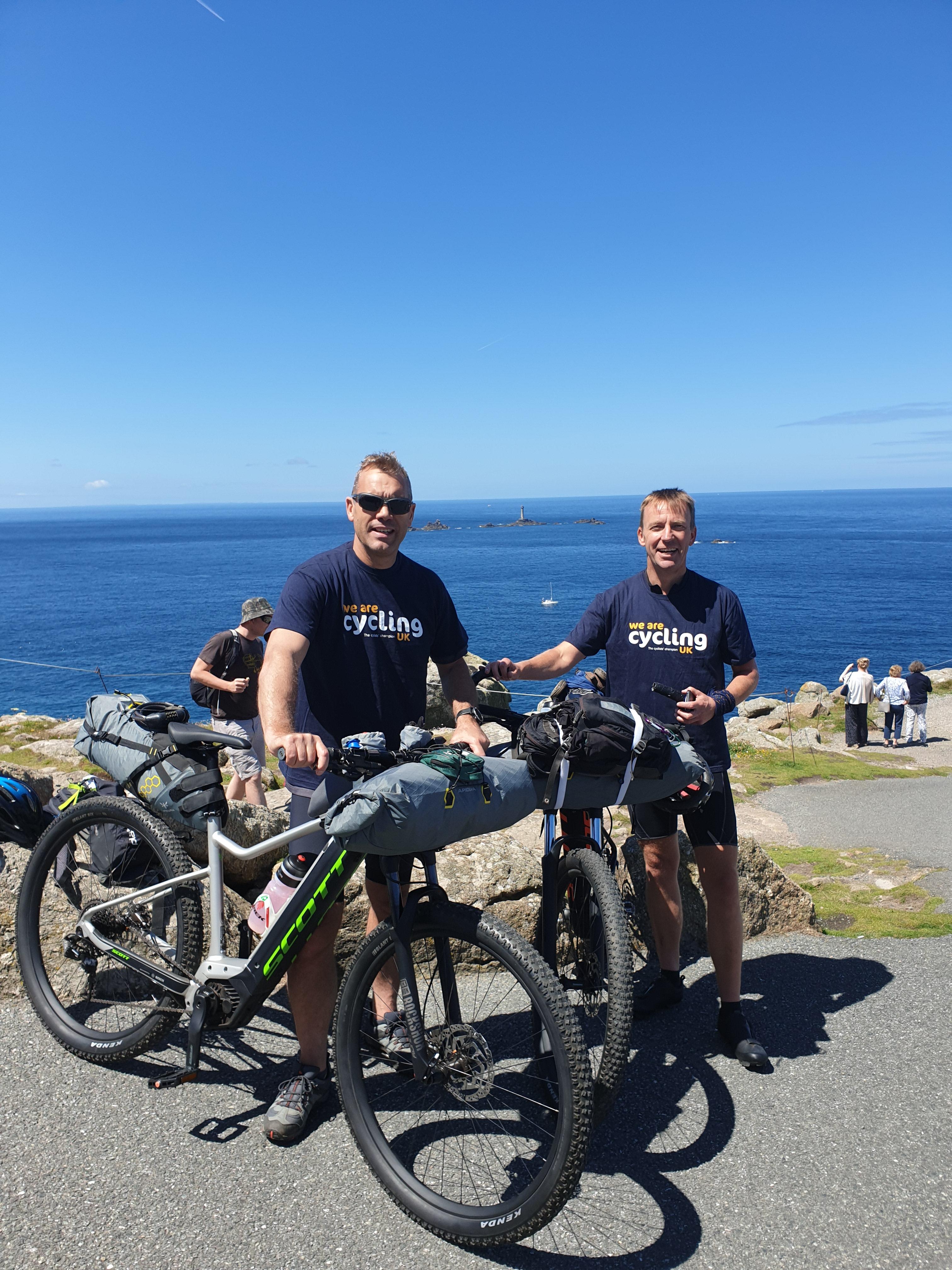 Armed with GPX files which would take them from the bottom of the Pennine Bridleway up to John o' Groats and an idea of what other routes they'd tackle along the way, the pair set off from Lands' End on Friday 21 June.
"It was really useful to have the route from Cycling UK," said Matthew "It helped us plan the rest of our journey. One thing we learnt is that there isn't a single route to take as such. More like a web of choices which you have the freedom to select from based on what you want to get from the journey. The work Cycling UK is doing makes a significant contribution to the coherence and structure of that web."
Sam Jones, Cycling UK Communications Officer and a former driving pupil of Harry, helped the pair with a section of their off-road route. 
"I met both Harry and Matthew in a local pub at the beginning of the year when they told me their plans, and straight away I was jealous!" said Sam. "Together with the team behind our off-road LEJOG I'd been looking at maps and plotted routes and they would be riding it. They're two great guys with a real spirit for adventure so it seemed like a perfect opportunity to give them the section of the LEJOG we had recently completed - I'm now looking forward to catching up with them over a cold one and hearing all about it!"
Completing the journey in 21 days (including a day's rest) Matthew had some advice for others considering riding an off-road LEJOG on an e-bike:
E-bikes make it [the LEJOG] possible in a sensible timeframe and make it accessible to people of good, but not spectacular fitness

Matthew Perin
"E-bikes make it [the LEJOG] possible in a sensible timeframe and make it accessible to people of good, but not spectacular fitness. However, they do bring their own challenges - you need to plan your charging points, and their weight (particularly with camping equipment etc.) means some sections of the Pennine bridleway are off limits. You always need to be in range of your next charge up. Be prepared to adjust your route to account for weather conditions. And make sure you take time to appreciate the countryside and the views."