How you can encourage more children to cycle
Councils need to make local roads, especially those around schools, safe for children to ride their bikes. 
If you agree, please take a moment to sign our local election petition and make your voice heard. 
On Sunday 22 July 2012 my eldest son learnt to ride a bike - the same day that Bradley Wiggins won the Tour de France.
Inspired by Wiggo and Mark Cavendish winning on the Champs Elysee, I took the wee lad to the park and off he went on two wheels for the first time.
A memorable day, all round.
Ten years on and he's still going - mainly downhill mountain biking and sometimes riding to school.
Learning to ride a bike is a rite of passage - giving children independence and freedom.
Like me you may have enjoyed many childhood days pedalling the streets with friends and just hanging out on bikes.
It's natural to want to pass the joy of riding onto the next generation and help them to become confident and skilful bike riders.
But in Scotland 70% of parents are concerned about the safety of children cycling on roads so this generation of children is losing the skill and habit of cycling.
It's now time to roll out school streets nationwide to every primary school where possible and create safe cycle routes to schools

Cycling UK's campaigns and policy manager for Scotland, Jim Densham
Kidical Mass
A couple of weeks ago I visited Inverness to support children and adults riding through the town for Kidical Mass North.
Kidical Mass is a worldwide movement but Kidical Mass in Inverness is the only one in Scotland so far, having been helped to get going with support from our Shift project. 
With the motto "space for the next generation," they want to show that children should be able to ride in safety, and encourage everyone to take short journeys by cycling, walking or wheeling, rather than taking the car.
It was a crisp, clear, sunny day in the Highlands as over 100 people joined the short ride through the town to call for more and better cycle infrastructure in Inverness.
As the Kidical Mass North website explains, 'a city that is safe and sustainable for kids is good for people of all ages'.
The children of Inverness need a local cycling revolution.
With the permission of the parents and children I filmed the mini peloton as it wound its way slowly through town.
Watch them pedal and scoot along in our new local election film which explains that Scotland is waking up to a cycling revolution, powered by campaigners, including the kids of Inverness.
School Streets
The Scottish local elections on 5 May are a key time to call on councils and candidates to make our local streets safe for children who want to cycle.
That's why, as well as calling on every council to create a network of cycle lanes, ask No. 6 in our Scotland manifesto says:
'Roll out School Streets – and create safe cycle routes to connect to them – to enable children to cycle to school.'
Only 2-4% of children currently cycle to school in Scotland – with numbers dropping off at secondary school.
This is despite a majority of children receiving free Bikeability lessons at school to give them the skills needed to cycle on the roads.
School Streets is an initiative to close streets to traffic around primary schools during drop off and pick up times.
During the pandemic a number of councils in Scotland trialled school streets initiatives in their areas to allow more space for social distancing.
It's now time to roll out school streets nationwide to every primary school where possible and create safe cycle routes to schools.
Bikeability training is not enough – the skills learnt by our youngsters need to be practised but they can't do that if neighbourhood roads and riding to school feel unsafe and unwelcoming.
It's time to deliver safe streets for children – it's time for local cycling revolutions.
Help us to make it happen.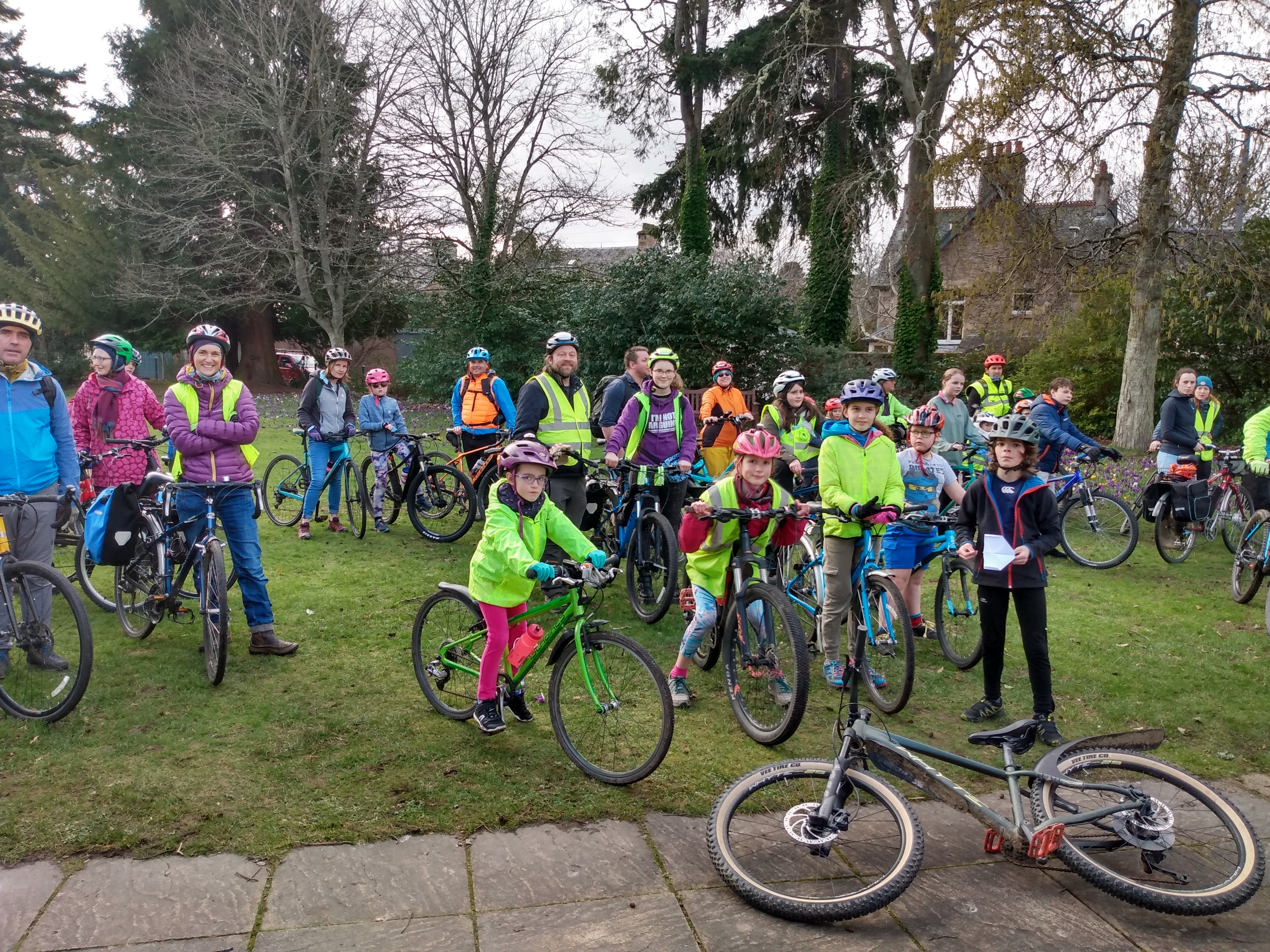 What you can do
Sign our local election petition - If you want the streets to be safe for children to cycle, walk and wheel to school or wherever they want to go, use your voice. Sign the petition e-action to tell candidates, political parties and councils that you support this.
There are other practical steps you can take: