If you have a question that isn't answered here, please get in touch with us and we can add it to the list.
Why has Cycling UK developed this route?
The West Kernow Way has been created as part of the European Regional Development Fund EXPERIENCE project, which aims to develop sustainable year-round tourism experiences in six pilot regions in England and France – one of which is Cornwall.
Along with developing promoted routes and cycle hubs in the county, Cycling UK is also supporting hospitality businesses to become accredited Cycle Friendly Places, so you can be sure of a warm welcome and everything you need.
What is the EXPERIENCE project?
Cycling UK is one of 14 partners collaborating to deliver innovative and sustainable new off-season tourism experiences in six pilot regions in England and France, focusing on sustainable, low-impact tourism activities to secure the future resilience of the region's natural and cultural assets.
This project will harness the experiential tourism trend to extend the season, generating 20 million new off-season visitors spending €1 billion across the Channel region by June 2023.
EXPERIENCE is co-financed by the European Regional Development Fund (ERDF) through the Interreg VA France (Channel) England Programme 2014-2020.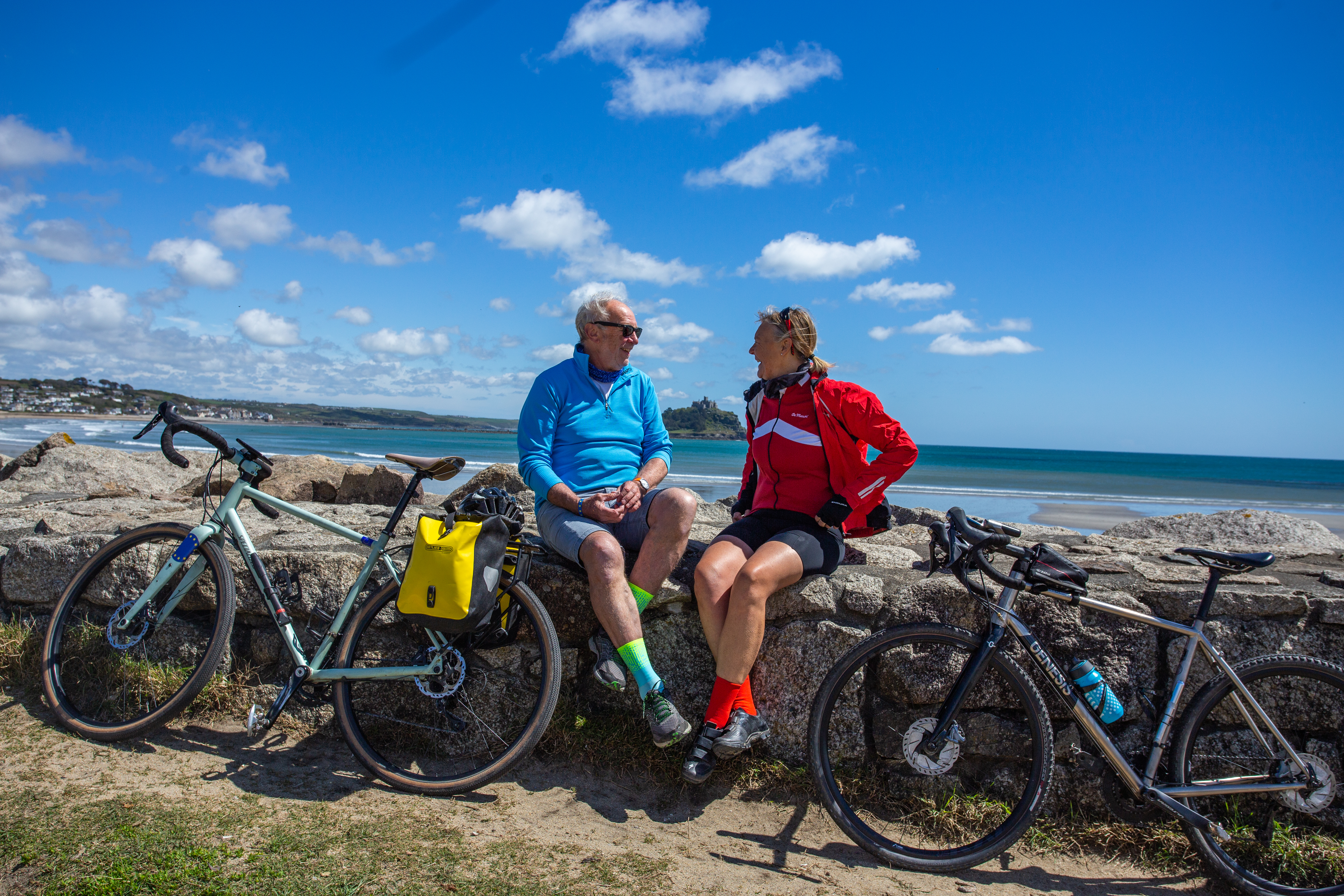 How hard is the route? What's the terrain like?
The West Kernow Way uses a mixture of quiet lanes, cycle paths and bridleways that vary from smooth grass to loose rock or narrow singletrack sheep trails over moors. We've deliberately avoided any extreme technical sections, though, and we'd classify the route as a 'blue' difficulty rating using the off-road grading system ('moderate', suitable for people with some experience of off-road cycling, with some loose surfaces, ruts, roots, rocks and steep sections). 
The rugged Cornish landscape inevitably means there are lots of steep climbs and descents along the way too, and we'd recommend attaining a reasonable level of fitness (or some electric assistance) before starting if you want to enjoy it. The climbs are generally short though, so you can always push rather than pushing the pace, and most of the steepest parts are packed into the first half of the route.
The granite base geology of the Cornish peninsula and predominantly rocky bed of most of the trails means most of the route isn't massively affected by bad weather. That said, some of the moorland and heath sections of Penwith, the Lizard and south of Redruth will become sticky and slower when wet, and there are a few short sections that were very wet and boggy even in June. You're generally never far from an easier-rolling road alternative, however, particularly in the second half of the route where there's a whole maze of lanes to escape onto.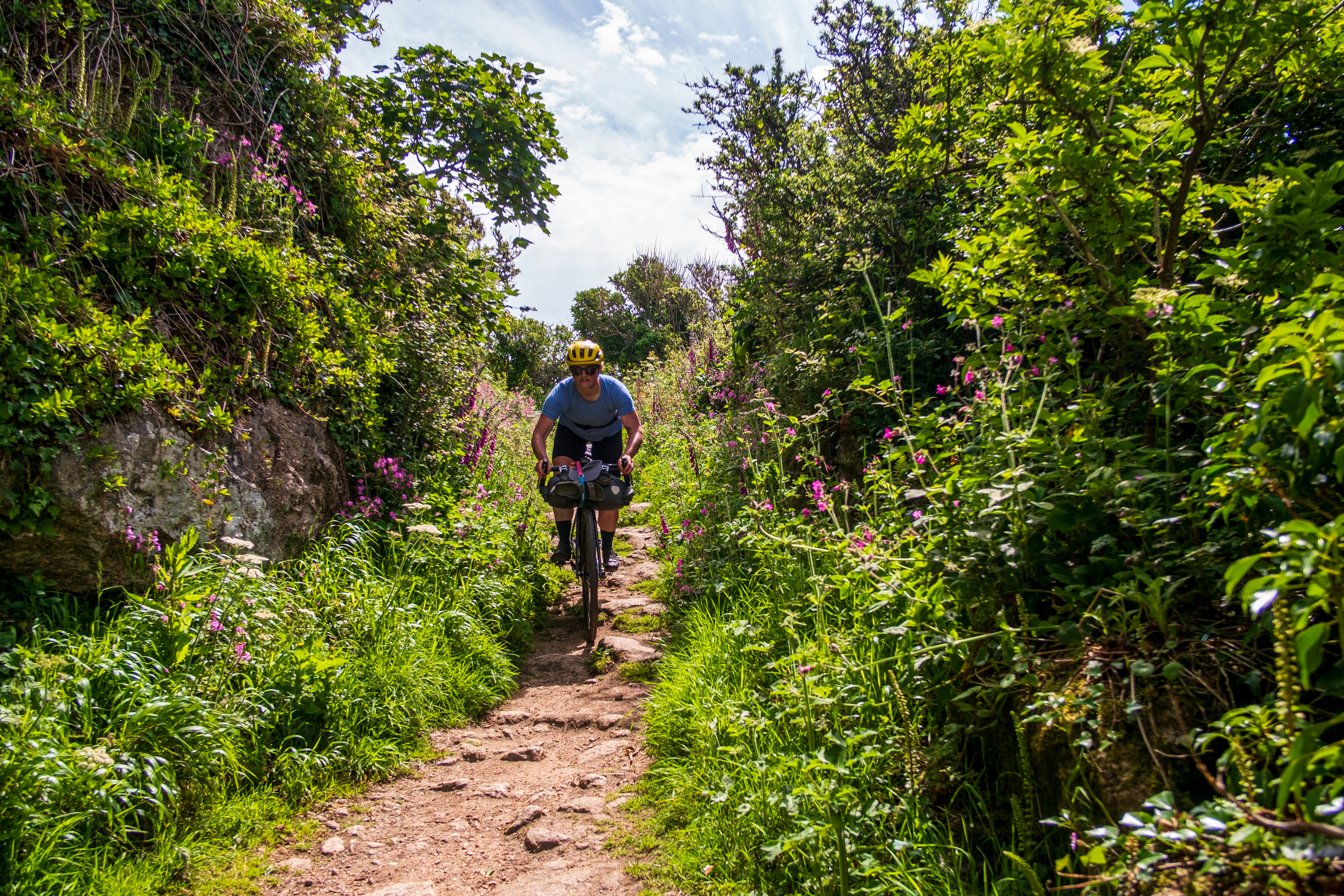 How long does it take to ride?
Most people will probably complete the route in three or four days. We have suggested stopover locations for a two- or three-night trip at the back of the route guide.
If you're staying longer in Cornwall, make the most of your trip by trying out some of the day routes from Cycling UK's EXPERIENCE cycle hubs in Penzance and Helston.
Which kind of bike is best?
The amount of diverse off-road riding and the route's challenging nature means you'll need a suitable bike. A gravel bike with 35mm or wider all-terrain tyres and wide ratio gears is the optimum choice in dry weather. As long as you're prepared to be patient on the road sections, a lightweight hardtail mountain bike would be ideal for the off-road sections too, especially if the weather is likely to be against you.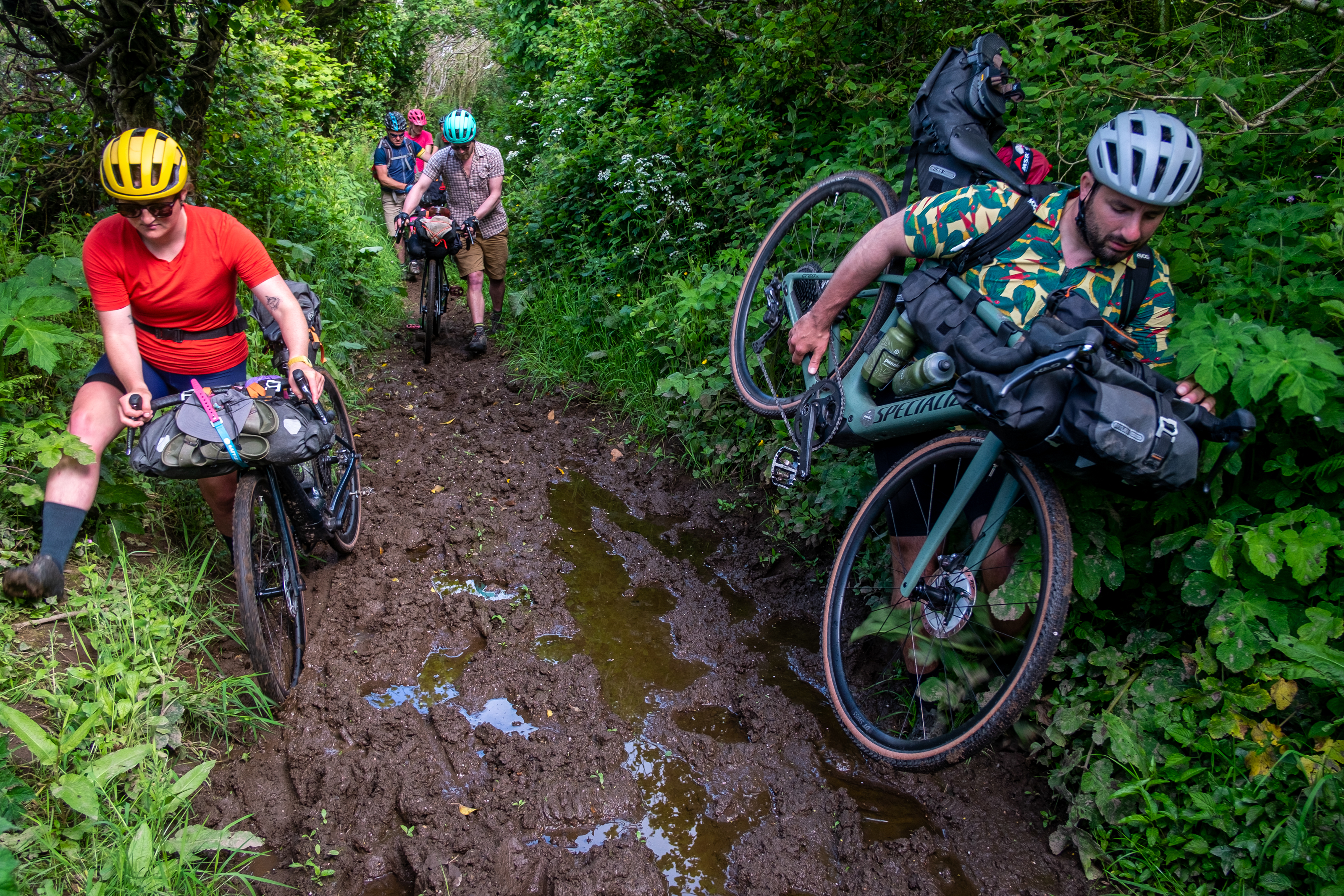 Can I ride it on a touring or hybrid bike?
The route includes some fairly rough sections which are quite loose and rocky, so could be a struggle on a touring or hybrid bike. To feel confident we'd suggest tyres with a minimum width of 35mm.
Of course, the weather has a big impact on the terrain and ground conditions, so if there has been a week of rain and it's likely to be very muddy, a mountain bike would be the preferred option.
Is the route suitable for e-bikes?
An e-bike can be a blessing on Cornwall's hills, but bear in mind the weight – there are a few rough stretches where you could end up pushing or carrying the bike. There is a wealth of stopping opportunities to recharge, as long as you plan ahead so you don't run out of battery on a 25% climb.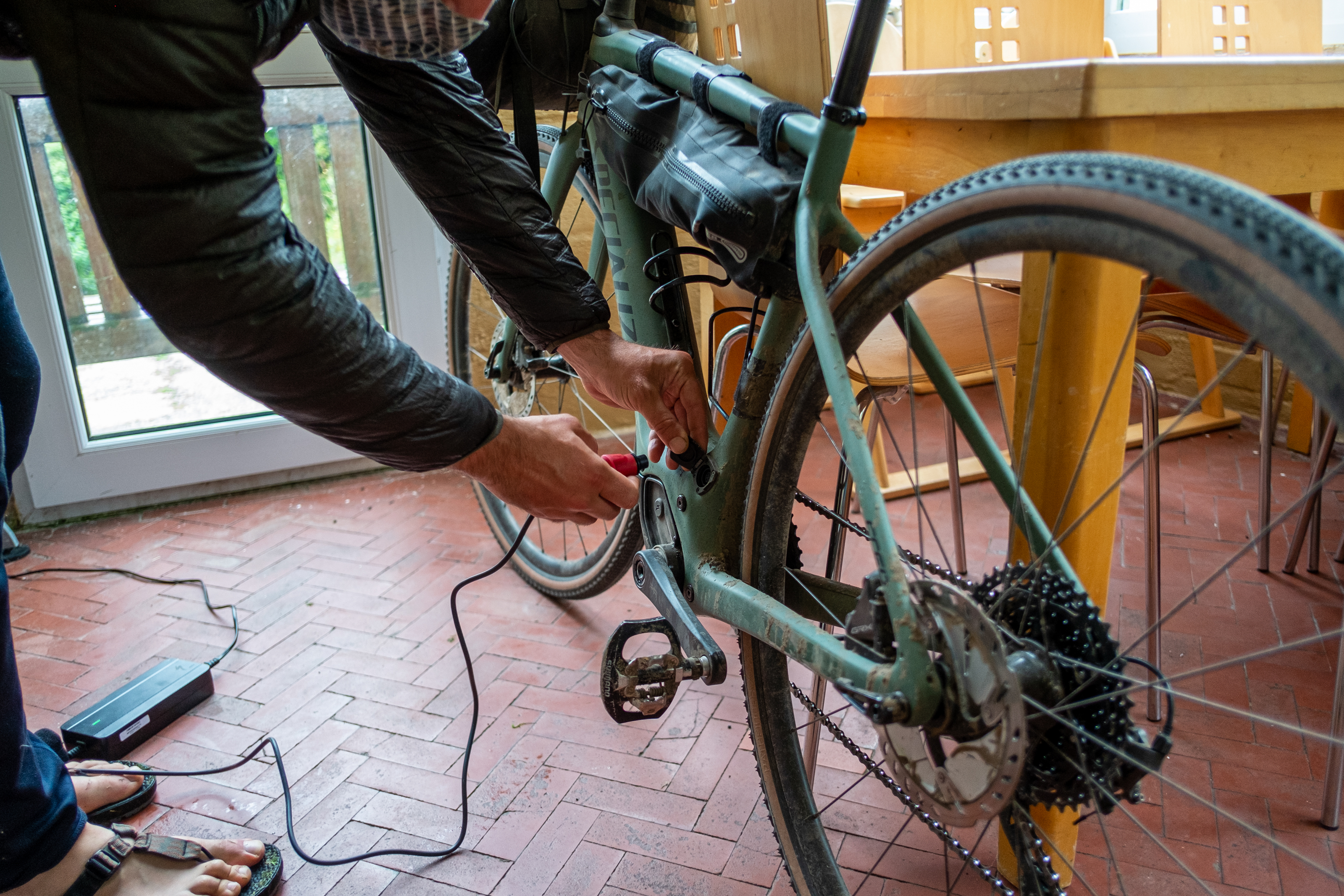 What kind of kit should I take?
Which kit to take obviously depends on your accommodation strategy, the season and how seasoned an adventurer you are. Be aware that while Cornwall enjoys relatively mild temperatures compared to the rest of the UK, it's also wetter than average. The fact it sticks out into the Atlantic and the coast is never far away means that brutal weather can blow in with very little warning any time of the year. An extra warm layer and a weatherproof shell should be considered a minimum wardrobe requirement even in summer.
In terms of carrying kit, some of the more rattling, rougher or narrow trails will definitely suit strap-on bikepacking bags or a backpack better than traditional bolt-on racks and panniers. Whatever luggage you choose, make sure you trial your setup on appropriate terrain beforehand as there's nothing more frustrating than having to stop repeatedly to fix bits back on or trudge back up descents to find lost water bottles.
Does it matter which direction I ride the route?
The West Kernow Way is a figure-of-eight shape and was designed to be ridden clockwise from Penzance around the Penwith Peninsula, and then anti-clockwise around the Lizard Peninsula, so we recommend this direction for the best experience.
Be aware there is a short section with a steep grassy climb up from Kennack Sands to Trevenwith just north-east of Lizard Point which we are asking riders to dismount and push up as a courtesy to the landowner as it is a Site of Special Scientific Interest. It's a tough climb so you'll probably be pushing anyway, but if you ride the route in the other direction and end up coming down the hill at this point, please remember to dismount and walk down.
Is the route signposted?
The West Kernow Way isn't signposted, and for most of the length there are no waymarked routes to use as a guide either. Even when you get to the mining trails around Redruth, there are often several to choose between at different junctions. That makes loading the route GPX onto a GPS computer with a decent resolution screen and background mapping a big help for staying on track.
How do I navigate? Do I need a GPS?
You can download the GPX file from the West Kernow Way route page, and we recommend following this on a GPS as the easiest way to stay on track. See our guide to GPS navigation for more information.
You can't always rely on electronics though, so a paper map is always a good idea. There are also maps provided at the back of the printed route guide to cover you for the more complicated bits.
Even then, it's a complicated landscape with a lot of 3D variation, so a small mistake can easily cost you a lot of effort. It'd be a shame to miss out on any of the interesting features and sights on the route, so we suggest you keep a very keen eye on your mapping rather than rushing along head down.
We've also included navigation cues in the guidebook as well as the background info to make the most of the route's stories, so reading the relevant sections before you ride the route each day will really help make the most of it. The route in the guide also includes some added extras and bonus suggestions that the downloaded GPX doesn't.
Is there information about accommodation and facilities along the route?
The route guide contains a table with distances between the villages and towns along the route, and details of which facilities are available in each.
As part of the EXPERIENCE project, Cycling UK has been supporting hospitality businesses along the route to become accredited Cycle Friendly Places, so you know you'll receive a warm welcome and everything you need.
Rough Ride Guide has also made a great interactive map of facilities along the route.
Is there somewhere to leave a car for a few days?
The pay-and-display long stay car park at the Harbour in Penzance permits overnight parking (except for motorhomes or campervans).
Are there supported trips or baggage transfer available?
We're aware of the following companies offering guided or supported trips:
There are several companies in Cornwall offering luggage transfer for walking or cycling trips – we advise you get in touch with them to discuss your requirements.
Can I get my bike down to Cornwall on the train?
Yes – but for most long-distance journeys, including for GWR services through the South West, you will need to reserve a space in advance. You can check the PlusBike information on the National Rail website to see if you will need a reservation. To avoid disappointment it's often best to call the relevant train companies just before booking your ticket, to make sure there is a bike space available on that service.
If your train changes in London, you might want to travel in style on the Night Riviera service, which arrives in Penzance just before 8am. There are three bike spaces available to reserve on this train.
It is worth noting the cycle spaces on the GWR trains are not especially cycle friendly, and require lifting your bike to hang from a hook. Those with large tyres or wide handlebars may well struggle to hang from a hook, while heavier bikes - like e-bikes - will have an additional difficulty. Cycling UK has made GWR aware of our concerns with this inadequate provision of cycle space.
If it turns out to be very complicated to take your bike with you, an alternative option could be to hire a bike when you get there.
Is there somewhere I can hire a bike?
There is a wealth of options to hire a bike in and around Penzance, as well as other towns in west Cornwall. Several provide e-bikes, and some offer to deliver to your accommodation.
See 'Which kind of bike is best?' for advice on the best type of bike to hire for the West Kernow Way.
Do we really need to encourage more people to visit Cornwall?
We have decided to launch the West Kernow Way in September, as the summer rush on the county draws to a close. As well as limiting the risk of coronavirus infections, it can also help encourage a more sustainable tourism programme which is year-round rather than concentrated in one peak period.
Remember to check national and local coronavirus guidance before you travel, and take the relevant precautions.
Giving people a reason to explore the county by bike reduces the pressure on the usual honeypot locations, enabling visitors to enjoy Cornwall's stunning landscapes and heritage without filling rural lanes with another car.
Cycle tourism spending from cyclists in the UK generates £520m per year. There are 1.23 million overnight trips each year, benefiting small businesses in particular, and these contribute £433m to the economy. As part of the European Regional Development Fund EXPERIENCE project, Cycling UK is supporting hospitality businesses in Cornwall to become accredited Cycle Friendly Places to attract more cycling visitors.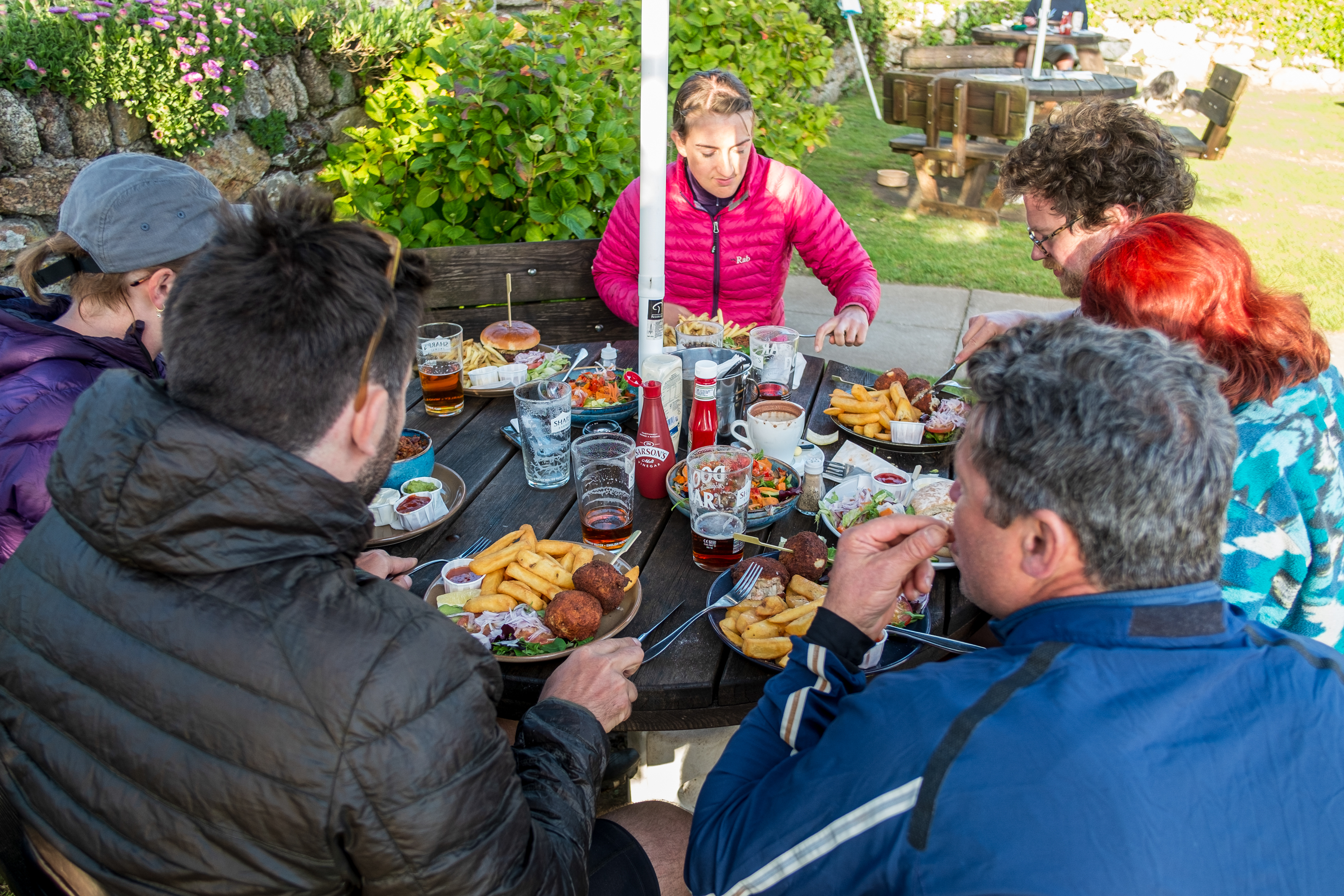 What do you mean by saying the route uses 'lost ways'?
Across England, there are many bridleways and byways which were incorrectly recorded as footpaths when rights of way maps were being compiled in the 1950s. This means that although it might be marked as a footpath, there still exists a right to ride a bike or horse on them – but this right will be extinguished by the deadline of 2026 if the map isn't corrected.
Very often, these lost routes can be found at parish boundaries, where the bridleway magically turns into a footpath, or the bridleway ends on a footpath or track for no obvious reason on what would otherwise be a through-route. In Cornwall, there are loads of these, leading to missing links in the network.
In several places, the West Kernow Way uses these historic routes to link together the best off-road options. For each of them, we have looked at the evidence for the existence of a right of way, and the physical suitability of the route, and assess that there is a strong case for the existence of an unrecorded missing link. Some of these are currently recorded as footpaths (crucially, section 56 of the Wildlife and Countryside Act confirms that recorded status is without prejudice to the existence of higher rights), and some aren't on the rights of way map at all.
Given the priority that the Government and others have given to improved opportunities for accessing the outdoors, and the problems of increased motor traffic on the roads, it's clear the current system isn't working when it can take decades to upgrade one right of way. That's why we have included these sections on the route on the basis of the evidenced historic rights.
Find out more about the lost ways of the West Kernow Way.
What is Cycling UK doing about getting these lost ways put on the map?
Some of the route sections have existing applications for Definitive Map Modification Orders (DMMOs) to correct the map, submitted by local volunteers.
For others, Cycling UK has collated the evidence and submitted DMMO applications ourselves.
However, the huge backlog of applications that councils have to process coupled with the lack of resources means that many aren't likely to be formalised for at least fifteen years. Cycling UK thinks that this is completely impractical, and it highlights that our current rights of way system in England is not fit for purpose.
That is why we have made the decision that for the sections where the historic evidence makes a strong case that a lost way exists, we will include them in this route and use the route guide to explain to riders the reasoning behind it.
How can I get involved with researching lost ways?
If you're feeling inspired to investigate lost ways in your area, have a look at our guide to researching historic rights of way for some resources to get you started.
What's Cycling UK doing to encourage responsible cycling and access?
Exploring the outdoors is fantastic, and it's essential that all of us play our part in protecting nature and looking out for others. Cycling UK is aiming to remind riders of that both in the guidebook and with our online information about the West Kernow Way.
We are working with Natural England to promote the updated Countryside Code in England, and with the British Horse Society to share the Be Nice, Say Hi campaign and raise awareness of how to pass horse riders safely.
Has Cycling UK consulted with landowners about this route?
During the development of the West Kernow Way we have worked closely with landowner organisations and land managers including the National Trust, Natural England, the Tin Coast Partnership, the Penwith Moors Partnership and Cornwall Wildlife Trust. We've aimed to find a route alignment that enables riders to experience these spectacular landscapes, while minimising the impact on them to protect their special qualities.
Has Cycling UK developed any other long-distance routes I can try?
In 2018, Cycling UK proposed a rideable route for the North Downs Way, which is in the process of becoming an official alternative National Trail route.
In 2019 we launched the Great North Trail, which connects the Pennine Bridleway with the An Turas Mor trail to form an 800-mile route linking the Peak District with the north coast of Scotland at Cape Wrath and John o' Groats. 
We followed this in 2020 with King Alfred's Way, a 220-mile loop which connects the South Downs Way, North Downs Way riders' route, and the rideable parts of the Ridgeway and Thames Path.
What route are you doing next?
As part of the European Regional Development Fund EXPERIENCE project, during 2022 we will also be creating long-distance circular routes in Kent and Norfolk. Sign up for our off-road updates to be the first to hear about those.