Round the world on a tandem called Alice
Attempting to break any time-based Guinness World Record invariably involves a race against the clock, but for tandem cyclists Cat Dixon and Raz Marsden there was the added pressure of trying to cross the Channel back to Britain as the coronavirus swept across Europe and lockdown measures came into force.
The pair managed to board the penultimate passenger ferry back from Caen to the UK on the day a travel ban was introduced in France enabling them to set the record for the fastest circumnavigation of the globe by tandem bicycle. Cat and Raz not only achieved the female record with their time of 263 days, 8 hours and 7 minutes but also broke the male record too.
Cat and Raz who are both in their fifties, set out from Oxford on 29 June, 2019, covering 18,263 miles on a route that took them through 25 different countries, before completing their journey and arriving back in London on 18 March. Their record was one of the last to be broken before lockdown and one of the more recent to be featured in the up-coming Guinness World Records 2021 edition.
The route took them through France, Monaco, Italy, Slovenia, Croatia, Bosnia and Herzegovina, Montenegro, Albania, Macedonia, Greece, Turkey, Georgia, India, Myanmar, Thailand, Malaysia, Singapore, Australia, New Zealand, the United States, Mexico, Morocco, Spain, Gibraltar and back through France to the UK.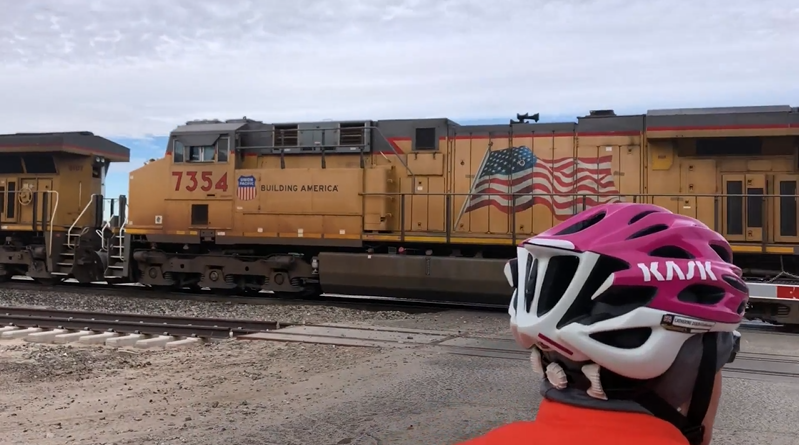 Cat, 54, and Raz, 55, were recognised for their achievement in Cycling UK's 100 Women in Cycling list, which was published earlier this month to celebrate those whose inspiring tales motivate other women to try riding. The 100 Women in Cycling is part of Cycling UK's Women's Festival of Cycling.
During their nine-month trip, the pair also faced hostile weather conditions: they travelled through Australia as it was ravaged by bush fires forcing them to take an in-land route across the vast country with temperatures pushing 50C. Other climatic challenges included riding through monsoons in India and Southeast Asia following on from a summer heatwave in Europe.
The average distance cycled each day was between 80-100 miles on the tandem which the women named 'Alice' occasionally completing as much as 120 miles in a single day.
This relentless pace ensured that nobody has ever ridden a tandem across the world faster than Cat and Raz and their time eclipsed by more than 17 days the 281 day mark set by Lloyd Edward Collier and Louis Paul Snellgrove (also both from the UK), who completed their journey in May 2019.
We hope that it will inspire others to believe that anything is possible if you follow your dreams

Raz Marsden
The record-breaking friends didn't even know each other five years ago, but began meeting regularly for bike rides after first getting to know each other during a charity cycle from London to Paris in 2016. In order to take on the circumnavigation challenge together and attempt the record, Raz decided to take a break from her career as a Motor Neurone Disease Nurse Consultant, and Cat, a lawyer, handed in her notice at work. In addition to writing a new entry in the Guinness World Records book, they also raised over £40,000 for the Motor Neurone Disease Association and Oxfam.
Cat said she and Raz felt "incredibly proud" to be Guinness World Records title holders. "The experience was incredible and certainly not without its challenges – most notably racing to make it home as borders closed behind us due to the Coronavirus pandemic," she added.
Raz described the trip as an "adventure of a lifetime" which had provided many incredible memories to look back on. "We hope that it will inspire others to believe that anything is possible if you follow your dreams," she said.
Guinness World Records editor in chief Craig Glenday said: "It's been a joy following Cat and Raz's big adventure, and I was thrilled to hear that they'd smashed not just the women's title but the overall round-the-world record. Their story is a real tonic in these troubled times."