The RHS garden inspiring active travel
Only 30 miles apart, Tatton Park is a world away from Bootle. The Merseyside town, in the Sefton borough of the Liverpool city region, is one of the UK's most deprived areas, while Tatton Park is a stately pile in Cheshire that hosts an annual Royal Horticultural Society (RHS) flower show. But cycling and active travel have brought them together.
The 2022 RHS Tatton Park Flower Show, which took place last week (20-24 July), celebrated the contribution to sustainability and biodiversity made by the UK's combined 433,000 hectares of gardens. The event's Greener Front Gardens – introduced this year – were full of inventive ideas to turn small or uninspiring outdoor spaces into uplifting and sustainable plots.
Among them was Could Car Less, designed by Christine Leung, director of Lotus Brook, a Bootle-based social enterprise which helps to build resilient communities through food and flower growing. The garden has been created for a family committed to giving up their car and choosing to travel more actively. It took a bronze award at the show.
Could Car Less offers practical and creative ideas for cycle storage, as well as features to help increase urban biodiversity. The garden is just 20 square metres and represents a traditional Bootle front garden with its brightly painted door, York stone and black and terracotta tiled foot path.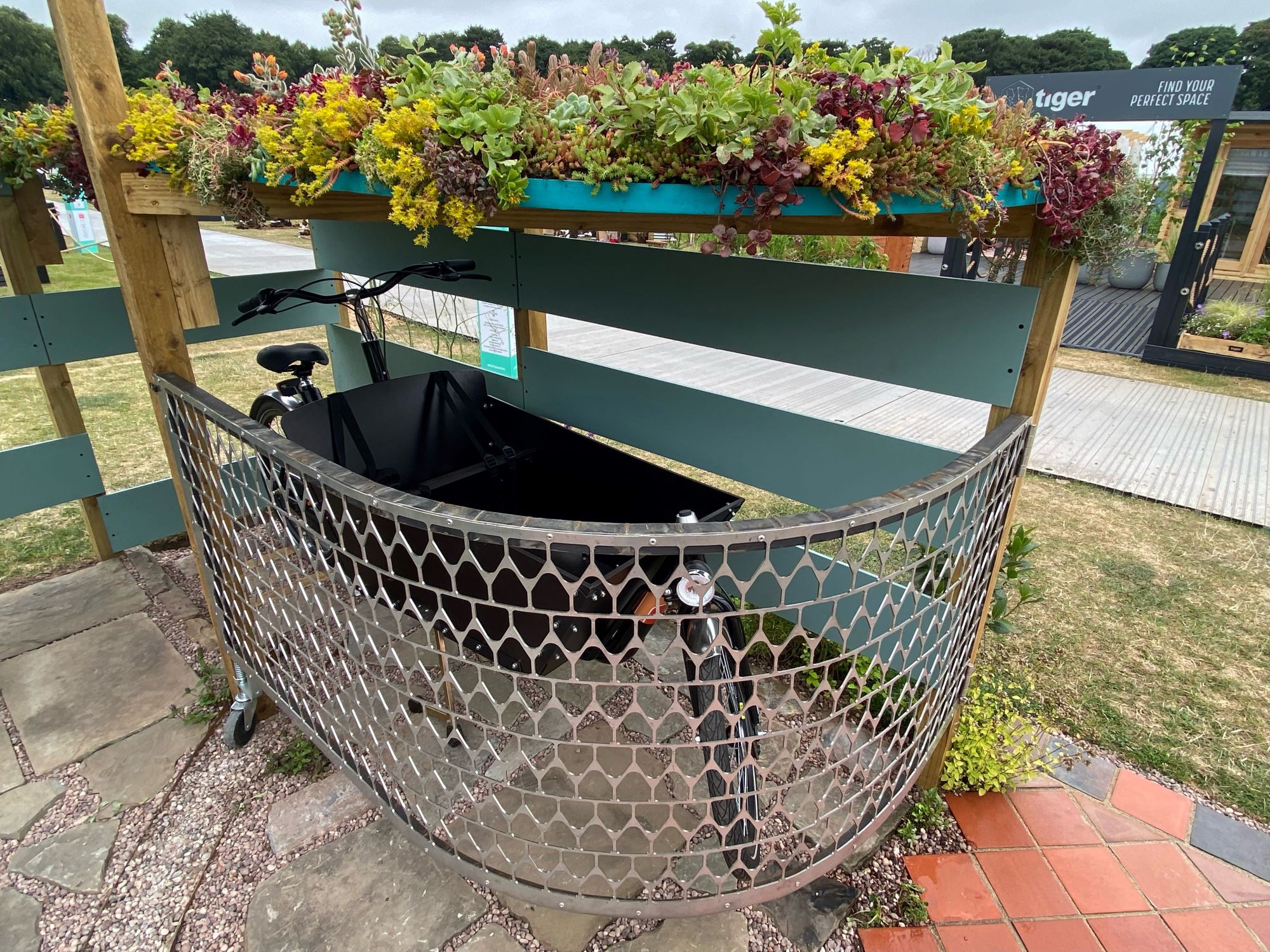 Cycle storage
At the heart of the garden are two large upcycled cycle shelters providing convenient access to bikes and topped with a living roof. A rainwater-harvesting system directs water to a miniature forest garden. This is contrasted with an area of dry-garden planting where there is no irrigation. It also includes three 'biototems' providing homes for bees and other insects.
Could Car Less shows how sustainable design can help transform urban areas into low traffic, clean, safe neighbourhoods. It was inspired by a project delivered in 2021 by the social enterprise and charity Regenerus as part of 'Taking Root in Bootle' – a growing community which has been running sustainability projects in the Sefton borough of Merseyside since 2015.
Christine Leung, who is a cyclist and says she and her family love taking their bikes on holiday with them, says of her inspiration for the garden: "I am the project coordinator for Taking Root in Bootle. We secured funding for Growing Circle, a scheme that provided resources for 80 households to grow food in front yards, and to be part of a community composting scheme.
"The project was a real success – greening streets, inspiring growing and creating a sense of community. Community gardens were closed during lockdown, so by facilitating growing on the doorstep, people could still connect with their communities in a small way.
"When the Greener Front Garden category was introduced at Tatton, we thought this would be the perfect challenge to create something that relates to this recent work of greening up residential streets. The main goal was ease of access: how many people want to take their bike for a short journey, but find that it takes longer to get the bike out and ready than it does to complete the task itself?"
Simon O'Brien is walking and cycling commissioner for Liverpool city region, although some may recognise him from TV – he's starred in Brookside, Grange Hill and Coronation Street, among others. It's his job to deliver the metro mayor's vision for increased active travel across all six districts of the city region: Halton, Knowsley, Liverpool, St Helens, Sefton and Wirral.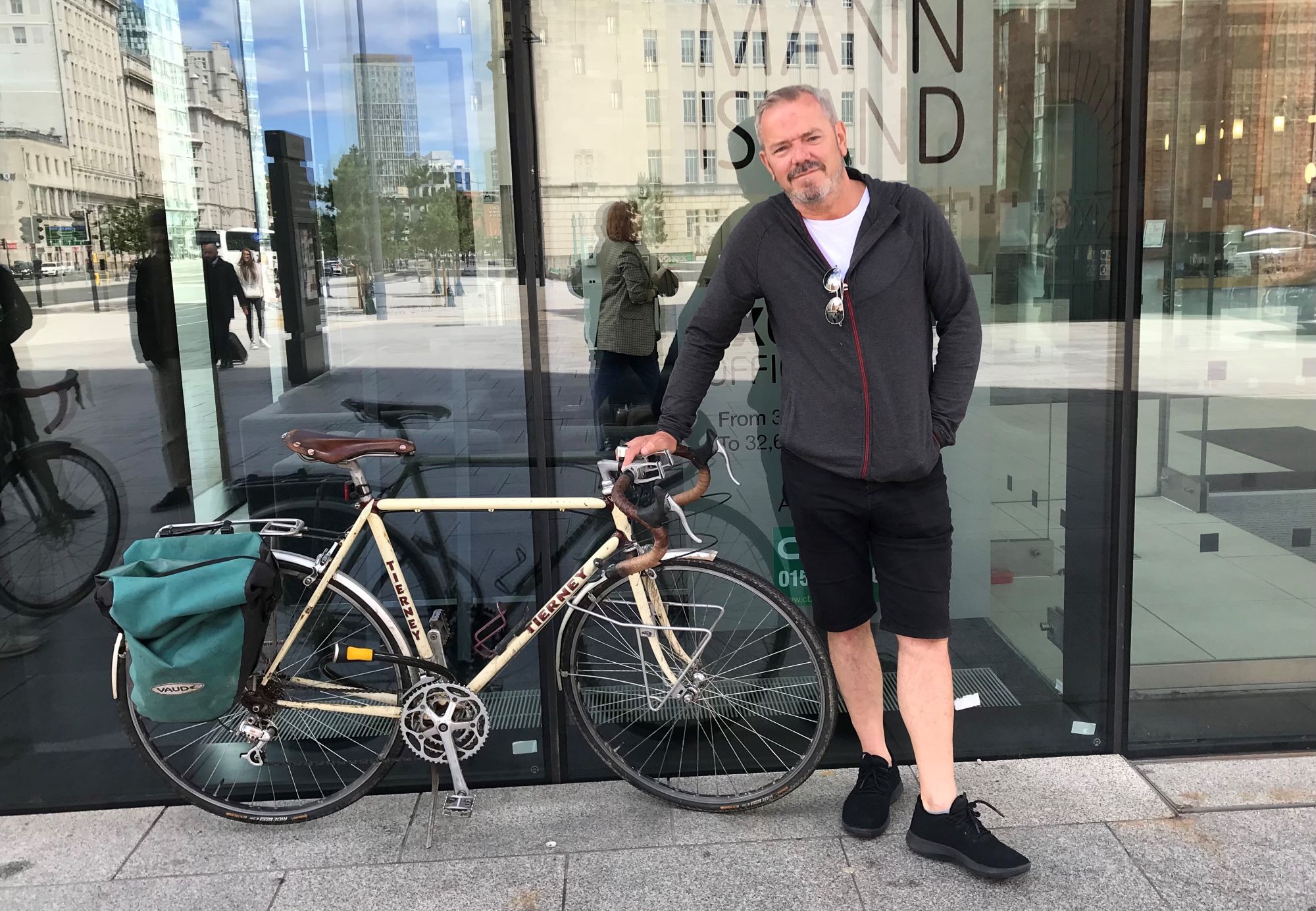 No regrets
A keen cyclist and Cycling UK member, he says he cycles everywhere as "35 years ago, I swapped the car for my bike and I've not looked back since". He visited the garden this week. "It's inspired!" he says. "Answering the questions of where to keep your bike in a small terrace and how to make our streets more beautiful and sustainable."
He describes himself as a "casual gardener". "I am very proud of my pond, though. It's the space that used to be the car drive and it's a much better use of space with newts and all."
Talking about the significance of Could Car Less, he says: "Two thirds of journeys in our cities are short – fewer than 5km – yet half of them are taken by car. Currently only 2% of all journeys in the Liverpool city region are taken by bike and 30% by walking. We're investing in cycling routes to encourage people to switch to two wheels and hope to see more front gardens like this one sprouting in our built-up neighbourhoods.
"Walking and cycling are the answer to reducing traffic pollution in our cities while improving the health and wellbeing of residents. They can also play a part in helping struggling families cope with the current cost of living crisis."
Christine Leung agrees: "I live in a busy suburban area in Liverpool. As a family during lockdown, we walked and cycled a lot as part of our daily exercise. We found this very refreshing and discovered lots of new things in our local area.
"We have a standard metal bike shed at home which keeps our bikes secure, but in order to use my bike, I have to take the children's bikes out first, take my bike out, and then put the children's bikes back. This is a barrier for me, and I know that if I could design something that makes accessing my bike easier, I would definitely cycle more and drive less.
"The garden design is aimed to inspire, and to encourage people to see what's possible in a small space; to have function, beauty and space saving all in one."