Gold medals all round for honesty and inspiration
After the announcement that the Olympics would be postponed until 2021, threatening to undo four years of preparation, the two 2016 team pursuit gold medallists dealt with the news differently. Elinor told us how she has enjoyed many parts of lock down but has recently experienced a "quarter-life crisis", whilst Katie confessed that currently "everything is pants."
On the day of what would have been the Tokyo Olympics Opening Ceremony, the athletes spoke candidly in a heartfelt interview with Cycling UK. Joining host Anna Glowinski for a special edition of An Audience With... they revealed that until the moment the news was confirmed they were both in denial that cancellation would or could ever happen.
Even as competing nations individually pulled out of the competition due to safety concerns, Elinor held fast to the belief that "the Olympics doesn't get cancelled, it just doesn't happen". When the announcement was finally made it hit hard for Great Britain's medal hopefuls.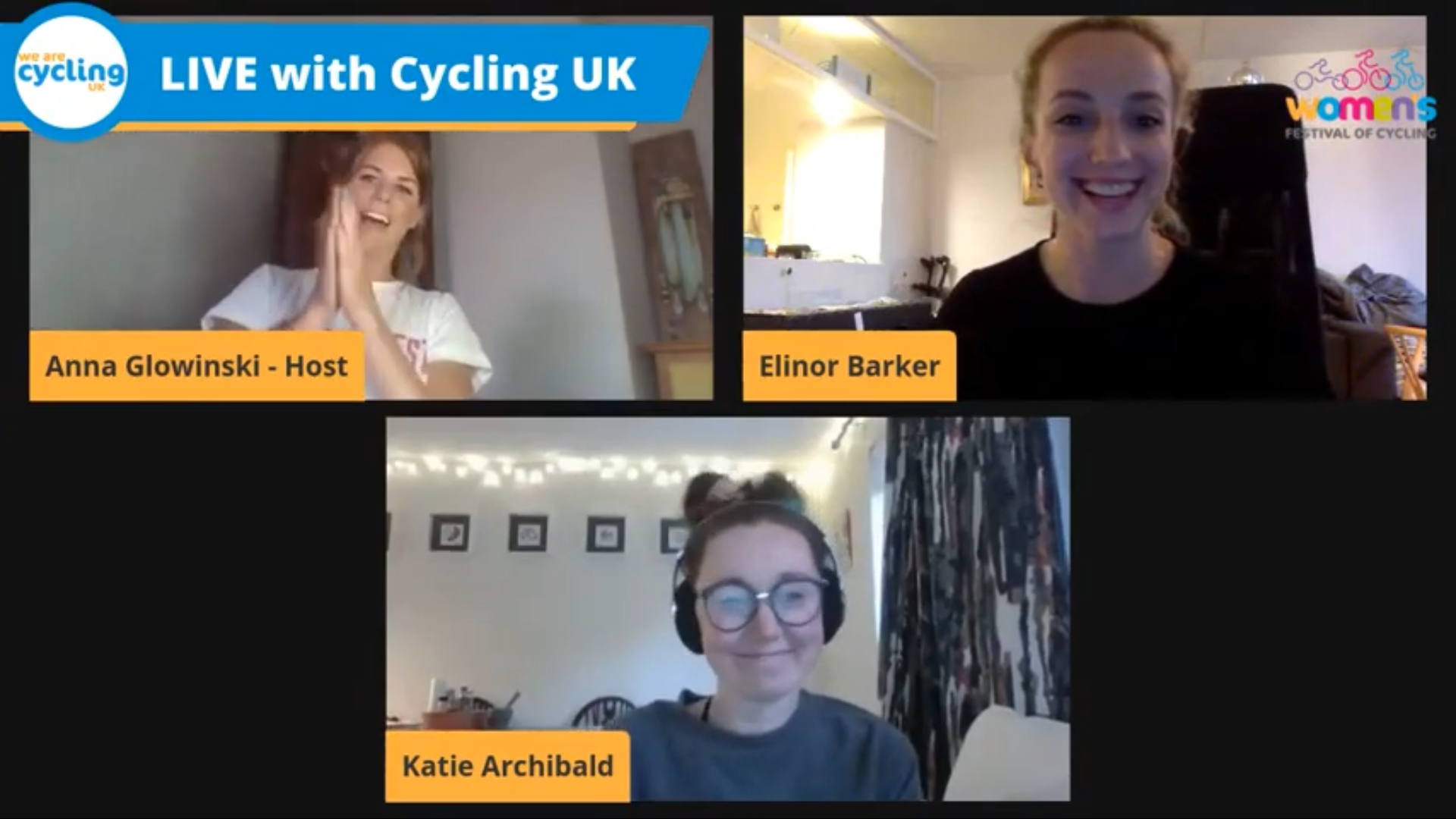 Katie was initially optimistic, believing that with such consistency in training and the enforced recovery time at home during lock down would lead to even more time to prepare for breaking world records next summer. However, like many people during these unprecedented times, her form and mental health have both taken a knock and she spoke about her struggles in the last few days. She says "We've been getting ready for this for four years...the last three days I've been going like cr*p...I've been wallowing." 
Lock down enabled Elinor to enjoy the calmer way of life and lack of travel from no longer having a hectic race schedule. She told us "it has been kinda nice, in spite of things" and took advantage by going on longer rides and putting in a harder training programme. However, lock down has also allowed her to take up a few activities to distract herself and to express herself in new ways, partaking in a few wild activities including bungee jumping and getting a tattoo!
The Olympics doesn't get cancelled, it just doesn't happen.

Elinor Barker
Friday's episode coincided with what would have been the start of the 2020 Olympics and was part of the Women's Festival of Cycling, a 3-week event spotlighting women's cycling and aiming to reduce the participation gender gap  by inspiring and celebrating female cyclists of all abilities and backgrounds. This special interview with Elinor and Katie, athletes, teammates and friends, helps to remind the cycling community that it is okay to express feelings and everyone is in this difficult situation together, no matter who you are.
The chat covered how both started off and their advice for youngsters looking to get into cycling, before looking at their careers to date and exploring their future aspirations. With the absence of Olympic competition an understandably tough loss, they were keen to rival each other in our on-air games, with both hunting through their houses for the most impressive medals and the best cycling swag they could show off on camera! 
To find out why they were waving at a confused Andy Murray, which of them gets angry when they are hungry and if they will sing each other's favourite warm up song live on air, watch the full conversation below.
Cycling UK's series An Audience With… offers in-depth interviews with some of cycling's biggest stars. You can catch up with previous episodes in the series on our Facebook page.