An Audience with... Rebecca Charlton
As much insightful as it was comedy, the pair have been friends for many years having met in the cycling industry and pushed the boundaries of the cycling world together and seen many changes.
Rebecca shared her journey of her career into cycling, after realising that much as she loved the sport and had great racing nouse, she just wasn't physically cut out to make it as a professional racer. That turned out to be a blessing in disguise as she was able to combine her flair for journalism with her passion for two-wheels.
Rebecca presents many of the UK's televised bike races, as well as on the digital platform the Zwift World Championships. On reporting on the Tour de France she said: "I really remember being in a press scrum, and there weren't many females reporters around at that point. When you're trying to get riders and DSs to turn around that have never seen you reporting before, that's a huge challenge!"
As we're currently living in unprecedented times, she tried to draw on her experience of changes in seeing cycle sport move from niche to mainstream and how it can capitalise on a new, tech era to predict what cycling the public may be able to consume going forward.
She acknowledges that there is so much to watch now, which is a far cry from the coverage we had 10 years ago. The Covid-19 situation is bringing things to a halt, but Rebecca believes there is still life.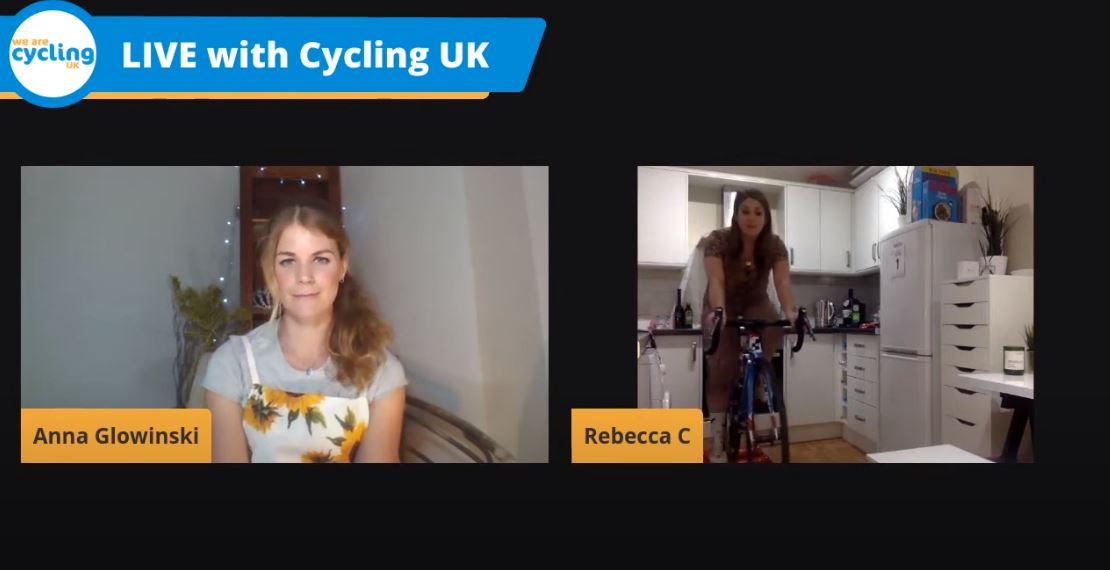 On the cycling community during lockdown
"The cycling industry has been so resourceful as always, and that's why it's brilliant that we are doing chats like this … I've definitely been more connected; amateur riders, pro riders, everyone has been talking a lot, lot more."
The subject of lockdown couldn't be avoided as Anna and Rebecca discussed the pressures of social media in the cycling world and the conflicting opinions and choices that could serve to divide the cycling community.
While many people are exercising their right to go outside to cycling during the day, Anna is not allowed to under the lockdown rules in Spain and Rebecca has chosen not to due to a history with pneumonia.
Rebecca has become an avid Zwifter as she joins friends and family online for a daily ride. However, she thinks it is important that people don't feel pressured by seeing social media posts that make it seem as though everyone is training hard, sticking to schedules and being uber-productive.
Social media advice
Rebecca's lockdown advice is: "I think I felt this pressure to just say yes to everything … you pop online in the morning and immediately see that everyone else has done like 10 things already … but you've got to give yourself a break.
"People are emotional, people are finding it difficult, a lot of us have lost jobs … take a step back and do whatever you need to do to get through the day mentally and physically, and stop worrying that everyone else is doing something that you're not."
Rebecca was a brilliant sport at joining in with some fun and games, as Anna led her into a predictive text challenge and the audience got involved too, with some hilarious results! She also gave everyone some top tips on how to ride rollers and provided a showcase of how it is done.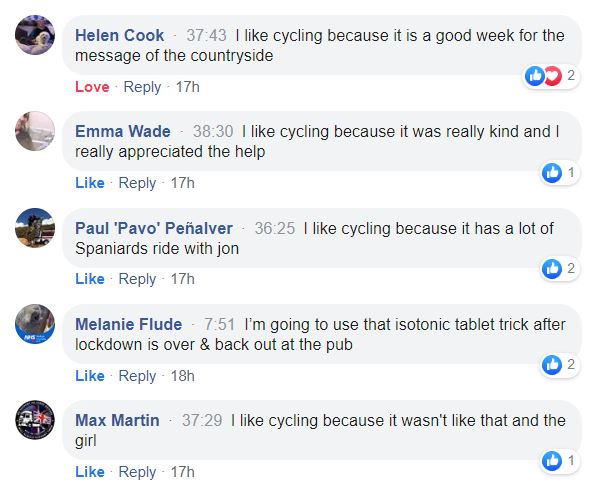 Thanks to everyone who watched and joined in. Cycling UK is running the An Audience with… series to provide entertainment and bring the cycling community together during social distancing, as well as to raise attention to our vital campaigns: free Cycling UK membership to NHS and frontline health workers and our donate to keep the wheels turning.
See you next week for An Audience with… mountain bike pioneer and role model, Veronique Sandler.