An Audience with...Marty MacDonald
Marty is a well-known voice within cycling, but few people know the person behind it. A man of many talents, he has enjoyed a varied career within cycling.
On his career
Marty has commentated on road and track racing, but it is cyclo-cross where his passion truly shines through.
His fan-base were watching last night's episode with their questions lined up, enjoying the stories he treated us to. He explained how to pronounce those Belgian names that can be tricky for an English speaker, and described the explosion of cyclo-cross worldwide to other English-speaking nations, transcending national boundaries to unite a community of mud, sweat and tears fanatics.
He told us about his highlights from inside the cyclo-cross commentary box "One of the most emotional commentaries was Wout Vat Aert's victory, coming back from what was an almost career-ending crash in the Tour de France."
On growing women's cycling
Womens cycling was also touched upon because Marty has long been an advocate and spokesperson for growing the female side of the professional sport. Having been a director sportif for several womens teams, he makes no apologies for pushing for more opportunities, be it for women's races to be broadcast on TV, equal pay for women or the breaking down of barriers to participation. However, Marty does feel that the appetite is there for growth from the inside.​
I love it!! And I have pushed this, when I'm speaking to new channels I'm like, you wanna back this! This is where it's at, this is where the future is at!
On mental health
Marty gave us an open and honest account of living with BiPolar depression. A mix of diet and cycling, along with the help of his doctors has meant slowly being able to wean off medication and manage the symptoms.
Marty wants to talk openly about mental health because it's important that everyone knows this is something we CAN talk about now. He uses cycling every day in his management of mental health issues, but equally recognises that it is also important to be kind to yourself and know when to just kick back and watch TV instead. 
Marty goes on a bike ride every day to maintain his mental health "I always feel better and more productive for having done it, the benefit of it is huge. But then again, if someone is on medication you've got to work with your doctor and professionals that you talk to, to do things properly."
#KeepTheWheelsTurning appeal
As we enter our final push to fundraise £25,000 to offer free three-month memberships to NHS and key workers across the nation, we challenge you.
We're asking you ride 7 miles, donate £7 and nominate 7 friends to take part in our #RideChangeLives challenge.
Last night's An Audience With... kicked off with a game. Marty commentated on a 7 minute event in which host Anna went live against Cycling UK's Partnerships & Philanthropy Advisor, Felix Hilton in a trackstand competition.
This hilarious and tense competition was hotly contested, with Felix declared the winner after 7 minutes of on-screen wobbling inside their own homes.
If you would like participate in the #RideChangeLives challenge, find out more on our JustGiving page and make sure you use the hashtag so we can see you taking part!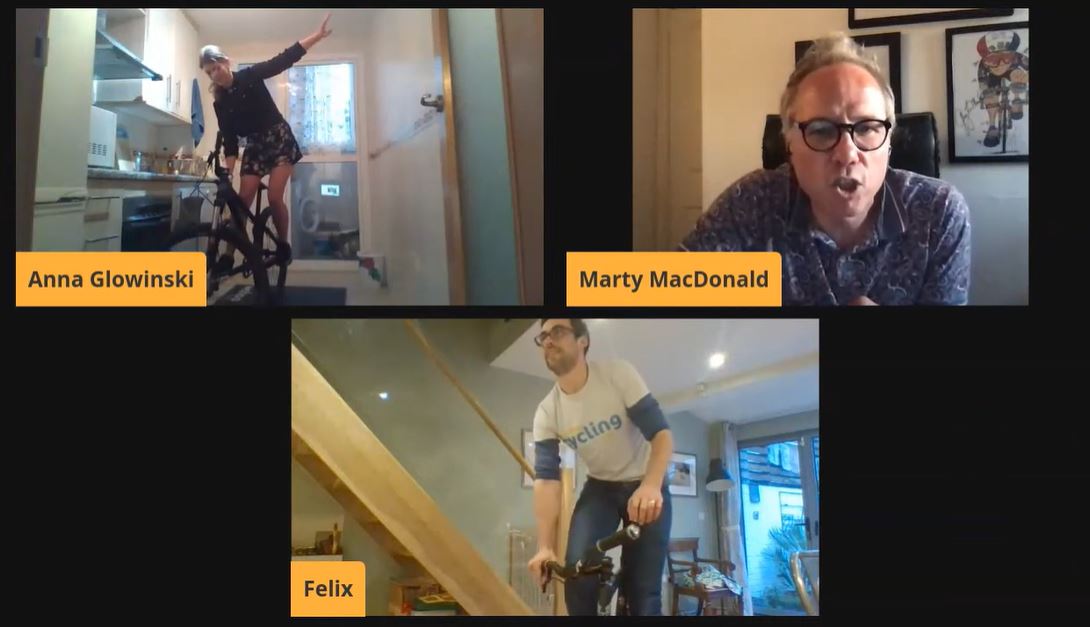 Thank you to Marty for being such a wonderful guest and as always, to the audience for joining in with questions, comments and emojis throughout. 
Tune in for a lively double-act for next week's mountain biking themed An Audience With...Olly Wilkins and Ben Deakin.
Get Reminders on Facebook or YouTube