How time in the saddle helped Amanda get in shape for the show ring
Following months of the first national lockdown, it was a day horse-rider Amanda Millard had been eagerly anticipating. When her first equestrian show of 2020 finally arrived in July, she was delighted to be back doing what she loved, but dismayed to find out how unfit she felt, prompting her to get her mountain bike out of storage in a bid to improve her fitness.
Fortunately, Cycling UK's Big Bike Revival Dr Bike sessions were on hand, with experienced mechanics able to fine-tune the bike's performance so that Amanda was soon sailing up hills in harmony with the machine almost as smoothly as she was used to trotting and cantering around the show ring on horseback.
Amanda, from Bilston near Wolverhampton, who competes on her horse Flemingtown Joey (Joey Pony for short), was searching for an activity would help improve her cardiovascular fitness. She was looking for something that would make her fitter to benefit her riding. She said: "You need to be fit for cantering around the show ring in short sharp bursts.
"I used to do a lot of road running until I injured my knees which is why I got a bike. I then lost interest and it wasn't until the Covid restrictions that I decided to get out on it again.
"My bike is perfect and riding uphill gets the heart pumping."
Since shows resumed in July, Amanda and Joey have competed in seven competitions. "After realising I was so unfit at my first show I decided to up my game on my bike and use my sessions to get fitter by climbing hills.
"Pattingham, where I cycle, is very hilly, ranging from gentle inclines to steep slopes, and I tend to cycle a route where I encounter both. I love the way that cycling makes you feel good when you complete a ride, particularly if I can manage the hills without stopping."
My bike is perfect and riding uphill gets the heart pumping

Amanda Millard
Amanda took her bicycle along to the Dr Bike sessions run by her employer, Wolverhampton council.
"Chris did a check-up of my bike and adjusted the gears, saddle and handlebars and saddle to make cycling easier. I cycled 12 miles in total to get to and from the Dr Bike workshop, on busy main roads that I wasn't used to riding on as I tend to stick to country roads. The journey back was much easier and quicker."
Amanda, who works in the highways department at the council, said getting her bike serviced gave her the confidence to ride the bike which had not been used for two years.
The outdoor show season has now closed and indoor events have also been cancelled due to Covid-19, but Amanda will continue to ride and exercise 11-year-old palomino Joey during the winter – as well as keeping up her training on the bike as England enters its second national lockdown, which is due to extend into the beginning of December.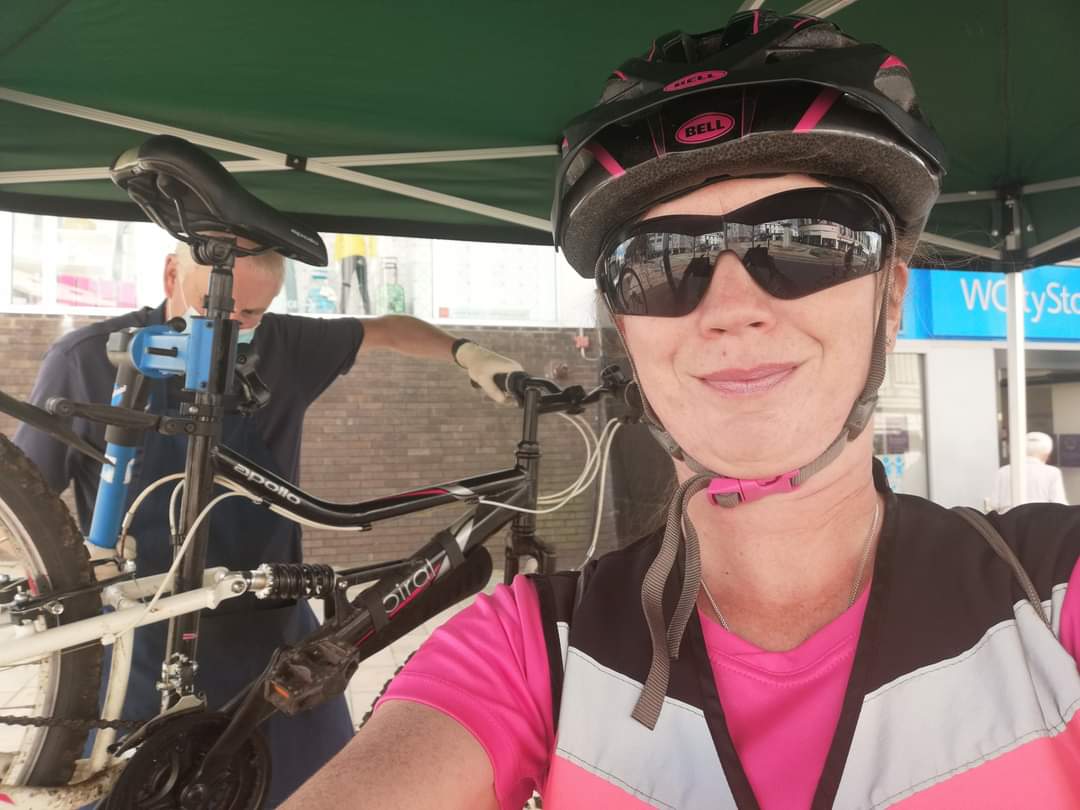 Cyclists and horse-riders teamed up two years ago to launch a consideration and courtesy awareness message. Cycling UK and The British Horse Society joined forces to promote the 'Be Nice, Say Hi' campaign to help cyclists and horse-riders to pass safely.
Horses can react quickly when startled, so the two charities encourage cyclists to ride slowly and call out a greeting in the presence of a horse and rider before overtaking wide and slow. By alerting both rider and horse, cyclists are reducing the risk of the horse reacting unexpectedly and reducing the risk of injury to all parties.
Two videos were produced to emphasise the message, one covering riding on roads and one dealing with off-road riding.
The two charities have also worked together to make representation to the government about proposed changes to the Highway Code, consultation on which closed last month.
Cycling UK has called for the introduction of the concept of a 'hierarchy of users', putting road users most at risk in the event of a collision at the top of the hierarchy. That's pedestrians, in particular children, older adults and disabled people; cyclists and horse riders are next, followed by motorcyclists.
It wouldn't remove the need for all users to behave responsibly or give priority to pedestrians and cyclists in every situation, but the change would ensure that their needs were considered first.
It would also mean that people in charge of the largest vehicles, with the potential to cause the most harm in a collision, would bear the greatest responsibility to reduce the danger they pose to others. So, a lorry driver would have a greater responsibility to those driving a car or motorcycle, and likewise someone who was cycling would have a greater responsibility than a pedestrian.