Our second annual Women's Festival of Cycling 2018 makes history
The hot weather may not be everyone's cup of tea, but for most cyclists the month of July has been a wonderful time to get some fresh air and enjoy long days and evenings in the saddle with friends old and new, revelling in the warmer temperatures, lack of mud and the chance to ride without loads of layers covering the extremities – and, of course, savour a cup of tea and a cake or two!
The Women's Festival of Cycling, organised by Cycling UK, provided almost 60 different women-only rides throughout the UK put on by around 50 separate individual organisers. There were many 'female-friendly' ones too, which were open to men as well but aimed to be especially welcoming to women.
Ranging from large rides for dozens of women to those with just a handful, there was a wide variety of activities to take part in both on and off-road, supported with cheerful Women's Festival of Cycling bunting and goodie bags supplied by Cycling UK.
A few of the highlights
Several rides used an historical angle to tie in with the theme of 'Cycle Liberation' – hashtag #cyclelib – as we celebrated 100 years since the first women in the UK were given the vote in 1914. Many suffragettes were enthusiastic cyclists as well as tenacious campaigners for female rights.
Cycling UK Lincolnshire's women's group held a ride with a 1940s theme as part of a local weekend event. In Horsham, West Sussex, a group visited by bike some of the places in the town that were frequented by the poet Percy Bysshe Shelley and his grandfather.
Ride leader Thea Bredie Turnbull commented: "This is exactly what the Women's Festival of Cycling is for: getting more women out on bikes! All participants said they enjoyed the ride a lot and five women asked for more health rides. In fact, inspired by the event, two of them – a mother and daughter duo who had borrowed bikes for the ride – then took part in a 16-mile ride to a local café."
"This is exactly what the Women's Festival of Cycling is for: getting more women out on bikes!

Thea Bredie Turbull, organiser of the Shelley Ride in Horsham, West Sussex
Meanwhile, in Southampton there was a cycling tour of the places associated with the famous (and not so famous) women who called the city home and contributed to its rich history.
Elsewhere, a group of mountain bikers visited some of the houses in the Surrey Hills in which many of the suffragettes – including mother and daughters Emmeline, Sylvia and Christabel Pankhurst – took refuge in early in the last century. Ride participants then watched a plaque being unveiled at the Dutch House in Holmwood, former home to the Pethick-Lawrences, who played an epoch-making role in female liberation and many other areas of social justice.
This followed a ride organised as part of the launch event for the festival in Manchester in late June. The ride saw a large and diverse group of women – including many of our 100 Women in Cycling 2018 – being led around some of the places the Pankhursts lived and worked in the city.
The suffragette connection was further explored during a talk at Colliers Wood Library in south London. The subject was Rose Lamartine Yates, Cycling UK's first female board member and a well-known figure in the women's suffrage movement.
Scotland saw a large turnout for the Belles Big Bike Ride in Falkirk. The ride consisted of a 40-mile loop and participants were invited to bring a picture of a woman who had inspired them – which could be anyone from their mum to a suffragette.
The event was about inspiring and encouraging other women to ride and have a great day out together in the beautiful Forth Valley. All 50 places were filled, with 16 volunteer ride leaders turning out to support them. Tayside Belles on Bikes also registered a ride for the festival.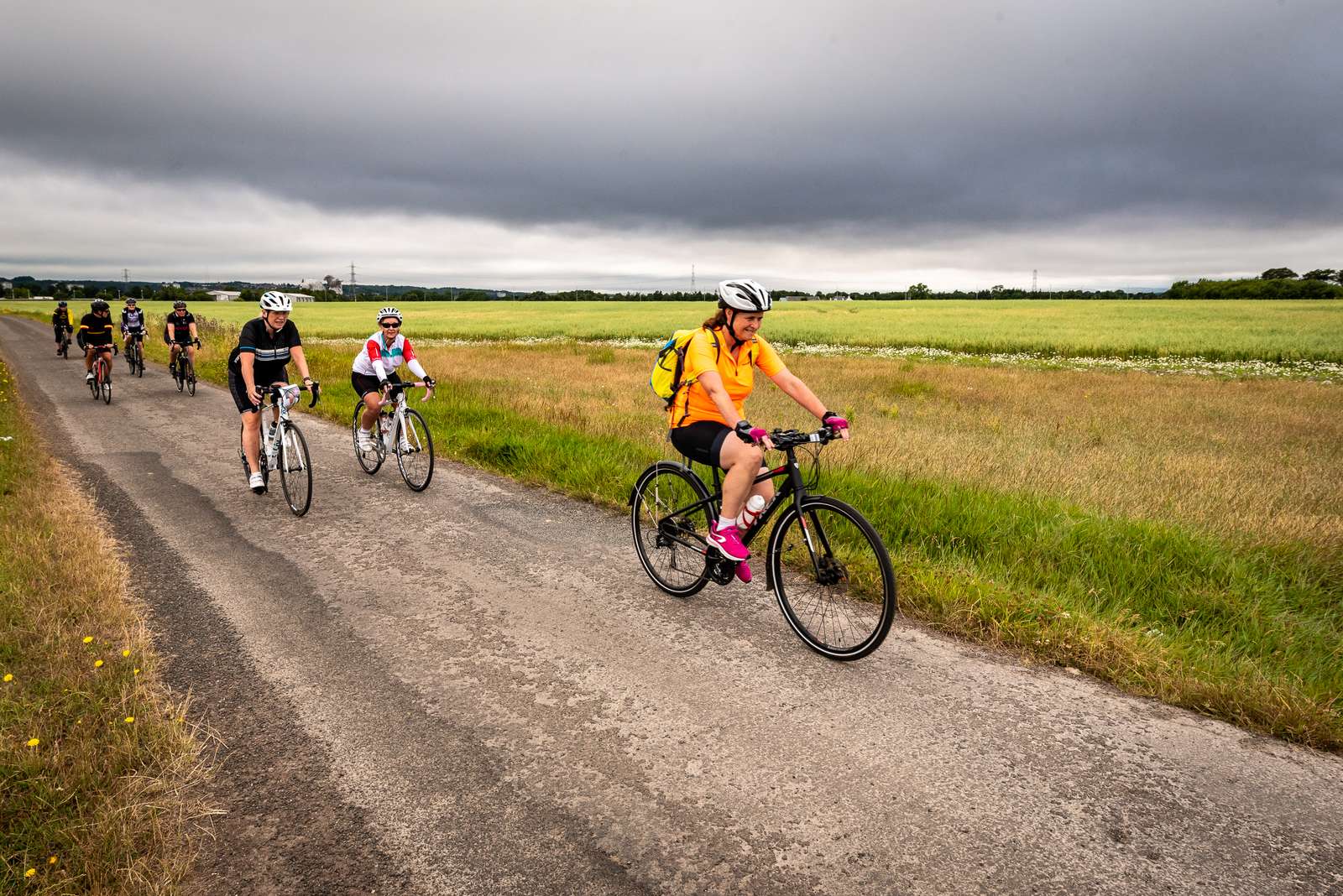 Also in Scotland is the Heels to Wheels Cycle Festival in Kilmarnock on Saturday 4 August. The event aims to inspire more women into the saddle, with lots of bike rides and activities including Dr Bike, electric bike trials, inspirational speakers, a Bling your Bike competition, coffee and cake plus a variety of rides of different distances. There'll be a women-only ride from Prestwick to the festival in the morning, led by Cycle Ayrshire.
There were golden cornfields, trout lakes – and quite a lot of chat!

Ann Kinahan, Liskeard Ladies
At the other end of the UK, Liskeard Ladies, a group that is part of CTC Cornwall, enjoyed a ride down gentle country lanes with "golden cornfields, trout lakes and quite a lot of chat".
Organiser Ann added: "Eight of our Liskeard Ladies met together for this special Women's Festival of Cycling summer ride and were delighted to welcome a new member, Laura, to try out one of our rides. We were also very pleased to have Gail on her e-bike, putting us all to shame as she pedalled effortlessly past us up the hills."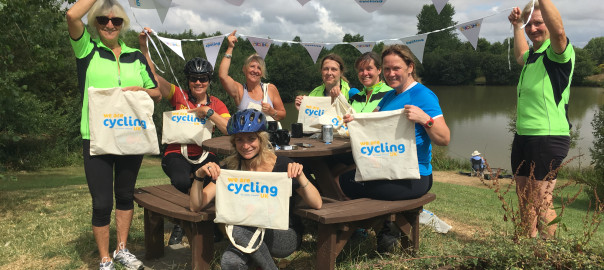 In the south of England, bike shop Biketart organised its first Women's Festival of Cycling ride around the local woods and lanes. Vicky from Biketart said: "It was a really good turn out and we were thrilled. A couple of people couldn't come on the day but it's the first event we've done for women so I'm encouraged that we got as many as we did."
There were also rides organised by groups in Farnborough, Harlow, Seahaven, Guildford, Godalming, Portsmouth, Southampton, Westcliff on Sea, Southend, Bicester, Ampthill, Reading and Southwold.
The ladies swapped phone numbers and plan to cycle together in the evenings

Monica Mehers, Bicester Social Cycling
Monica Mehers of Bicester Social Cycling commented: "Three of the riders had never ventured out of Bicester. They were also very surprised at the quiet through roads there were. On our return, the ladies swapped phone numbers and plan to cycle together in the evenings. They also plan to join the Wednesday evening healthy cycle that we run."
The region with the highest number of rides was the West Midlands, where most of our Community Cycle Clubs put on rides aimed at encouraging new women from a diverse range of backgrounds to join in. They included Ashiana, Handsworth Beat the Street, Run Birmingham, Balsall Heath, Saheli Ward End, B10, Share Calthorpe, Sara Park and Joyful Bellas and Fellas CCCs, as well as Coventry CTC Member Group and Warwickshire Ladies cycling group.
On Monday 30 July, there's Women's Festival of Cycling Evening in Lichfield hosted by Happy Healthy Cycling. It includes:
Social and coached cycling sessions – beginners and novice

Roadside repairs class
Samples of artisan gins
Nutrition with Helen Barklam
Handmade jewellery and accessories
Closed road cycling session with maintenance session
Further north, a women-only Trans Pennine Trail cycle ride took place in Penistone, with further rides in Nottingham, Sheffield, Liverpool and the Wirral. Cycling UK's Lincolnshire's Women's Group held three rides during the month, including a slow 100km one.
Café Adventure in the Peak District led an off-road ride in the beautiful Hope Valley, while Wensleydale Bike Club in the Yorkshire Dales put on some free MTB skills sessions suitable for all ages and aspirations every Sunday throughout July.
Streetbikes CIC, an award-winning Cycling UK affiliated group focused on all-ability cycling, ran well-attended female-only sessions at Spenborough running track near Huddersfield.
In the north-east, rides took place in Newcastle and Peterlee, with two five-mile starter rides organised from Whickham near Gateshead. The Welsh Festival of Cycling in Ruthin also enjoyed a women's ride led by long-term CTC Cymru volunteer Lowri Evans.
The Women's Festival of Cycling for 2018's grand finale will be the Wirral Celebration Rides on Saturday 4 August. There'll be a choice of 35-, 15- and five-mile circular routes starting from Wallasey and led by female ride leaders.
Why the need for a festival for women?
Women continue to be underrepresented in cycling, despite the activity's growing popularity. The reasons for this are many and complex, and include cultural, social, psychological and physical barriers, but the above quotes show that, with the right encouragement and support from their peers, many are willing to give it a go and may turn into long-term cyclists.
While we would hope that women feel able to join in any mixed group rides where possible – and we also have a wide range of female-friendly options available – women-only rides feel like safe spaces in which the less confident are able to ride at their own pace, while others also enjoy their convivial atmosphere.
The festival highlights the fact that women can, and do, cycle – whether they are wearing cycle-specific clothing or any other kind of attire. With the Tour de France in full swing, it's easy to form the impression that it's an extremely difficulty activity solely done by the archetypal MAMIL (Middle-Aged Man in Lycra).
What next?
Cycling UK hopes that once the festival is over for another year, many of those that have been out on these rides, as well as many other women of all abilities and backgrounds, will continue to cycle for the sake of their health, both mental and physical, their sense of freedom and adventure, but, just as importantly, because it's fun!
Here's to another successful event in 2019. We'll be adding to and improving our current offer for women, adding further resources and increasing their visibility in cycling. If you'd like some help putting on or organising rides for women, please get in touch with us.
Thank you!
Many many thanks to all those who organised, promoted and supported these rides. We hope you enjoyed being part of the Women's Festival of Cycling 2018 and look forward to seeing you again in 2019!