Celebrating the start of the Women's Festival of Cycling 2018
From Bloomers to Baggies and Beyond was a multi-faceted event, bringing together many of this year's 100 Women in Cycling and other guests to discuss gender equality in cycling and to celebrate those committed to closing the gap.
One hundred years on from the Representation of the People Act, the overarching theme of the day was 'Cycle Liberation' – how the bicycle has given freedom to women in the past and present, and will continue to do so in the future.
In the first of the day's three keynote speeches, mountain bike guide Aneela McKenna gave us a history of the British woman on the bicycle. On a personal level, she talked about the huge changes she has seen in her own discipline over the decades, her voice breaking as she described the first time she saw a woman on the cover of a mountain biking magazine. Aneela's engagement with the audience was free flowing; from the very start, the majority-female audience were offering their own anecdotes and stories of being seen as a novelty.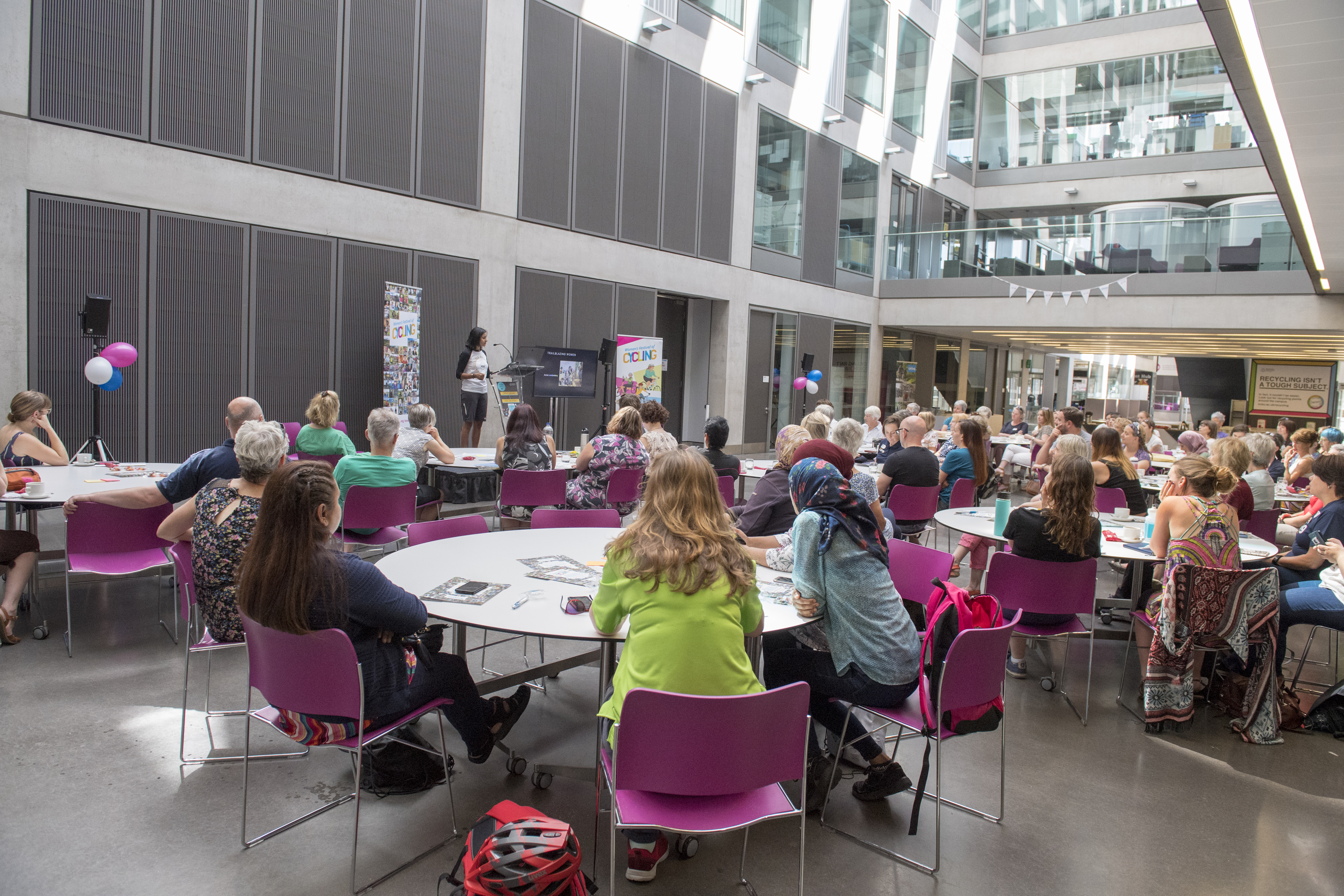 Aneela commented: "We have made such great strides, we are breaking the mould and changing things. That's all because of the women here today, who have participated and played an active role in making a difference in their industry.
"The key message here for me today is that we need to work in solidarity; we need to look out for each other; we also need to campaign and we need to get more leaders and women involved in cycling."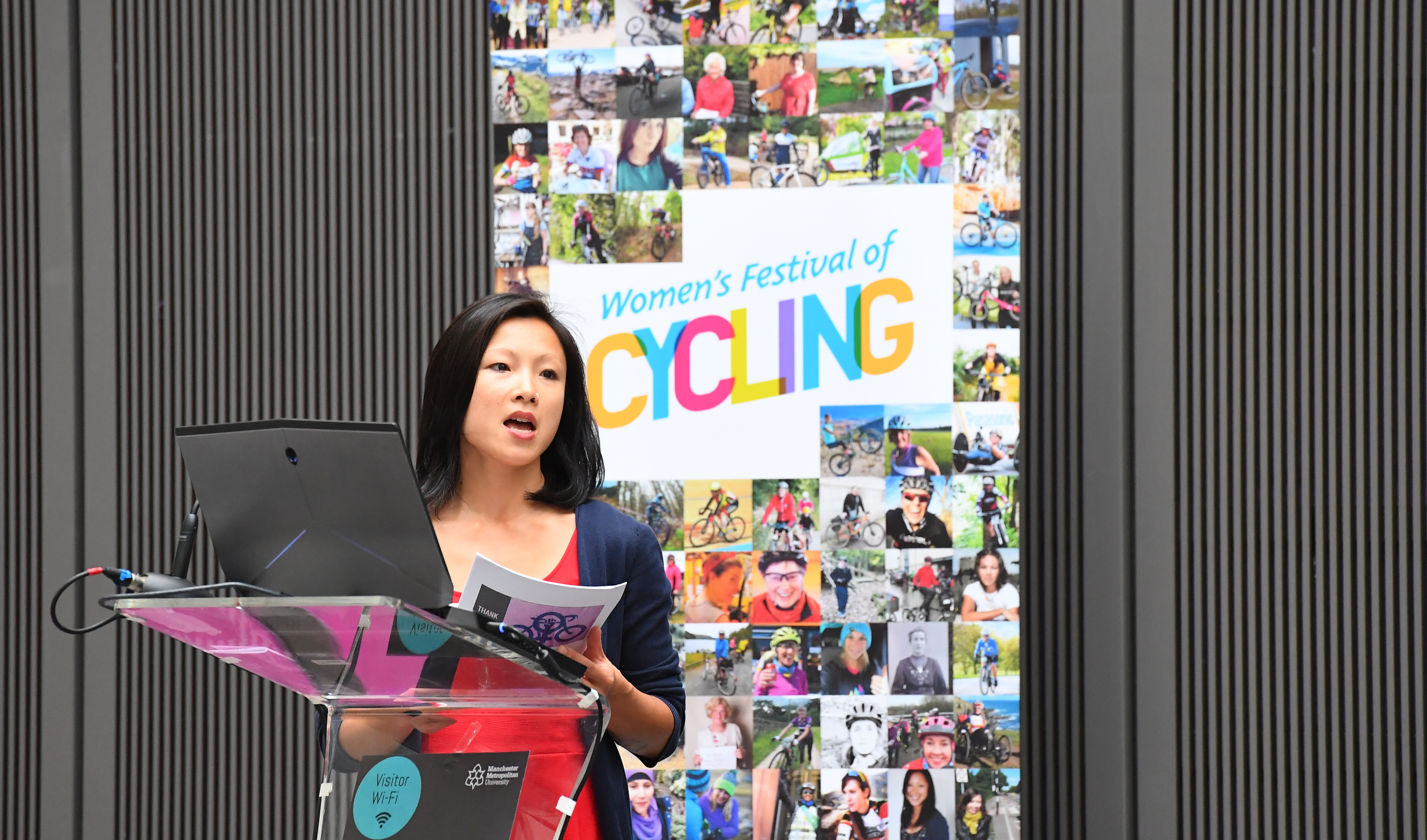 Tiffany Lam then stepped up to share her academic research into the gender cycling gap, how vast it is in western, English-speaking countries, and how it can be subtle, unconscious biases – the language we use in infrastructure, for example – that permit it to continue to exist.
For instance, the terms 'cycle superhighway' and 'quietway' in London have arguably divided cyclists and knocked confidence in women and others who feel they do not match up with the speedy male in Lycra. (Pleasingly, event host Manchester's planned 'Beelines' should promote a much more inclusive vibe.)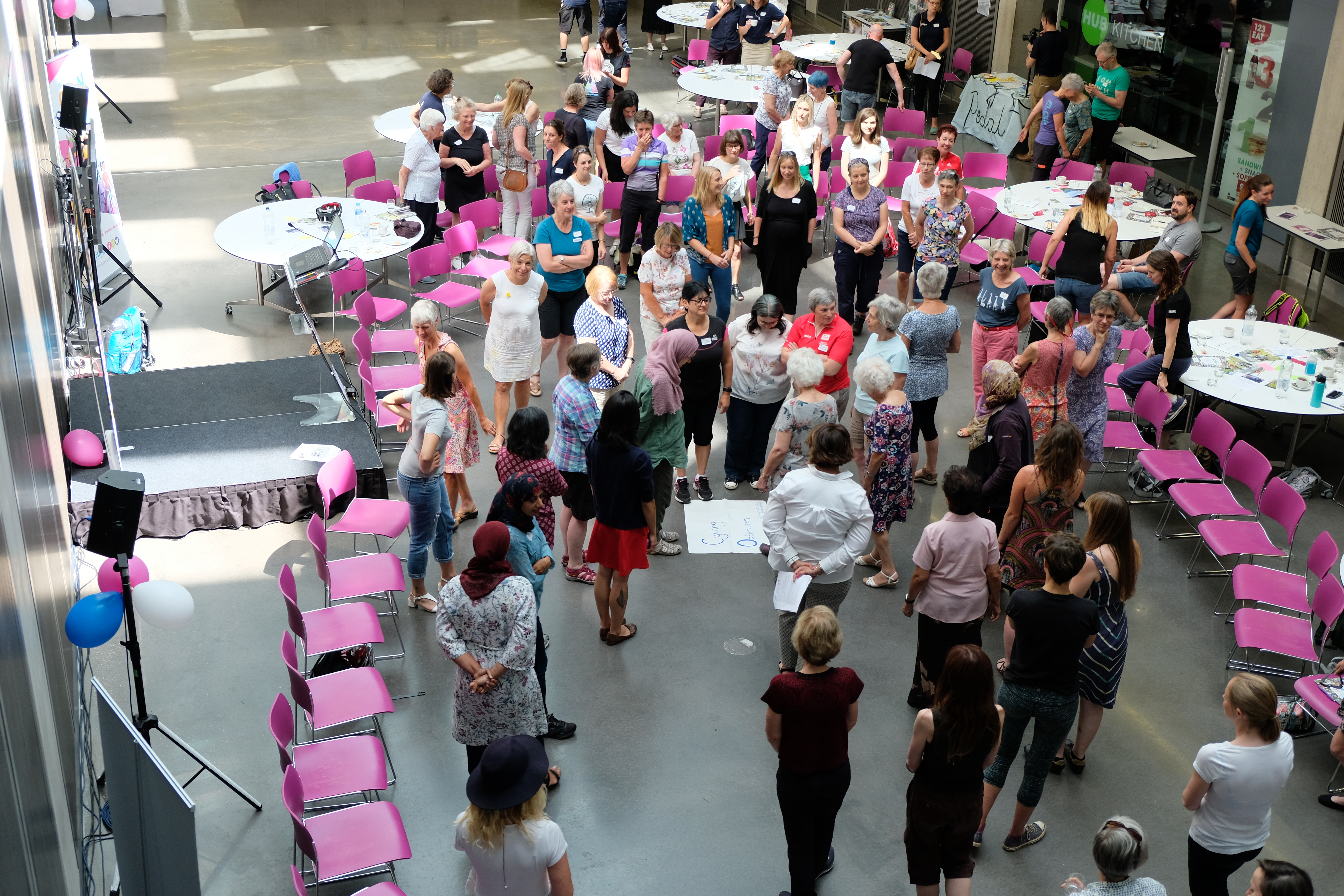 The post-lunch food coma was staved off by Eve Holt, the final speaker of the day, who had everyone on their feet to show where they quite literally stood on her topic of cycling optimism.
The crowd was asked to share stories of why or why not they were feeling good about the prospects of women in cycling, and the response was overwhelmingly positive.
One gem was: "I feel optimistic because my daughter is out on her pink bike with attitude!". In fact, children and grandchildren featured in many of the stories, which was heart warming to hear.
It's really important to be a good role model, not just for other women, but for children cycling as well

Nadjie Butler, 100 Women in Cycling 2018 nominee
Nadjie Butler, one of this year's 100 Women in Cycling, said: "It's so important to keep talking about women in cycling. Often women don't feel they are able to cycle for a number of reasons: costs, clothing, not being 'good enough', worries about traffic and so forth.
"As a mother and as a woman, it's really important to be a good role model, not just for other women, but for children cycling as well. If they see their mother cycling, hopefully the children will take up cycling too."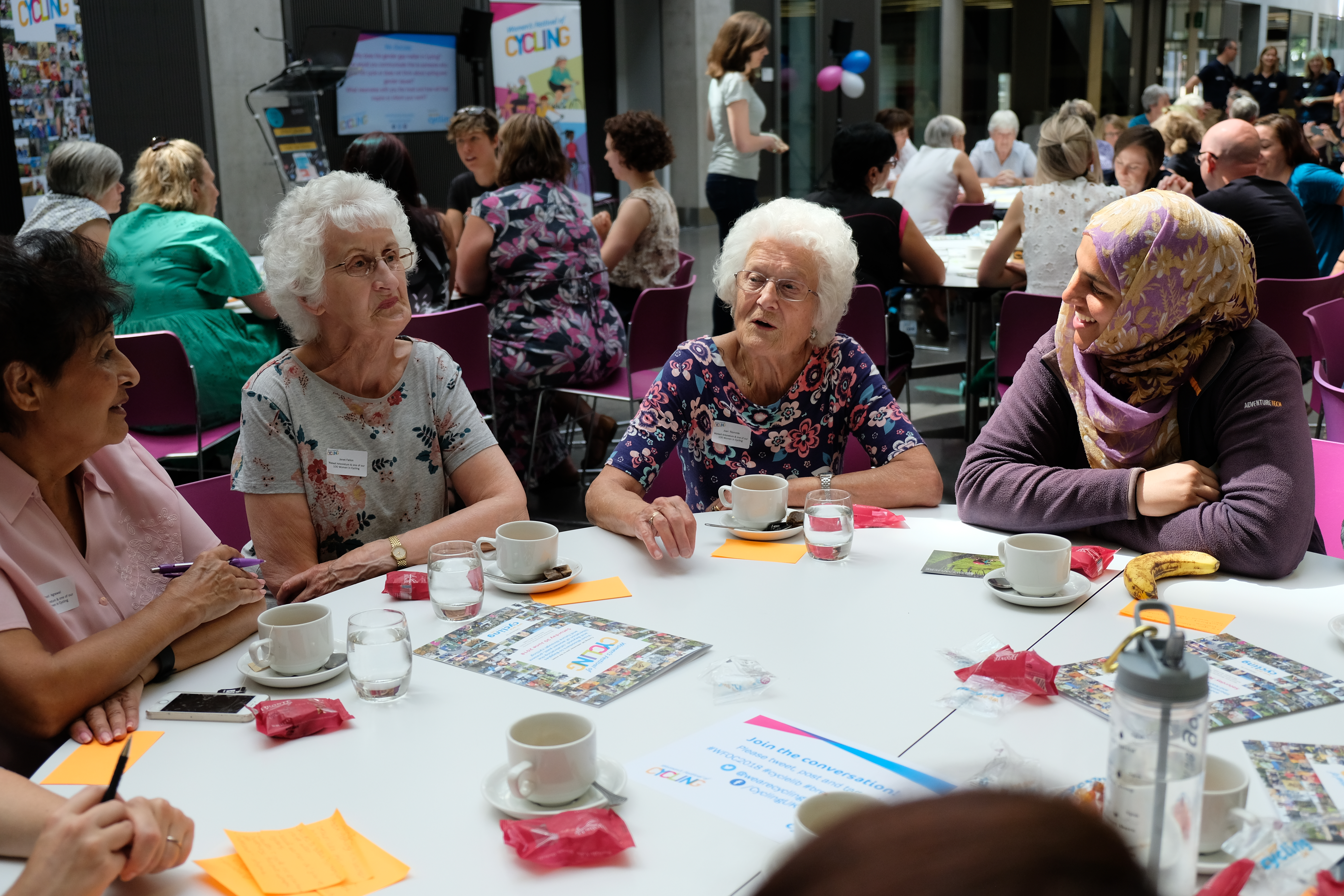 The atrium was then filled with applause, as the attending 100 Women in Cycling, a good half of the list, were asked onto stage. Cheered continuously, each woman was greeted by Cycling UK trustee Jaki Lowe and presenter and fellow 100 Women nominee Anna Glowinski to receive a rosette and card.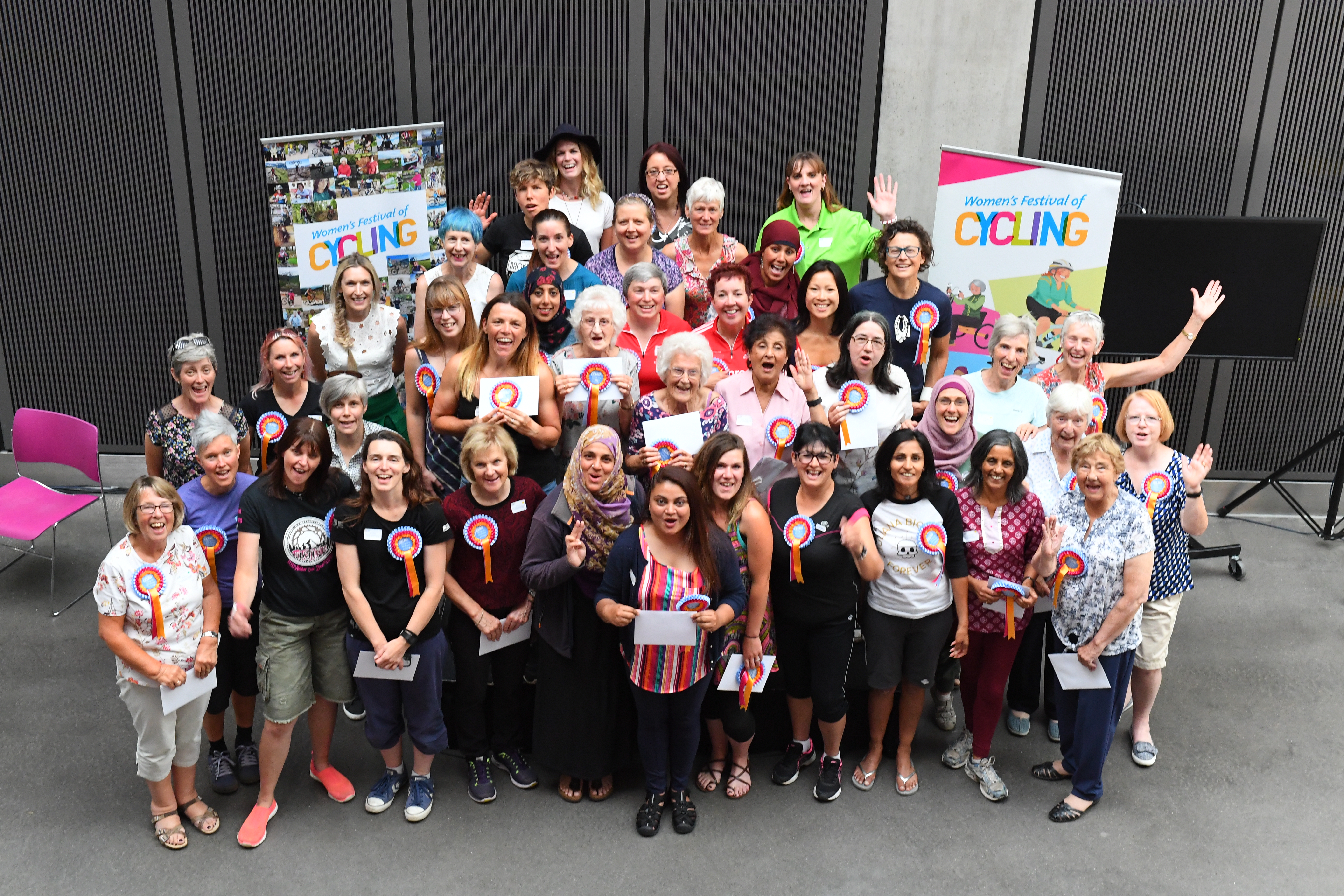 Having a crowd of 100 inside during a glorious heatwave was a big ask, and one rectified by the final activities of the day. Attendees could choose between a wander over to the Pankhurst Centre or a bike tour taking in a number of must-see sites of the 'suffragette city'.
The ride was inevitably hugely popular, with around 50 women cycling. Their bikes – Bromptons, local rentals, old Dutch shoppers and fat mountain bikes – reflected the variety of women coming together.
Manchester looked radiant in the sunshine as the tour took to the city's streets, bike bells chiming. It was less an end of a day, more the start of something bigger. The Women's Festival of Cycling couldn't have started with more hope and happiness.