Going the Extra Mile: meet the winners of Cycling UK's Volunteer Awards 2019
From all over the country, Cycling UK volunteers, staff and Trustees came together at the Coin Street Conference Centre in Central London to celebrate the incredible efforts of some of our most outstanding volunteers. 
Cycling UK's Head of Volunteering Alex Cuppleditch welcomed the guests, telling them that the theme of the day was 'Inspiring Volunteers': those who are themselves inspirational and those who may be inspired to become volunteers too. 
Chief Executive Paul Tuohy followed, saying that the Volunteer Celebration was a chance to not only showcase the efforts of the 30 finalists in the ten categories of our Volunteer Awards but also shine a spotlight on all those who volunteer their time, energy and effort to Cycling UK by carrying out vital tasks such as moderating our forum, researching our history and contributing their expertise to our road safety videos. As well as the more traditional volunteer roles being recognised through the Going the Extra Mile Awards, such as ride leading, forming and organising cycling groups and campaigning for better conditions, both on and off-road.
Paul then introduced the keynote speaker, Cycling UK member and Guinness Round the World record holder Jenny Graham, who almost a year to the day set off from Berlin on her epic journey to become the fastest female cyclist ever to complete the circumnavigation of the globe in an incredible 124 days, 20 days faster than the previous record.
Jenny spoke about how she hadn't been particularly sporty at school but she had been inspired by volunteers who put on outdoor activities to become more active herself and now subsequently volunteers through the Adventure Syndicate, which she is a Co-Director of, to promote achievement through cycling to other youngsters by 'inspiring, encouraging and enabling' them to push their boundaries.
The audience listened as she then went on to describe her extraordinary journey and all its highs and lows, with video clips showing in graphic detail the full toll on her mind and body of attempting to average nearly 156 miles a day in the saddle! 
After Jenny's speech, it was the turn of the volunteers themselves to take centre stage as Jenny presented the awards.
The winners were selected by  the Awards Committee made up of Cycling UK staff and Trustees. Dozens of submissions were received from staff and Cycling UK supporters. The winners were selected by the quality of the nomination itself and the group's or individual's connection to Cycling UK's mission of enabling millions more people to cycle.
The winners 
Best Cycling Programme - HOPE for Autism                                      
Supported by Cycling UK Development Officer Jeff Frew, HOPE for Autism of North Lanarkshire was selected for its outstanding work teaching youngsters with autism to cycle, giving them an opportunity they may not otherwise have. Their nomination said: "The dedication of their volunteers is second to none and they are always willing to 'Go the Extra Mile' to help and support individuals to build their confidence through cycling activities."
Outstanding Young Achiever - Blaen Roberts of Liver Pedlaa Pool
Twenty-one-year-old Blaen Roberts of Liver Pedlaa Pool. Blaen was the outstanding nomination in this category for his work attempting to reduce knife crime and gang violence in the Liverpool inner city area by creating an outlet for youngsters that diverts their energies into building their skills as cyclists. With up to 200 young people attending weekly rides and over 10,000 followers on Instagram, it's clear to see the group is having a great effect. Liver Pedlaa Pool is a Cycling UK-affiliated group and was supported by our Cycling Development Officer Chris Alston.
Outstanding Campaigning Individual - Ted Liddle
Cycling UK member and long-time off-road campaigner, Ted Liddle has devoted hundreds of voluntary hours to creating long distance, user-friendly cycle routes in the UK and abroad. He created the Sandstone Way in Northumberland and is currently working with Cycling UK on a signed off-road Land's End to John O' Groats project. 
Outstanding Campaigning Group - Ride Sheffield
Cycling UK-affiliated off-road campaign group Ride Sheffield impressed the Awards Committee with its commitment to improving conditions for mountain bikers in the Sheffield area and its work on the 'Be Nice, Say Hi' campaign, which is now being rolled out by Cycling UK in other areas.
Exceptional Individual in a Cycling Programme - Sarah Javaid, Cycle Sisters
Sarah Javaid founded and runs Cycle Sisters in Waltham Forest, North London after realising there was a need for a culturally-appropriate cycling group aimed at Muslim women. The committee were impressed by her dedication to providing regular cycling opportunities to a group currently very underrepresented in the activity. In her presentation later on in the day, Sarah was accompanied on stage by a couple of members of Cycle Sisters, who spoke movingly in person and on film about their improved mental and physical wellbeing and passion for cycling after joining the group.
Best Community Project - Bike Park Bishopstoke
Hampshire-based Bike Park Bishopstoke consists of passionate mountain bikers who work with the Forestry Commission and support from Cycling UK to build and maintain trails and jumps. The park has been totally constructed by volunteers and is free for anyone to access, encouraging healthy outdoor activity and positive risk-taking.
Best Cycling Event - Early Spring Challenge, Two Mills (Wirral) CTC
This annual event is part of Cycling UK's Challenge Ride Series and was recognised for the dedication and hard work of its team of volunteers, led by Janet Gregory, who has been organising the ride for the last 12 years.
Best Cycling Group - Winchester CTC
Cycling UK Member Group Winchester, ably led by long-term Secretary Sue Coles, is a shining example of a well-run and inclusive cycling club. It now has around 90 ride leaders and puts on a wide variety of rides and events for people of all ages and abilities. 
Exceptional Individual in a Cycling Group - Harry Burton, South Manchester CTC
Another exceptional volunteer is Harry Burton, Secretary for an amazing 25 years of Cycling UK Member Group South Manchester CTC. Harry has helped South Manchester CTC to cultivate a friendly and inclusive ethos that is so vital in attracting newcomers. He also has outstanding organisational skills!
Exceptional Individual in a Community Project - Susan Nicholson, Social Track
Susan Nicholson was the outstanding nominee in this category, with many people putting her name forwards for her extraordinary passion, hard work and determination, which enables hundreds of children to receive free sessions and a meal as part of the 365 Programme at the Wishaw Community pump track, leading to a sharp drop in crime such as arson in the local area. Social Track is a community enterprise that is affiliated to Cycling UK.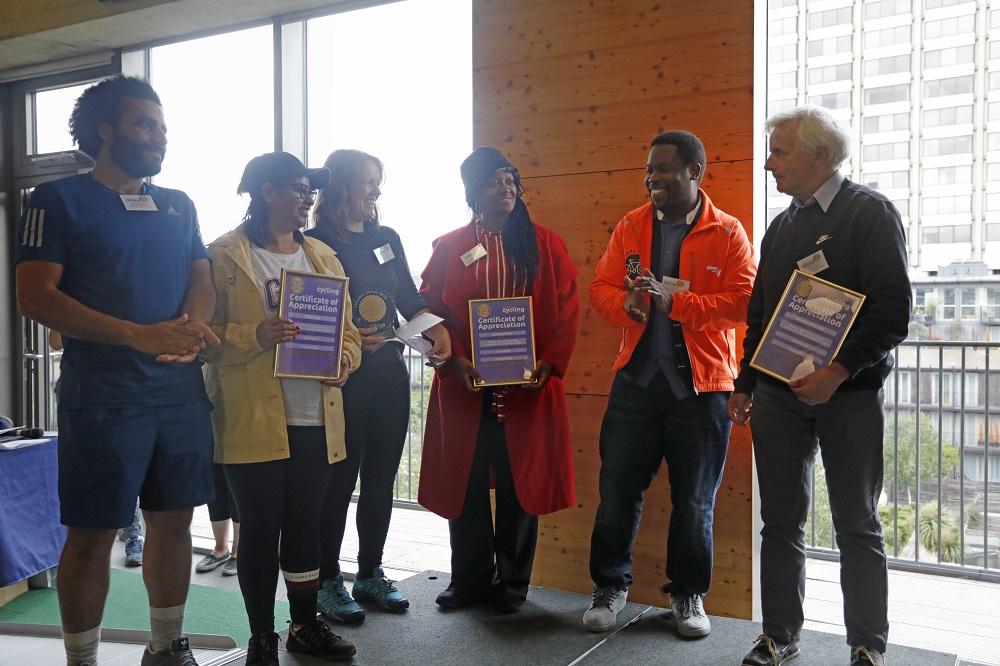 Speakers and presentations
Later on, we also heard from Susan, who is based near Glasgow, about how her project had not only changed the lives of the youngsters she works with but also her own as she now rides her own Surly Pugsley, enabling her to get out and enjoy the local countryside, despite having a disability that makes walking difficult. Also inspiring was Ted Liddle, winner of the Outstanding Campaigning Individual category, who gave us a fascinating insight into the many long-distance routes he's created and some tips for making sure they are well-used.
Networking opportunities
There was the opportunity for some Q&A and networking with some of the other individuals nominated for awards, including:
Lowri Evans, long-time Secretary of Chester and N. Wales CTC and a leading light in the now sadly defunct Tourist Competition;
Sajida Somani of Balsall Heath Community Cycling Club, who was nominated for Outstanding Individual in a Cycling Group for her endless encouragement and support for new riders;
Stephen Cherry of Best Cycling Group winners Winchester CTC; and 
Michaela Jackson of Spokes Edinburgh, nominated for Outstanding Campaigning Group
A very successful day
Despite some people being delayed by a lot of train cancellations and disruption, overall the first ever Cycling UK Volunteer Celebration was deemed a great success by all who attended. 
Great event, wonderful to hear about what people are doing in different parts of the country. The speakers were great, clear, informative and inspiring.

Participant at the Volunteer Celebration
To round off the day's festivities, naturally there was a bike ride with an assortment of cargo bikes, solos, hire bikes and Bromptons leaving Coin Street for an impromptu tour of some of London's iconic sites, kindly led by Colin and Linus from Central London CTC. Thanks to all who came and contributed to such a wonderful and inspiring event!