Cycling UK members recognised in New Year Honours
Two Cycling UK members have been recognised for their tremendous efforts helping the community in 2020 by being awarded British Empire Medals in the New Year Honours List 2021. Golam Chowdhury, of Cycling UK affiliate group British Red Cross, Portsmouth Cycling Club has been given the award 'for services to healthcare during the Covid-19 response', and Richard Dugdale, a Cycling UK member since 1999 and regular CTC tour leader, received the medal 'For services to the community in Clitheroe, Lancashire'. 
Golam Chowdhury
Golam works as a project co-ordinator for the British Red Cross in Hampshire, and recognition was given for his work within the charity's active frontline response supporting refugees during the pandemic.
However, outside his day job he also volunteers his time in many other ways, and the award was given in recognition of this service as well as his roles as a Crisis Response South East tactical cell weekend co-ordinator, and as a local Emergency Response (ER), City of Sanctuary volunteer and Cycling UK volunteer.
Golam took the lead in organising support services for the migrant community in Portsmouth, helping to co-ordinate deliveries of food, medicine and other essentials to isolated and shielding people, as well as checking their general welfare and needs. He also came up with a creative way for those who needed help to choose and buy their own products by using Tesco e-vouchers. "Vulnerable migrants are the most affected group during Covid-19," Golam says. "Besides their ongoing challenges, such as trauma, disorientation, language barriers, homelessness and isolation, the pandemic has also added to their misery."
The father of two also volunteers for the Portsmouth branch of City of Sanctuary, an umbrella organisation whose vision is that "the UK will be a welcoming place of safety for all and proud to offer sanctuary to people fleeing violence and persecution".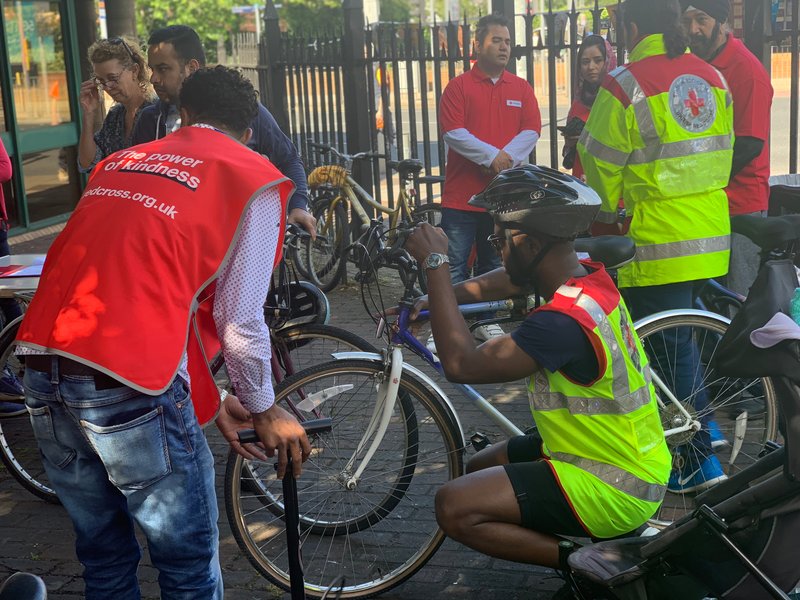 In his role as a Cycling UK volunteer, Golam co-ordinates and runs the British Red Cross Portsmouth cycling group, which was set up with help from Cycling UK. The group helps refugees, asylum seekers and other vulnerable groups in the local community access donated roadworthy bikes, trains them in road skills and takes them out on rides. Not only does this encourage exercise and enable the recipients of the bikes to be more mobile, it also improves their mental health and alleviates their isolation, enabling them to integrate more fully into society.
Golam first got involved in the group in his professional capacity but when he saw what it was doing, he decided to help out in his spare time as well. As a volunteer, he also acts as an ambassador for the group, helping organise events, including rides, bringing more volunteers in, engaging with the wider community and expanding its activities with other groups. Before the pandemic, he used to commit to four or five hours a week but this has now been reduced to two or three hours.   
He says: "The challenge I have had is to engage the vulnerable groups with our activities because of their background of trauma, disorientation, language barriers, homelessness, and isolation. I am proud of the work, events and rides I have done to raise awareness of the issues that refugees and asylum seekers are facing every day, and to celebrate the contribution that they are making in the community.
Golam says being a volunteer can be very rewarding; he experiences "sheer joy" and "appreciates the opportunity of being able to assist a fellow human".
"To get this award is absolutely humbling. It is so important to help others and I hope people that see what I and others have done will be inspired to do what they can because when we all do a little it makes a lot.

Golam Chowdhury BEM, Cycling UK volunteer
"To get this award is absolutely humbling," Golam says. "It is so important to help others and I hope people that see what I and others have done will be inspired to do what they can, because when we all do a little it makes a lot."
When he first told his family, "they were surprised initially but they are proud for me, and happy to see that they are also part of my journey... especially to see how it inspires my six-year-old; he promised to go out and help people when he is a little older."
Golam also believes the award will have a positive effect on the wider community: "In my opinion, people usually take notice of any recognition and this helps people to see what we do. It provides an element of encouragement to get involved."
His achievements are all the more remarkable as he only took up cycling in 2018. Now, he commutes by bike as well as enjoying leisure riding. Once restrictions are lifted, he hopes to explore ideas to get even more people involved in cycling by raising awareness of how environmentally friendly it is and how much it can benefit people's health. As a way to do this, he's aiming to "form partnerships with other organisations to help more disadvantaged groups who may need access to a bike or a platform to socialise".
Richard Dugdale
Richard has been a Cycling UK member for more than 20 years, but until the age of 54, his cycling was limited to "pottering about" on a mountain bike. Then, in 1999, he heard about a Rotary Club charity ride from Land's End to John o' Groats, covering 1,000 miles over two weeks. "Someone rang me up and said, 'Do you fancy doing this?' So my wife bought me a road bike, I joined CTC [the former name for Cycling UK] and I had eight months to get training, and that's how it started." 
That LEJOG ride in 2000 sparked a love of cycling for Richard, who until his retirement in 2005 ran a sawmill in Clitheroe, Lancashire. Already involved in community work with the Rotary Club and Coram Life Education, a charity that provides social and health education in schools, Richard began fundraising through sponsored cycle rides. As well as the End to End, these have included the North Sea Cycle Route from Hook of Holland to Bergen in Norway, and the Three Towers ride (from Clitheroe to Blackpool Tower, the Tower of London, the Eiffel Tower and back). His other community activities have included chairing the committee for the Clitheroe Bonfire for 10 years, volunteering in a polio vaccination scheme in India, and working as a volunteer driver for the MS Society.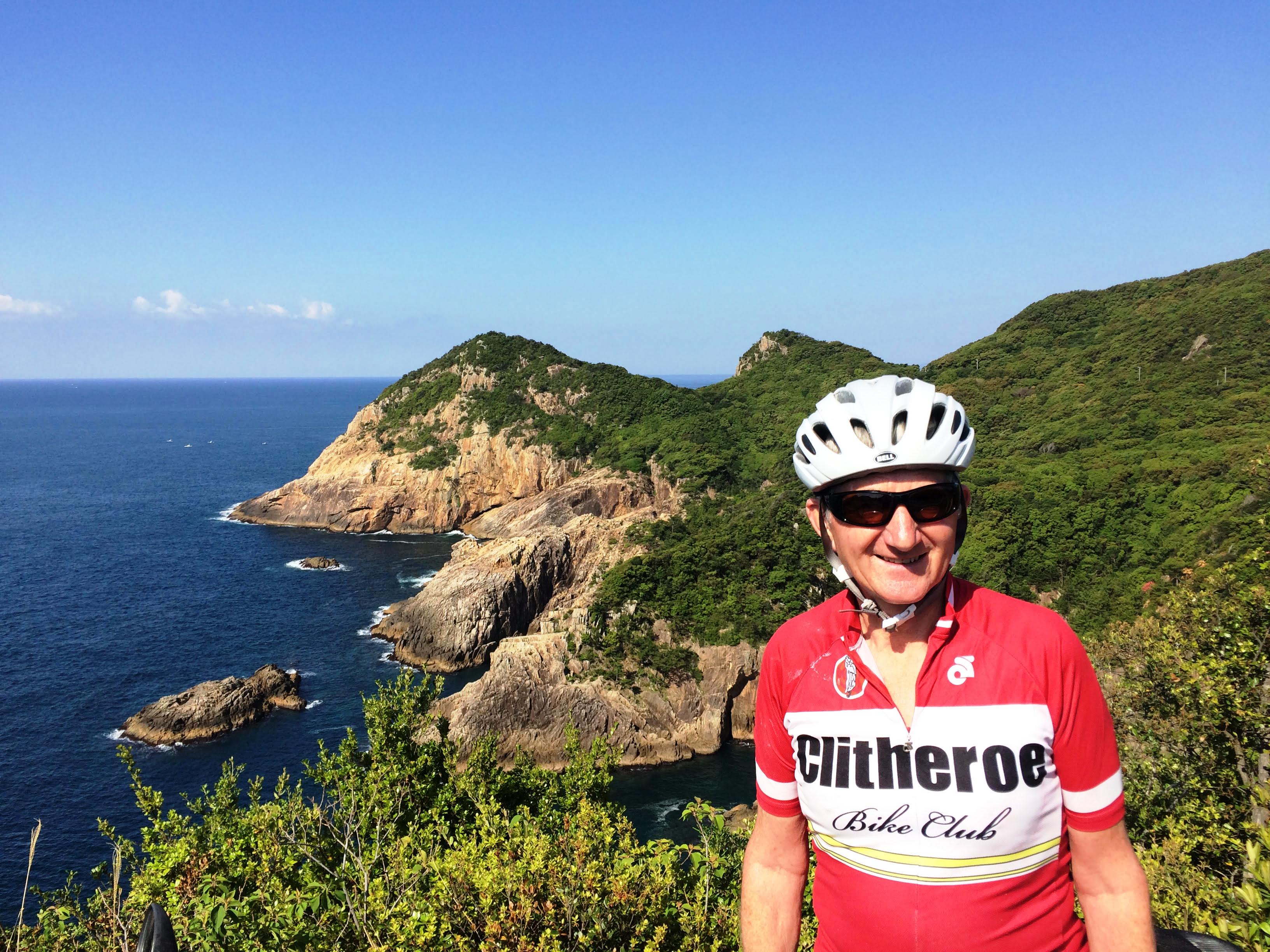 Retirement has allowed Richard, a grandfather of nine, to cycle more and further afield, and he has led trips for CTC Holidays & Tours all over the world, including China, Japan, the USA, Cuba, Cambodia and Slovenia. Most recently, in February 2020, he led a group cycling the Great Ocean Road in Australia. "My son lives in Melbourne and he rode with us for a day – I've got him into cycling too," says Richard. He got back from that trip just before the first lockdown started last year, but, as he approaches his 76th birthday, he is hoping to get back to tour leading as soon as the pandemic permits. "There's no better way to see the world than on a bicycle," he says.
I just like helping people – I enjoy it

Richard Dugdale BEM, Cycling UK member
In the meantime, he is certainly keeping busy. "I'm still doing 100-120 miles a week when the weather allows – we've had a lot of snow and ice recently. At the moment I have to ride with just one other person but normally I'd be leading the Saturday rides with Clitheroe Bike Club."
Most recently, he has been helping out closer to home: driving Santa's sleigh around Clitheroe to raise funds, collecting shoebox donations for victims of domestic violence, and volunteering as a marshal at local Covid-19 vaccination centres. He says he is "overwhelmed and greatly honoured" to receive the British Empire Medal. "I just like helping people – I enjoy it."
"I've always lived by the rule 'work hard and play hard'. I can't stand to be doing nothing."
Cycling UK Reward and Recognition
Do you know someone who's worthy of recognition and thanks for their efforts to help the cycling community through the pandemic and beyond? Why not consider nominating them for a Cycling UK award or a local recognition?
If you've received an honour recently for the work you are doing in cycling, or you are a member who has received an honour from the Queen, please contact the Volunteering Team at Cycling UK.