Natalie Wilson completes epic ride to raise awareness of rare genetic condition
Cycling UK member Natalie Wilson discovered cycling as a way of coping with Ehlers-Danlos Syndrome (EDS), a rare inherited condition that can cause a range of difficult and painful symptoms. In February 2018, she set off from her home town of Wokingham for an epic trip on her recumbent trike, covering the 5,000 miles of Britain's coastline, finishing the following June. Read her story of why she felt ready to take on this challenge and the incredible people who made it possible.
My medical conditions have taken a lot from me over the past 10 years. I have worked really hard to build up my muscle strength through cycling and this was my time to take on a challenge to feel a sense of achievement. I did it to raise awareness of disability cycling, showing that cycling clubs can be inclusive environments, and to raise awareness of my medical condition, Ehlers Danlos Syndrome. I wanted to prove that while I may not have a perfectly functioning body, I am still able to cycle out and enjoy the countryside.
This journey was very tough but incredible. I took it on to raise awareness of EDS and I've encouraged everyone and anyone to join and host me the whole way around. I have made hundreds of new friends, all with their own inspiring stories, and local communities rallied round and helped me when I had problems. The best part of the journey was definitely everyone I met along the way. I was joined by local cycling clubs, individuals and others on trikes, and I have made many new friends who I hope I will get to visit again one day.
Every part of our coastline is different: it has different rock, different things growing, different birds and a different personality

Natalie Wilson
Cycling-wise I really enjoyed cycling in Scotland, particularly seeing Golden Eagles in Galloway, and had the road around the north of Mull to myself. I saw lots of White-tailed Sea Eagles and I camped wild on a beach in a village called Evie, a remote spot on mainland Orkney. Every part of our coastline is different: it has different rock, different things growing, different birds and a different personality.
There were some really tough parts of my trip, too. I hit the 'Beast from the East' the minute I set off and had to have a couple of days out when I was stuck in Lulworth Cove and the ice on the road prevented me from getting up the hill. Local communities really rallied around me during the bad weather.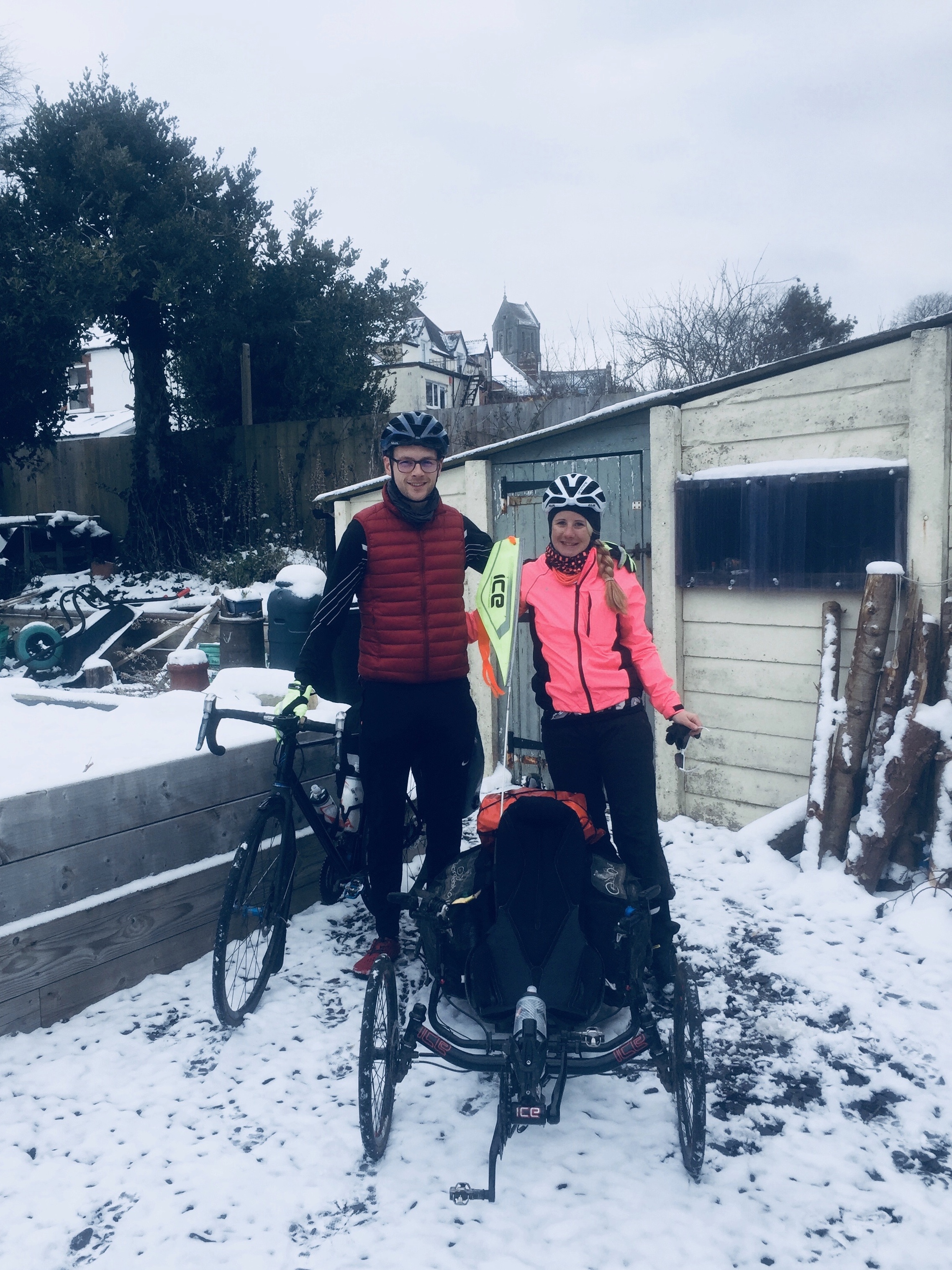 I had two other really low points. I really struggled with the coast road after the Bealach na Ba alpine-type climb in north-west Scotland. I have climbed mountains in Europe and was prepared for this, but wasn't prepared for the 25% constant up and down gradients on the coast road. At one point I had nothing left and wasn't even functioning properly to get into the right gear for the hills – this prompted a rest day!
The other low point was when I had a tooth infection that spread when I was in Newcastle. This would have happened even if I was at home, and due to the nature of my medical conditions, I had to go into an operating theatre twice for this to be sorted. I was worried my trip would have to come to an end, but luckily, I managed to stay in Newcastle, take 10 days out, and once recovered I zipped down the east coast.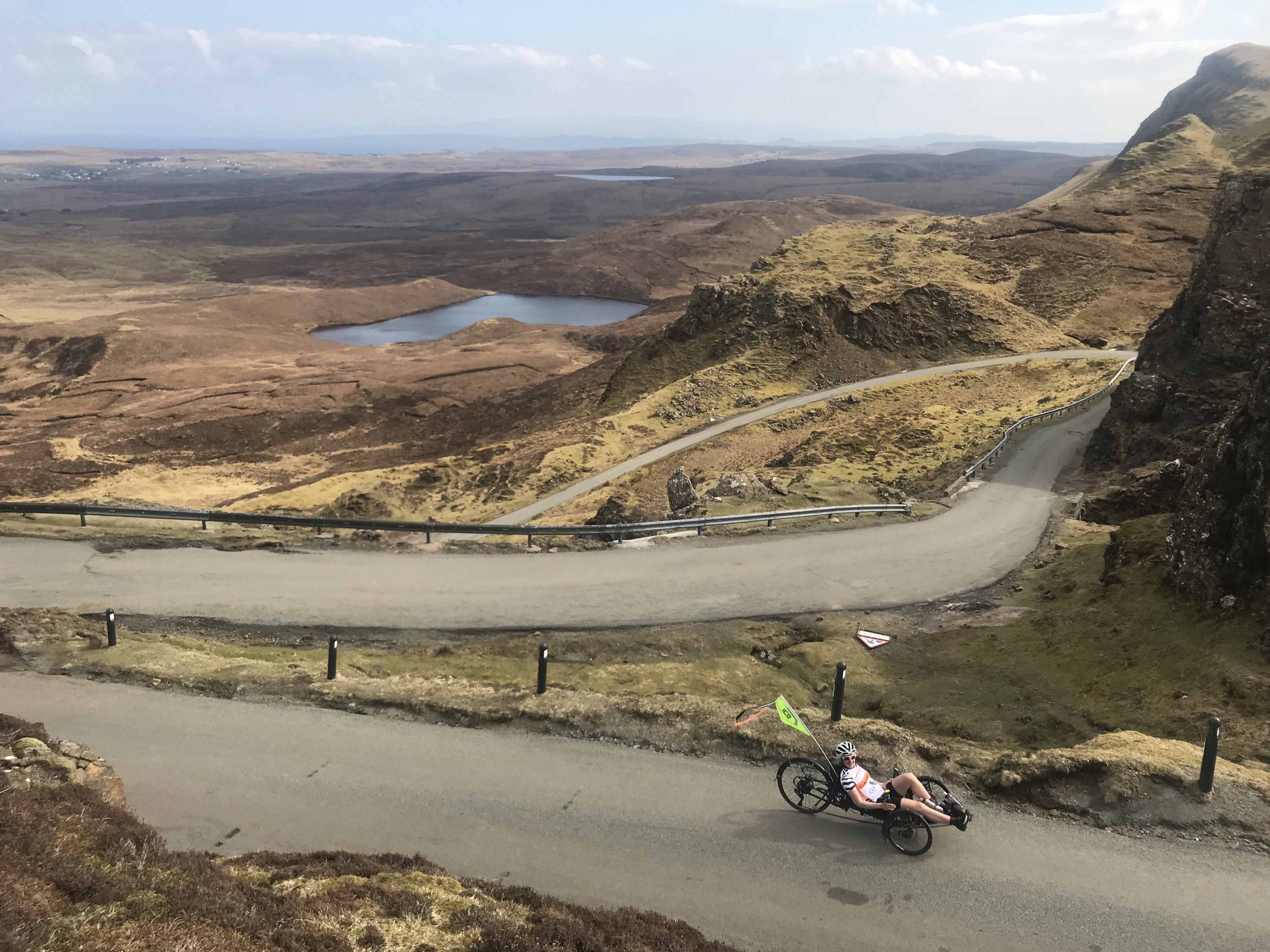 I am writing this five days after finishing and I think it has finally hit me! I am so proud of my achievements. Five years ago my husband was having to wash my hair for me and now I have managed to look after myself self-supported for more than three months.
Cycling has given me a new love for life. It's crazy to think that I have cycled from my home to every compass point circumnavigating the coastline, when five years ago I couldn't even walk to the local shops. I couldn't have done this without my adapted ICE trike, so I have to be truly thankful of the inventors behind this!
Cycling has given me a new love for life

Natalie Wilson
I also need to talk about the amazing Wokingham Cycling Club. I moved to Wokingham with my husband two years ago. At the time I wasn't fast enough on my trike for club rides, so we turned up on our Hase Pino, a semi-recumbent tandem. They immediately took us under their wing, we weren't judged for being different, and could cycle with and share the roads with others with the same passions and similar interests. We have now introduced slightly slower rides which I lead on my trike, this has made our club even more inclusive and increased our female membership. I am incredibly proud of each and every member and of the way the club is run. It really does show that it is possible for a disabled cyclist on a trike to still be part of a club environment and for that I am truly grateful.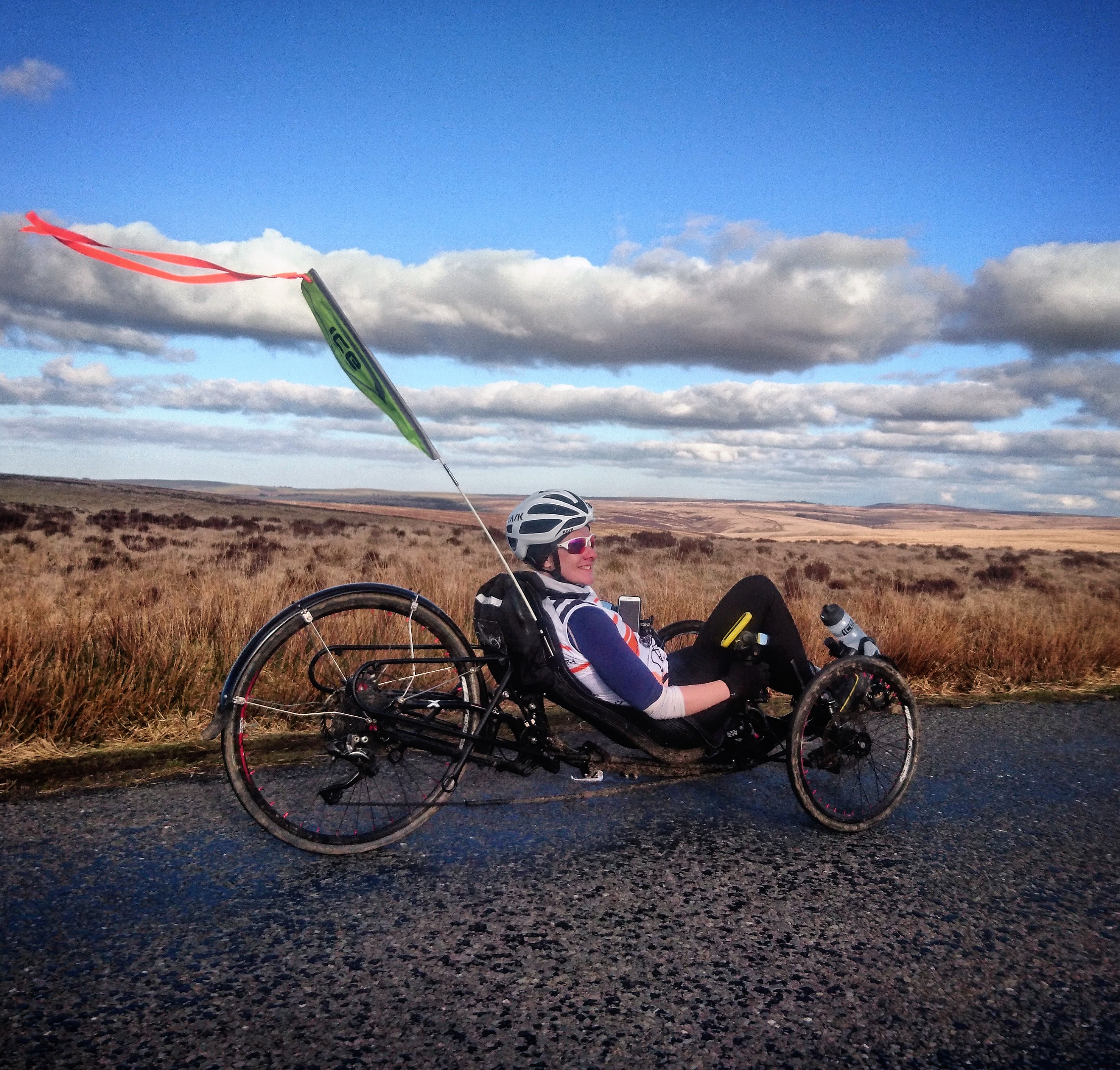 When I started the challenge, there were more than 50 club members there to send me off. They cycled with me on the first part of my journey towards the coast in Brighton. The whole way round they were so supportive, sending me messages of advice when I was in trouble and constantly boosting my morale. A regular attendee of my rides even joined me in Aberdeen when she went up to visit her family for Easter. I was also joined by another member in a stretch into Wales, my first real turning point, although I am not sure he appreciated the extremely strong winds on the Severn Bridge, which was closed to cyclists for safety just after we crossed.
On my return there were so many here to greet me and they are just as proud of me as I am of myself. They have helped me increase my publicity and raise awareness of EDS and disability cycling. Wokingham Cycling Club has without a doubt changed and enhanced my life and I couldn't be more grateful to each and every member – I am very proud to be a part of it in our local community.