The joy of cycling while recovering from illness
When I sustained a minor leg injury while mountain biking, little did I suspect that my journey to recovery would be almost as rocky as the trails I'm used to riding. Feeling despondent at the sudden lack of cycling in my life, a great deal of which is normally spent on two wheels for both leisure and commuting, I was persuaded by my wife Julie to attend a session at Alice Holt Inclusive Cycling, a Cycling UK-affiliated group in East Hampshire. 
The weather forecast for today was terrible but it's a fabulous, sunny morning. I am surrounded by the stunning colours of autumn and I'm cycling and having fun again for the first time in weeks. 
Whizzing along some single track in Alice Holt Forest, there's gentle ups and downs, off-camber sections, twists and turns and a fairly rough surface, just like I'm used to on the network of trails near my home in Surrey; but I'm actually here as somebody needing the services of the awesome volunteers of a project aimed at inclusive cycling users. 
After several months off the bike, due to an initial mountain biking injury in my leg being closely followed by a strange but debilitating condition in my other foot, I was left wondering if I would ever be able to pedal again. 
Would I ever feel the wind in my hair and have the big grin on my face that cycling gives me? I've spent weeks paying numerous visits to doctors and clinics looking for an answer to the excruciating pains in my heel and ankle, and, after a two-week stay in hospital, I am still hobbling around on crutches, unable to bear any weight on it. For someone used to being super-active, whether on or off a bike, it's a big blow.
Mountain biking is in my blood: I've been shredding the trails for over three decades now and the thrill has never really left me. 
The start of the journey
Even though I have been riding bicycles since childhood, until this year, I have never had a break from it either enforced or voluntary. I cycle to work, I tour on and off-road, I go mountain biking with friends weekly and visit bike parks and trail centres a few times a year. Like most riders, I've had the odd knock here and there but nothing that has kept me off the bike for more than a day or two, at most, until this summer...
How quickly life can change though: as Baz Lurhmann's 'Sunscreen' song puts it: "The real troubles in your life are apt to be things that never crossed your worried mind, the kind that blindside you at 4pm on some idle Tuesday."
 In July 2019, about a week before we were due to go on holiday to France for the Semaine Federale (an annual week-long cycling festival), I hit a very solid bit of tree, hidden in bracken, with my right shin. I didn't fall off the bike but cut my leg badly and had treatment in A&E. I couldn't walk for a week but we still went on the trip to France as the strength started to return.
However, on the journey out to France, I felt what I thought was a splinter on the bottom of my left foot; soon a small blister had formed, which may possibly have been down to putting all my weight on the left foot due to the injury to the right leg. On holiday, I only did shortish rides due to the right leg still healing but I started getting pain, mainly at night, on the bottom of my left foot. The French medical volunteers advised me to go to A&E but warned it would be a very long wait so, foolishly, I ignored this advice.
On return to the UK a week or so later, I saw my local GP. In the weeks that followed the agony continued, often waking me up at night with sharp jabbing and burning pains. I saw two or three other GPs and finally went to A&E but, sadly, nobody seemed to know what was wrong. Eventually, over two months later, and after my heel and ankle had swollen up alarmingly and turned a funny shade of reddish purple, I ended up on crutches, unable to walk or cycle or even hop very far.
Hospitalised
Then I was admitted to hospital for two weeks, having finally been diagnosed with inflamed blood vessels, or cutaneous vasculitis to give it it's medical name, in the foot (previous 'diagnoses' had ranged from a foot infection to osteomylitis to tendonitis and many others...). When I eventually came out, my consultant couldn't tell me how long it would be before I could put weight on it again, so I still can't walk or ride.
While I was in hospital, I noticed that my left calf had gone floppy, as if the muscles in it had just turned to flab due to lack of use over the previous weeks. This was a bit worrying and added to the anxiety about how long it would be before I could ride at all, let alone regain the fitness I had had before the 'Saga of the Foot' started.
The long road to recovery
So a couple of weeks later, I'm off work, at home, getting bored. I am receiving mixed messages about how to manage the re-habilitation. I know I need to rest to aid recovery but I also know I need to move and start introducing some basic exercise and physio before all my limbs and joints seize up. And as importantly, I also need fresh air and the mental stimulation of physical activity - there's only so many episodes of 'Cash in the Attic' you can watch before losing the will completely. 
Getting out on the crutches is slow and puts strain on my hands, shoulders and other leg. Enter the knee scooter. The Physio Dept at Frimley Park Hospital showed me a contraption that looked like a souped-up micro scooter, although it's bigger, has larger wheels and a platform at knee height. You kneel on it with the bad leg / foot and scoot along with the good one. What a great idea, I thought, as I whizzed around the ward, dodging trolleys and nurses, it's even fun! But then moving on wheels under your own steam is always fun and I've missed it. The knee scooter, complete with shopping basket on the front, is great indoors and on smoothish tracks and I can even move faster than walking pace but it's still not as fast, flexible, or enjoyable as cycling.
My wife, who works at Cycling UK, then suggested giving riding a go at Alice Holt Inclusive Cycling, which is not far from our Surrey home.
Awesome volunteers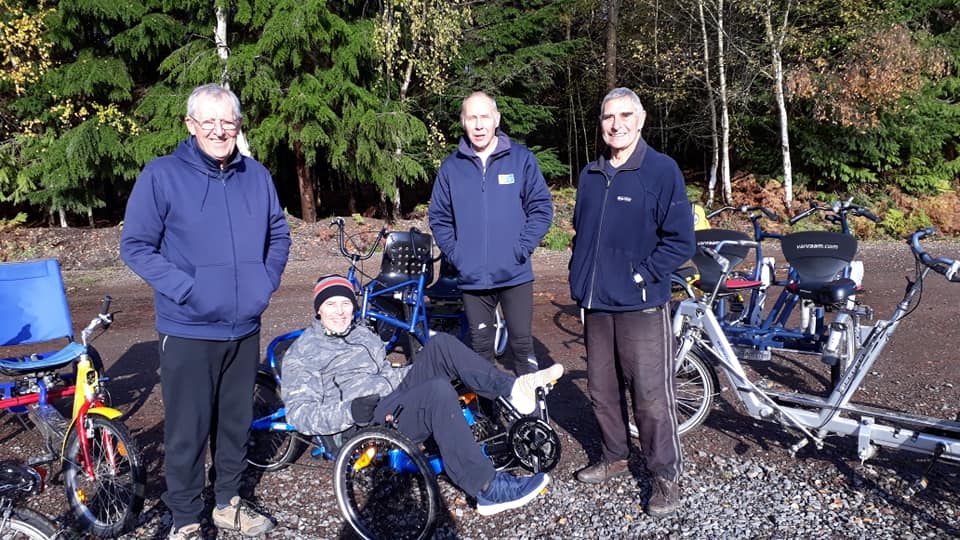 Enter the recumbent trike. In the past, I have worked at an inclusive cycling project myself, both as a volunteer and as a staff member, helping disabled users with a range of specially designed machines. Now, it was time for me to experience the work these fantastic projects do from the other side of the fence: as a client myself.
Hence, I found myself that bright but chilly Thursday morning scooting over to be greeted by Howard, Peter and Chris, some of the heroic volunteers who turn up in all weathers every week nearly all year round to organise these sessions. Not only do they match bikes to riders, they also handle the small session fee of £2.50, take the machines out of storage, check they're mechanically sound, and carry out no end of other tasks that keep the charity running and helping people enjoy the thrill of cycling.
Would the foot hold up?
The next line of the Sunscreen song is: "Do one thing everyday that scares you." I felt nervous - I wasn't sure how the foot would bear up, after all I hadn't turned a pedal in weeks and couldn't think how much I would need to bend the foot to do a normal pedal revolution; and I certainly couldn't put any weight on the heel or ankle. But Howard and the rest of the team are very experienced in helping riders with all sorts of disabilities to get mobile, so my foot was in good hands, as it were.
I explained my problem and they suggested trying a recumbent trike with pedals, as I could strap my feet into place using the ball of the foot on the pedal.
Their typical client is more likely to be someone with a permanent disability of some kind. They don't tend to see many people like me who are recovering from a condition or an injury but the idea is much the same: talking to people about their abilities and making suitable suggestions.
Trying out the trikes
I first tried out a long wheelbase low-geared trike and went round the gentle, short figure-of-eight track and, not surprisingly, I was fine.
The amount of movement needed in the foot wasn't as much as I thought and, even though my left calf had turned flabby, I still had the strength to turn the pedals.
I was off - riding a bike again and, in the process, reminding myself how much fun a machine with three wheels can be: they behave very differently to two-wheelers.
My wife Julie was riding with me on a shorter wheelbase trike with two wheels at the front and one at the rear (opposite way round to the machine I was on). I seemed to be struggling to keep up with her: was this because I was still quite weak or was it the trike? Her machine was also a bit more off-road ready, with a good range of gears, larger wheels and fatter tyres.
We swapped trikes and whoosh! I was away. It was low, light and had great acceleration and handling. I was almost cornering on two wheels instead of three. In fact, it was actually brilliant fun!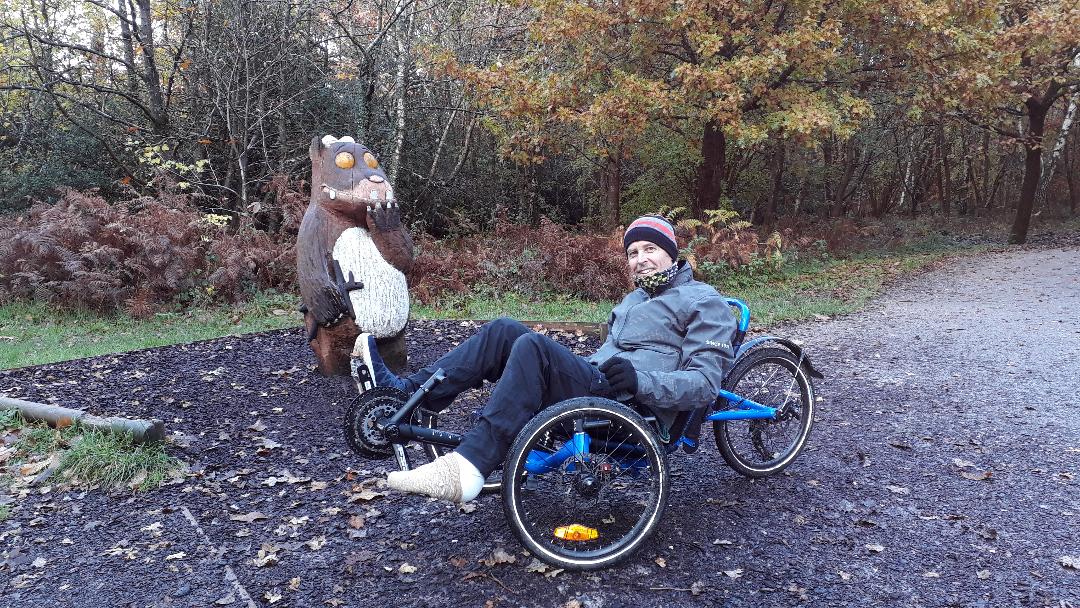 Sheer joy
I decided that I was ok to tackle the three-mile loop through the woods on the forest track. The track is billed as 'All Ability' so just has gentle ups and downs, corners that aren't too tight and a surface that whilst isn't tarmac smooth isn't super bumpy/rooty or rocky.
Turns out the route was just fine and, although I did have a small amount of pain in the foot, I coped with it. I think the leg exercise and the sheer joy of being out in the open air and having loads of fun riding along a twisty bit of track on an off-road trike far outweighed any discomfort and made me realise that I can do this, albeit in small doses (though Julie had to push me up some of the steeper gradients).
I even enjoyed whizzing past the giant wooden Gruffalo sculptures along the track - it's not exactly the full-on mountain biking I'm used to but it's the nearest I'd felt to having that kind of adrenaline rush for weeks. 
I found their enthusiasm and belief in the healing power of the bike infectious.

Roland Seber, Alice Holt Inclusive Cycling participant
I will be back next week for sure and every week until I'm back at work or when the sessions stop for Christmas.
Projects such as this around the country rely totally on the dedication of an often small group of volunteers who are prepared to give their time, expertise and experience to help people like me start, return to or just experience the benefits of cycling in some form.
Howard, Peter and Chris clearly never tire of it. I found their enthusiasm and belief in the healing power of the bike infectious.
On the day I attended, despite the bitterly cold weather, there were at least 17 or 18 other riders and their carers enjoying a spin round the mostly flat figure-of-eight track, or even venturing further afield onto the longer three-mile all-ability trail, like I did. Thank you so much to the volunteers such as these who make it possible.
Howard told me: "We take great pleasure in being able to offer a range of cycles - tandems, wheelchair carriers, side-by-sides, trikes, recumbents, hand-driven bikes and so on - that we can usually offer something to meet most peoples' disabilities. I feel especially privileged to work with those that are not so privileged, and it is an honour to be able to help. It is also great to build up a rapport with our regular visitors each week, and to see the recognition in their faces, even in those that are not able to express themselves so well. It makes standing around in the cold for hours all worth it."
Find out more about Cycling UK's current volunteering opportunities and how you can change people's lives through sharing your love of cycling.