Are cycling and walking becoming core government priorities?
When Grant Shapps was appointed as Transport Secretary I didn't expect to hear him making big public statements about: pedestrians needing more space, making streets safe for walking, cycling beings good for retailers, business and the economy, and the need the reduce car use on shorter journeys.
I'm used to statements about cycling and walking in England being made by junior ministers at fairly low-key events, with the Transport Secretary usually focussing on trains, planes and automobiles. But things are now different. 
Last Saturday evening, on a very public stage, was the Transport Secretary setting out a plan for how the transport network copes as we come out of this crisis.
Transport Secretary Grant Shapps delivered the UK Government's daily coronovirus statement and announced "a £2 billion package to support active travel to help the country emerge from coronavirus crisis".
He was talking about how:
We all need to re-think how we travel
How millions of people had discovered the benefits of active travel during this crisis
How we need them to keep on cycling and walking and to be joined by many more
and the health opportunities this presents.
All this just a few days after the Prime Minister Boris Johnson told the House of Commons that the near future should be "a new golden age for cycling",
It's a Minister in the UK Government who makes the daily coronavirus statement, but as transport is substantially a devolved matter, particularly in relation to matters affecting cycling and walking, the measures set out to "create a new era for cycling and walking" relate principally to England, and not the rest of the UK. But before focussing on what all of this means in England, it's worth reflecting on announcements and statements in Scotland, Wales and Northern Ireland in the days and weeks leading up to Grant Shapps' announcement. That's because they reflect a growing awareness within governments throughout the UK that more people walking and cycling is crucial if they want to get people moving safely as we navigate our way out of the Covid-19 crisis.
Money for temporary active travel infrastructure
At the end of April, Scotland's Transport Secretary Michael Matheson announced £10 million of funding for temporary active travel infrastructure, including "pop-up walking and cycling routes or temporary improvements to existing routes".  The cash is part of "a package of support for our local authorities to implement temporary active travel measures, helping to ensure that people can walk, cycle and wheel during this public health emergency whilst physically distancing and keeping safe from traffic".
In Wales, Lee Waters, Deputy Minister for Economy and Transport, then announced on 7 May that the Welsh Government was making funding available (amount unspecified) to local authorities for "pop-up measures that enable social distancing", including footway widening, temporary cycle lanes and speed restrictions, inviting bids to be submitted by 21 May with measures to be implemented from early summer.
Meanwhile in Northern Ireland, where the Department for Infrastructure rather than local authorities is responsible for the roads, Nichola Mallon, Minister for Infrastructure, made some of the boldest statements about increasing "the space available for people who want to walk and cycle by extending pavements, pedestrianising streets and introducing pop up cycle lanes", and creating "'Quiet Streets' where pedestrians, cyclists and play have priority and motor vehicles are guests."
Content and tone
I've referenced those announcements because Grant Shapps' statement last Saturday night was significant not just for the content, but also for the tone. I know that at this point some people will be screaming saying that nobody ever built a separated cycle lane with tone, and that it's only money that counts, but please hear me out.
This announcement was significant because it commits the Government to make public health part of transport policy, and active travel a core element.

Duncan Dollimore
Parking for a moment the detail and how much money will be made available, this announcement was significant because it commits the Government, not just the active travel team within the Department for Transport (DfT), to make public health part of transport policy, and active travel a core element of government policy not just a niche issue within the DfT.
A step in the right direction
I expect that there'll be slippage, and ourselves and others will have to remind Ministers of previous commitments and promises, but if you're going to try and hold politician's feet to the fire it helps if they've made some clear and unambiguous commitments and statements of intent.
Active travel never seemed to me to be a core element of transport policy in the UK, but following announcements across the UK in recent weeks, and Grant Shapps' announcement on Saturday night, I think there's been a substantial step in that direction.
Emergency active travel fund
So, to the detail, and I'll continue with the positive news.
We've been calling on local authorities across the UK to install temporary infrastructure to enable people to walk or cycle safely whilst maintaining social distancing for some weeks, and asking supporters to take action by contacting their Council through our online action  . But whilst using cones and planters to create a pop -up cycle lane, widen a pavement, or restrict through traffic to a residential street needn't be expensive, some easily accessible cash for local authorities to get this done is hugely welcome, and to be blunt, makes it harder for local authorities to say that lack of funds prevents them from doing anything.
That's why the £250 million emergency active travel fund is also extremely welcome news.
According to the release, this money is going to be available to local authorities to fund swift, emergency measures to put in place infrastructure that will enable people to walk and cycle safely whilst socially distancing.
It's fair to say that in the context of the long term sustained investment in active travel needed to bring about the type of modal shift the Government says it wants to see, £250 million won't do it, and it's not big money in transport investment terms when the roads investment budget for England is north of £27 billion. But getting that amount of money out to local authorities quickly, to fund measures and temporary infrastructure that are installed in days or weeks rather than years is another big step forward.
We're waiting for clarification regarding the application process for local authorities, timescales and criteria, but the DfT are saying they want to do this quickly. Hopefully we'll have some more news next week, but if you want to see your local authority taking action and creating space for people and for social distancing, now's the time to use our online action to email your local councillor and council leader to let them know why this is needed, and hopefully what you want to see and where.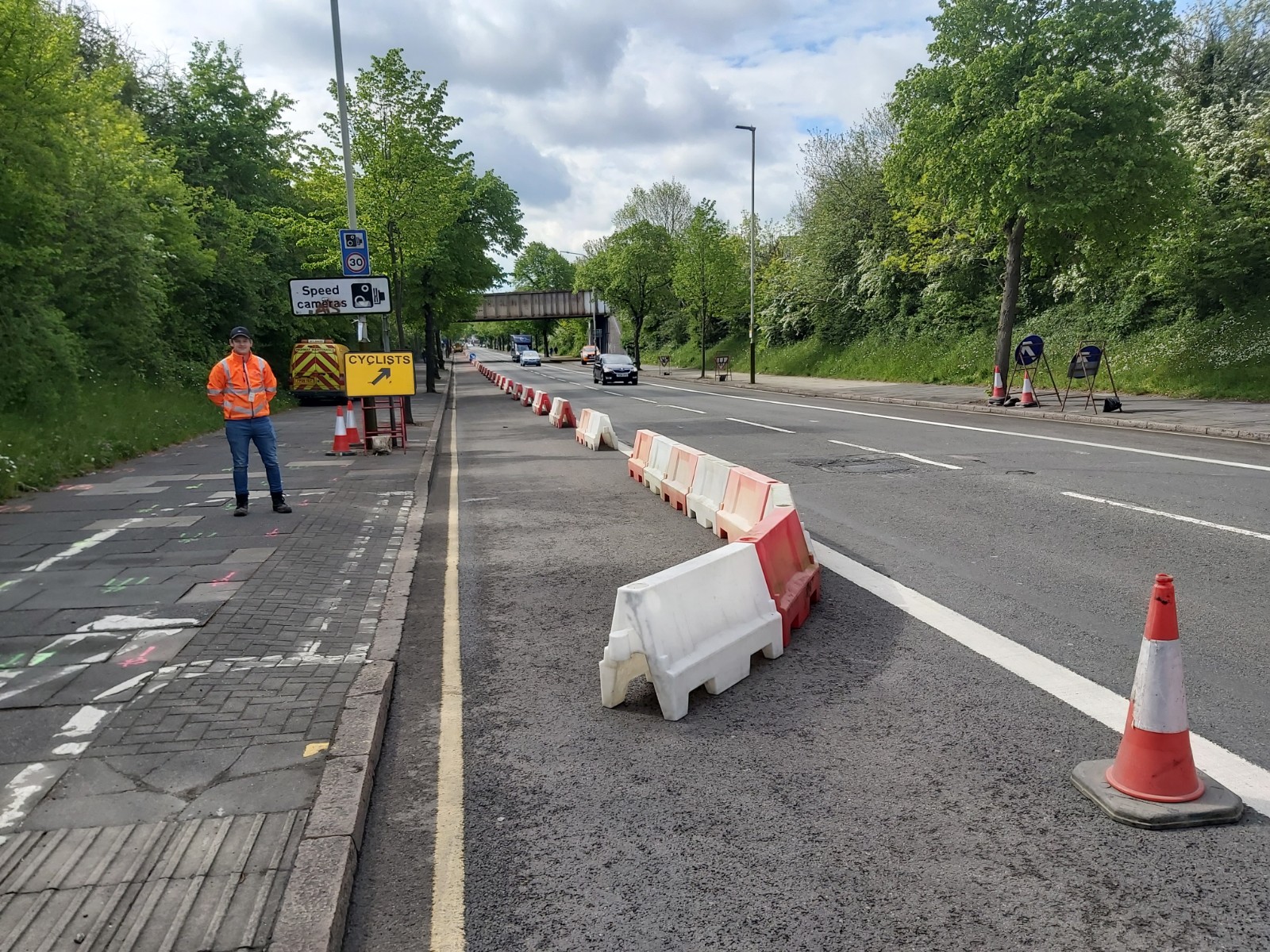 New guidance
The third big positive for me from last week's announcement is one that's not been commented on as much, namely the new statutory guidance which the Government says is designed to  "tell Councils to reallocate road space for significantly-increased numbers of cyclists and pedestrians".
Without getting into a very lengthy legal discussion regarding the wording and consequences if any local authority fails to comply with the new guidance, it's worth setting out the exact words that Grant Shapps uses in the foreword to the new guidance:
"We recognise this moment for what it is: a once in a generation opportunity to deliver a lasting transformative change in how we make short journeys in our towns and cities. According to the National Travel Survey, in 2017-18 over 40% of urban journeys were under 2 miles – perfectly suited to walking and cycling.
The government therefore expects local authorities to make significant changes to their road layouts to give more space to cyclists and pedestrians. Such changes will help embed altered behaviours and demonstrate the positive effects of active travel. I'm pleased to see that many authorities have already begun to do this, and I urge you all to consider how you can begin to make use of the tools in this guidance, to make sure you do what is necessary to ensure transport networks support recovery from the COVID-19 emergency and provide a lasting legacy of greener, safer transport."
If your local authority is saying they can't do anything to make more space available for people walking and cycling, the question to ask is why, when there's money available and new guidance telling them to do it?
And longer term?
I've focussed on only three things within a lengthy announcement, partly to keep this article to a reasonable length, partly because we await further details, and partly because I wanted to focus on the positives in this article.
You may have noticed that I've not mentioned the £2 billion investment announced last Saturday. I'm less positive about that. It's spread over five years and isn't enough to achieve the Government's previous targets to increase cycling, let alone meet the new need to increase active travel because of the limitations on public transport we now face. But I'll stick with the positives in this article and come back to long term funding next week.