70 years on: Has the National Parks Act achieved its purpose?
Today (16 December 2019) marks the 70th anniversary of the National Parks and Access to the Countryside Act 1949.
This visionary piece of legislation led to the creation of National Parks, to create a legacy of protecting Britain's most precious landscapes. After the horrors of World War II, there was a desire to encourage the public to get out of the polluted cities and factories and spend time in the countryside to refresh body and mind.
The Act also laid the groundwork for the creation of long-distance countryside trails, now known as National Trails in England and Wales and Great Trails in Scotland.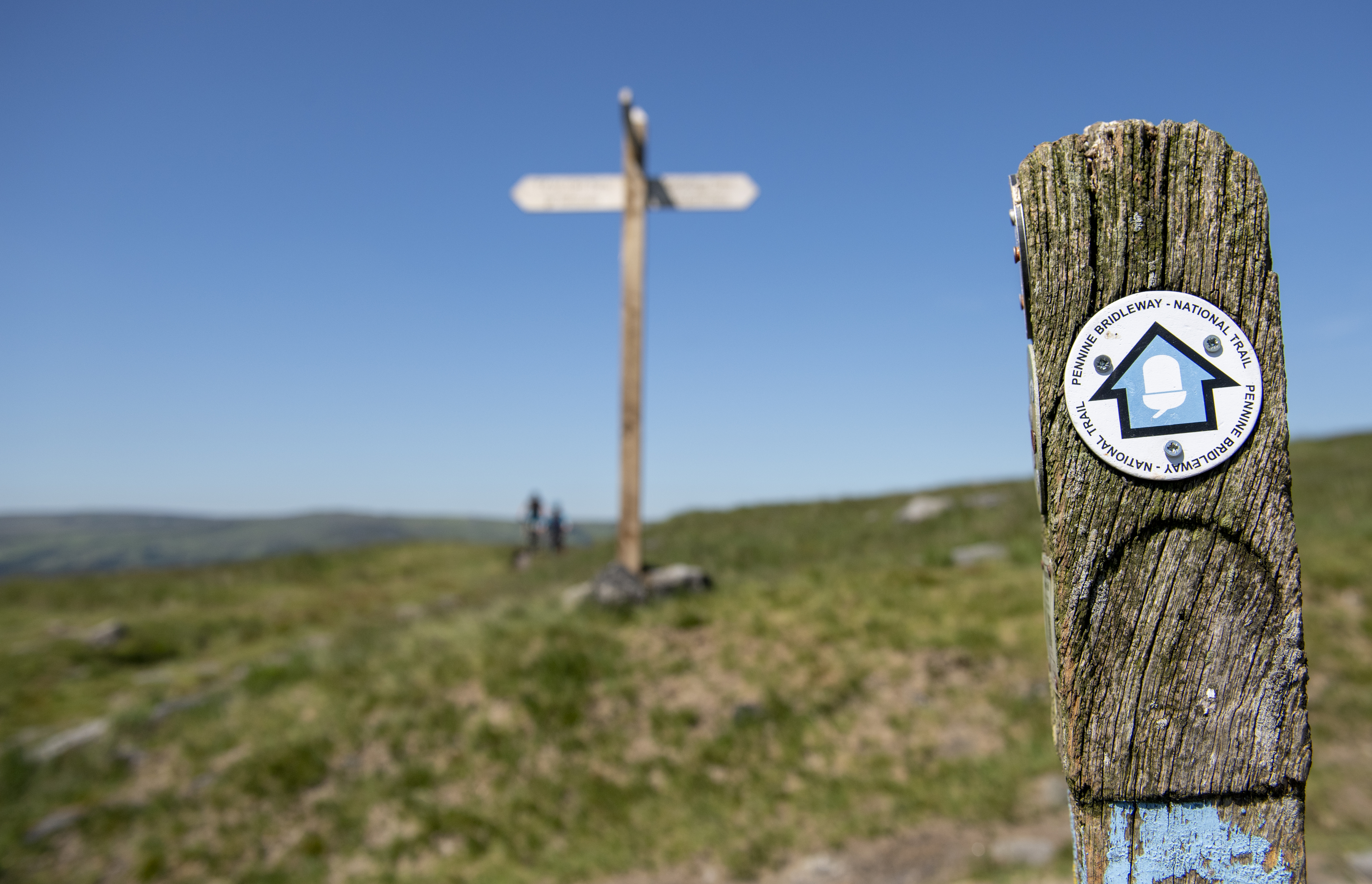 'Wanted: A Long Green Trail'
The first tendril of an idea for long-distance trails was suggested back in 1935 by writer and walker Tom Stephenson, in an article entitled 'Wanted: A Long Green Trail'.
Stephenson waxed lyrical about the restorative powers this 'long green trail' could have, declaring, "None could walk that Pennine Way without being improved in mind and body, inspired and invigorated and filled with the desire to explore every corner of this lovely island."
This was echoed in a 1947 report by Arthur Hobhouse, which set out his vision for "...long distance paths and bridleways in and between National Parks and Conservation Areas. There should be continuous routes which will enable walkers and riders to travel the length and breadth of the Parks, moving as little as possible on the motor roads."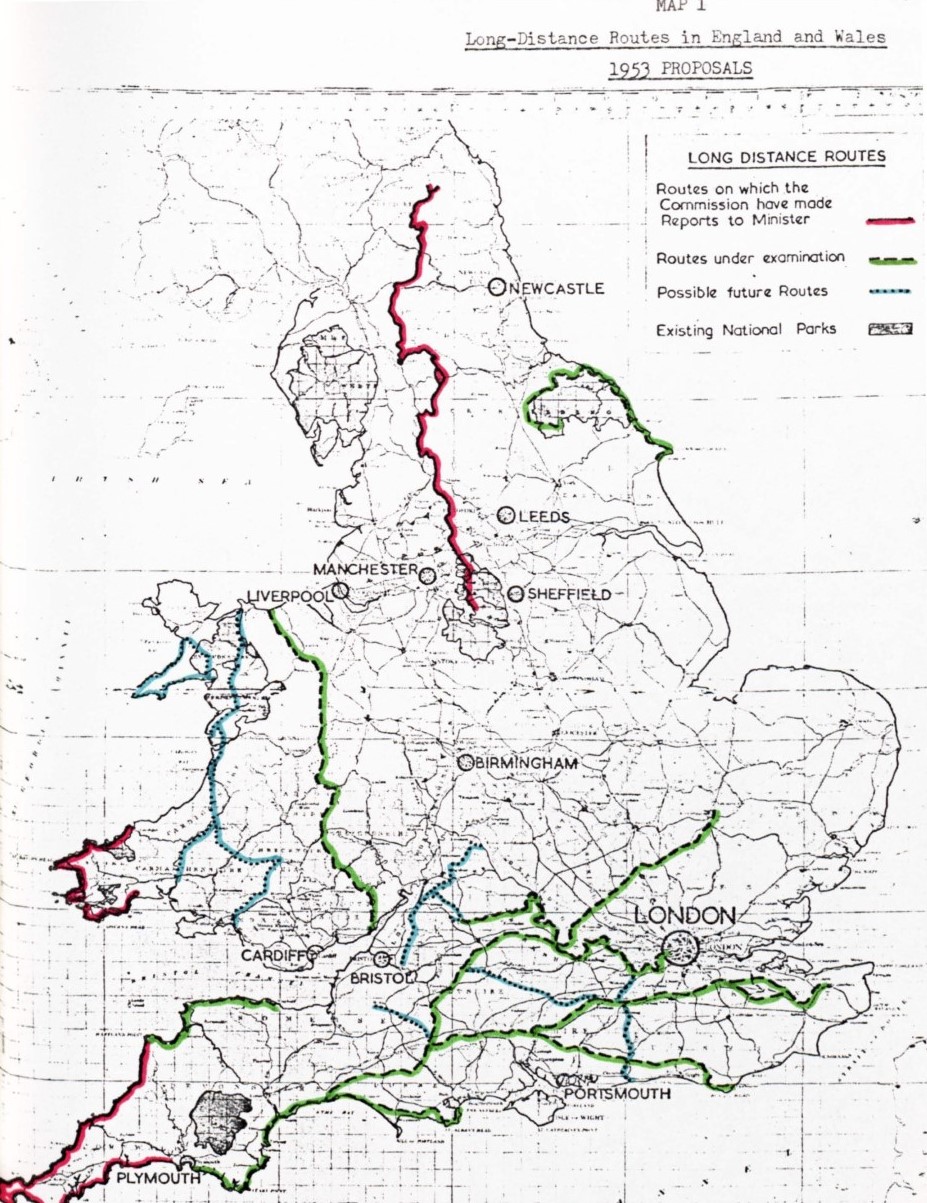 In 1965, Stephenson's dream of a 'long green trail' was finally realised with the opening of the Pennine Way, which stretches for 268 miles from Edale in Derbyshire to Kirk Yetholm in the Scottish Borders, passing through the Peak District, Yorkshire Dales and Northumberland National Parks.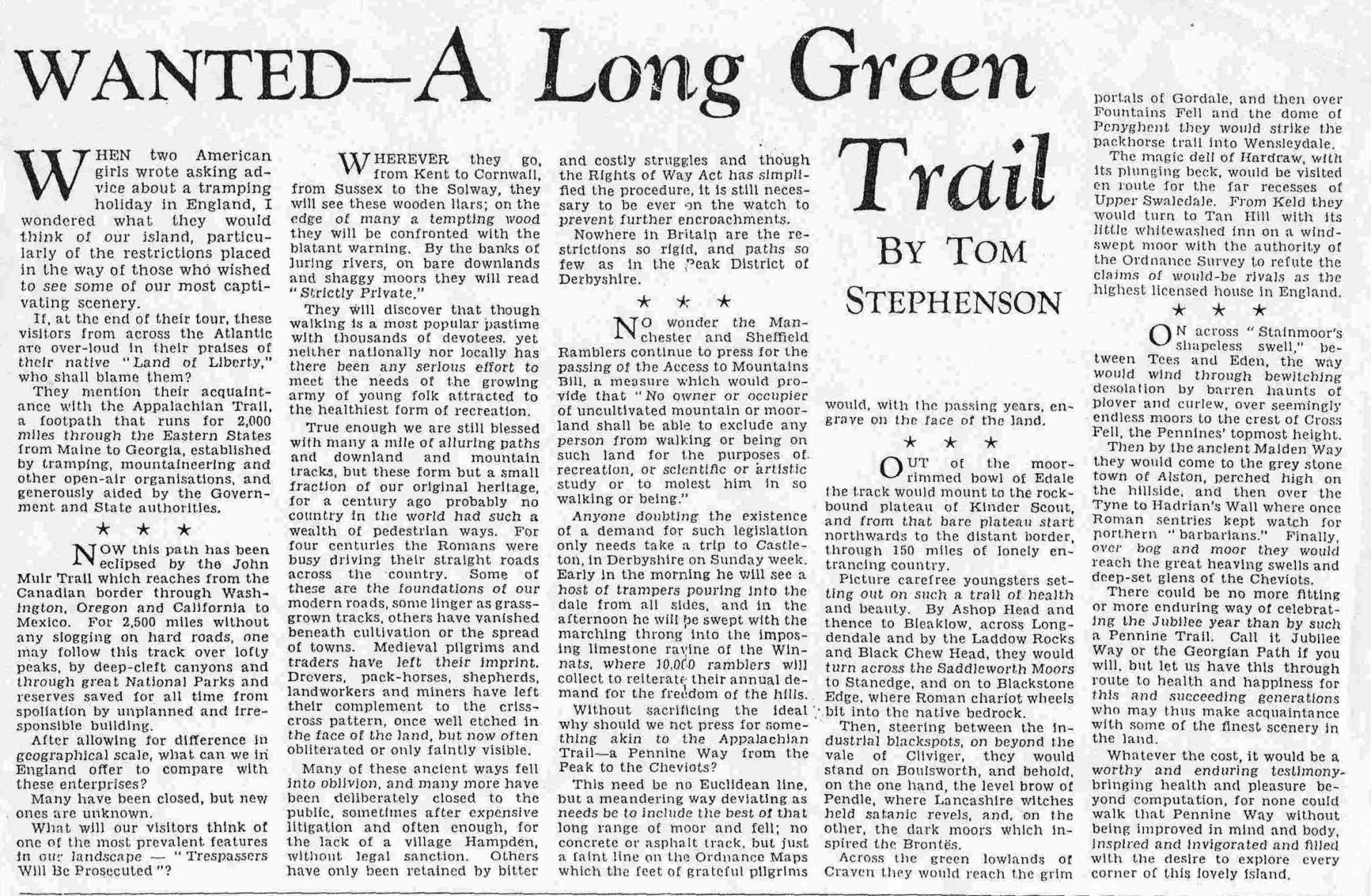 A family of long-distance trails
Fast-forward to today and the Pennine Way has been joined by 11 sibling trails all over England, three in Wales, and 29 more in Scotland. When fully open in 2020, the England Coast Path will add to their number and become the longest managed and waymarked coastal path in the world.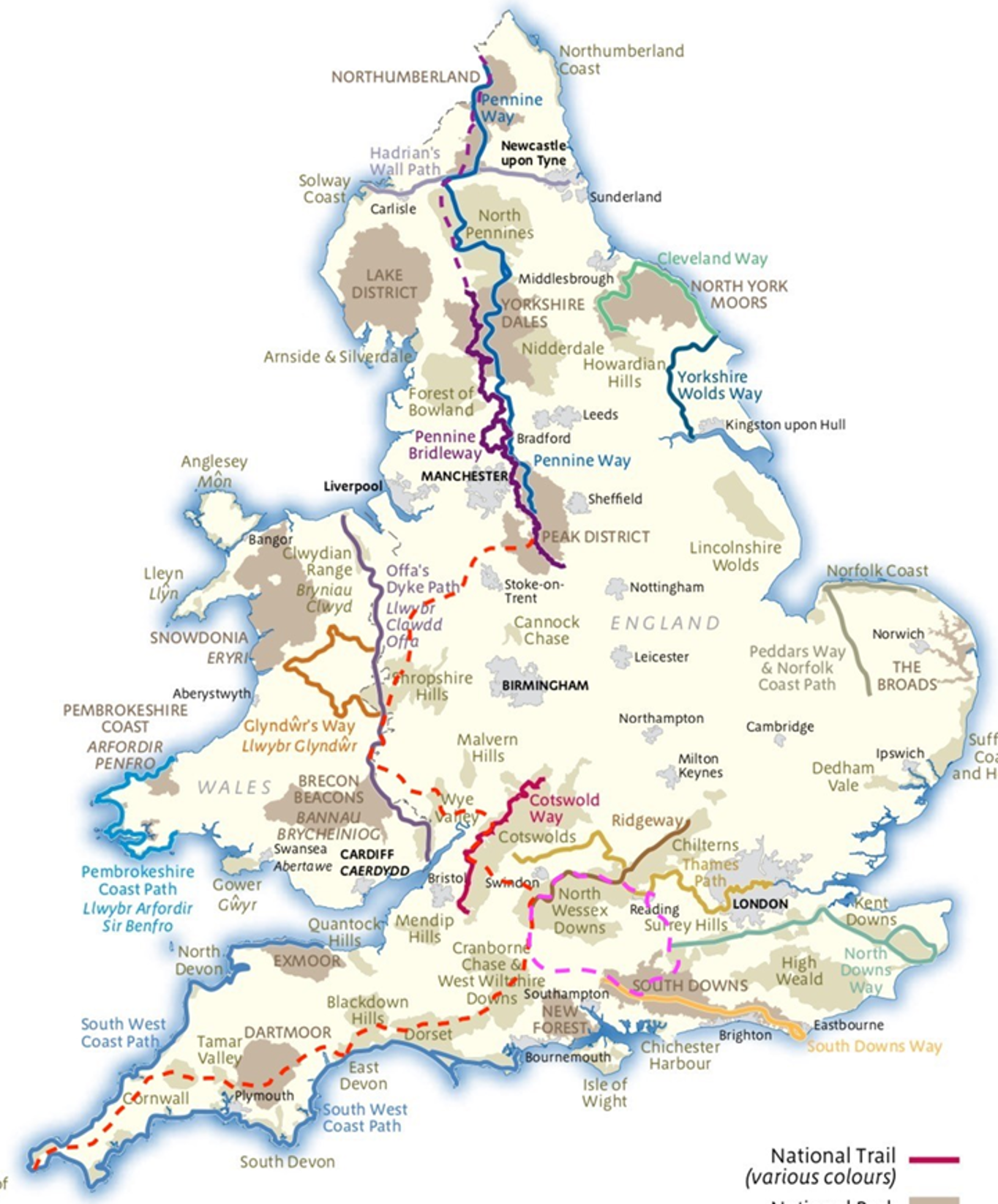 These trails are the pride of Britain, our flagship routes that showcase the stunning and varied landscapes, wildlife and history packed into this small island. They inspire people from around the world to explore them, and rightly so.
However, there is one aspect that didn't quite live up to Hobhouse's vision.
While all of Scotland's Great Trails are open to walkers, cyclists and horse riders (provided they follow the Outdoor Access Code), most of the National Trails in England and Wales can only be travelled from end to end on foot, as sections of bridleway open to riders are broken up by stretches of footpaths.
We know there is a demand from riders for long-distance off-road trails.
This demand was recognised with the opening of the Pennine Bridleway in 2012: a route created specifically for horse riders and mountain bikers running parallel to the popular Pennine Way.
Cycling UK's Rides of Way survey of over 11,000 off-road riders found that almost a fifth had ridden the South Downs Way and 14% had ridden the Pennine Bridleway, the only two National Trails that are fully open to cyclists.
12% of respondents had completed the rideable half of the Ridgeway, and a further 35% said they want to in future.
Cycling UK believes it's high time that the vision, seventy years ago, for long-distance multi-user trails was realised.
The North Downs Way
Pete Morris, who manages the North Downs Way National Trail, agrees. Over several years, he worked with Cycling UK, British Horse Society and local stakeholders to develop a riders' route for the North Downs Way, which runs from Farnham in Surrey to Dover in Kent.
"I get lots and lots of calls from cyclists – some from as far away as Australia – asking about a legal route on the North Downs Way," says Pete. "Until recently, I had to point out it wasn't a straightforward exercise, requiring the stitching together of several routes, then filling in the blanks between them. That's not satisfactory for anyone, least of all me."
The alternative route means he can now give people an answer, and a much more straightforward experience.
The Great North Trail
I mentioned that the Pennine Bridleway is a parallel route to the Pennine Way, but that's not entirely accurate. The Pennine Bridleway is 63 miles shorter. It comes to an abrupt halt several miles south of Kirkby Stephen in Cumbria, where it spits riders out onto the A683.
An extension to the Scottish border was proposed 20 years ago, but has never been completed.
That's why Cycling UK decided to develop the Great North Trail, to show it's possible by creating an interim route linking together existing trails, extending the Pennine Bridleway not only into Scotland, but right across it to the north coast.
The enthusiastic response from the off-road community blew us away. It shows the power that long-distance trails have to capture the imagination and inspire people to explore the outdoors, even just to ride short sections at a time.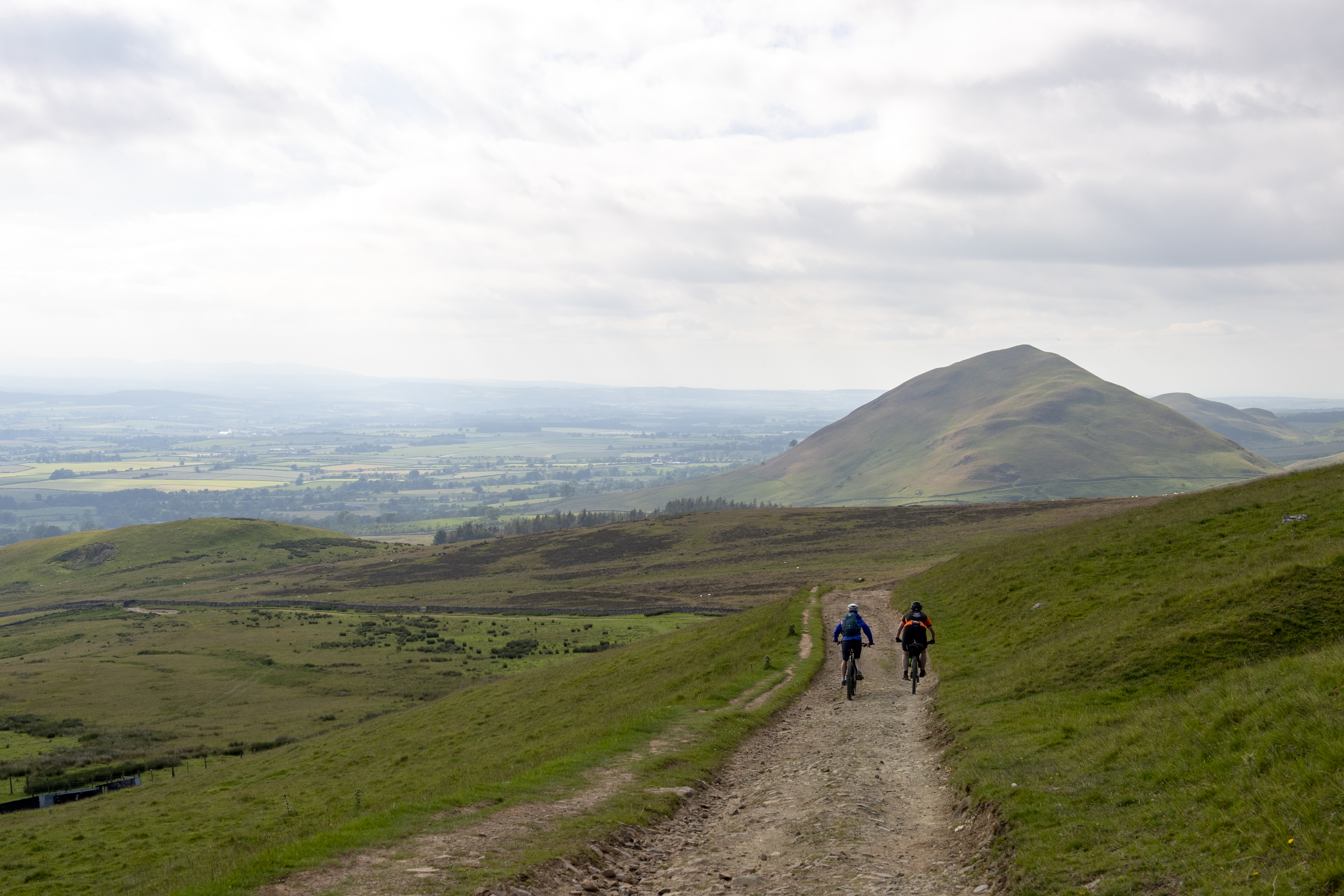 Fair access for all
The benefits were reinforced by the recent Glover Review of National Parks and AONBs. The review highlighted the need to welcome people from all backgrounds to our national landscapes, and the importance of giving information and guidance on where to go.
Julian Glover also highlighted the illogical nature of the rights of way system in England, stating that "...there seems little logic across the country to the nature of rights of way at the moment. Cumbria and Shropshire are rich in bridlepaths. In some other places, almost all routes are only open to walkers not horse riders or cyclists. As even rural roads become busier and more dangerous, it is all the more important that fair access is given to all."
As Cycling UK's off-road advisor Kieran Foster points out, the idea of long-distance trails only being open to walkers would have puzzled our ancestors.
"Several National Trails such as the North Downs Way began as popular pilgrim routes, which would have been travelled on horseback," says Kieran. "Obviously many of the routes they would have used are now driven on, but there's some irony that horses, and therefore bikes, can't access much of them." 
The way forward
There are signs that change is in the air.
The process of developing a riders' route for the Ridgeway is underway, and Cycling UK is working on a loop which will connect the Ridgeway, the North Downs Way and the South Downs Way, while connecting riders to hundreds of years of history.
As North Downs Way Trail Manager Pete Morris said, "It's exciting to be a part of this bigger nationwide project, helping to develop best practice that will allow many more people to get the best out of the National Trails."
Cycling UK's vision for long-distance rideable trails