Meet our members: Alan Eakins
Alan's story starts on 8 May 1945: celebrated around the world as VE Day. Alan was just a teenager at the time, but he says, his dad was so pleased by the Allies' victory that "on the spur of the moment he decided to buy me a bike I'd been ogling in a local bike shop: a Raleigh with drop handlebars and a three-speed hub".
Alan was delighted with his new bike and was soon cycling everywhere. "I was up and away with cyclists from a local YMCA/YWCA." he says. Back then the roads were "free of traffic, so a bunch of 30-plus riders was normal; as rides were all-day events, distances weren't really a problem".
As is so often the case, this led to an upgrade in gear and joining a club. "It was Sunday 1 January 1950, I was 19 years of age, living in Dagenham, east London.
"My new bike was my pride and joy: a Claud Butler Farmer with the most beautiful paint job. The frame cost £9, sponsored by my sister. Regretfully, though, the frame had angles of 74 degrees and 74 degrees, making road riding really uncomfortable.";
The club was Barking Rotrax. "We were either on training rides or joining 'suicidal mass starts' on war-time airfields, after which we staggered home as no one owned a car!"
Another new bike followed. This time a "Hobbs of Barbican hand-built to my specifications, using Reynolds 531 tubing and beautiful lug work".
Medal winner
It was in the early '50s that Alan started time trialling. His most successful all-round effort came in 1953. He took part in the 25-, 30-, 50- and 100-mile time trials. Putting in good times for each event, and with an average speed of 22.03mph, he was the Barking Rotrax Best All Rounder. "I still have the medals," he says with well-deserved pride.
Eight brave souls decided to ride from Dagenham to Canterbury. As there was a chance that no cafes would be open, we decided to ride the 105 miles with just the food we were carrying

Alan Eakins, Cycling UK member
It wasn't all plain sailing – or cycling – though. Alan recalls one ride that took place in March 1953 – a 150-mile tourist trial organised by Rapier Road Club. As Barking Rotrax had entered, "we decided a decent training ride was what we ought to do".
Alan takes up the tale. "Eight brave souls decided to ride from Dagenham to Canterbury. As there was a chance that no cafés would be open, we decided to ride the 105 miles with just the food we were carrying.
"There were two things we didn't account for: intense cold and a heavy snow fall on the return journey. With about 10 miles to home, I got the 'bonk'. Almost immediately I felt horrible: dizzy and convulsing with shivers.
"I ended up on the road. Somehow my mates got me to a house, where a large lump of fruit cake was the answer to my problem."
But as life took over, cycling fell out of favour. "At 25 I got married, bought a house, had a son and finished my HNC." Other activities like sailing and climbing also came to the fore.
Back on the bike
It was a trip to France to stay with his daughter many years later that reignited the cycling spark. "We were watching a team time trial of the Tour de France that was passing close to us and I had the urge to get back on a bike.
"On my return to the UK, I called in on my son. I told him the same story – and continued my journey home with a reasonable road bike in the car!"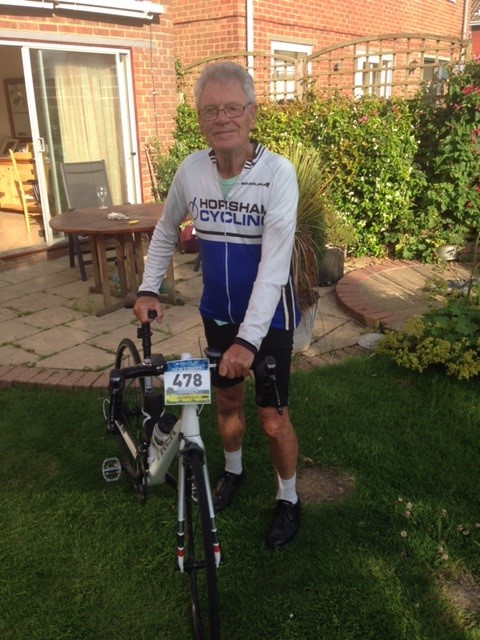 However, in the intervening years, roads and the volume of traffic had changed. "Starting back wasn't easy. My problem was roundabouts – I lacked the confidence to get into the correct lane. However, where I live in Horsham you can get clear of main roads in about 10 minutes, so with no A road roundabouts, I was back."
After about a year, Alan joined Horsham Cycling. This Cycling UK-affiliated club has around 130 active members and offers a large variety of activities. "I started with Social 1 Sunday rides of about 30 miles," says Alan.
Alan enjoys the companionship of being a club member. One highlight of this time was a cycling holiday in Mallorca with Viva Velo. He describes the trip as: "Six days of wonderful companionship and set rides of about 50 to 60 miles – way beyond my anticipation of what I could achieve. The ride leaders were excellent. Horsham Cycling almost took over the holiday!"
About two years ago, Alan was involved in an accident when a motorist hit him on one of those dreaded roundabouts. "I was cycling around Harwood Road roundabout when a car came up one of the entry roads, straight onto the roundabout, and straight into my left side.
"Somehow my face took some of the blow as I hit the ground. I looked a bit of a mess."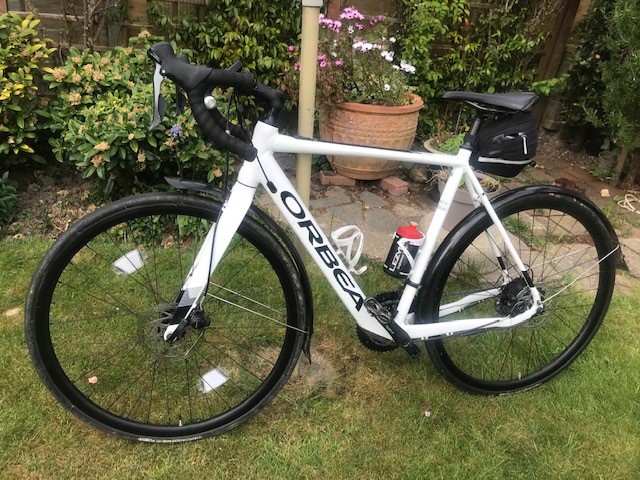 Injury
Alan was taken to East Surrey Hospital, where he was properly checked out. His left knee had been damaged.
As a member of Cycling UK, Alan received legal representation from Slater & Gordon. The driver was given a caution, while Alan got physio for the injured knee.
After about three months off his bike ("a carbon-frame Trek Domane that was undamaged"), Alan was soon back to club riding and taking part in those social rides again.
These days Alan has an e-cycle. "I decided to get assistance in riding, so I bought an Orbea Gain e-road bike, advertised as built to enhance your ride and not dominate it. I now use this bike on club rides, but do go for short rides on my Trek."