Meet our groups: the Lakes Gravel Gang
Community, connection, empowerment – why we started Lakes Gravel Gang
During the coronavirus pandemic, the need for community with like-minded people was so missed and we wanted to bring women together on bike rides to form friendships and connection after a challenging year.
In January 2020, I got together with a few friends and started a WhatsApp group and, before I knew it, a group of women who were stoked to ride bikes and have a natter together was forming.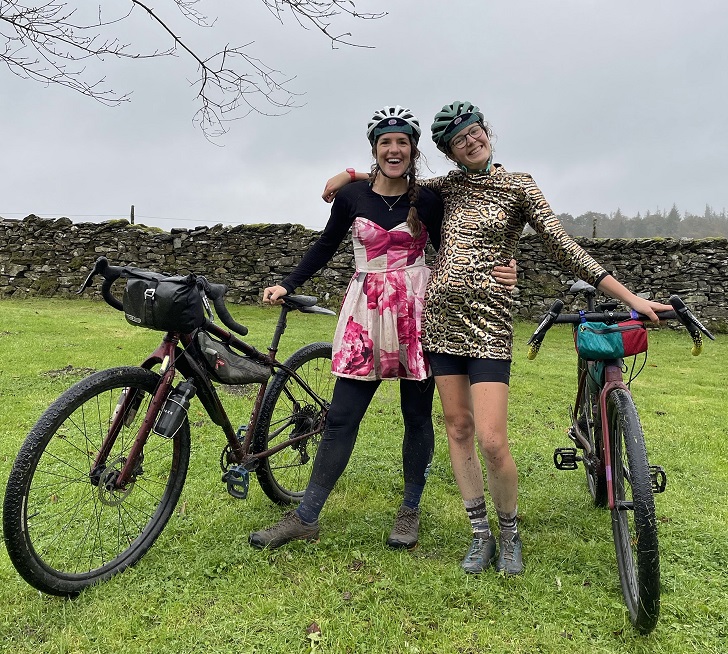 Lakes Gravel Gang aims to build confidence through bike rides and skills sessions. I founded the Cycling UK-affiliated group almost two years ago; and have seen it grow and flourish to include more than 350 women and non-binary folk riding bikes together, building confidence on two wheels through social rides and skills sessions in and around the Lake District. We've now hosted over 130 social bike rides, as well as lots of pizza and puncture skills sessions!
Why the focus on gravel riding?
We want to make riding bikes in a group as accessible as possible for women and non-binary folk that live in the local area.
There is a huge gravel-riding boom happening at the moment, but we believe 'gravel riding' means bike rides on terrain that suits most sorts of bikes on mostly traffic-free trails. We believe this sort of terrain is the most accessible form of riding, so that's our focus!
People join on expensive full-suspension bikes, new gravel bikes, vintage mountain bikes or a random hybrid bike they've had lying around in the garage for years. There isn't much smooth gravel in the Lake District, but we try to find the smooth bits, and you'll often find us walking and chatting on the bumpy bits.
Why the community is so special
People need community and connection. The pandemic has highlighted the need for this more than ever, and our bike rides are just the tool to enable this: lifelong friendships have formed, support networks created and confidence to ride bikes has been built.
We have led more than 130 bike rides, seven skills sessions and have a ride organiser team of 15 amazing women. The common interests people have found plays a part in building each ride and is so special.
We have a lot of fun and I think that draws people in and keeps them coming. We work hard to make sure our social media portrays the vibe of our rides: if people can get a feel for what they are coming to, or see someone who looks like them, or on a bike like theirs, they feel more comfortable joining.
We aren't trying to build a huge online following, or take over the cycling world – we're focused on building a wonderful community of local women who can learn and grow together.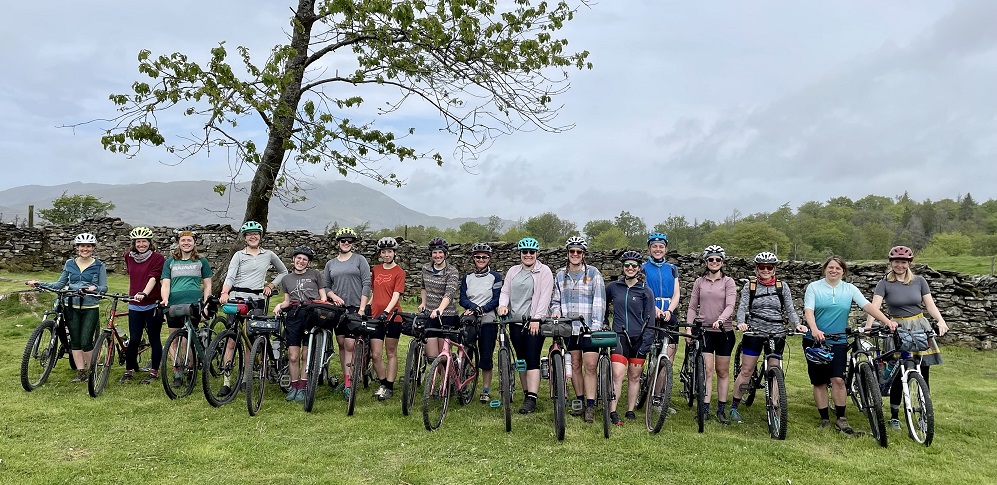 Why our rides are only for women and non-binary people
There are SO MANY wonderful groups for riding bikes, but not many in the Lake District/Cumbria area for women and non-binary people only. We want to create a safe and empowering space for all women to come together, and our numbers show that this is a community that's really needed.
Some women feel safer trying new things or pushing their comfort zone in women-only spaces. Others thrive in a space where they can speak openly about their experiences of being a woman.
Rider Christine, aged 51, says: "As an older member, I have a slightly different perspective to those half my age; sometimes I struggle with stuff now I'm in the perimenopause phase and I worry about body image (everyone always seems smaller or much slimmer than me!); but it does hearten me when I can get up hills OK as I have been cycling a long time."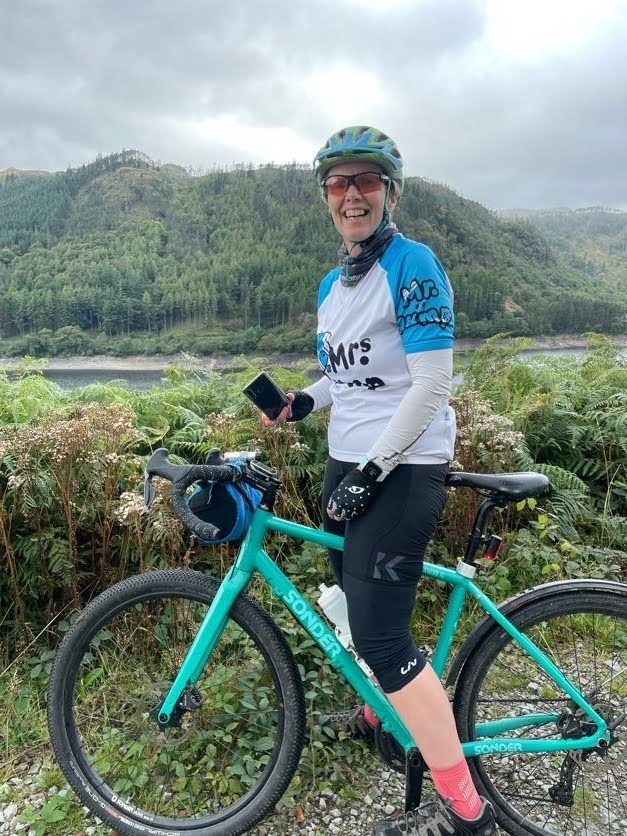 Where we ride
In and around the Lake District we are spoilt with so many incredible trails, beautiful views and cafés to stop at. We especially love riding around Grizedale forest and the beautiful cycle network of gravel tracks around the South Lakes, although we do venture further afield sometimes.
We try to vary our routes, offering a range of shorter under 20km rides, as well as longer rides, and include smooth terrain and bumpier stuff. There is so much on offer around the Lakes. We have a few mums who bring their kids, which is wonderful, or adult children that bring their mums on e-bikes: everyone is welcome!
You can find some of our favourite routes in our Komoot collection.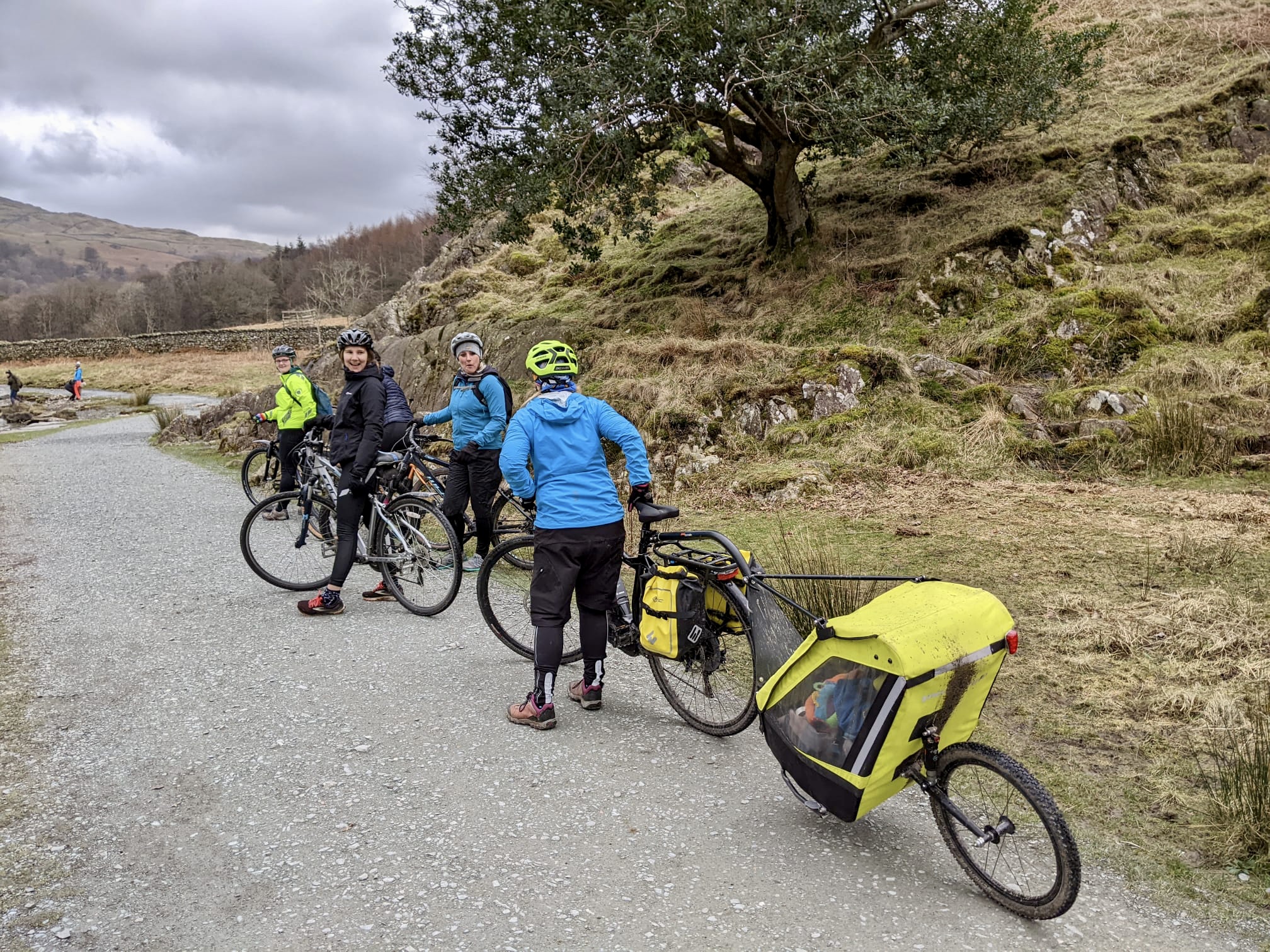 Our riders
We now have more than 350 people involved with the group, and rides can have anywhere between three and 30 riders. Folk come from all round the area, including Lancashire and Yorkshire, as well as Cumbria, of course.
The group is made up of so many unique, wonderful and interesting women of all ages and backgrounds.
There are already so many barriers to get into cycling, other than a helmet and a bike that's safe to ride, anything is welcome. We had a birthday party ride last year where we all rode in dresses! As long as people are comfortable and safe on their bikes, they can wear whatever they like.
It's not just about the bikes
Weird and wonderful things happen on our rides. For example, last October, 20 women rode through Grizedale forest in party dresses – that was pretty fun and definitely raised a few eyebrows!
Last weekend, we had a cheese board ride: each rider brought a block of cheese and we stopped at the side of the trail and had an incredible cheese board to work our way through. As we centre community and connection, we know food and fun are a brilliant way to achieve this.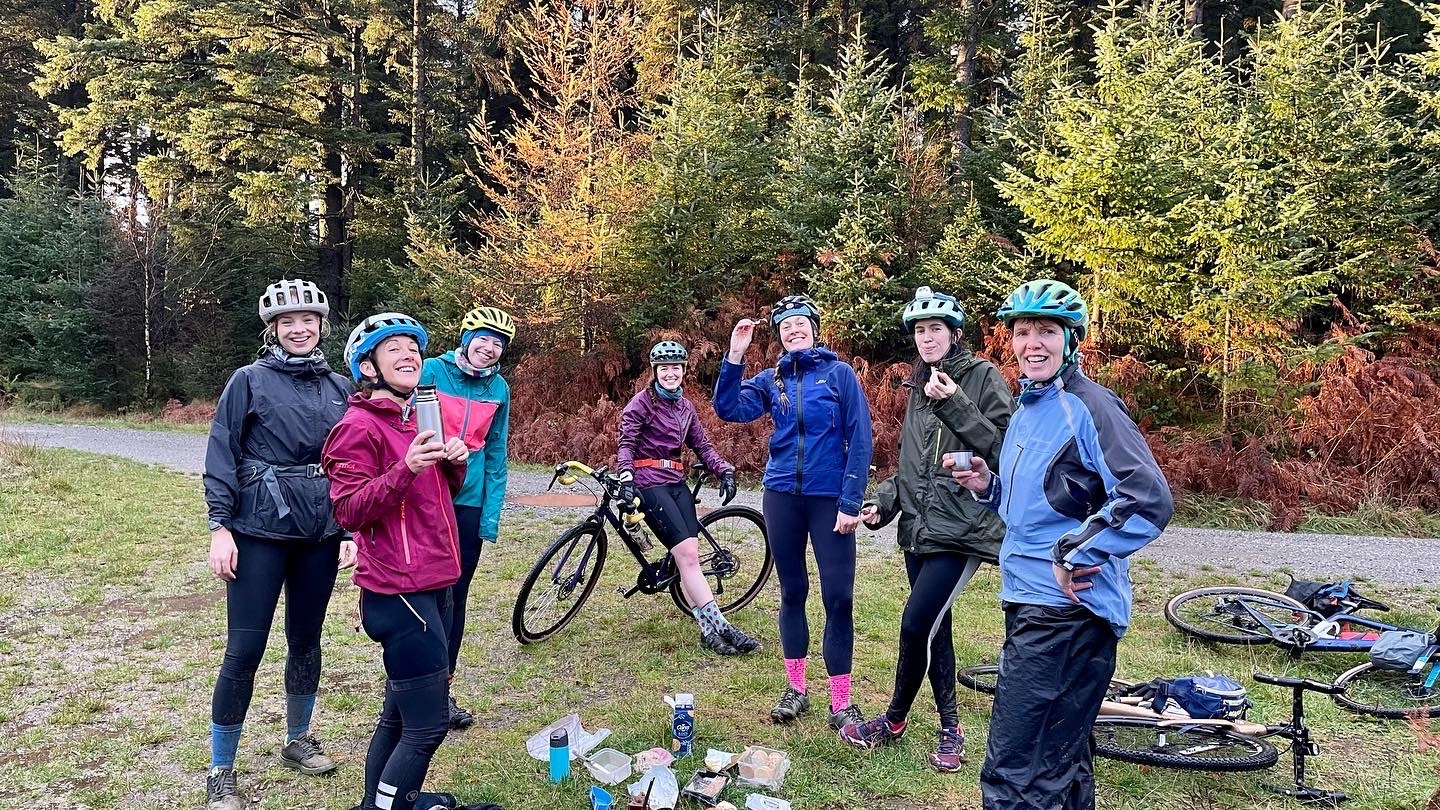 Ride organiser Shazza is also an aerial silks teacher, so she taught a bunch of us that. Sally, another of our members is a yoga instructor, so she is running yoga classes for us.
In the summer, we spent a weekend at Skiddaw House hostel, and recently visited our friends the FNY Collective for their annual FNY Hunt, as well as attending events locally and further afield. I also had the privilege of sharing our story so far at Kendal Mountain Festival last year.
As well as riding bikes, we want to equip and empower women. We know that running skills-building sessions, where people learn how to fix a flat tyre, means they then have the confidence to ride their bike on their own.
Learning more complex bike maintenance means they'll venture further afield. Bikepacking and asking questions in a supportive group might then empower them to go bikepacking on their own.
We are here to build confidence and skills for people to feel more powerful and capable, which we know will lead to brilliant adventures and people feeling great about their achievements.
It takes an army!
Running this community requires a lot of investment in time from our amazing team of organisers. The team is beautifully diverse and we have some brilliant skills among us that keeps us learning and developing.
It's always tricky to make things happen when we don't have money, but it makes us resourceful and creative.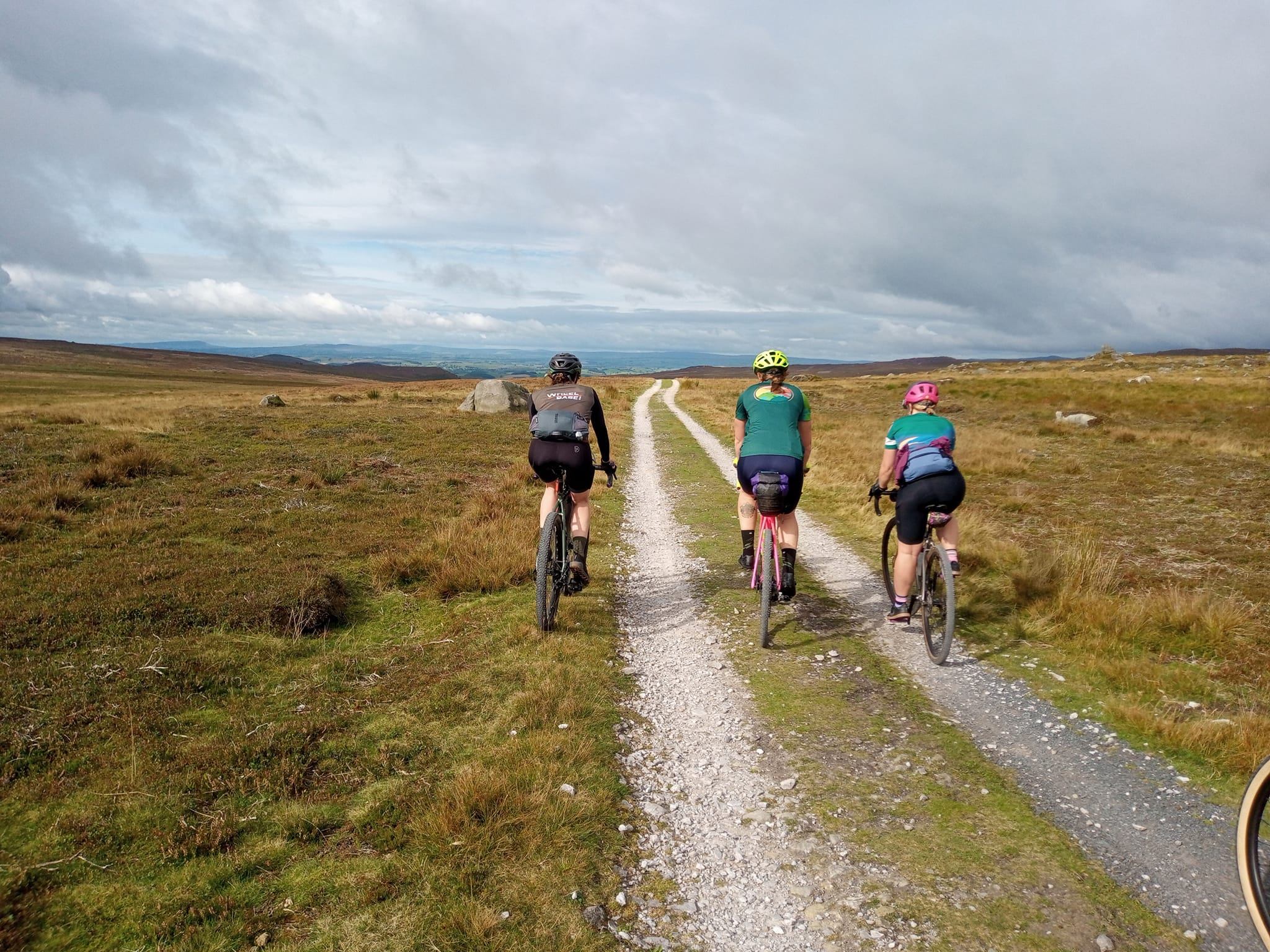 What we're most proud of
The most important achievement is that we've created a supportive community that helps us to feel more confident

Meu, ride organiser, Lakes Gravel Gang
Ride organiser Meu says: "For me, the most important achievement is that we've created a supportive community that helps us to feel more confident. I would have never ever gone to Shetland completely on my own had I not been part of this group, that is something I am certain about, and I think I am not the only one that has had a similar experience."
For me personally, it's that we have empowered SO MANY women to go adventuring on their bikes, trying new things, riding further, leading others and building friendships. It's beautiful!