LGBT+ Group cycling and volunteering
This year we are rolling out our diversity plan to encourage underrepresented groups to feel comfortable to come and volunteer, join one of our groups or set up their own. There will be other initiatives, campaigns and events that are focused around diversity in the coming year, so watch this space.
This month we have launched an initiative to raise awareness and show support for the LGBT+ community. We also wanted to highlight the volunteer network through our Rainbow Laces giveaway. We gave away 50 laces on a first come first served basis and they flew out the window within 48hrs. There are three reasons for this give away:
To show our support for Lesbian, Gay, Bi, Trans (LGBT+) inclusivity 
Thanking our fantastic volunteers
Raising awareness for International Day Against Homophobia, Transphobia and Biphobia on Sunday 17th May.
LGBT+ community are massively underrepresented in sport and we want to lead the way in encouraging inclusivity. We having been working with the fantastic charity Stonewall who are one of the leading organisations for LGBT+ people in the UK and the charity that run the rainbow laces campaign. Their mission is to create acceptance without exception for every LGBT+ person, and work with sport organisations to help bring about LGBT+ inclusion in sport.  They partner with other organisation to create real change for the better and we are proud to be working with them.
Cycling UK has a commitment to ensure all people on bikes are welcome in our groups and they feel comfortable and accepted.
Get your Rainbow Laces
We have another 100 pairs of Rainbow Laces up for grabs, on a first-come-first-served basis. All you need to do is send us your name, address and how you volunteer to Thomas.Page@cyclinguk.org.
You could also share the laces locally with your group and/or community and directly purchase some rainbow shoelaces.
Pride ride
We would love you all to have your laces ready for the Pride Ride during Bike Week, so please send us your details ASAP to claim a pair.
Please also send us a picture of you or your family or friends wearing the Rainbow Laces on your bike. We'd also love to hear if cycling has helped you to feel more accepted and included.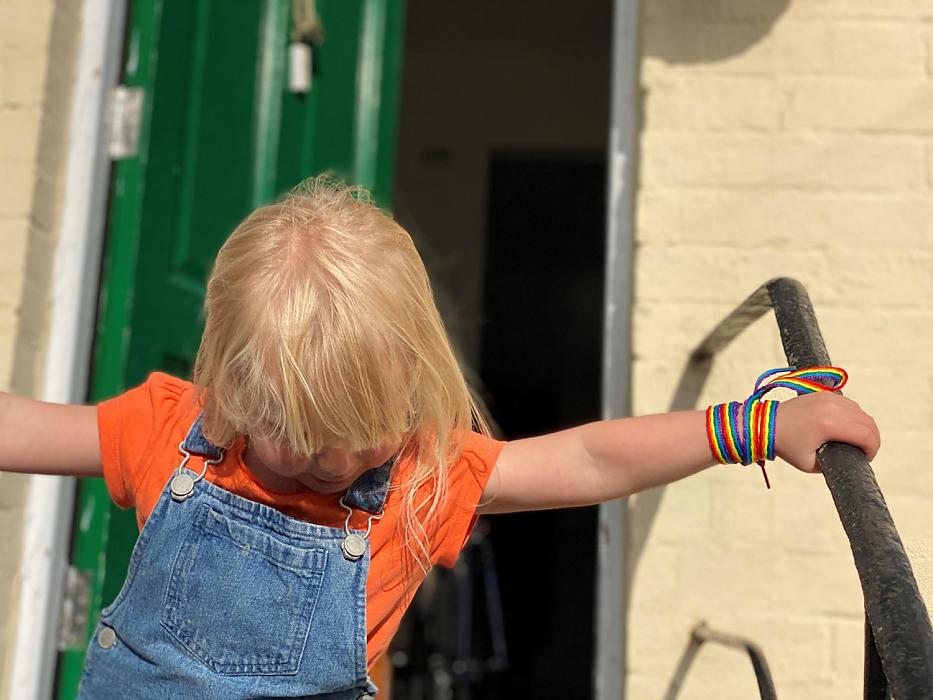 Support for LGBT+ Cycling Groups
We have LBGT+ cycling groups being created around the country. Richard Hearne from the Pride Out group in Manchester said, "Cycling UK has been incredible in terms of advice and support and we are so grateful. It's so amazing to know there is a cycling charity, such as Cycling UK, that has your back and is rooting for you to do well." Read Richard and Pride Out's story. 
CycleOut London is a social cycling club for the LGBTQ+ community with a year-round programme of rides, social events and cycling trips in the UK and abroad such as France, Spain and Italy. The club has approximately 160 members, and caters for all levels of cyclists with rides graded to suit various capabilities. The club is a non-profit, have served the London and UK community for over 25 years, run by volunteers with a main objective to provide safe healthy environment to the community.  
This page will be regularly updated with LGBT+ community advice and guidance in volunteering and group riding. Please get in touch if you feel there is any further information you would like to see available here.