Five ways volunteering in cycling is good for your mental health
However, there has been a big drop in the number of volunteers in many areas post-pandemic, alongside a dramatic increase in the number of people experiencing issues with their mental health: according to some reports, more than a quarter of us in the UK will experience a mental health disorder this year. 
The reasons for this are complex but, according to mental health charity Mind, the cost of living crisis has now contributed to nearly half of adults in England and Wales saying their mental health has been negatively affected, rising to nearly three quarters (73%) of those with existing mental health problems. Rising bills, together with the impact of coronavirus, may be behind a drop in people stepping forward to volunteer, as they use any spare time to enter paid employment. 
This is why, during this year's #mentalhealthawarenessweek, it is more important than ever to highlight the incredible benefits volunteering can bring to wellbeing and happiness. Whilst it may not be a cure-all for every mental health condition, it can certainly alleviate some of the symptoms. And if you are looking for paid work, it can even be a stepping stone to improving your finances, too.
1. Helping others
Mind reports that one of the 5 Ways to Wellbeing is helping others, and volunteering your skills and experience to enable others to enjoy the benefits of cycling is one of the best ways to do this.
Nearly all of us have experienced the sentiment that it is better to give than receive and scientific research often bears this out. Altruism makes us feel good and can improve self-esteem, which is sometimes very low in people with poor mental health - and it's true that being kind to others can lead to us being kinder to ourselves.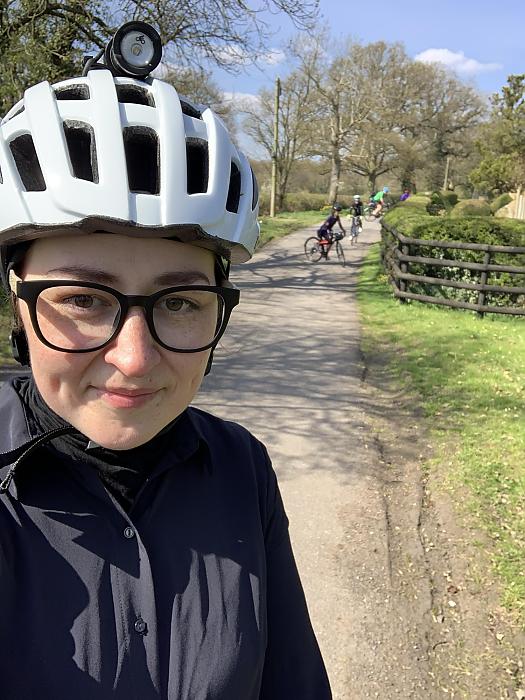 Volunteer ride leader Alisha Kiselman from Cycling UK-affiliated Ashiana Community Project (ACP) in Birmingham says: "I have never looked back since joining the project, and I want to spread the joy of cycling to as many women as possible because it has transformed my life and I know it will transform everyone else's who decides to give it a go!".  
2. Make connections
With many more of us working from home since the pandemic, feelings of isolation have become more common. There are, of course, meetings via Zoom or Teams to help us stay in contact but nothing beats the chance for a laugh and catch-up in real life with our fellow human beings. If you no longer meet many people in the flesh, what better way of connecting with them than by becoming a volunteer? Alisha adds that, having joined ACP shortly after she started cycling, she "wouldn't have made all the wonderful friends and wouldn't be a ride leader now!". And, if you're no longer commuting, could you put the extra time and energy saved towards volunteering instead?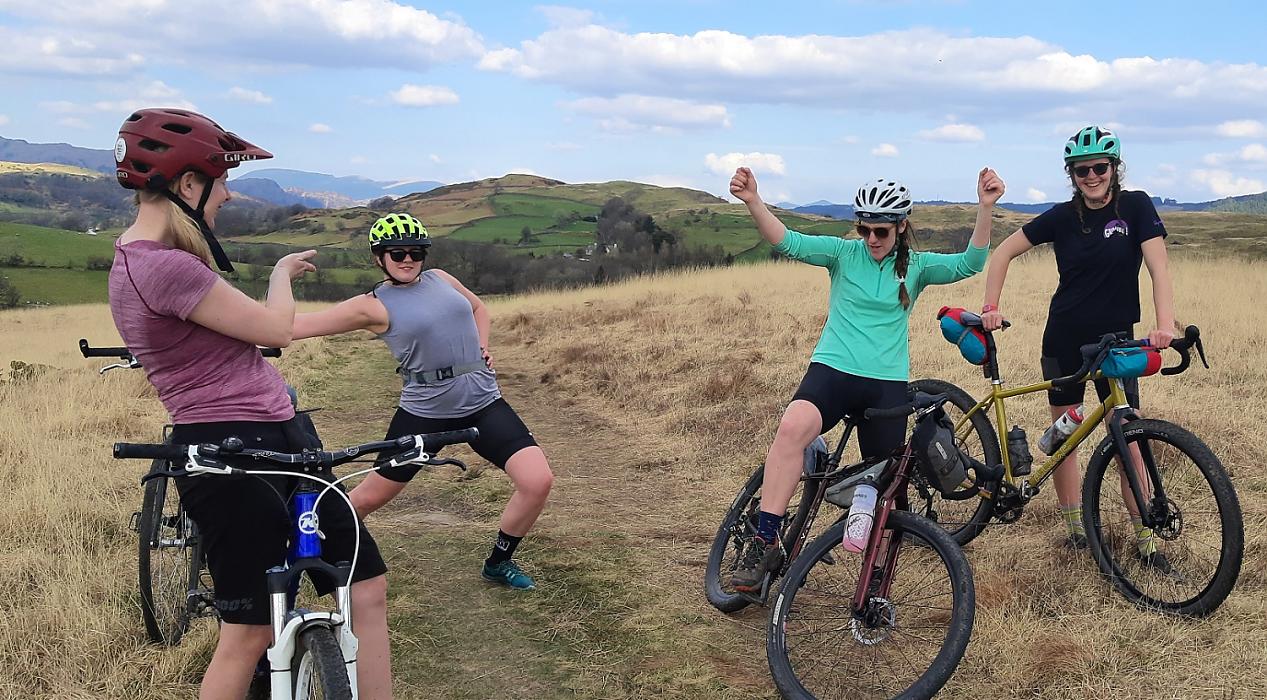 Emily Wormald, founder of the Lakes Gravel Gang, told us: "The pandemic has highlighted the need for community and connection more than ever, and our bike rides are just the tool to enable this: lifelong friendships have formed, support networks created and confidence to ride bikes has been built."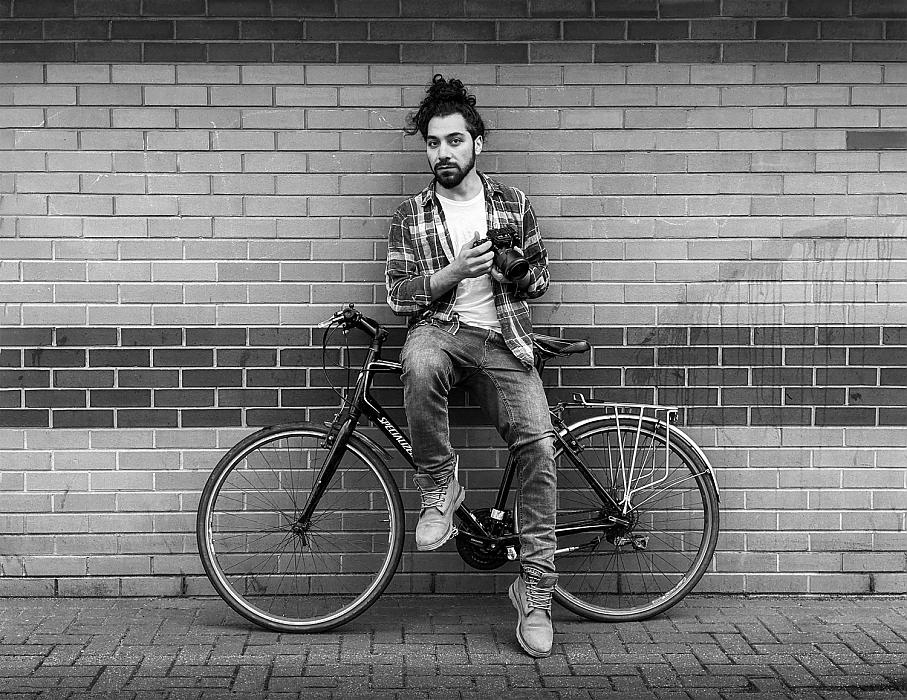 Cycling UK volunteer photographer Abdullrhman Hassouna says: "Without a doubt, volunteering with Cycling UK has widened my horizons, enabling me to discover new places, meet new people from diverse backgrounds, and make new friends in the UK. I've lived and worked in different countries but it's only since I moved to the UK that I've learnt to love cycling."
If you are not able to get out of the house much yourself, or are short on time, you can still connect with others virtually of course, and one of our many online opportunities, such as Cycling UK Facebook and forum moderator roles or becoming part of our Cycle Advocacy Network might be a way of engaging with the cycling community at a time and place of your choosing.
Perhaps you could get involved in helping us secure more cycle-friendly Trails for Wales? By joining our Pumped Up Crew of micro volunteers, you will receive regular online tasks you can complete from the comfort of your own home.
3. Get active
During the pandemic, rates of physical activity fell sharply. Fortunately, according to the Sport and Recreation Alliance and Sport England, activity levels, at least in England, have recovered to pre-coronavirus levels.
However, all is not as rosy as it seems: the research also revealed that half a million fewer young adults (aged 16-34) are as active as they were six years ago and there has been an increase in the number reporting mental health conditions (Office for National Statistics, 2020). Meanwhile, in the least affluent areas, activity levels have actually fallen to 3.1% below pre-pandemic levels.
Cycling and walking are obviously some of the best ways to build in exercise to your daily or weekly routine. Becoming a ride or walk leader for your local community will not only enable you to meet new people but will also motivate you to be more active yourself, as well as improving the physical and mental health of others; plus it's now universally acknowledged that being in nature has enormous psychological benefits in itself.
We have Cycling UK volunteer ride and walk leader roles available in Scotland as well as a network of hundreds of volunteer-led cycling groups throughout the UK that may well be looking for your services.
Bob Damper (above) of Southampton CTC is a long-standing ride leader and event organiser. He says he has got more out of cycling than he has put in, after over four amazing decades of being a volunteer for his local group! Volunteering as a ride leader or event organiser gives you a reason to leave the comfort of your own home, whatever the weather, and helps others to do so too. 
4. Keep learning
Focusing on acquiring new skills is one of the best ways of keeping your brain active and distracted from any intrusive and unwelcome thoughts. Cycling UK's direct volunteers can access training modules tailored to their roles, whilst we are currently offering online ride leader training to our Member Group ride leaders - more than 300 have now completed it.
We also have a range of toolkits tailored to other cycling group volunteer roles and have plans to offer many other opportunities for learning to our volunteer network.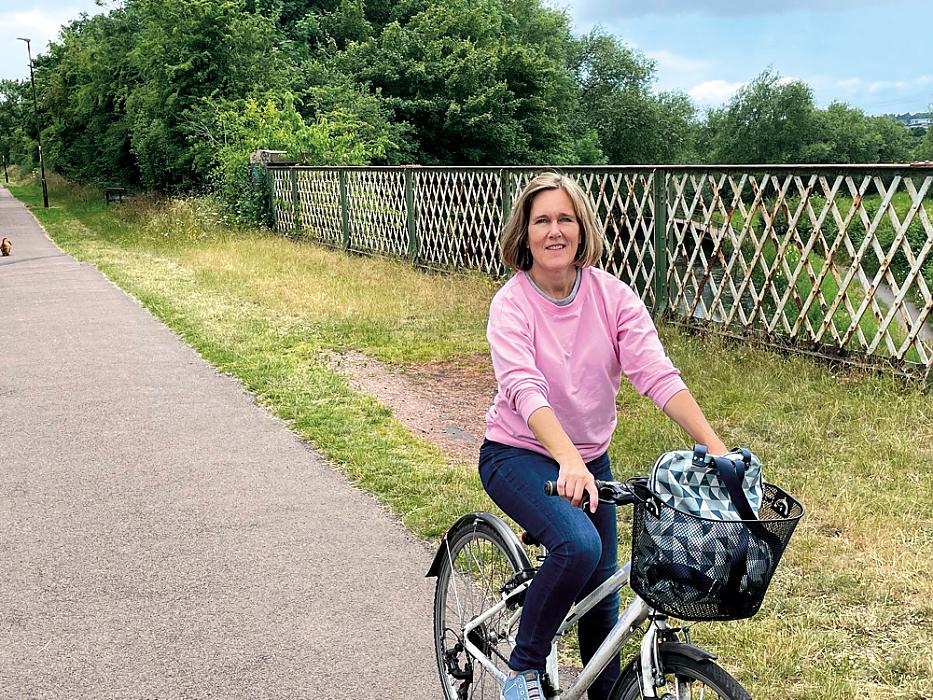 Cycle Advocacy Network (CAN) member Rachael Wigginton says: "l had no prior history of cycle campaigning. I knew nothing about campaigning, the government's position on cycling, or how things work at a local level. CAN has given me an awful lot of knowledge and a great network with lots of experience and expertise. There's always someone who has got a helpful answer to a question I have."
Learning also boosts your self-confidence, as does sharing your expertise with others. Perhaps, if you are confident of your own skills, you could take some time to share them with others by, for example, showing them how to fix their bikes or cycle more effectively? Maybe you could help campaigners like Rachael by sharing your local knowledge of routes and political structures by linking up with CAN? 
We have plenty of other ways you could get involved in Cycling UK, too, and help us get millions more people cycling.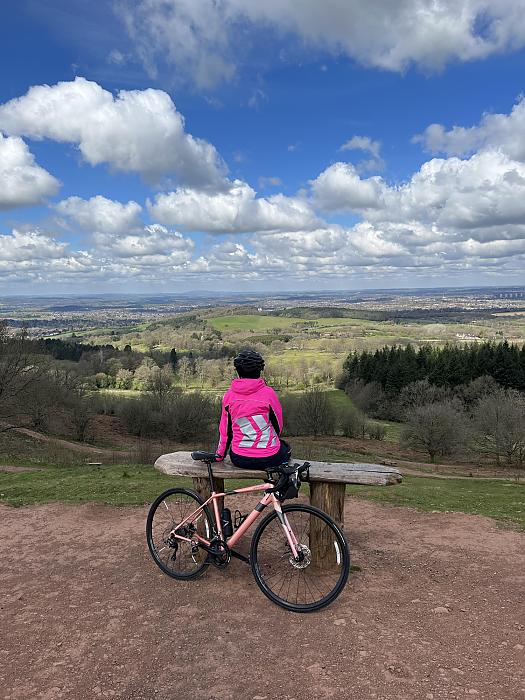 5. Enjoy the moment
One of the areas of focus in mental health support these days is mindfulness, alongside gratitude. Helping others may make us realise how lucky we are to be in a position to do so. Noticing how our volunteering impacts others' wellbeing can make us feel more fulfilled and that our time is being spent productively. 
Volunteering can give your life purpose and a sense of achievement that you are helping make the world better by bike - even when the news seems bleak, there are always small victories to celebrate and cause for optimism. Maybe you could help to reclaim a route for cyclists, as Richard Gale successfully did in the Lake District recently? 
Although they may not always express their feelings openly, people who have been helped to cycle more, whether through a led ride, a well-run event or campaign, or some mechanical expertise freely given, will be forever grateful to those that take the time and energy to bring them about. If you are a volunteer in cycling, be assured that the whole cycling community is appreciative of everything you do!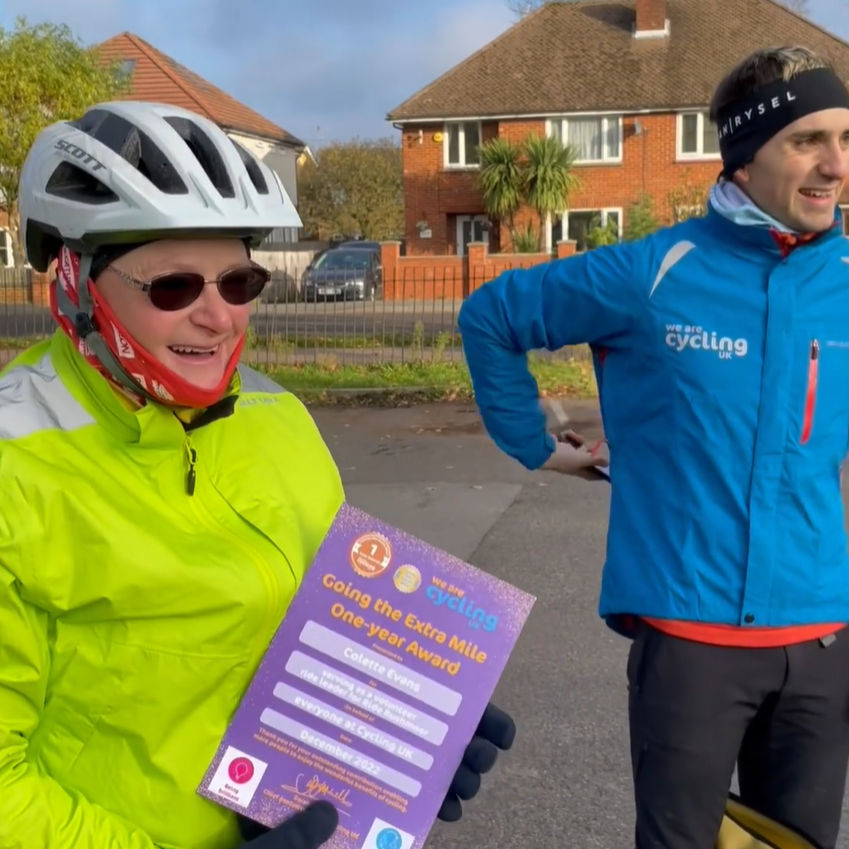 Show you care
If you know someone who is an outstanding volunteer in cycling, nominate them for a Going the Extra Mile Volunteer Award. Nominations are open until 5pm on Friday 19 May 2023, with the winners being announced on 1 June. 
You can also arrange to thank them during Volunteers' Week from 1-7 June 2023 with one of our Going the Extra Mile cards or certificates.