Cycling UK royal riders: A history of royal patrons
1910: The first royal patronage
Cycling UK – then the Cyclists' Touring Club (CTC) – received its first royal patronage in 1910, a major milestone in the club's history. Founded in 1878, the club's main objective was to support cycle touring, but it also played a significant role in promoting cycling and campaigning for cyclists' rights.
The club quickly gained recognition for its service to cyclists. Membership rose from 142 members in its first year to 60,499 in 1899. Cycling was a popular pastime for people from every part of society, including the royal family.
By the turn of the century, the cycling craze of the Victorian age was over. The CTC was hit hard by cycling's waning popularity. Membership numbers plummeted to 18,227 by 1910 and the club's finances were in peril.
Attempts to keep the club afloat included moving their national headquarters in London from Victoria Street to cheaper offices on Euston Road and considering extending membership to car drivers. Something was needed to revive the club.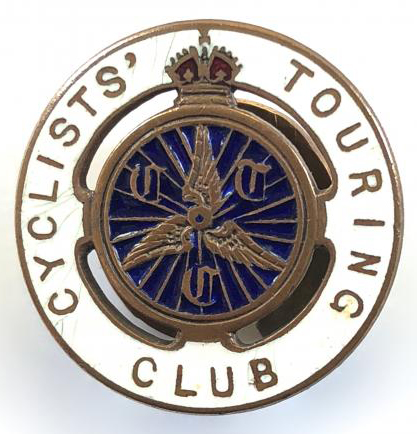 The agreement of King George V (1865-1936) to serve as the CTC's first royal patron in 1910 was a boon for the club's reputation.
The CTC Gazette commented that it was: "Rendered all the more pleasing by the fact that His Majesty is a thoroughly practical cyclist himself, and the father of a family of cyclists, as well as the most travelled occupant of a throne … this mark of Royal favour may be taken as evidence that the old Club continues to maintain its vitality and prestige."
A small crown was added to the CTC winged wheel badge in honour of their royal patron.
The Royal Family included a number of pioneering cyclists. During Queen Victoria's reign, 1837-1901, tricycles were a feature of royal life at Osborne House, her residence on the Isle of Wight. The royal household purchased two tricycles from James Starley in 1881 to be used on the Queen's private estate.
This investment demonstrated support for cycling, then an innovative new technology. Tricycles were considered respectable to ride and suitable for women. Princess Beatrice, Queen Victoria's youngest daughter, was a tricycling fashion icon.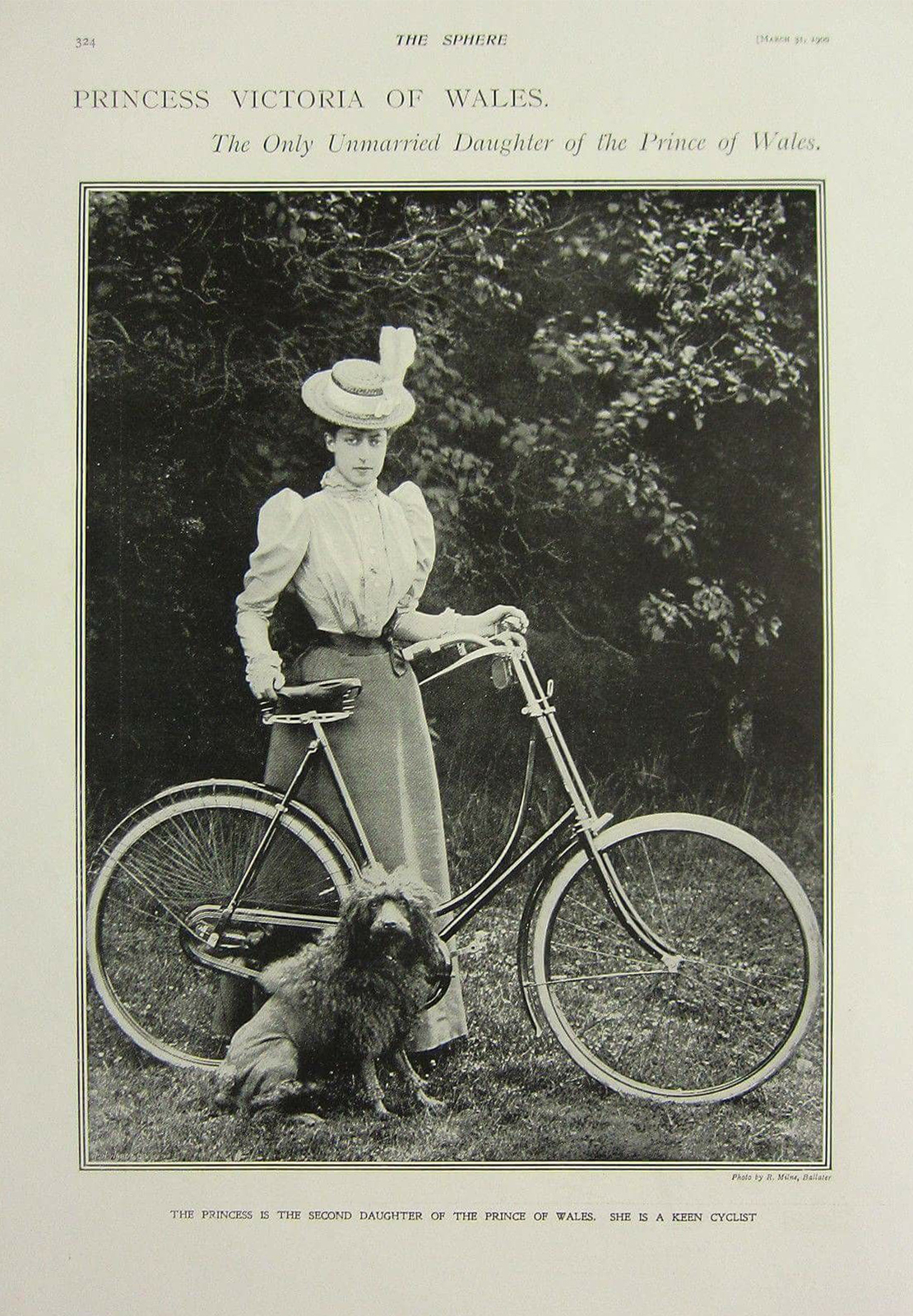 In 1885, American magazine Outing reported: "When we first read that the Princess Beatrice had mounted the three-wheel, our lively interest began."
King Edward VII, Victoria's oldest son and George V's father, was an avid tricyclist and later bicyclist. George V learned to ride as a child and his sister Victoria, Princess of Wales was frequently photographed looking stylish on her bicycle in the 1890s.
Traces of royalty can be found in bicycle advertising. Companies that supplied bicycles to the royal family capitalised on their patronage and marketed 'Royal' branded models. Starley Bros, for example, named one of their premier tricycles The Royal Salvo. Humber Cycles was distinguished by its Royal Warrant.
'A Few Riders of Humber Cycles', a well-known advertising poster dating from 1905, depicts a cycling procession passing Windsor Castle. King Edward VII leads the pack of 62 riders and the future King George V follows closely behind him.
Humber wrote: "As is well known, many Members of our Royal Family are fond of cycling. But it is not so commonly understood that His Majesty the King, Their Royal Highnesses The Duke of Connaught, Princess Louise, The Duke and Duchess of Cornwall and York, The Duchess of Fife, and Princesses Maud and Victoria of Wales, unite in honouring the world-famous 'Humber Cycles' by riding them."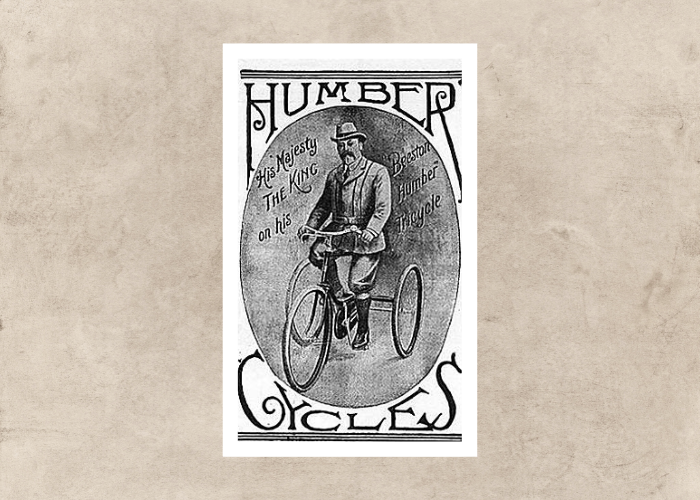 1920s: Cycling renaissance and royal relays
The 1920s saw a revival in cycling. The CTC's prospects also improved. Well-known cycle racer and writer George Herbert Stancer became president in 1919, The CTC Gazette was reinvigorated, club finances recovered and membership rose.
A census taken in 1923 showed that there were more bicycles on the road than any other vehicle. The same year marked the first National Bike Week. The CTC, National Cyclists' Union and Trader's Association collaborated on the event, with rides and cycle meets held across the UK.
News articles and wireless broadcasts promoted the virtues of cycling for all.
The CTC's flagship event for National Bike Week was a relay ride covering 888 miles in 5.5 days through England. The riders carried with them a message from the Edward C Moore, Lord Mayor of London.
As well as greetings to the mayors and lord mayors to be visited, Moore's letter stated: "It is my opinion that the ride will provide valuable indication of the utility of the bicycle as a means of rapid, pleasant and economical transport."
The first set of relay riders left Mansion House on 28 May and the last set returned 2 June.
There was one final stop for the relay riders: Buckingham Palace. The cyclists presented George V with a birthday message illuminated on vellum. The King's Secretary acknowledged receipt of the message, writing to the CTC "As Patron of the Club, His Majesty congratulates the relay of its members" and was "glad that their final despatch has reached him at Buckingham Palace on His Majesty's Birthday."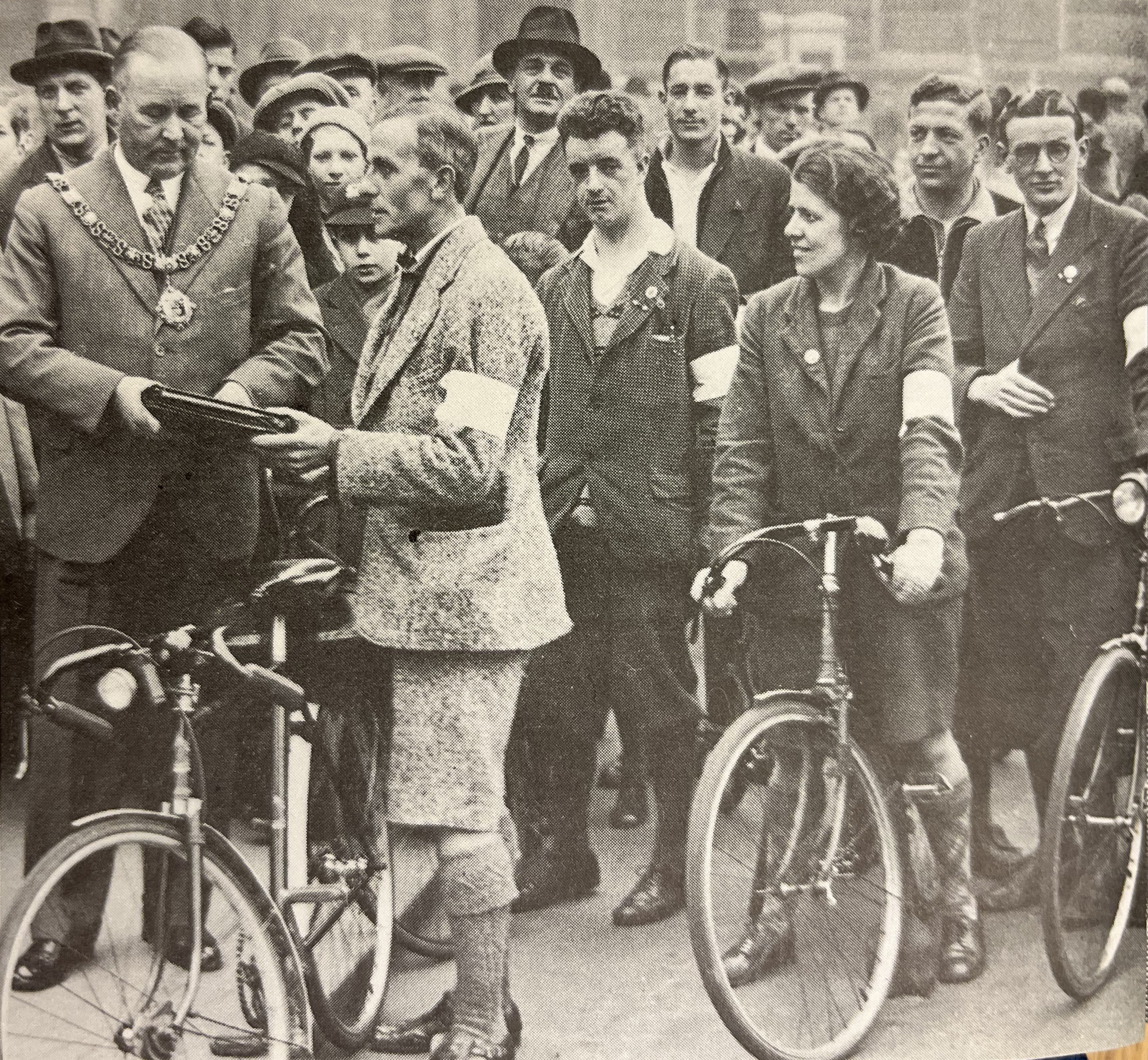 1935: Royal Silver Jubilee relay ride
The CTC organised another relay ride to celebrate George V's Silver Jubilee in 1935. This time, the route covered 2,250 miles over 15 days.
In addition to England, branches visited Dundee, Scotland and Cardiff and Llandudno, Wales. A separate 200-mile relay was arranged in Northern Ireland.
The start point for the official relay was Mansion House at 6:45am on 22 April, and the finish point was the CTC office in Craven Hill at 4pm 6 May. Riders wore armbands inscribed "CTC Royal Silver Jubilee Relay Ride, 1935".
The Silver Jubilee Relay Ride was a national sensation. Daily updates were reported in newspapers and on the radio. Selfridges displayed a map of the relay route in their Oxford Street shop window which was updated as the riders went from town to town providing 'live' hour-by-hour coverage as telegrams arrived.
A message of congratulations and good will was delivered to George V by a delegation of male and female CTC cyclists. It had been carried with the riders and signed by the mayors and provosts of more than 100 cities and major towns.
1936: Abdication crisis and George VI becomes king and CTC royal patron
George V died in January 1936 after 25 years as the CTC's royal patron. Within hours of his death, the CTC sent a telegram offering condolences to the royal family. A CTC floral wreath appeared at the funeral.
Patronage of the CTC passed to Edward VIII (1894-1972). An avid cyclist like his father, Edward was made a life member of the CTC at age 19. The CTC Gazette wrote: "He has shown a genuine appreciation of the merits of cycling," and "found it worthy and enjoyable."
This patronage was not to last long, since the abdication crisis saw Edward VIII leave the throne before the year was out.
In December 1936, George VI (1895-1952) became king. He assumed the CTC royal patronage and played an active part in promoting the cycling club.
In 1944, he famously invited CTC veteran cyclists to pass through Windsor Park during a 100 mile ride. The CTC Gazette published a photo of the King, Queen and two Princesses greeting and chatting with the cyclists. On other occasions, the King and Princesses were pictured on bicycles.
When George VI died in 1952, the CTC noted his service to cycling and called him "the good and valiant", noting "we loved him, and admired him, and were proud to call him King."
1952: Celebrating Queen Elizabeth II
In 1952, Queen Elizabeth II acceded to the throne and accepted the CTC royal patronage. A cyclist herself, Queen Elizabeth had accompanied her father on his official duties as CTC patron and enjoyed riding in her leisure time. As a young girl, Princess Elizabeth was photographed riding her tricycle in Windsor Park with a nanny following closely behind her.
In later years, Princesses Elizabeth and Margaret were frequently pictured riding their bicycles, including beautiful images captured by photographer Lisa Sheridan (1894-1966) in the 1940s. Young Princess Elizabeth always exuded happiness when pictured on her bike.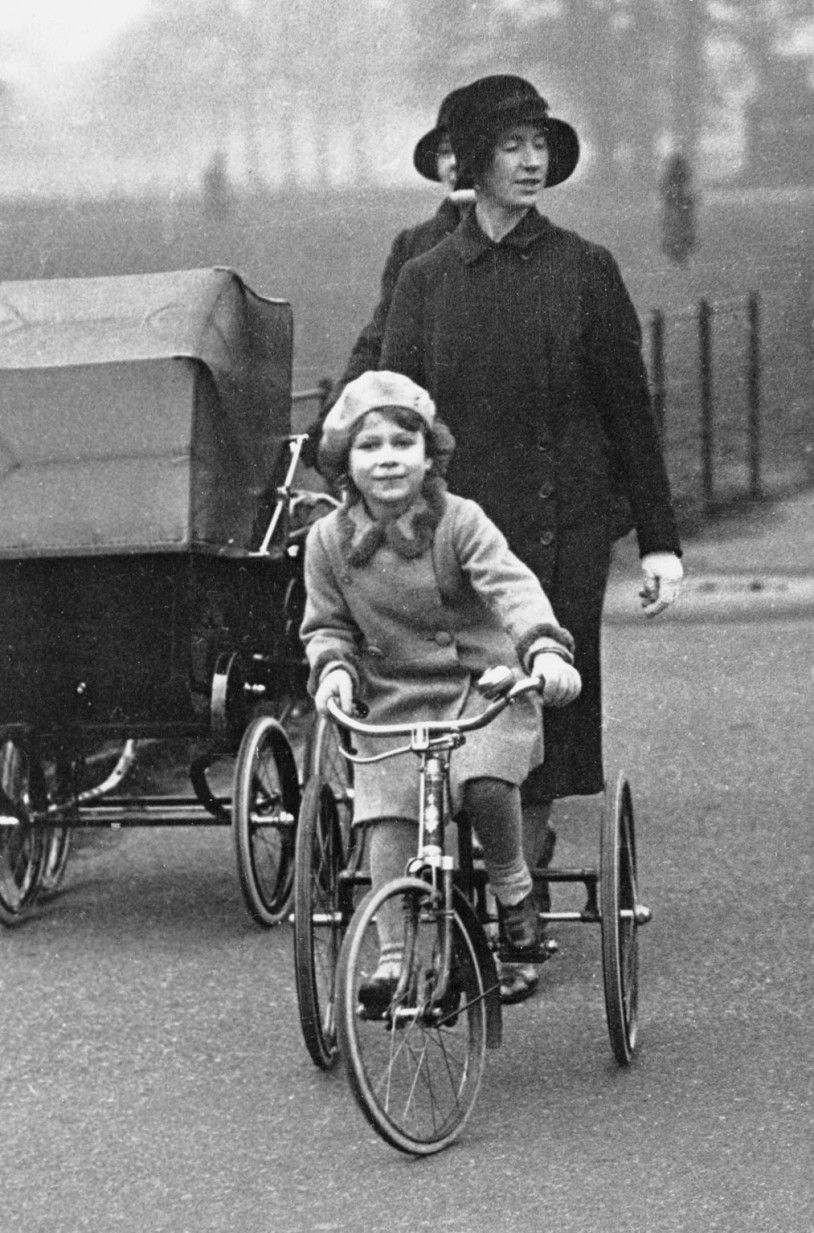 When Queen Elizabeth II became the CTC's royal patron, the club announced "never before has it given us such great pride as now as to be able to say "Her Majesty The Queen – our Royal Patron – God Bless Her."
On 6 February 2022, Her Majesty Queen Elizabeth II became the first British monarch to celebrate a Platinum Jubilee. She's also the Cycling UK's longest-standing royal patron. As the world celebrated the Platinum Jubilee, Cycling UK thanked Her Majesty Queen Elizabeth II for 70 years of royal patronage.
2022: A farewell to Cycling UK's longest-serving patron
Cycling UK was deeply saddened to hear of the passing of HM The Queen on 8 September. As well as being Britain's longest-reigning monarch, she was also our longest-standing royal patron. We are so thankful for her 70 years of support. Our thoughts are with her family at this difficult time.
As we look to the future, we are awaiting news of who our next patron will be. An announcement will be made in due course.