The British history of off-road cycling
Mountain biking, so the story goes, was born out of the counter-cultural haze of 1970s California, when thrill-seekers started throwing old balloon-tyred Schwinn machines down dirt trails in the hills of Marin County. The impromptu races these early enthusiasts founded on the slopes of Mount Tamalpais have passed into legend.
Known as the Repack, because the bikes' hub brakes got so hot that the grease would burn off and need regular replacement, these early downhills featured names that went on to become synonymous with the sport, and build the first "proper" mountain bikes: Joe Breeze, Gary Fisher, Tom Ritchey et al. Within 20 years of the final Repack race in 1976, mountain-biking was an Olympic sport.
But of course, despite the undoubted impact of those early west-coast MTBers, people have been riding bikes off road for a lot longer than that. As early as the 19th century, armed forces were experimenting with bicycles to increase the speed and range of their infantry. British, French, Russian and Swiss forces all had cycle units, and by the time of the First World War the Italian Bersaglieri deployed 12 cyclist battalions, who wore folding bikes slung over their backs.
Back across the Atlantic, the "Buffalo Soldiers", a regiment of the US Army made up of African-American soldiers, were testing off-road bicycles for long-distance journeys. In 1897, the 25th Infantry Bicycle Corps rode 1,900 miles from Missoula, Montana, to St Louis, Missouri, in just 34 days. "In every kind of weather, over all sorts of roads, we averaged 50 miles a day," reported their commander, Lt James Moss. "At the end of the journey we are all in good physical condition. Seventeen tires and half a dozen frames is the sum of our damage."
British pioneers
But off-road cycling for its own sake was also beginning to take off among a small but dedicated band of enthusiasts, and Britain was at the forefront. As long ago as 1890, the CTC Gazette (the magazine of the Cyclists' Touring Club, now known as Cycling UK) recorded how a rider by the name of Amos Sugden had taken his bicycle, weighing 50lb, over the 1,600ft Sty Head Pass in the Lake District. 
A key figure in bringing the "rough stuff" to the popular attention was Walter McGregor Robinson, better known as Wayfarer. Together with fellow members of the Anfield Bicycle Club (ABC), Wayfarer rode (and pushed) his heavy bike (fixed gear, of course) across the Berwyn mountains of North Wales on a snowy March weekend in 1919. His article in Cycling magazine recounting the trip, entitled "Over the Top", was the first of many evocative pieces that inspired more cyclists to take the routes less travelled.
A much later article on Cycling, published in 1972, tells how during the 1920s Robinson's fans would often cycle to a pub in Llandegla – a village that is still a popular MTB spot today – where he was a regular, in the hope of talking to their hero.
The history of the ABC, which was founded in 1879, is closely linked with that of Cycling UK, or the Cyclists' Touring Cub as it was formerly known. During the 1920s Wayfarer gave talks on his adventures, illustrated with slide shows, to local CTC groups.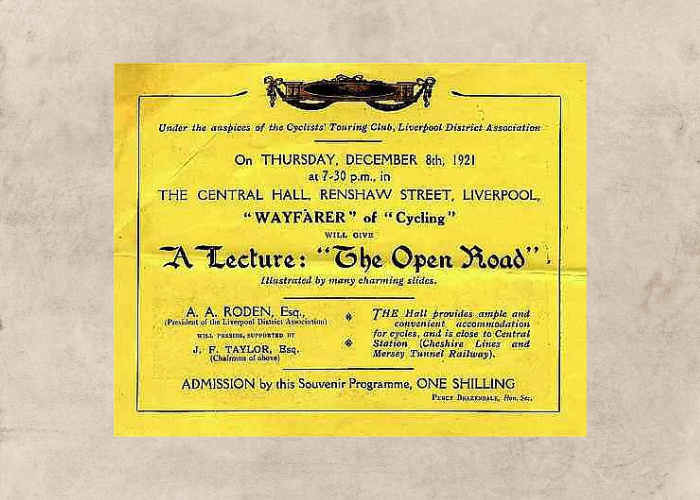 Among those who were inspired by Wayfarer were around 40 cyclists "who, in pursuit of their pastime, traverse the rougher and less beaten ways' and who in 1955 clubbed together to form the Rough Stuff Fellowship (RSF) in Leominster, Herefordshire. When Wayfarer died the following year at the age of 78, RSF members made plans to remember him with a memorial stone at Pen Bwlch Llandrillo, the summit of his famous route. The memorial is still there (albeit not the original stone), and, more than a century after Wayfarer passed through, it still makes a popular target for today's breed of bikepackers. Likewise, the RSF is still going strong as an affiliate member group of Cycling UK and attracting those for whom the fun "begins where the tarmac ends".
Fighting for access
The CTC, meanwhile, continued to support and develop off-road cycling, with articles in the CTC Gazette extolling the virtues of rough riding. By the 1960s, the organisation began to tackle the issue of legal access to the countryside. Cyclists had no legal right to ride off road on public rights of way, and the club responded to government consultation on allowing cyclists onto these paths. One recommendation at the time would have made it "unlawful for a person on a footpath or bridleway to remain mounted on a bicycle when passing or overtaking any person on foot", with a fine of up to £20 for offenders.
Following representations from the CTC, the Countryside Act 1968 allowed cyclists to use bridleways (but not footpaths) in England and Wales, with no such restrictions: an important step forward in securing off-road access.
In the half-century since that Act was passed – and with a little help from those Californian bikers bringing the sport to the mainstream, mountain-biking has boomed. While the home-grown race scene may have dwindled since its heyday in the 1990s, you only have to venture to local woods or hills at the weekend to see that the fat-tyred contingent are still out in force, albeit fragmented into ever more tribes: enduro, downhill, cyclocross, gravel… and, of course, bikepacking.
Continued success
And Cycling UK continues to fight for the rights of every type of cyclist. Our Trails for Wales campaign, run in collaboration with OpenMTB, is paving the way for wholesale access reform in Wales – the biggest change In rights of way legislation since Scotland's Land Reform Act in 2003 (which we also played a role in). Once the new laws are passed, it is to be hoped cyclists will have a far greater access to the public rights of way in Wales, along with large areas of open access land.
In England, too, Cycling UK is campaigning to open up more off-road routes to bicycles. Close to 80% of the public rights of way network in England is off limits to cyclists.
While we would like to see England follow in the tracks of Wales' example, we are also encouraging our members and the wider public to record "missing links" in the right of way network where cyclists would benefit from being given legal access, or routes which are suitable for cycling in the eyes of the law but not on the ground, because of obstructions or poor surface conditions. As the interactive map below shows, these missing links can be found across England and Wales. 
This follows our "Get On My Land" campaign, which in 2018 was successful in getting the importance of public access to the countryside written into the government's new post-Brexit Agriculture Bill.
Our campaigning also emphasises the responsibilities that come with the right to ride off road: for example working with the British Horse Society to encourage cyclists and horse-riders to share space and "Be Nice, Say Hi"
Last year we launched our latest long-distance route, King Alfred's Way, which, was made possible by working with councils and landowners to allow access to sections of footpath linking existing trails. Along with routes such as the 800-mile Great North Trail and a fully rideable route for the North Downs Way, this is all part of our goal to create a joined-up network of off-road cycle routes across the country, and so encourage many more people to experience the life-changing benefits of cycling.
We will continue to campaign to make this vision a reality.
Want to hear more about Cycling UK's off-road campaigning?