Winged Wheels restored to former glory on The Squirrel Inn and the Wirral Transport Museum
Winged Wheel 1 - The Squirrel Inn
Cyclists were assured of a warm welcome when they visited The Squirrel Inn in Wellington, Somerset. After all, for over 75 years it carried the famous CTC Winged Wheel sign on its front wall – a sure indicator of fine food, good beverages and a friendly greeting.
The two-foot diameter, cast-iron black and white plaque went missing, however, when the brick building was rendered and painted in the 1970s.
That might have been the end of the story. Another Winged Wheel – the symbol devised in 1888 and so sought after by establishments to prove they were 'CTC appointments' – consigned to history. But last summer this particular Winged Wheel was offered to Wellington Local History and Museum Society – which, ironically, is now housed in the old Squirrel Inn building in Fore Street.
The sign was donated by Mrs Pamela Bowerman of the Cycling UK-affiliated Wellington Wheelers. Mrs Bowerman's late husband Gerald had rescued the old Wheel from the inn when it closed down and she wanted it to return 'back home'.
Research revealed that the plaque's original colours would have been black and white – so it was cleaned and primed professionally before being painted by a Wellington Museum volunteer. And it is now back in its original position, based on a photograph taken around 1900 which shows it just to the right of the old inn's hanging sign.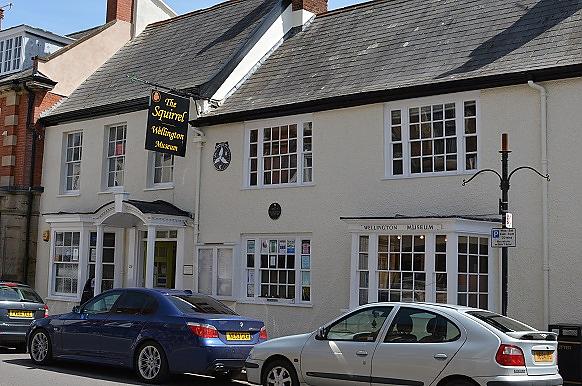 This Wheel is particularly significant as it includes the legend 'Headquarters'. The Winged Wheels website lists only eight plaques with this wording known to exist in public view anywhere in the country.
Keith Matthews, who runs the Winged Wheels website, attended the official unveiling in Wellington. Keith, an honorary life vice president of CTC Wessex Cycling, said: "The Wellington Museum contacted me about a year ago about the Wheel. I'm grateful to Mr Bowerman for rescuing the sign in the first place and to Mrs Bowerman for kindly ensuring it can be restored to its rightful place.
"So many of these Wheels have, in ignorance, been consigned to the scrapyard when a building is refurbished. The museum had researched it using my website and asked me lots of questions, the main one being 'What colour should it be?' There is always a disappointed reaction when I say 'black and white' – most people would prefer more colour! It's necessary to understand, though, that in terms of weatherproof paints, only black and white were available to the Victorians.
"I always marvel at the placement of these signs. In the case of the Wellington Museum the council workers had scaffolding and modern power tools. Originally, the Wheel would have arrived by horse and cart, and a local artisan had to hoist it up to a first-floor level using only a ladder. Health and Safety today would have kittens!"
Keith (pictured below with his wife Janet) has a restored Winged Wheel on the wall of his Dorset home, so he knows from experience how difficult they are to manoeuvre – and that's at ground-floor level!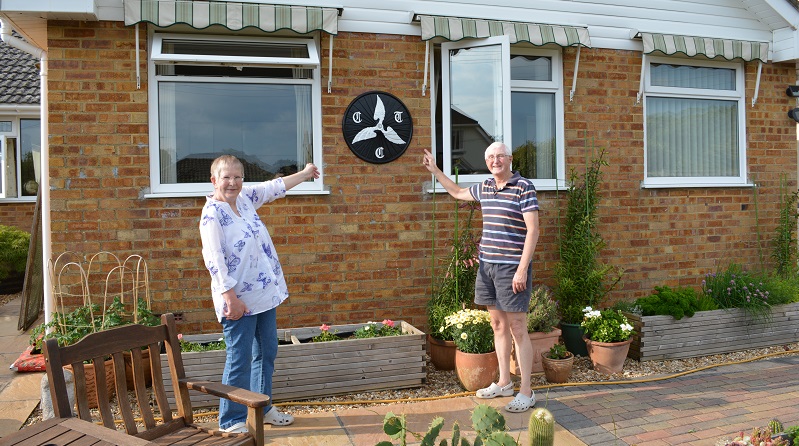 He added: "I know from my own sign that this is a three-handed job. These things weigh 60lb, so those Victorians certainly didn't mess about!
"I think it terrific that the museum and local council have been able not only to restore this sign, but to put it back in exactly the same position it occupied for the best part of a century. I know of many restored signs but cannot bring to mind any that have been replaced where they always were.
"The additional history here is beautiful, too. While our Winged Wheel is approaching antiquity and marks the beginning of real cycle touring, the building it occupies is 200 years older than that. You can almost hear it say 'Oh, you're back are you?'"
Winged Wheel 2 - Wirral Transport Museum
Finding a home for the second Winged Wheel in this tale of Cycling UK's rich heritage proved a somewhat trickier quest.
This sign was found two years ago in a house in Runcorn, Cheshire, following the death of a Mr Martley, who had been a CTC member.
Peter Williams, of Chester & North Wales CTC, explained: "Mr Martley's brother Brian had the job of clearing the house and came across the Winged Wheel. We think there was a bike shop in Runcorn old town, we're not sure exactly where, and the plaque was on the wall there.
"Brian Martley contacted Chester & North Wales CTC because he wanted to donate it to us, and I went to his home in Helsby to pick it up."
That was the easy bit. Now came the problem of getting the Wheel restored.
Peter contacted Roy Spilsbury, founder member of CTC Cymru among many other notable entries on his cycling CV, who had restored a Winged Wheel in Corwen, North Wales, in 2008. However, the firm Roy had used no longer existed.
"Eventually someone had a brainwave," recalled Peter, "and the answer lay within our own club. One of our members, Reg Waud, had been head of section, decorating, and course tutor for signwork at the Wirral Metropolitan College in Birkenhead, so he carried out the restoration. He finished it last year and did a fantastic job."
The next task was to find an appropriate home for the Winged Wheel, which proved equally awkward for the special sub-committee set up by Chester & North Wales CTC.
Someone contacted the Coventry Transport Museum, but they declined.
Reg Waud then suggested Hadlow Road Station, an old railway station in Willaston, Cheshire, which sits beside what is now Route 56 of the National Cycle Network, and has been renovated to look as it did in its 1952 heyday. This time, however, the local conservation officer said no as the Wheel wasn't railway memorabilia.
Another member of the sub-committee contacted the Lakeland Motor Museum near Windermere, whose attractions include an exhibition of Sir Malcolm and Donald Campbell's renowned Bluebird speed-record machines. The museum said yes, but the full club committee weren't happy to see the Winged Wheel put on show so far from home.
Peter said: "I then overheard a piece on Radio Merseyside with the Wirral Transport Museum, who had recently restored an old Liverpool tram. I suddenly thought, 'Why not there?' So I spoke to them and we found the perfect place to display the Winged Wheel, on a wall outside their mocked-up shop called Dugdale Motorcycles and Cycles. Many years ago this shop was based in Alvanley in Cheshire, near Frodsham.
"It's a 'Repairer' version of the Wheel, which appeared around the turn of the last century. It is very rare – only around a dozen are known to exist today. It seems a perfect fit to display the sign at the museum and it's on a 10-year loan to them."
Peter is pictured below (on the right) at the presentation of the Winged Wheel, as Wirral Transport Museum secretary Rob Jones shakes hands with Reg Waud.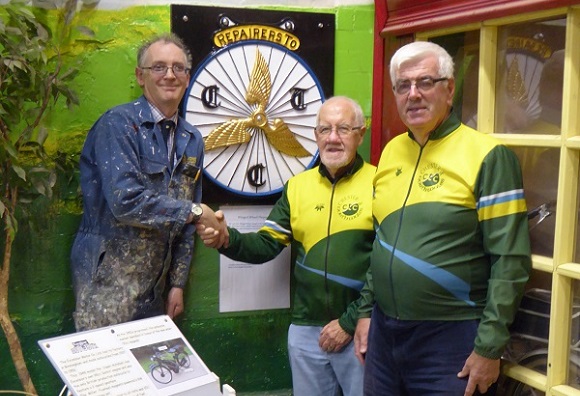 Peter added: "The one sad thing is that Brian Martley died last year so never got to see the finished article. I've been to see his widow and it turns out her grandchildren would have liked the Winged Wheel as they all have an impressive cycling pedigree of their own as professional downhill mountain bike racers, based in Machynlleth.
"The granddaughter, Rachel Atherton, is a World Cup and multiple national champion and was the Sunday Times Young Sportswoman of the Year in 2005."
There was yet another twist to the tale for Peter, who is also a Cycling UK Right to Ride campaigner. Little did he know that the Wirral Transport Museum curator was one Tony Cooper – who was deputy head of Wirral Grammar School for Boys when Peter was in charge of grounds maintenance in the Bebington area where the school is located. Their paths had crossed in Peter's dealings with the school up to 1993. Tony later became Headmaster and Peter was moved to another area in Wirral.
"It really is a small world," he said. "We hadn't seen each other for 25 years but then met up again in the most unlikely of circumstances."